Are you looking for some simple and fun DIY gifts for Mother's Day? From beauty gifts to homemade items, you'll love all these great options!
Mother's Day is just around the corner.
Can you believe it?
Why not make some DIY Mother's Day gifts instead of buying this year?
We've put together a fantastic list of gifts that can be made with materials you probably have on hand already.
From DIY beauty products made with items in your kitchen or pantry, to sewing projects made from scrap fabric, to kid-made gifts that you can make right now—we've got you covered.
Let's take a look at what you can make for Mom's special day!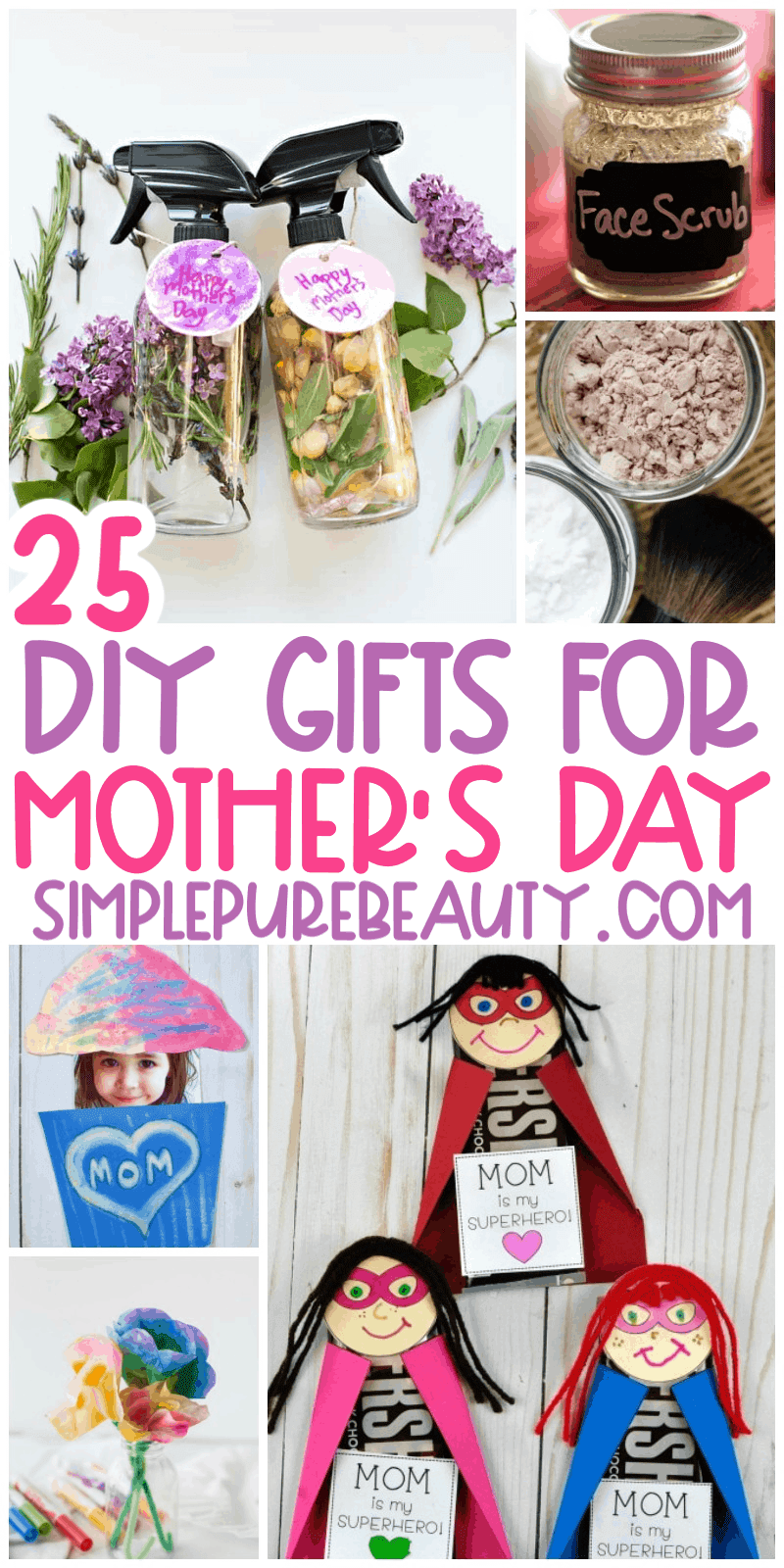 DIY Beauty Gifts for Mom
Moms who love to be pampered will enjoy these DIY scrubs, bath bombs, facial treatments, and more. These gifts are so thoughtful right now, especially when going to the spa is out of the question.
DIY Beauty Gifts For Mom
Check out these awesome DIY Beauty Gifts for Mom!
Be kinder to your face! There's no need to use chemical-laden wipes to clean the makeup off your face at the end of the day. Use these natural, soothing wipes made with lavender essential oil, sunflower oil, and cotton pads instead.
Use our recipe for an exfoliating face scrub that gives your skin a wonderful pick-me-up after a long week.
Give mom the gift of facial rejuvenation! This is like a spa treatment in a jar without the spa price tag. Made with baking soda, herbal tea, and lavender essential oil, you can feel good about the ingredients you're using.
Photo Credit: www.feastforafraction.com
Any busy mom needs dry shampoo in her arsenal. It really saves the day when washing your hair just cannot be squeezed into the schedule. This version for brunettes is made with cornstarch, cocoa, and baking soda. You probably have all that in your cupboard right now!
Photo Credit: diybeautybase.com
There's something so rejuvenating about the smell of coffee—but this recipe isn't for your morning cup. Caffeine offers excellent benefits for the skin, such as skin tightening and improving circulation. Any mom would appreciate that.
Photo Credit: midwestmodernmomma.com
Lip scrubs are another fantastic way to use coffee grounds. This vanilla latte sugar lip scrub smells amazing and can keep lips smooth all year round.
Photo Credit: bitzngiggles.com
Get those legs ready for pool season! In the summer, when you trade leggings for shorts and dresses, you want to put your best legs forward with silky smooth, moisturized skin. This scrub made with sugar, coconut oil, and lemon essential oil or citrus juice will help you do just that.
Photo Credit: www.midgetmomma.com
Speaking of smooth legs, you don't want to go to all that trouble exfoliating only to use harsh shaving creams (or worse—soap!) to shave your legs. This moisturizing DIY shaving cream makes shaving so much easier, and it's made with only two simple ingredients.
Photo Credit: mamalikesthis.com
If salt scrubs are more your style, this 3-ingredient recipe is as simple as it gets. With coarse salt, coconut oil, and essential oils, you'll have a batch ready to go in no time flat.
Photo Credit: momscollab.com
You may have wanted to make your own bath bombs before only to find that you lack one crucial ingredient—citric acid. Lucky for you, there's no citric acid involved in this bath bomb recipe. You'll find all the ingredients in your kitchen or pantry. A nice, long bath with some amazing-smelling bath bombs is just what Mom needs on Mother's Day.
Easy Sewing Projects to Give to Mom
You don't have to be a sewing guru to make something special for mom. These simple projects can be whipped up in a flash; they're so cute!
Easy Sewing Projects to Give to Mom
Check out these Easy Sewing Projects to Give to Mom!
Mother's Day Gifts Kids Can Make
Finally, here are some gifts that the kids can make to celebrate Mom on her special day.
Mothers' Day Gifts Kids Can Make
Don't miss out on these Mother's Day Gifts Kids Can Make.
Which gifts do you plan to make this Mother's Day?
Like this post? Make certain to check out these great ideas as well: