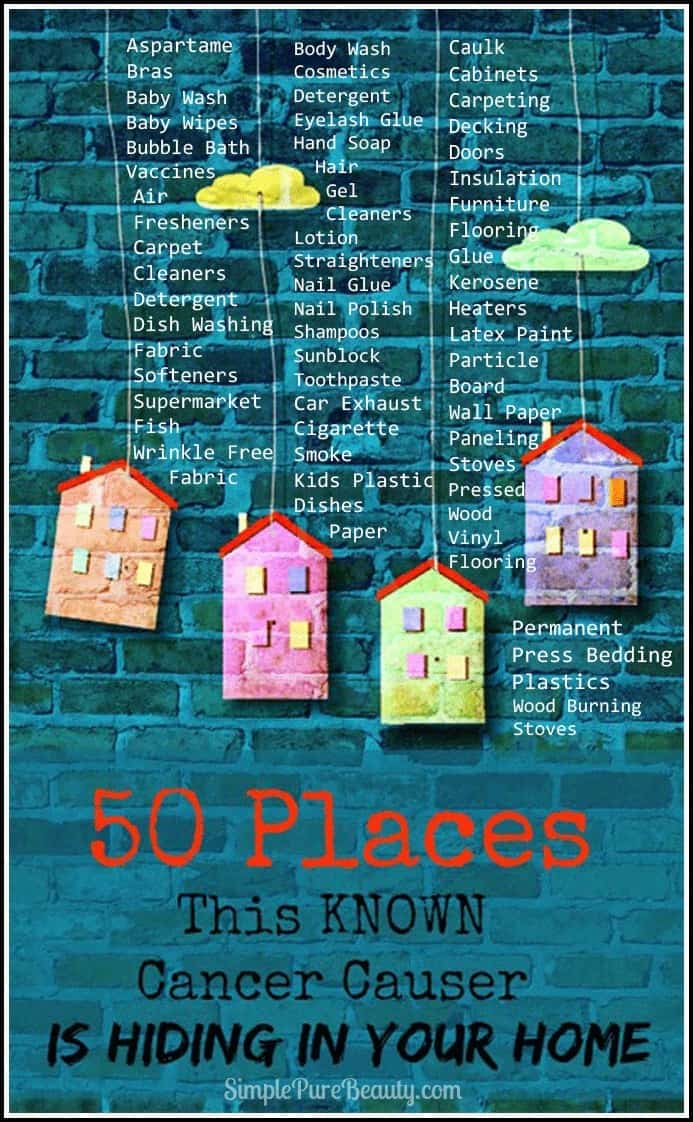 Last week I took a closer look at Formaldehyde, an organic compound and known carcinogen (causes cancer) that is often lurking in our personal care products and homes. I shared exactly what to look for on your product labels to ensure you avoid formaldehyde as much as possible.
But I really wanted to dig a little deeper and provide a list the many places formaldehyde can hide in our homes and personal care products.
I hope this list is helpful to you and brings awareness to the MANY places formaldehyde is lurking. I will try to include alternative options when applicable.
Please feel free to share and re-post this list to raise awareness and help others eliminate this cancer causer from their homes.
50 Places Formaldehyde Can Hide in Your Home  
Formaldehyde in Baby Products
Formaldehyde in Personal Care Products
| | |
| --- | --- |
| Personal Care |    Safer Options |
| Body Wash |    Kiss My Face,  Nurture My Body |
| Cosmetics |    Rejuva Minerals,  Maia's Mineral Galaxy |
| Deodorant |    Primal Pit Paste |
| Eyelash Glue |    Duo Lash Adhesive:Clear very few safe options |
| Hand Soap |    Dr. Bronners Spearmint,  Hugo Naturals Liquid Hand Soap |
| Hair Gel |    California Baby Gel/Mousse,  Deva Curl,  Pureology Sculpting Gel |
| Lotion |    Cleure Body Lotion,  Earth Mama Angel Baby,  12 Body Butter Recipe |
| Nail Glue |    Kiss Broadway Nails |
| Nail Polish |    My Top 6 Nail Polish Recommendations Post |
| Shampoos |    Morrocco Method,  Nurture My Body Shampoo,  Acure Organics |
| Straighteners |    No options I am comfortable recommending |
| Sunblock |    Burnout Kids,  Green Screen – Tinted Options Available, Beyond Coasta |
| Toothpaste |    Jack N Jill Natural Toothpaste,  Tom's Of Maine – Flouride Free |
Formaldehyde in Household Cleaning Products
Formaldehyde in Your Home
And Even More Places:
Whew, that is a long list.
To read more about decreasing your formaldehyde exposure, click here.
What products surprised you the most on this list? Leave a comment below!
(Visited 419 times, 1 visits today)