Rosemary CO2 Extract is an antioxidant that is incredibly potent. It is used in a variety of skincare products to extend shelf lives and boost antioxidant properties.
This antioxidant is often sold in a carrier oil to reduce potency.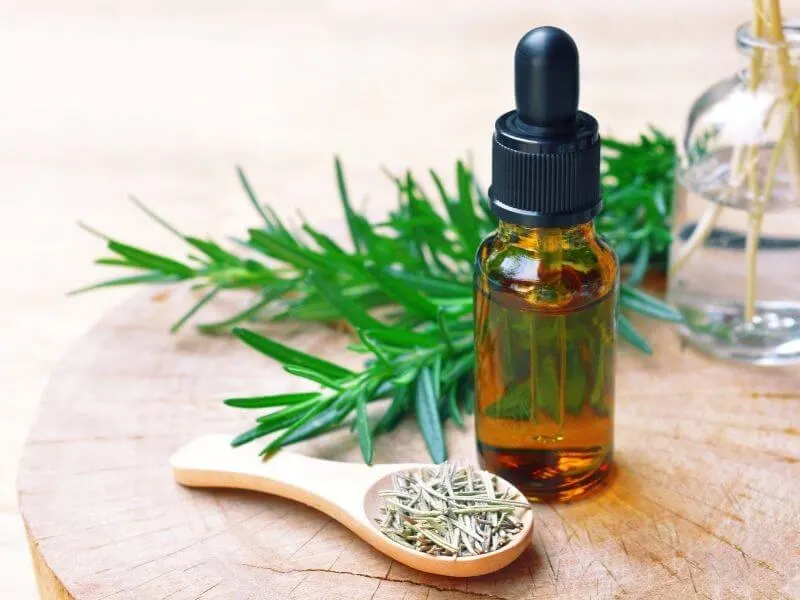 Rosemary Extract Antioxidant Quick Facts
Rosemary Extract Scientific Name:
Rosmarinus officinalis L.
Rosemary Extract is Extracted from:
Rosemary CO2 is extracted from the rosemary plant using a supercritical carbon dioxide extraction method. The plant material is ground and exposed to carbon dioxide that goes through high temperatures and pressure. It is then able to dissolve part of the plant material that yields the rosemary extract.
INCI:
Rosmarinus officinalis (rosemary) leaf extract
Rosemary Extract COSING Number:
79766
Recommended for:
Rosemary Extract is recommended for those with dry or sensitive skin. It can be used on all skin types in recommended dosages.
Rosemary Extract Absorption:
Because of its potency, Rosemary Extract is often sold in a sunflower carrier oil which absorbs into skin quickly.
Rosemary Extract Recommended Usage Level:
The recommended usage level for Rosemary Extract is 0.05%-0.1%
What is Rosemary Extract?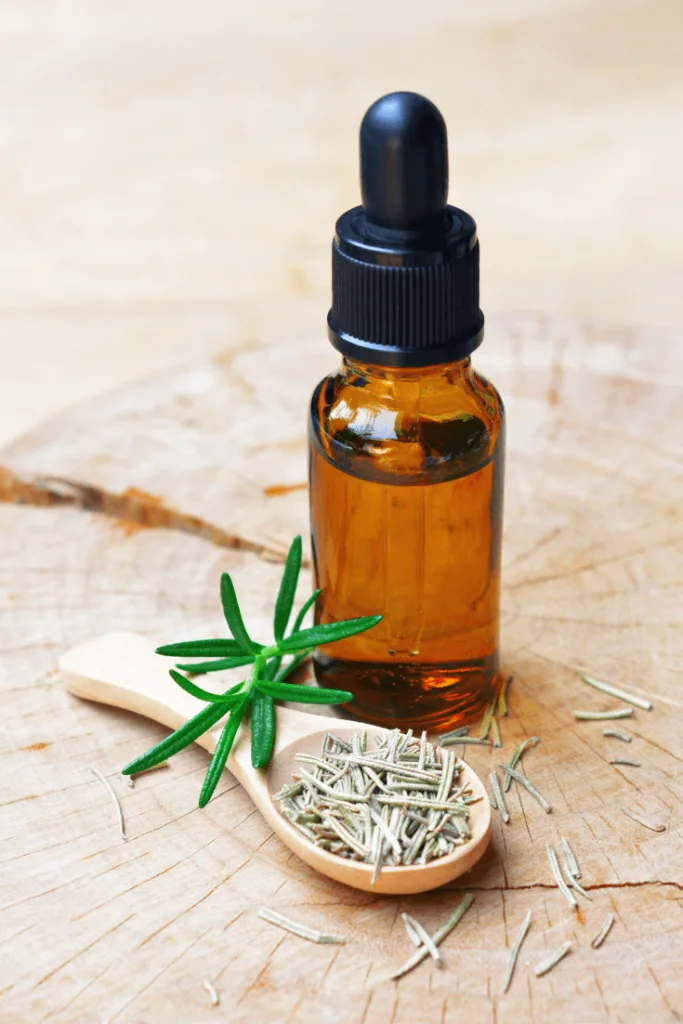 Rosemary CO2 Extract is a powerful antioxidant. It is derived from the leaves of the rosemary plant and has a strong fragrance.
It is often sold in a carrier oil to reduce potency. Rosemary CO2 Extract can be up to 10 times stronger than Vitamin E as an antioxidant.
Rosemary CO2 Extract is made by exposing the ground plant material to high pressure and high temperature carbon dioxide.
This dissolves the plant material leaving a brown viscous liquid that is the Rosemary Extract. This antioxidant is great for increasing antioxidant properties in products as well as extending the shelf life of products.
Is Rosemary CO2 Extract the same as Rosemary Essential Oil?
Rosemary essential oil is steam distilled from the leaves and flowers of the rosemary plant. This creates a light, fresh fragrance like fresh rosemary.
Rosemary CO2 extract uses a supercritical CO2 extraction method that produces a dark brown, viscous liquid with a strong aroma. These are 2 very different ingredients.
Rosemary Extract Benefits for Skin
Rosemary Extract can be used in a variety of products and helps to boost antioxidant properties such as protecting skin from free radical damage, sun damage, and reducing the signs of aging.
Rosemary Extract is also anti-inflammatory which helps reduce puffiness in skin as well as redness and irritation.
This antioxidant not only protects skin from environmental damage but it can also protect skin from pathogens.
Rosemary Extract can help reduce bacteria on skin and in other products. Since it is naturally antibacterial, it can also be used to help heal wounds and repair damaged skin.
It can also help hydrate and soothe dry, irritated skin.
Due to its potent nature, this antioxidant can be used in small amounts and still provide amazing benefits.
Popular Rosemary Extract Uses for Skin
Rosemary Extract is used in a variety of ways. It is often used in products where it can help extend the shelf life and provide skin benefits. Rosemary Extract works wonderfully in serums and creams and can often be found in formulations made to reduce signs of aging and puffiness around the eyes.
Rosemary CO2 Extract can also be used in butters and lotions that are meant to soothe dry skin and reduce inflammation. Since it naturally deters growth of bacteria it can also be used in natural products that promote the healing of the skin such as salves and balms.
Warnings/Contraindications for Rosemary Extract
Rosemary CO2 Extract is generally safe to use so long as formulation guidelines are followed.
This antioxidant is extremely potent and will yield excellent results even when used in small amounts.
Be sure to follow all formulation guidelines for the product that you are using.
If you are using Rosemary Extract that is mixed with a carrier oil to reduce potency, follow recommended usage guidelines that are provided by the manufacturer.
Where to Buy Rosemary CO2 Extract
Photo Credit: mountainroseherbs.com
Mountain Rose Herbs is committed to putting people, plants, and planet before profit with everything they do. They are committed to sustainability, and a certified Zero Waste company. They currently only offer shipping to the United States & Canada.
Photo Credit: www.formulatorsampleshop.com
Formulator Sample Shop carries a wide range of formulating and skincare ingredients including carrier oils, butters, preservatives, and more. You are able to purchase the exact quantities that you need, and if there is something you need that you don't see on their website, just contact them! They do offer International Shipping as well.
Photo Credit: www.fromnaturewithlove.com
From Nature With Love proudly offers an inspiring range of premium quality certified organic, conventional and complementary personal care ingredients for use within skin care, hair care, aromatherapy, massage, spa, herbalism and soap making applications. They also offer a Rewards program that pays you back 10% in rewards on every order. From Nature With Love is a US based company that does offer International Shipping.
Photo Credit: lotioncrafter.com
Lotion Crafter offers a wide variety of ingredients for all of your formulating needs. They offer carriers oils, preservatives, exfoliants, anti-aging ingredients, butters and so much more. I order a lot of my supplies from Lotion Crafter. Lotion Crafter offers local & International shipping.
Photo Credit: www.newdirectionsaromatics.com
New Directions Aromatics is a Canadian based company offering a wide variety of skincare and formulating supplies. They also offer a variety of Organic, Fair Trade & Ecocert Ingredients. They ship mainly to Canada & the US, but do offer International Shipping as well.
Pin Rosemary CO2 Extract Antioxidant Benefits for Skin
I hope you enjoyed learning all about the benefits of Rosemary CO2 Extract Antioxidant benefits for skin! Be sure to share and pin this post for later!