Make homemade jello that's healthy & delicious with these jello recipes. So many flavors to choose from and only healthy ingredients!!
Do you like Jell-O? If I'm being honest, I have to admit that I have never really been a fan of Jell-O.
Unless, of course, it was covered with a GIANT spoonful of whipped cream. My grandma would always make Jell-O and I would smother it in Cool Whip.
Not the healthiest, but good memories. Even though it's not my favorite, my kids love Jell-O, so today I wanted to share how to make homemade Jell-O that's healthy and delicious.
If you check out the ingredient label of your Jell-O, you will find some scary ingredients including, gelatin from unknown sources, maltodextrin, aspartame, not to mention the lovely food dyes.
Jello Ingredients You May Want to Avoid:

But did you know that homemade Jell-O can actually be good for you?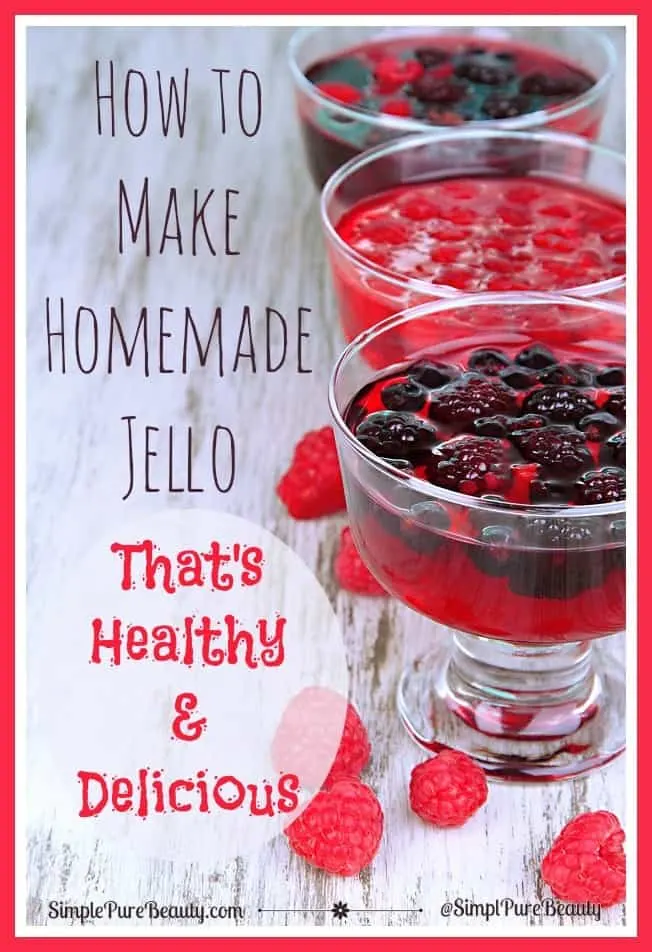 Gelatin from healthy animals (I use Great Lakes brand) is great for inflammation, allergies, digestion, hair, skin, nails, teeth… The list goes on and on.
Not only can you reap the many health benefits of gelatin with your homemade Jell-O, it is super easy and quick to make. I love this how to video from Mama Natural that shows you how to make your own Jell-O in basically about two minutes.
How to Make Homemade Jell-O:
Homemade Jello Recipes:
All you need to make homemade Jell-O is fruit juice, quality gelatin and a little natural sweetener. The flavor combination possibilities are endless!
Here are some great homemade jello recipes for your enjoyment: 🙂
Berry Jello | Whole Lifestyle Nutrition
Herbal Jello | The Nerdy Farm Wife
Homemade Grape Jello | Girl Meets Nourishment
Homemade Jello Fruit Cups | Homemade Mommy
Homemade Orange Jello | The Hollywood Homestead
Homemade Raw Citrus Jello | The Curious Coconut
Kefir and Fruit Gelatin Dessert | Real Food RN
Orange-Cream Layered Jigglers | Girl Meets Nourishment
Paleo Strawberry Jello | Rubies and Radishes
Watermelon Jello | A Girl Worth Saving
Just a quick note, if you purchase Great Lakes Gelatin, be sure to buy the red can, not the green one or your jello will not set up properly.
So here's to having some fun making healthy homemade jello for you and your family!