This Healthy Coconut Milkshake Recipe will knock your socks off. It is so good for you it's ridiculous! Infused with dandelion root and oozing with the creaminess of coconut milk, it's a treat you don't have to feel guilty about!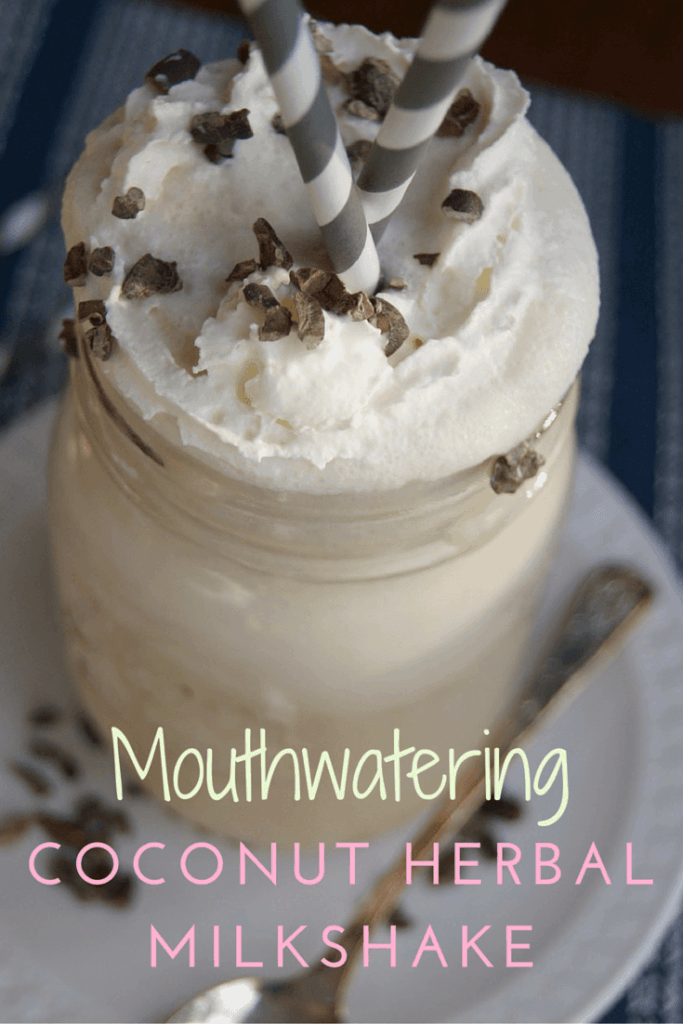 This is the time of the year when Starbucks beckons my name for their ever-so-popular Frappucino.
I'm not a big coffee drinker even though I enjoy my ONE cup every morning. I love the nostalgic warm cup of energy that greets me along with my usual poached egg and hashbrowns.
But as soon as I'm done with that one cup, I reach for my herbal infusion of red raspberry leaf, nettles, and peppermint.
I find herbs so incredibly refreshing. Even the roasted kind, as in roasted dandelion root.
Most people are familiar with dandelion as a common weed, but it's also a great source of antioxidants and a wonderful overall support to the body's natural immune response.
Roasted dandelion root has a very rich, bold flavor and color, much similar to coffee.
It's the star of my Healthy Herbal Coffee next to roasted chicory root and is the main ingredient in this iced coconut drink.
The addition of coconut milk in this recipe is twofold.
One, coconut milk is a great source of saturated fatty acids and medium-chain triglycerides (source), which are both easily burned by the body as fuel, thereby giving you energy.
Two, because of the high MCTs, coconut milk is very filling. Fats provide a satisfied and full feeling which helps avoid overeating, chronic snacking, and potentially weight gain.
So, essentially you have a drink that will not only provide that much-needed energy to hop over the afternoon slump but it can also possibly help with weight loss.
Coconut milk is my favorite dairy-free milk. You can certainly make this with other milks, but I can't promise the same result, in both flavor, texture and potential health benefits.
Coconut Milk Cubes
This Coconut Herbal Milk Shake does require some minimal prep work the night before. It's crucial to freeze the coconut milk in ice cube trays first – you don't want to skip this step if you're going for that smooth, rich texture of an iced coffee drink.
Using regular ice cubes will heavily dilute your drink and even though are pretty common in most recipes, I tend to avoid them as the drink becomes more of a slushie as it melts.
I use and recommend this brand of coconut oil and I usually pour the entire can into ice cube trays, freeze and keep the frozen milk in a small container in the freezer to add to smoothies and iced drinks as needed.
This recipe calls for 1/2 can per drink, so you can easily double that and make two drinks at a time or save the frozen milk for later.
"Coffee" Concentrate
Setting up the dandelion root brew the night before is also a good idea, though very optional.
Simply pour boiling water over a tea bag of Roasted Dandelion Root in a mug and set it aside on the kitchen counter overnight.
Not only will it turn into a strong, brewed flavor, but the "coffee" will also be cool enough to constitute an "iced" drink the following morning.
Again, this is totally optional and can be brewed in the morning and cooled.
Another option is to brew a few bags at a time in a mason jar and keep this concentrate in the refrigerator for convenient future drinks.
The recipe needs about 120z. or 1 1/2 cups of concentrate.
Coconut Herbal Milk Shake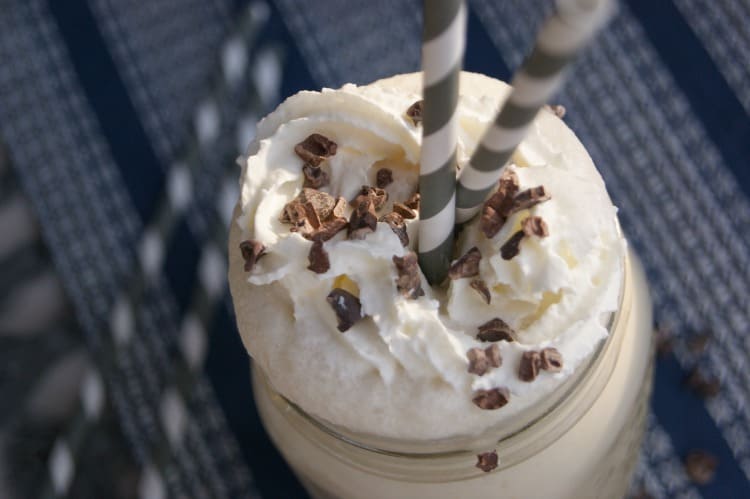 Simply toss all ingredients in a high-speed blender and turn the speed to high to combine everything well.
Pour into a tall glass, top with your favorite toppings like whipped cream, cacao nibs, cinnamon, whatever suits your fancy.
Enjoy immediately and wait for the energy to kick in.
Note: The addition of grass-fed gelatin in the form of collagen peptides is entirely optional but is a great source of protein and nutrients and I've personally benefited from it when taken during my most slowest times of the day, afternoons. You can completely omit it – it will not change the flavor or texture.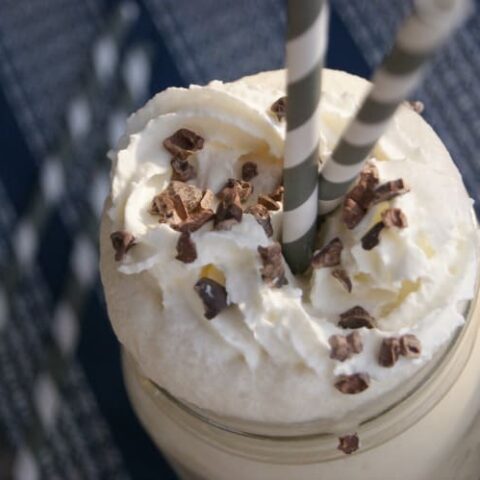 Iced Coconut Herbal Coffee Drink
Ingredients
3 tablespoons maple syrup
toppings: whipped cream, shaved chocolate, cacao nibs, etc.
Instructions
Freeze coconut milk in small ice cube tray the night before.
Pour boiling water over a roasted dandelion root tea bag and allow to steep overnight or for a few hours. See notes for alternative methods.
In high-speed blender, combine all ingredients and blend everything well. Add your favorite toppings and enjoy!
Notes
I prefer to make a large concentrate of the brewed roasted dandelion, by steeping 5-6 tea bags in a 1/2 gallon mason jar and storing it in the refrigerator for the entire week. I try to have frozen coconut milk on hand as well. Keeping these items ready makes it quick and convenient to make this as a great snack in the afternoon.
Sound good? Be sure to pin it for later!