Making Healthy Homemade Mayonnaise is so Easy! It just requires a little time and a few ingredients. Get the recipe here!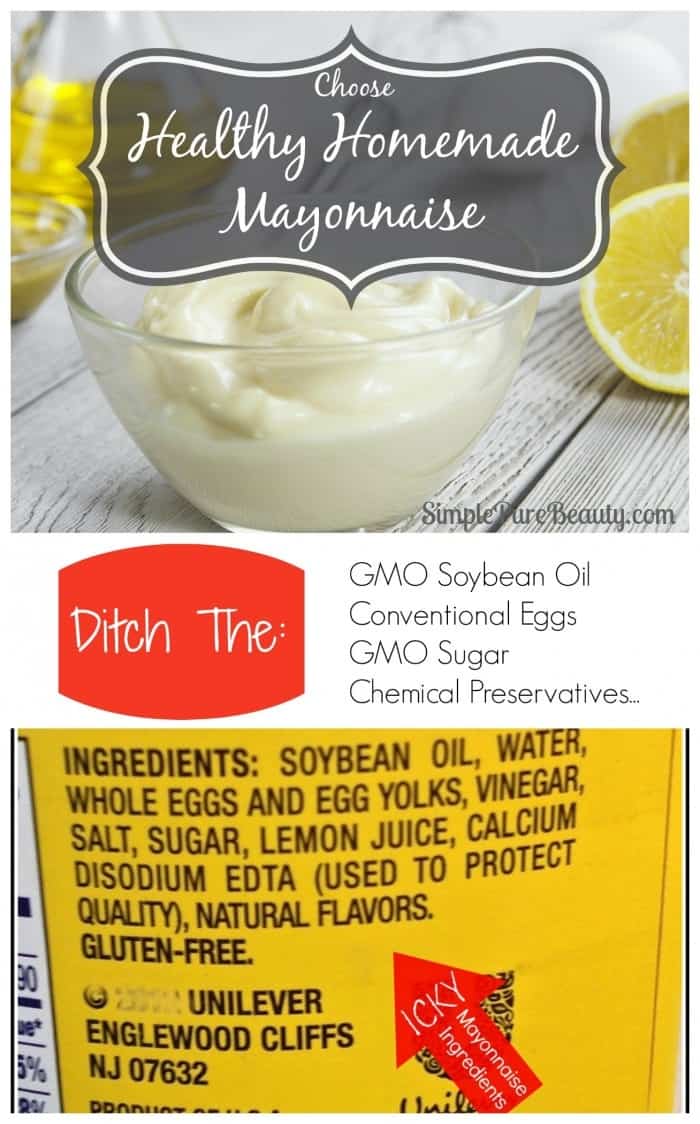 I have never really been a fan of mayonnaise. I'm not even sure I ever tasted the stuff.
I've always used Miracle Whip when I made tuna salad and usually ate everything else plain.
(Yep, I'm a very picky eater…which I'm trying to overcome)
But since I have been cutting out a lot of processed foods, I really wanted a healthier version of chicken salad and tuna salad without conventional Mayonnaise or Miracle Whip.
In the past, I never would have considered making my own mayonnaise. I don't even think I knew you could.
But the fact is:
Making Healthy Homemade Mayonnaise is so Easy!
It just requires a little time and a few ingredients.
Is Homemade Mayo Healthier?
Simple homemade mayonnaise only requires 5 ingredients. If you are creative, there are many variations to homemade mayo, but I like to keep it simple.
Let's look at your regular store bought mayonnaise: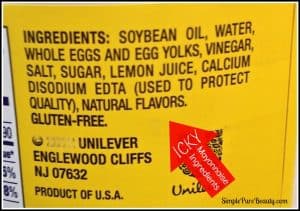 Here are your main ingredient offenders:
So my simple answer is, YES, homemade mayo is healthier by a long shot. 🙂
So Here's

How to Make Homemade Mayo in the Food Processor: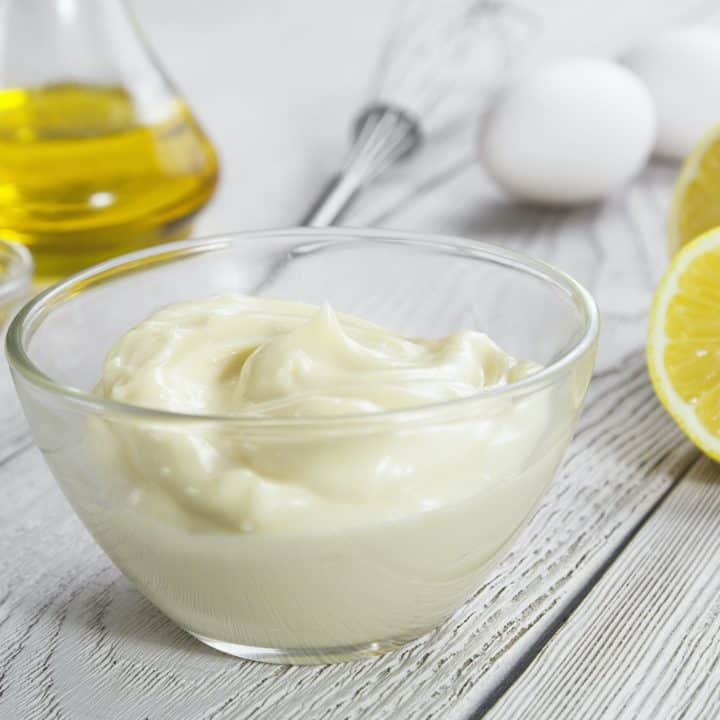 Healthy Homemade Mayonnaise Recipe with Olive Oil
This recipe is the merging of 2 mayonnaise recipes from Kresha at Nourishing Joy and from the Well Fed Cookbook by Melissa Joulwan.
Instructions
Bring ingredients to room temperature.
Place Lemon Juice, Egg Yolks, Mustard and Salt in food processor and mix until incorporated.
Drizzle the oil in REALLY slowly while food processor is running. (This should take up to 5 minutes to add all of your oil)
Once your mayonnaise thickens to your liking, you are done.
Store in refrigerator for up to a week.
Can you Make Homemade Mayo in the Ninja?
I have successfully and unsuccessfully made homemade mayo the Ninja.
The problem with the Ninja that I have is that you cannot continuously pour the oil in, which is what helps with emulsification.
You have to keep stopping, removing the top and adding more oil little by little. So the process takes much longer in the ninja and it's kind of just a real pain.
Plus, it doesn't always turn out. 🙁
Of course, if you have the Ninja Kitchen System, you shouldn't have any problems.
If you don't have a food processor, I would recommend using a blender or emulsion blender.
If you are interested in more homemade condiment recipes, I love the book Restocking the Pantry.
It includes recipes for
Homemade Ketchup
Homemade Mustard
Homemade Barbecue Sauce
Homemade Salsa
Plus, a lot more…
I hope you give this healthy homemade mayonnaise recipe a try! I would love to hear your experience with homemade mayo below!