A few days ago I woke up to sunshine and 75 degree weather. It didn't last long and the next day it was snowing. But it got me thinking about my nails… toenails that is. Spring is just around the corner here and it's almost time for sandals and flip flops.
I don't usually wear nail polish on my fingernails because I am constantly washing my hands, doing dishes, and it never lasts. But in the summer, I don't leave home without painted toenails… no way. Unless I am wearing tennis shoes. 🙂
I know I have posted a lot lately about making your own beauty products, but I'm not going to teach you how to make natural nail polish. I'm pretty sure, it's impossible and I wouldn't even want to try.
But I do want to look at:
What ingredients are in nail polish and the safer, natural nail polish options that are available.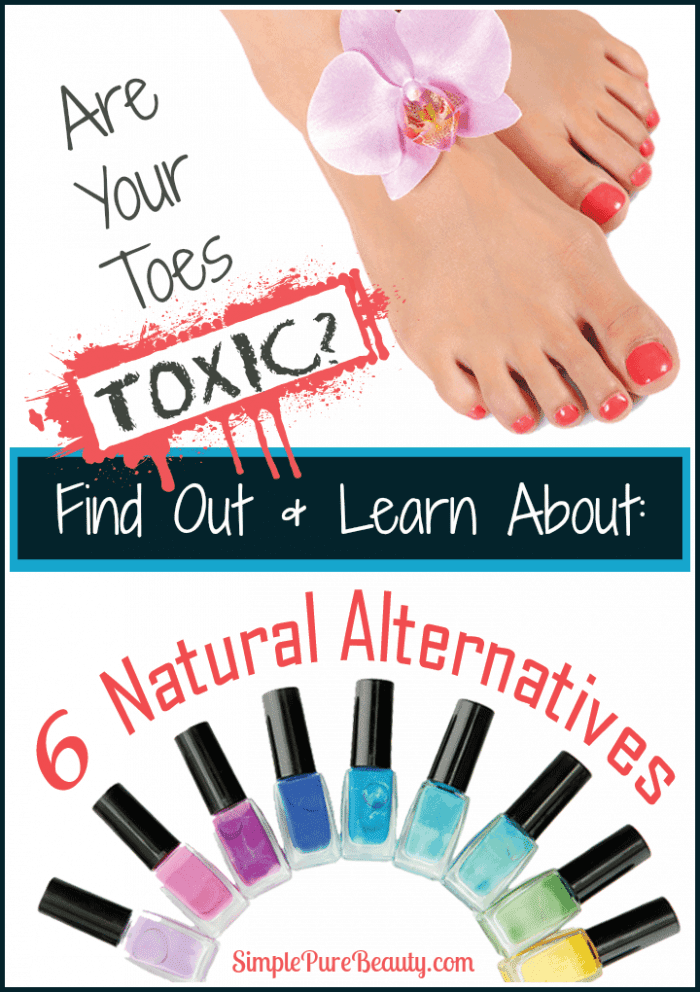 When I was doing the research for this post, I was surprised to find a story by ABC news about nail polish safety. (Read the Article Here) When mainstream media is doing stories about toxins and chemicals in nail polish, you know it's bad.
So what ingredients are in nail polish?
In the last 5 years or so, a push has been made to remove 3 major offenders from nail polish. These ingredients are known as the "toxic-trio" and include Toluene, Dibutyl Phthalate, and Formaldehyde.
The Environmental Working Group's Skin Deep Database has given all 3 of these ingredients a 10 Hazard Rating. (The highest and worst rating.)
These are the definitions according to the Skin Deep Database:
Toluene: A volatile petrochemical solvent and paint thinner, toluene is a potent neurotoxicant that acts as an irritant, impairs breathing, and causes nausea. Mother's exposure to toluene vapors during pregnancy may cause developmental damage in the fetus. In human epidemiological studies and in animal studies toluene has been also associated with toxicity to the immune system and a possible link to blood cancer such as malignant lymphoma.
Dibutyl Phthalate (DPB): The State of California and other authoritative bodies have classified dibutyl phthalate (DBP) as a reproductive and developmental toxicant, and the European Union banned the use of this ingredient in cosmetics and personal care products. In animal studies, exposure to DBP during gestation causes infertility, cryptorchidism and problems in sperm development, adverse effects similar to human testicular dysgenesis syndrome. Prenatal exposure to DBP has been associated with anatomical changes in the reproductive system development in baby boys. In adult men, DBP has been correlated with changes in serum hormone levels, lower sperm concentration and motility, and decreased fertility.
Formaldehyde: Formaldehyde is a carcinogenic impurity released by a number of cosmetic preservatives. Despite the considerable health concerns associated with this carcinogen, until recently formaldehyde itself was a common ingredient of nail polish. Consumer pressure has now forced many major cosmetics manufacturers to voluntarily remove this ingredient from their nail products.
I am not a scientist, but that is pretty scary stuff. And to think for so many years I wore nail polish with this toxic-trio of ingredients.
If you have any old bottles of nail polish lying around, throw those babies in the trash!
And even scarier, in the article by ABC News, they state the following:
Tests found toluene in 10 of a dozen products labeled toluene-free, and also identified at least one member of the toxic trio in five of seven products labeled as "three-free."
Not good.
So what are your options?
Are there safer, natural nail polish options available?
You won't find a natural nail polish with a Skin Deep safety rating of O because even natural, water based polishes contain some additives and iffy ingredients. But these polishes are a much safer alternative to conventional chemical laden polishes.
If you aren't willing to give up your OPI or Sally Hansen nail polish, make sure your products aren't old (as they may contain the "toxic-trio") and check their rating in the Skin Deep Database.
If you don't want to take the chance with conventional nail polish and are ready for a more natural alternative,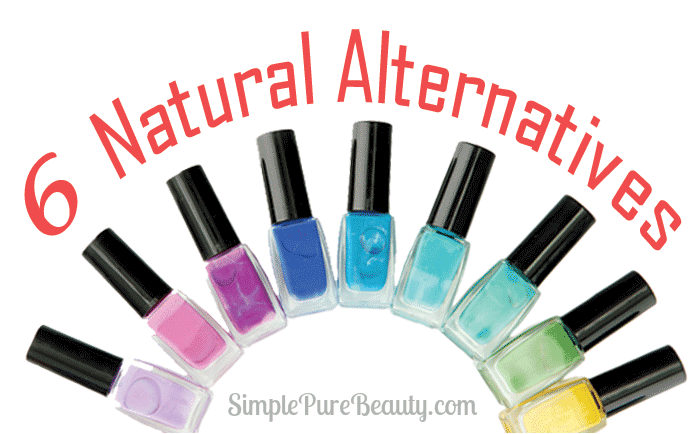 Here's the list of my top 6 Natural Nail Polishes:
Acquarella Nail Polish
Suncoat Nail Polish
Honeybee Gardens Nail Polish
Beauty Without Cruelty (BWC) Nail Polish
Keeki Pure and Simple Nail Polish
Piggy Paint Nail Polish
Before I end this very long post, 🙂 I want to address one more question that I asked myself more than once since my daughter was born:
Is nail polish safe for babies?
I chose not to paint my daughter's nails when she was a baby, although it was tempting. Those fat little toes would've looked so cute bright pink… But I wanted to protect her from any unnecessary exposure to toxins for as long as possible.
Do your research and follow your instincts. Mama usually knows best. When in doubt, skip the nail polish for your baby. She won't remember. 😉 And soon enough she will be asking you to paint her nails and getting in your makeup without asking.
If you have any questions, please leave me a comment below! I would love to hear your thoughts on this issue.