You're going to love the fragrance of this Woodsy Scented Soy Candle recipe. It's such a simple wood scented candle that creates a warm and inviting atmosphere.
I love the scent of fall. From this fall scented foaming hand soap or this pumpkin spice room spray, I just can't get enough of those smells.
This is why I just had to gather up some more candle making jars and get started on a new blend for my homemade scented soy candles.
The good news about making your own wood scented candle at home is that they're super-duper simple to do.
All you need are a few supplies, a bit of wax for candle making, and you'll be proudly showing off your homemade candle to all your family and friends.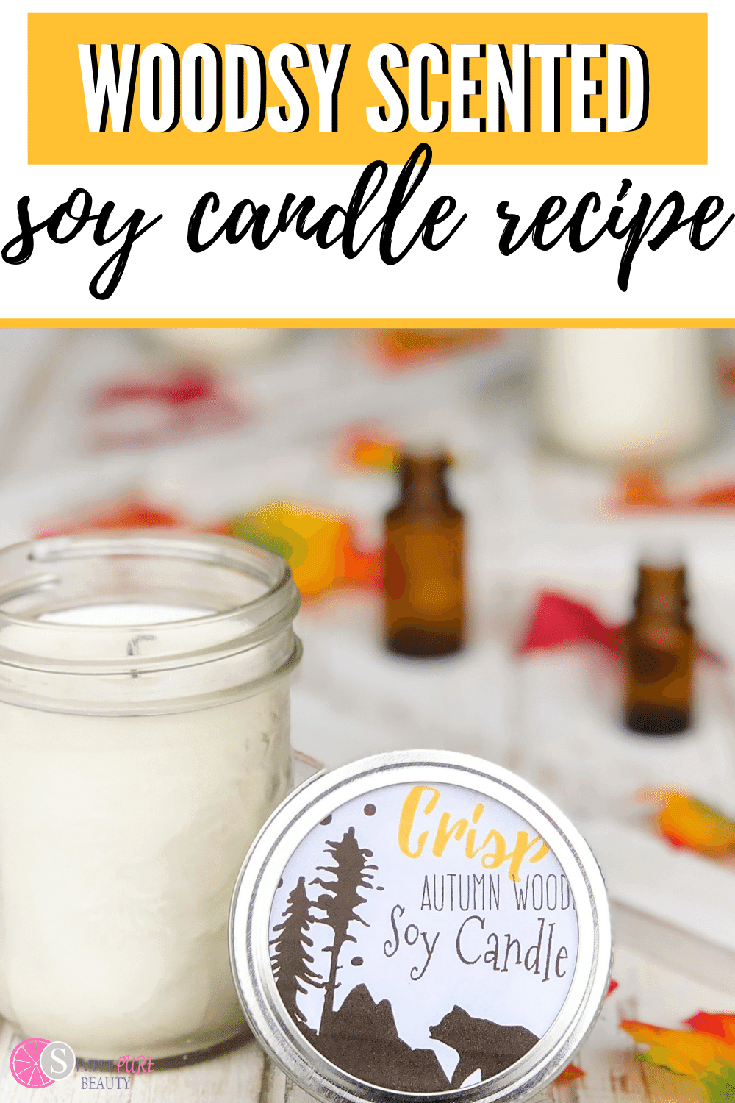 Check out this Pumpkin Spice Essential Oil Candle Recipe for Fall that I recently made as well!
Where to buy candle wicks and candle making jars?
Everything you need, you can find on Amazon!
You could probably spend hours browsing all of the candle wick options, but if you're looking for a simple candle wick, I like this one.
For the candle making jar, I'm actually just using a small mason jar, like these ones.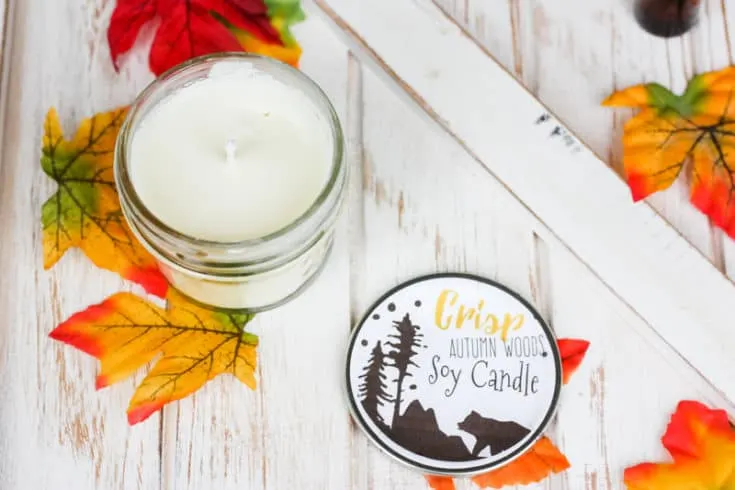 What essential oils for candle making are used in this recipe?
You knew that the main addition was going to be essential oils, right? The ones that I used to create this wood scented candle are:
Grapefruit Essential Oil
Cedarwood Essential Oil
Pine or Fir Essential Oil
The combination of those makes for an awesome woodsy scent!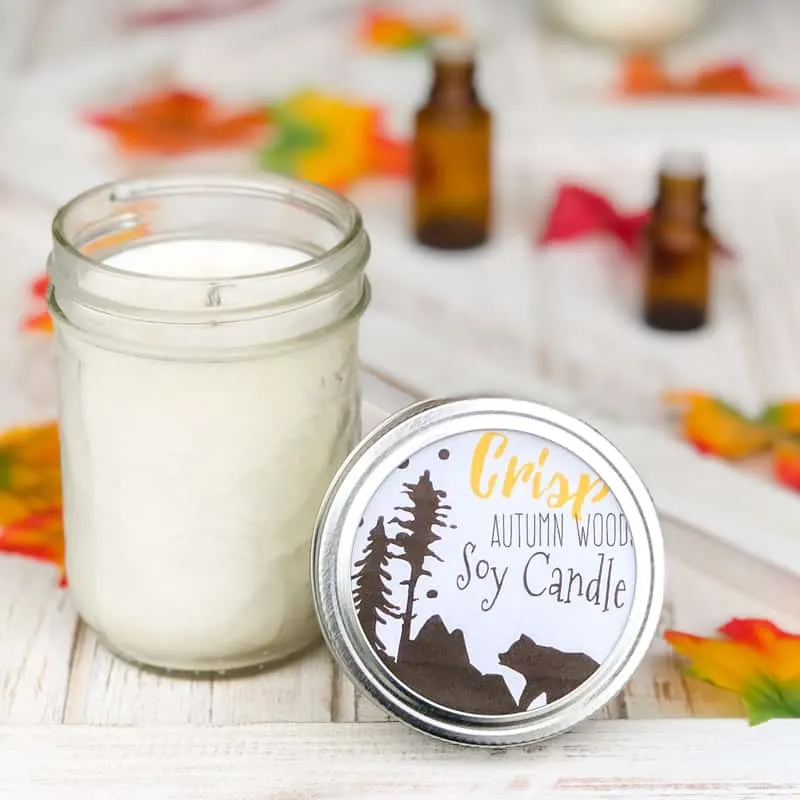 How difficult is it to find the wax for candle making?
Not hard at all.
Thankfully, the online world opens up so many doors for us.
You can easily find what you're looking for there or you can also get this Homemade Soy Candle Kit that comes with everything you need except the essential oils.
Even though this candle is soy, there are other options that you can choose for making candles. Click here for more info on choosing wax for your candle.
I used soy wax flakes that I found on Amazon. But again, you can always use beeswax if you choose.
As you can tell, making this candle doesn't really take a ton of time and you just need a few supplies to make it happen.
What I really love about this recipe is that I know I'm making something awesome and natural that I can use in my home without worry.
Plus, with the holiday season coming up, I also love that I can whip up a few more of these woodsy candles and give them out as gifts as well.
Even though this is "technically" a fall scent, I do feel like it goes along perfectly with the holiday season, too.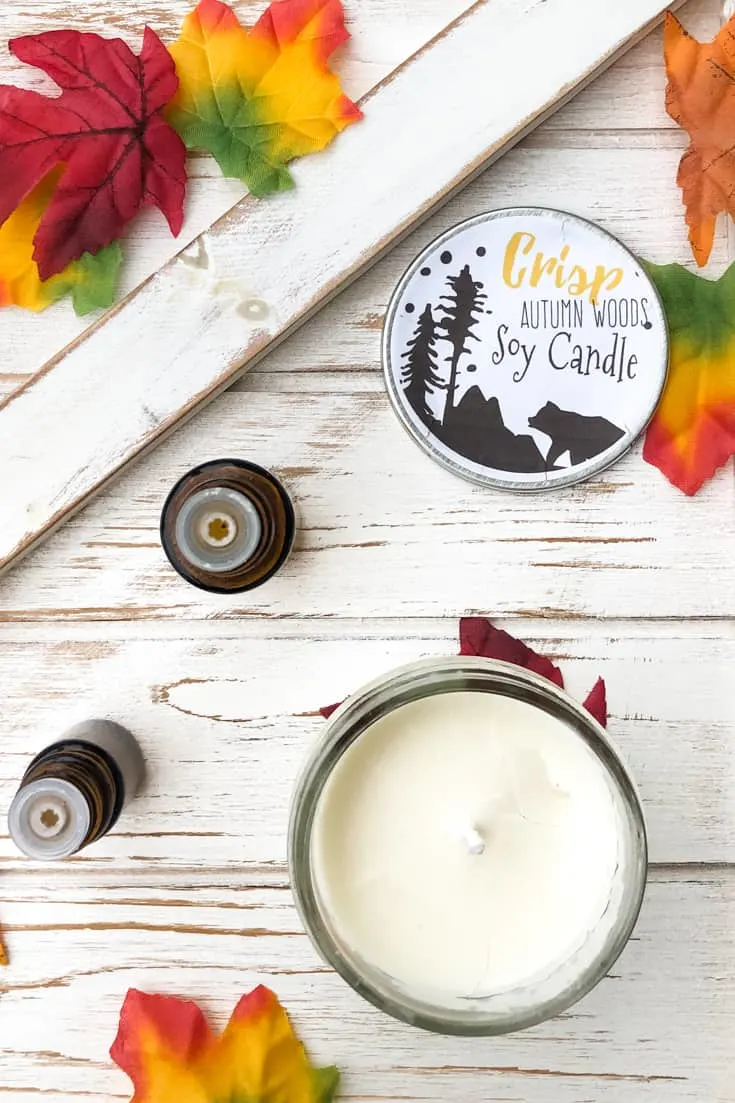 Are you ready to learn how to make this simple soy candle?!
How to make this wood scented candle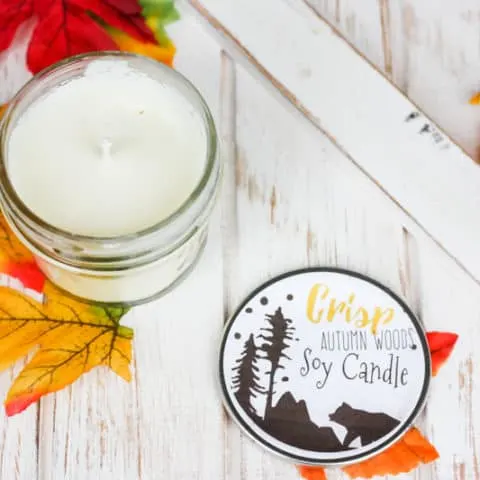 Woodsy Scented Soy Candle Recipe
Total Time:
1 hour
20 minutes
This homemade woodsy scented candle is simple & easy to make!
Materials
18 drops Grapefruit Essential Oil
18 drops Cedarwood Essential Oil
18 drops Pine or Fir Essential Oil
Instructions
Melt soy wax flakes
Let cool slightly
Add essential oils and stir well
Place candle wick and hold in place with clothes pin
Let cool
Recommended Products
As an Amazon Associate and member of other affiliate programs, I earn from qualifying purchases.
More candle recipes and natural items to consider:
Don't forget to Pin this Homemade Soy Candle Recipe for later: