Want to learn how to make easy homemade soy candles? This Pumpkin Spice Essential Oil Candle Recipe is the perfect scented soy candle for FALL!
So you've conquered some fun easy fall recipes like this fall scented foaming hand soap or this pumpkin spice room spray and you're ready for more of a challenge?
Maybe you thinking making your own scented soy candles is just too hard?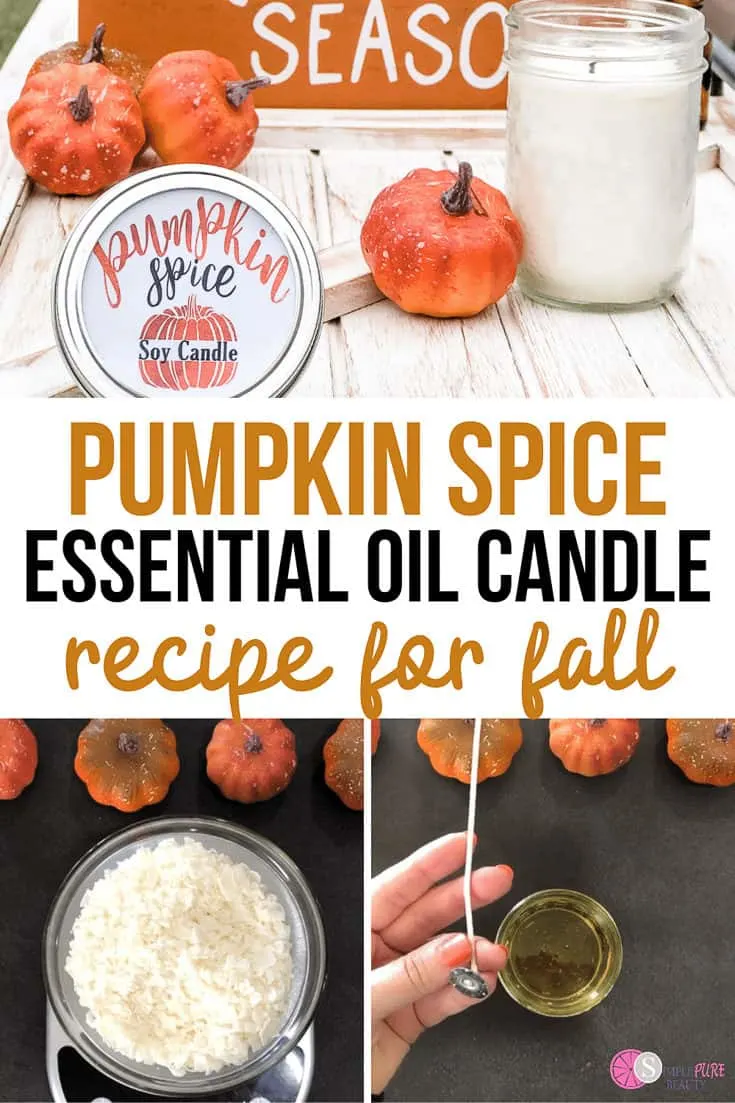 I think you are going to be surprised at just how easy it is to make homemade soy candles, there are just a few questions that need answered.
1. What container will you make your candle in?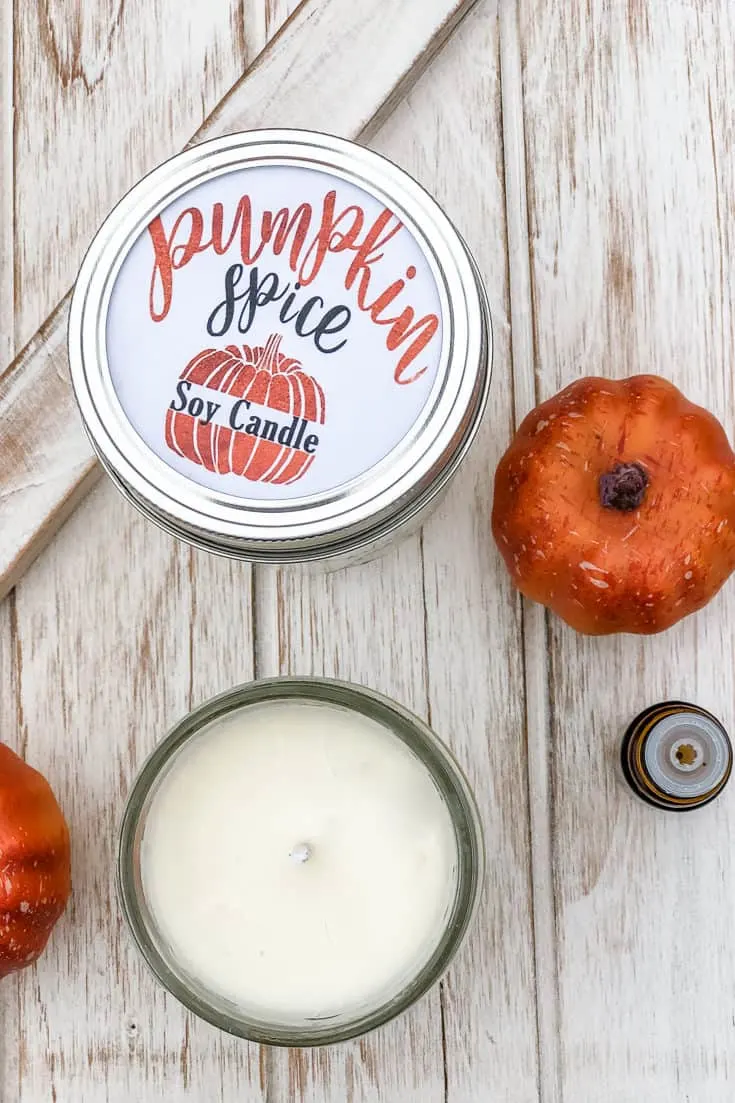 One of my favorite containers for homemade candles are mason jars.
Can mason jars hold candles?? Absolutely!
I am using a small 4 oz mason jar for this recipe, like these ones.
But there are a lot of cute options on amazon.
2. Where to buy wax for candle making?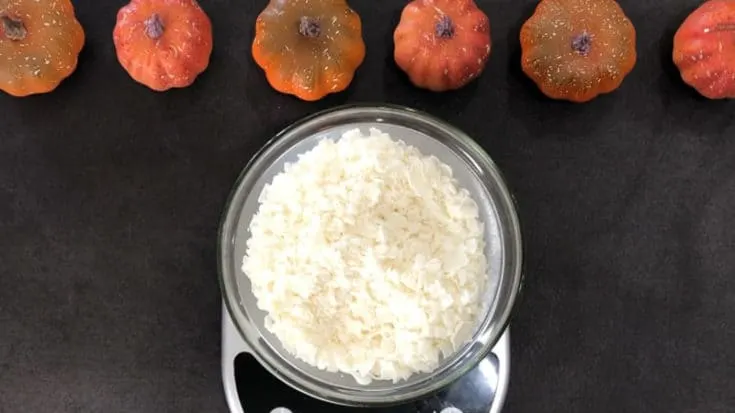 For this recipe, we are making homemade soy candles, but there are other wax options including beeswax. Click here for more info on choosing wax for your candle.
Since we are using jars and not making pillar candles, soy wax is perfect.
I have chosen to use soy wax flakes that I purchased on Amazon. You can swap the soy wax flakes and use beeswax if you have that on hand.
3. Where to buy candle scent oil?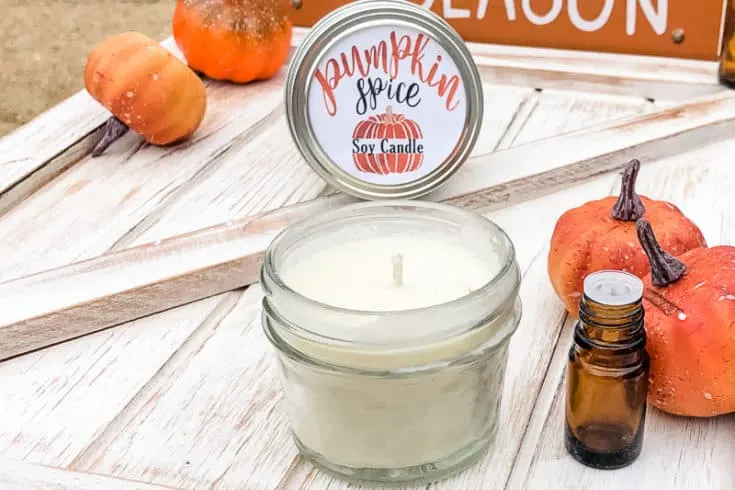 I am assuming you want to make your own scented candle because you've read that synthetic candles and fragrances are dangerous. The side effects can range from allergies to asthma and you don't want your family breathing in these chemicals.
Maybe you're wanting to make homemade soy candles because you want an option that is safer for your family?
That's why we will be using essential oils for our candle making. As long as you know your essential oils are pure, essential oil candles are a great way to scent your home safely.
Here's a quick video I recorded sharing the essential oils I use…
Synthetic candle scent oil is stronger than essential oils, but when you research the ingredients in the scents, it's probably best to avoid them.
4. Where do I buy candle wicks?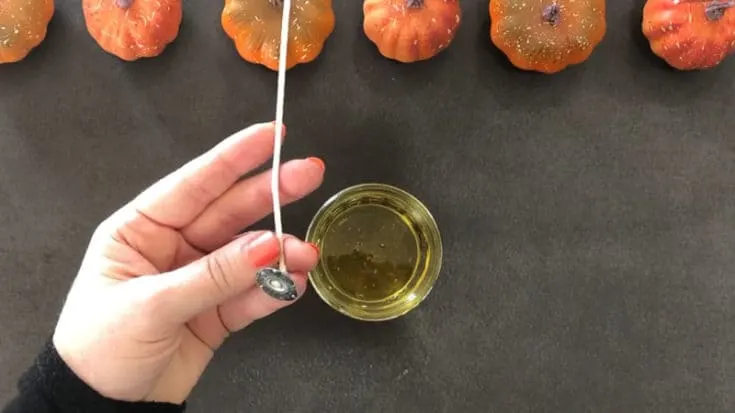 There are multiple candle wick options depending on what you're looking for. I just used a simple candle wick like this one.
But there a quite a few other candle wick options like these:
Amazon also has this fun Homemade Soy Candle Kit that comes with soy flakes and your wicks.
Ok, are you ready to make this Pumpkin Spice Essential Oil Candle Recipe for Fall?!?
Prefer to watch the Pumpkin Spice Essential Oil Candle Tutorial on our Youtube Channel: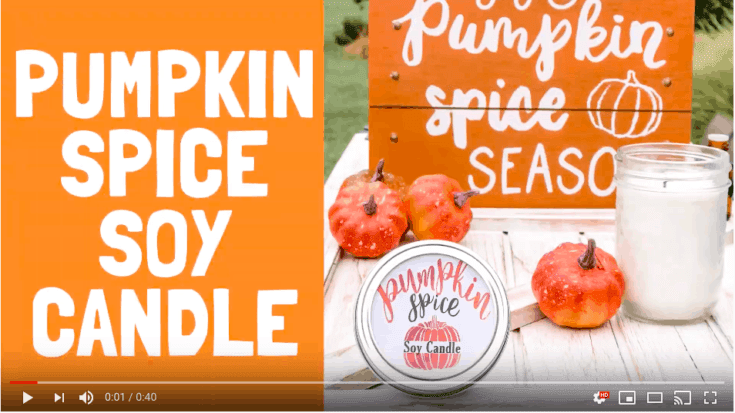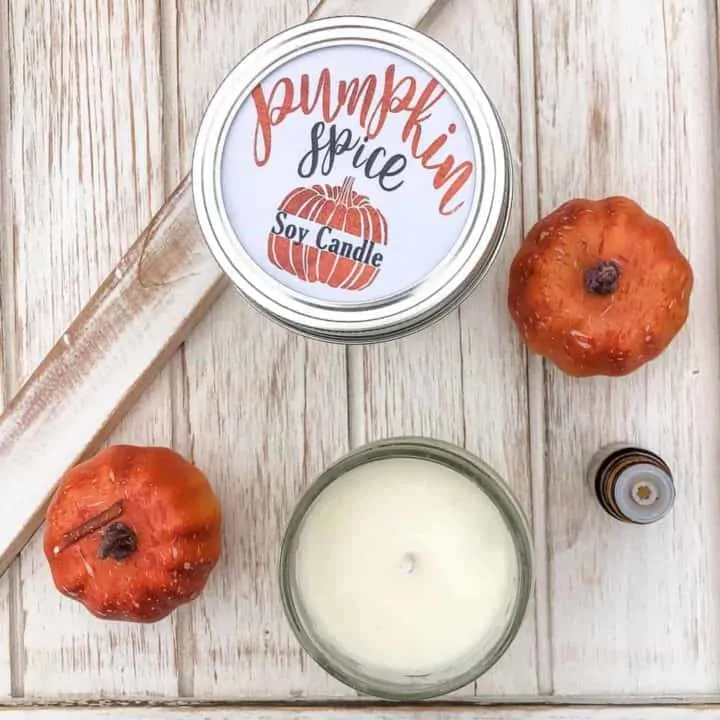 Pumpkin Spice Essential Oil Candle Recipe for Fall
Total Time:
1 hour
20 minutes
You'll love this Pumpkin Spice Essential Oil Candle!
Materials
37 drops Sweet Orange Essential Oil
18 drops Tea Tree Essential Oil
6 drops Clove Essential Oil
Instructions
Melt soy wax flakes
Let cool slightly
Add essential oils and stir well
Place candle wick and hold in place with clothes pin
Let cool
Recommended Products
As an Amazon Associate and member of other affiliate programs, I earn from qualifying purchases.
Don't forget to Pin this Homemade Soy Candle Recipe for later: