You're going to love this DIY Cinnamon Soap recipe! It's simple and easy to make and it's the perfect scent for the holidays!
Once you smell that cinnamon scent of this natural hand soap, you're going to be geared up and ready for the holidays.
This foaming hand soap is really great to have on hand for all your guests that are visiting or can even be given as an awesome DIY Christmas Gift as well.
What I love most about this cinnamon soap is that it's not made with any type of harsh chemicals or ingredients at all. To me, that is the peace of mind that I'm looking for when I'm creating something DIY and natural in my home.
And now that the flu germs are flying about, it's important to make certain that everyone washes their hands well and takes care of their bodies. This gentle foaming hand soap is a great way to wash away the germs easily, too.
I also created this Autumn Woods Fall Foaming Hand Soap that you should make, too. We alter between the two scents in our house and I just love them both.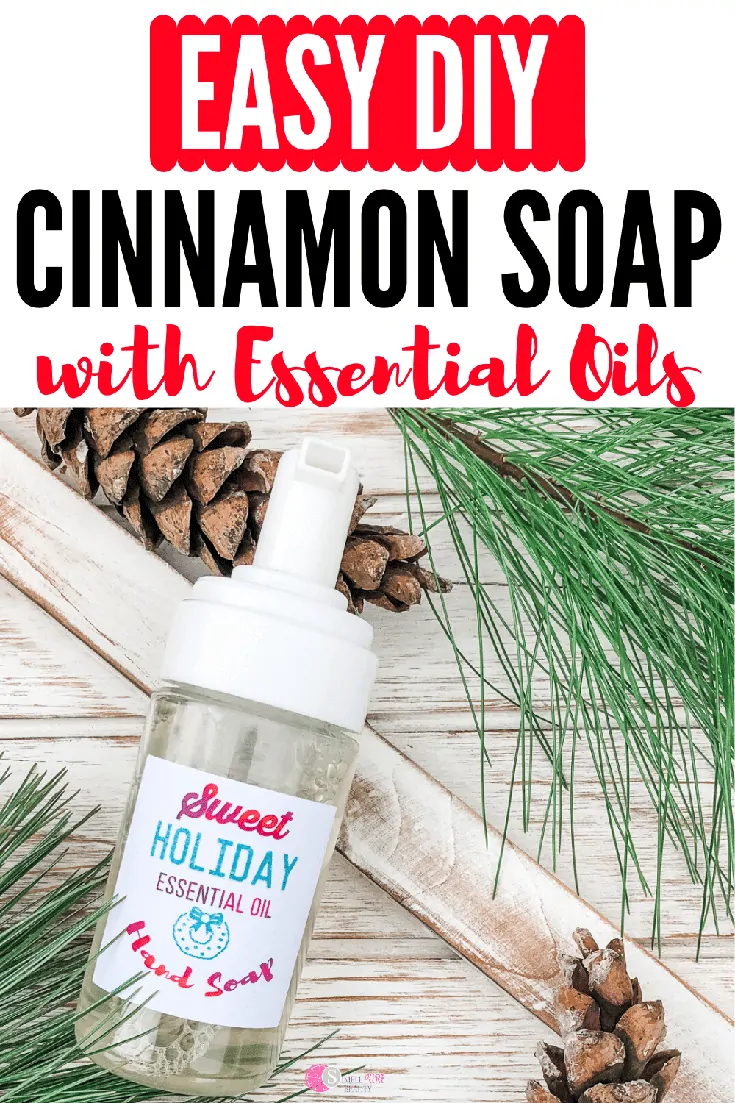 Winter Soap Scents – Essential Oil Blends for Soap
I love making different blends with essential oils so much and I can't wait to see what you think of this soap recipe as well. Also, if you're looking for some other great diffuser blends, check these out as well.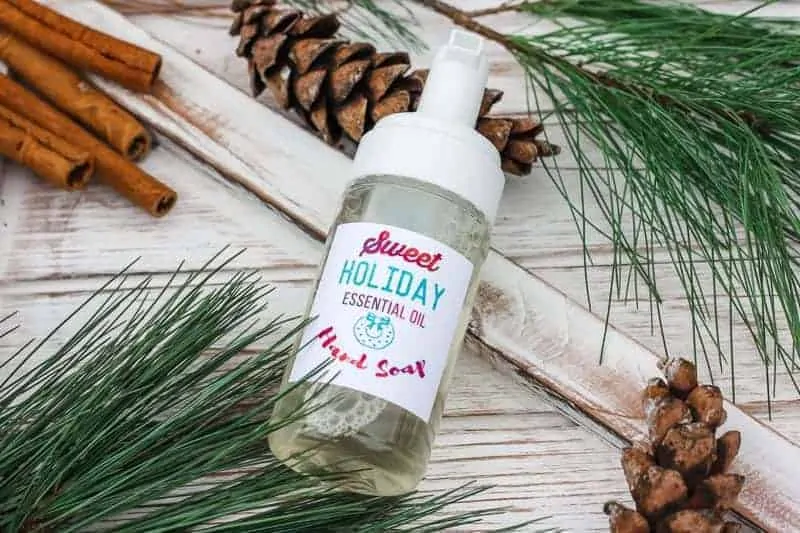 For this recipe, we are using these winter essential oils:
Grapefruit Essential Oil – I love this smell!
Fir or Pine Essential Oil – Musky smelling!
Sweet Orange Essential Oil – You'll love this citrus scent!
You can also play around and use some of your own oil combinations if you want to. I've just had really good success with these combinations.
How to Make Cinnamon Hand Soap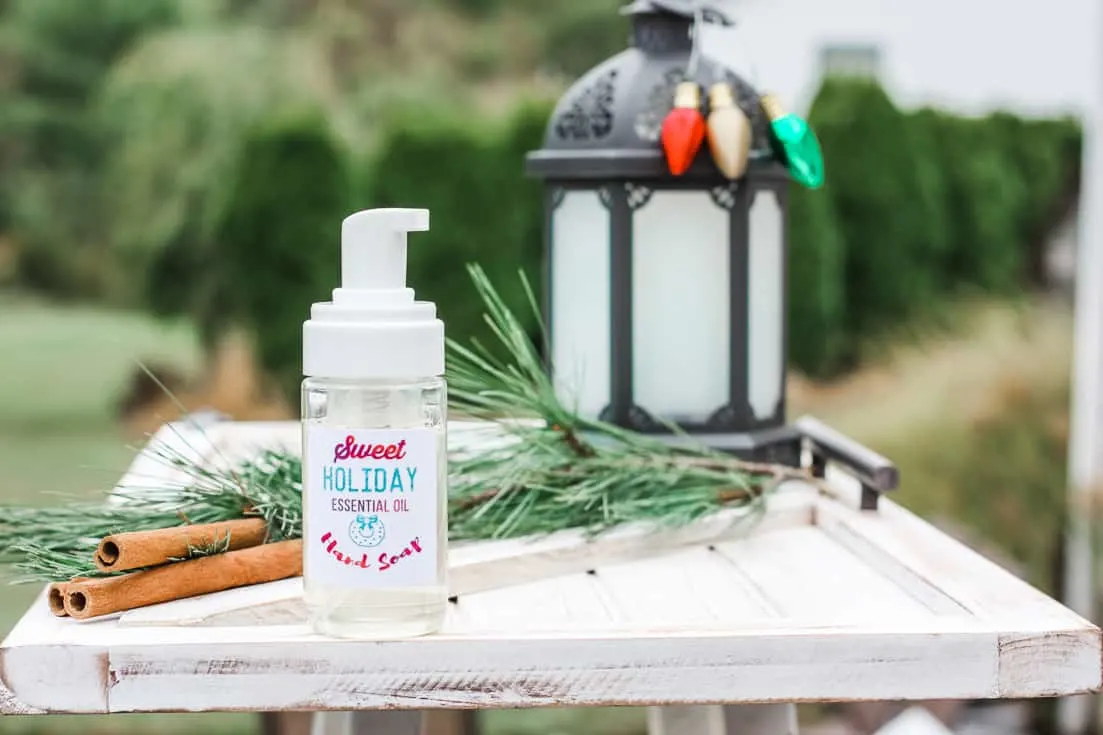 Start by gathering up your supplies before getting started.
1 Foamer Bottle (1.7 ounces) (I use this one, but you can also get larger ones like these.)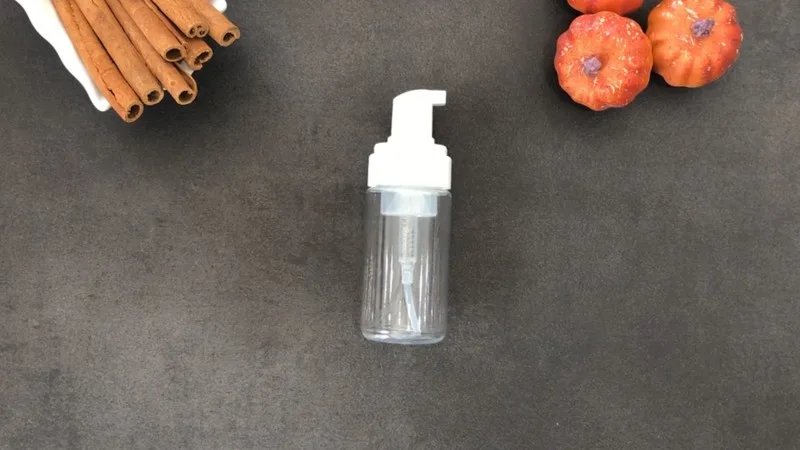 Once you have all your supplies and ingredients on hand, it's time to start creating this natural foaming hand soap!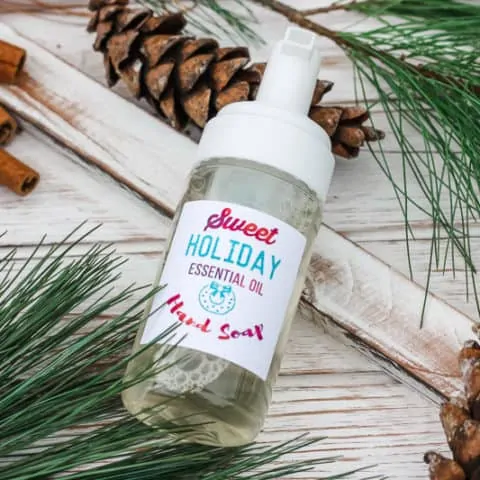 DIY Cinnamon Soap Recipe
You'll love this Cinnamon Foaming Hand Soap recipe!
Materials
1/16 tsp (.50 grams)Geogard ECT Preservative
Distilled Water
3 drops Grapefruit Essential Oil
3 drops Sweet Orange Essential Oil
3 drops Fir or Pine Essential Oil
1 drop Cinnamon Essential Oil
Instructions
Mix all the measured ingredients into pump bottle.
In a slow stream, add the distilled water until ¾ full and then cap and shake well
Check & adjust pH to within a range of 3-8 and add Preservative, shake to combine.
4. Re-check pH and adjust (if needed) to a skin friendly pH of around 5.
5. Shake well before use.
Notes
For larger 8 oz foaming bottles, fill 1/3 with castile soap and use the following essental oil dilutions:
12 drops Grapefruit
12 drops Fir or Pine
10 drops Sweet Orange
5 drops Cinnamon
Recommended Products
As an Amazon Associate and member of other affiliate programs, I earn from qualifying purchases.
IF YOU LIKE THIS RECIPE, YOU MIGHT ALSO ENJOY: