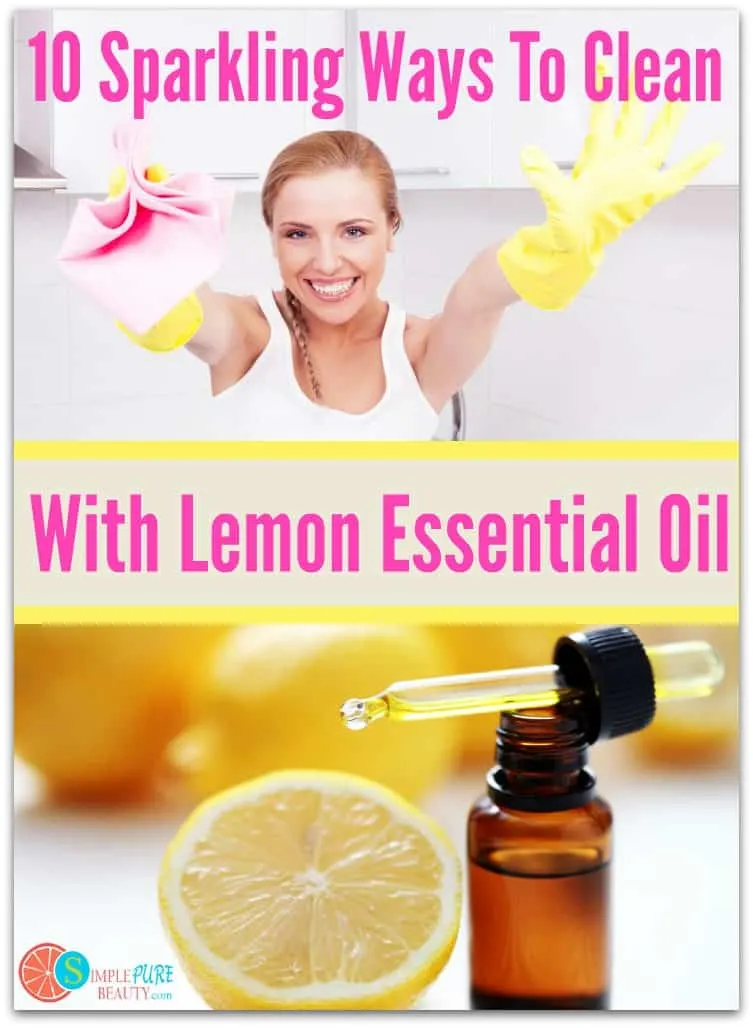 Essential Oils are an amazing addition to your non-toxic cleaning arsenal. If you are trying to get rid of your toxic cleaning supplies, essential oils are a great tool to have. Not only are they just as effective as killing germs and viruses, but they are completely natural. I personally use these oils for my family. Lemon oil is included in their Premium Starter Kit. (Love this set of oils!)
New to Essential Oils? Click Here to download a free copy of the guide: 100+ Ways to Use Essential Oils.
Lemon is one of my FAVORITE essential oils! It's fresh citrusy smell just makes me happy.
Lemon essential oil is cold pressed from the rind of the lemon. It is very popular in skin care, anti-aging and to help combat breakouts.
But, what about getting your house clean?
A little bit of lemon essential oil can go a long way when it comes to cleaning and keeping your house. Lemon essential oil obviously offers that clean, fresh smell that makes your home feel inviting and full of energy. In addition to lemon oil being all natural and non-toxic, it has antiseptic properties that give you confidence that you are not just "faux cleaning" by hiding things in scent – you are getting things truly clean.
So, here they are:
10 Sparkling Ways to Clean with Lemon Oil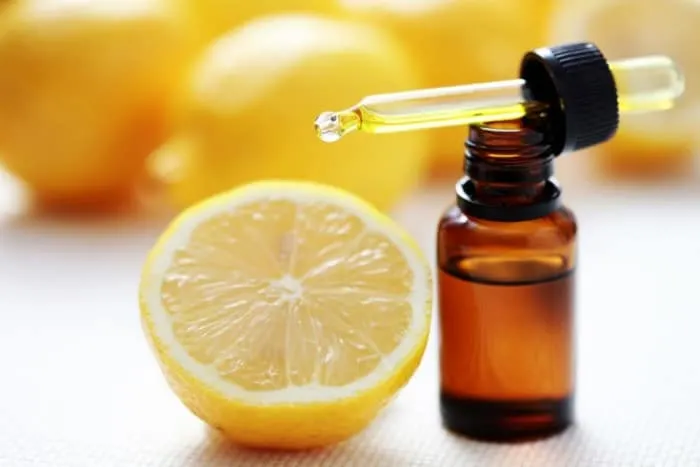 Air Freshener Spray – Fill a glass spray bottle with water and up to 10 drops of lemon essential oil (experiment with blending your lemon oil with other essential oils to create a signature scent for your home). Shake bottle well before use!
All Purpose Cleaner – I use a mix of ½ water and ½ vinegar in a glass spray bottle to clean just about everything. Adding about 30 drops of essential oil increases your cleaner's antiseptic properties as well as grease cutting properties.
Disinfecting Wipes – To make your own wipes, you will need some old cloths cut into squares, glass jar, vinegar, water and your essential oils. See complete instructions here.
Dryer Sheets – Use coffee filters or some old rags and 2-3 drops of lemon essential oil to create your own, non-toxic dryer sheets.
Goo Gone – Add a drop or two of lemon oil to your sticky label and it will peel right off. AMAZING! 🙂
Hand Sanitizer – Rub a drop or two into your hands for a quick hand sanitizer.
Homemade Dusting Spray – Create a dusting spray with olive and lemon oil. See complete instructions here.
Leather Cleaner – First vacuum your leather furniture to remove crumbs and other bits of family detritus. Next mix 2/3 cup of water and 2/3 cup of vinegar with 10 drops of lemon essential oil. I find it easier to put this into a mason jar or something with a lid so I can keep shaking it as I work. Test an area of your leather and wait at least 20 minutes before starting. Working with a paper towel damp with your mixture, clean the surface of your furniture using circular motions. The vinegar will clean while the oil will soften and freshen. Follow up by rubbing furniture down with a dry paper towel.
Stain Remover – Put 1/3 hydrogen peroxide + 2/3 water and up to 10 drops lemon essential oil in a dark, glass, spray bottle (the dark glass keep the hydrogen peroxide potent). ALWAYS test before spraying your stain – hydrogen peroxide will bleach some carpets and some fabrics. Spray stain, let sit for 1-3 minutes. Scrub with scrub brush until stain is gone!
Spot free dishes – Add a few drops of lemon oil to your dishwasher for spot free dishes.
Go ahead – give it a try. Within a week, I bet you'll have another 10 uses for lemon essential oil.