Not only are these DIY Citronella Candles perfect to keep the insects away, but they are also adorable! Click to get the complete candle recipe and tutorial!
Spring has finally sprung and warmer temperatures bring blossoming trees, chirping birds and annoying mosquitoes.
We appreciate being outside on our patio and even more so now that we have a gorgeous farm house table to enjoy our grilled dinners from.
On warm mornings, we relish our comfort foods like hash browns with eggs and on hot nights we delight in grilled wild salmon with asparagus.
Our patio isn't just a place to eat, drink and be merry with friends and family though. It's also the place where we do a bulk of our homeschooling when the weather is just right.
And where my sons, unbeknownst to me, conduct science experiments that should probably require safety gear complete with gloves and goggles.
The patio also happens to be the place for blood sucking pests to linger and lounge and make your grilled salmon dinners miserable.
One easy way to keep those pesky insects at bay is by dousing yourself with insect repellents containing N-diethyl-meta-toluamide or most commonly known as DEET.
Of course convenience doesn't always equal best.
A much better alternative would be to make these beautifully rustic eggshell candles with added citronella essential oil to ward those blood suckers away.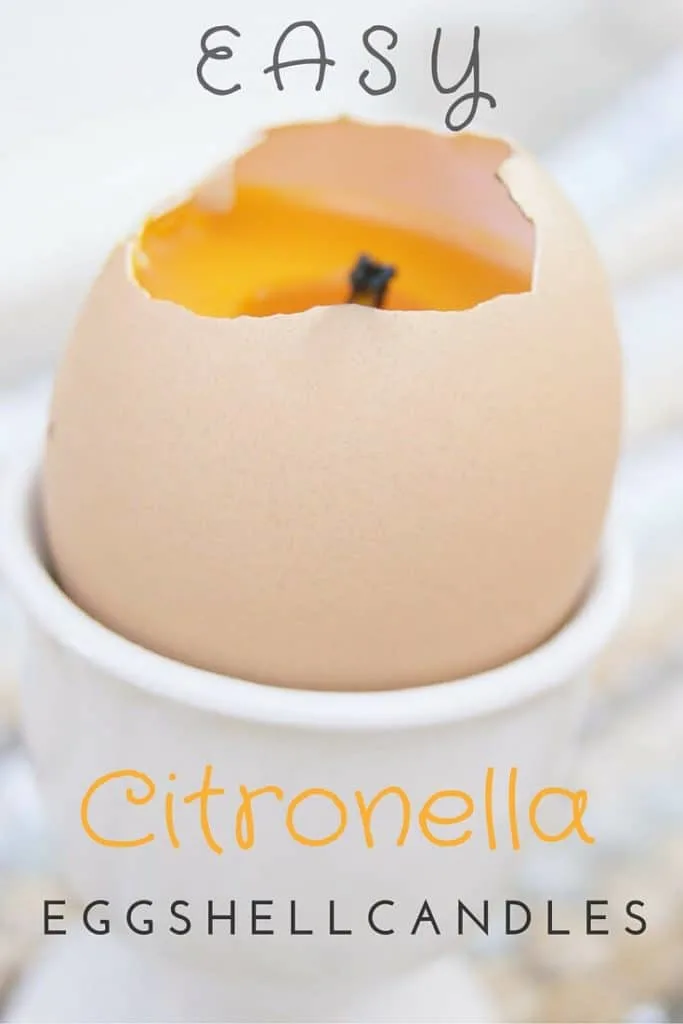 Sure you can make these candles in jars or tin containers, but I love the idea of recycling eggshells and besides, they just look gorgeous.
They also happen to be the perfect centerpiece for your Easter table on the patio while the kiddos are out hunting for eggs.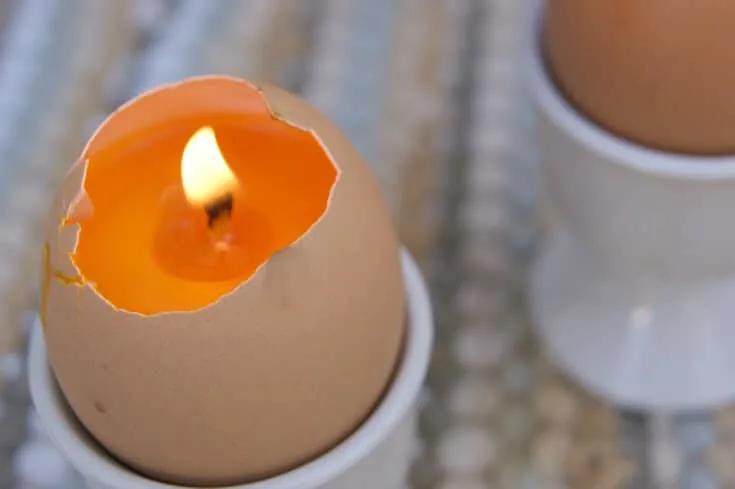 Or to add extra oomph, after thoroughly cleaning them (instructions below) you can gently toss them in some natural food dye for added color.
Because our patio color scheme is au-naturale complete with dirt and sometimes chicken poop from a naughty hen, I go for the brown color that my eggs naturally come with.
Note: I made these with 1/2 beeswax and 1/2 red palm oil, hence the reddish tint. However, I found that making these with all beeswax works best.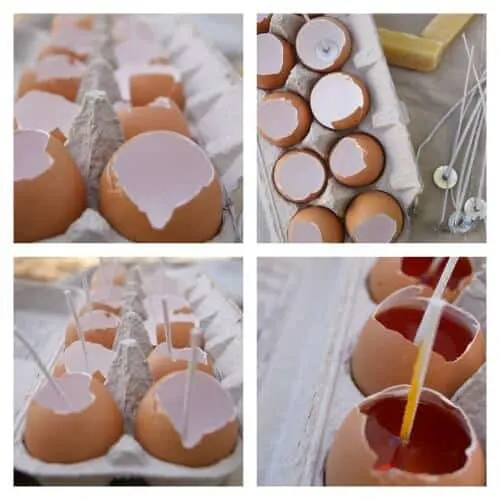 Making Citronella Eggshell Votive Candles
Ingredients:
6 empty, cleaned egg shells intact
6 oz. beeswax
candle wicks, small with metal caps on bottom
36-40 drops of Citronella essential oil
Equipment needed:
Egg carton to hold egg shells
Glass measuring cup with spout
Medium saucepan with boiling water
Scissors
Eggcups
Instructions:
Carefully, break the top of the raw egg and enlarge the hole with fingers. Pour the yolks and whites into a container to be saved for later use.
Remove about 1/3 off the top of the egg. Rinse well under warm water, removing the white film that sticks to the eggshell by rolling it with a finger.
Set washed eggshells on an egg carton and allow dry thoroughly.
In a double boiler, melt beeswax completely.
Meanwhile set candle wicks in each of the eggshells, making sure the wicks do not touch the eggshell. The wicks can easily be bent and manipulated to keep them from touching the eggshell.
Add citronella essential oil to the melted beeswax and give a quick stir with skewer.
Carefully pour the wax mixture into the eggshells leaving about a centimeter from the top.
Set aside to cool and set, about 3-4 hours or overnight.
Trim excess wicks leaving a centimeter from the top of beeswax.
Place eggshell candles in eggcups before lighting and enjoy a candle light dinner mosquito free.
Have you ever made your own candles?