You work hard on your DIY Creations, so shouldn't your labels reflect that? Check out these Super Cute Labels to give your products a leg up on the competition…
This is a sponsored post written by me on behalf of StickerYou. All opinions are 100% mine.
Have you ever made some awesome DIY Creation like:
A beautiful essential oil blend that smells amazing…
A face cream that works wonders on your skin…
A luxurious sugar scrub that leaves your skin feeling like silk…
And you forget to put a label on it. Not only that, a few weeks later you pick it up and can't even remember what it is or how you made it… Ugghhh, that is the worst!
I can't even tell you how many times I have done this. All the time spent creating, blending and testing to create a masterpiece all lost because I don't label it and forget how I even made it.
Or you want to brighten someone's day by gifting them one of your creations, but your DIY label is just sub-par. What's inside the container may be amazing but the outside just doesn't do it justice??
So maybe you don't even bless someone with a gift because you're too embarrassed by the label?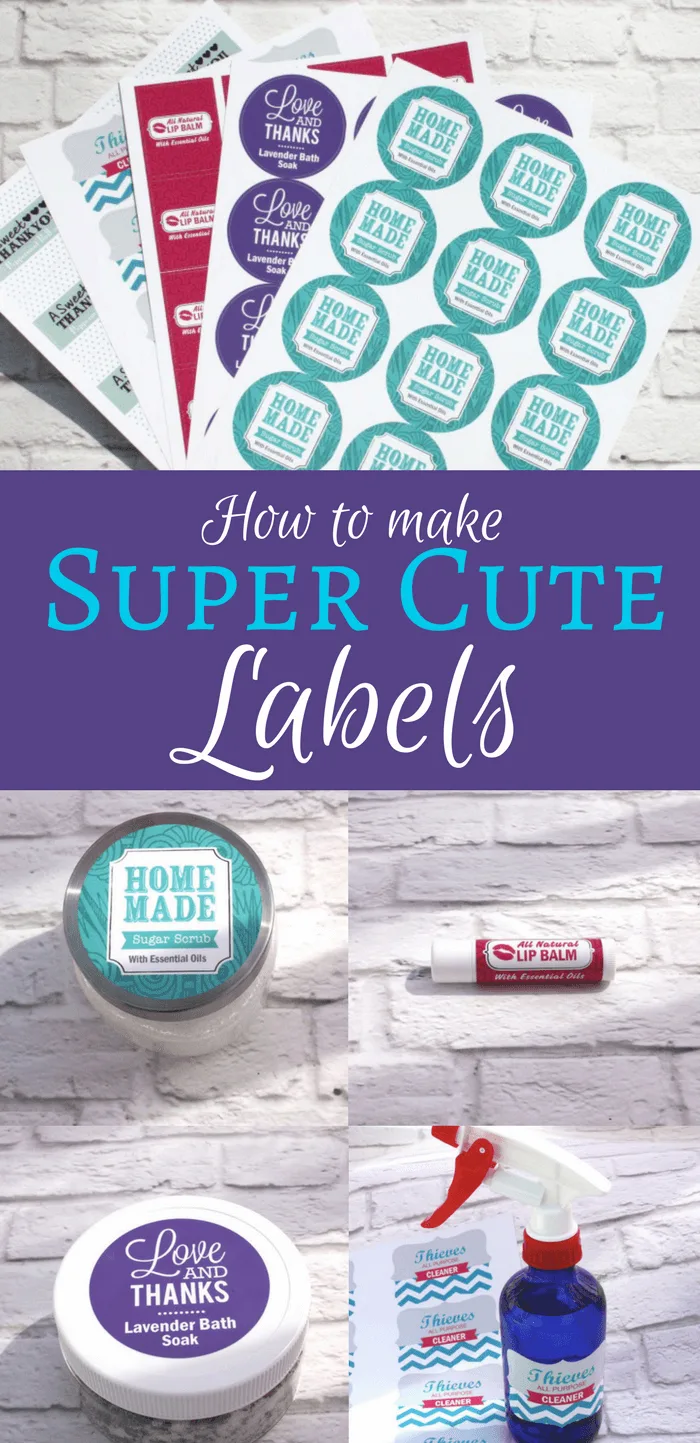 The Problem With Printing Your Own Labels
I have created and printed my own labels but I always run into the same problems.
It's very time consuming if you want to create a beautiful, professional label.
I've yet to find a label that still looks nice after it gets wet.
If you put it on crooked, it's hard to fix and usually ruins the label.
As hard as I try, I am always spilling oils on my labels or getting them wet. And if I'm giving someone a sugar scrub as a gift, it's obviously going to get wet.
Who wants their labels to start smearing and falling off after a week or two? Not cool.
Why I've Fallen In Love With StickerYou Labels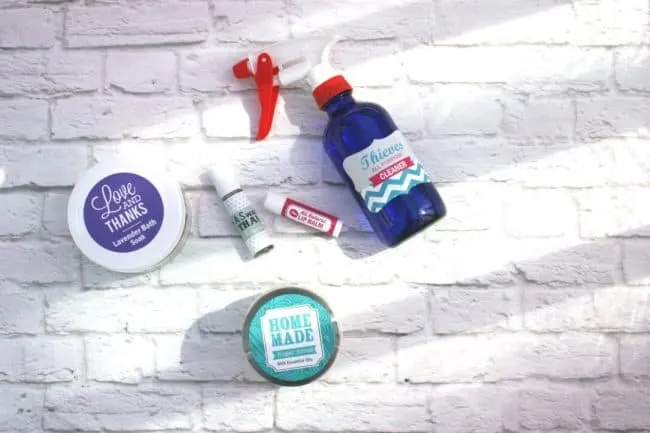 As an essential oil educator I teach local classes on DIY and using essential oils. I have been putting together hostess gifts for anyone who helps invite to a class or hosts a class for me. I really wanted these gifts to be fun, colorful and look professional.
So I was excited when StickerYou reached out to me about trying their products.
StickerYou is the only online platform in the world where you can upload your own designs or artwork to create completely custom stickers, labels, large format decals, temporary tattoos, iron-ons and magnets.
You can order your sticky products in any shape, any size and any quantity you wish. They have no minimum order quantity on most products so you can order the right number of stickers or labels to fit your event.
StickerYou's custom die-cut algorithm allows them to die-cut around the edge of your sticker or label design creating a unique shape. You are not limited to standard shapes.
It is So Easy to Create Beautiful Labels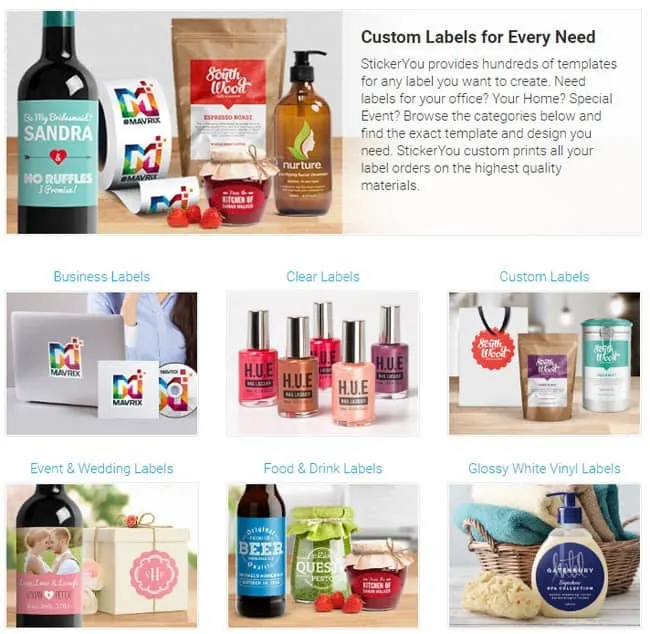 I had so much fun playing around with the different designs StickerYou offers. Their online platform has tons of templates. This is perfect if you want to DIY your own labels but don't have strong design skills. You can still get a great look because all of their templates have customizable color, text, images and fonts.
So even though I love design, I was super happy with their available templates. I simply chose a template and replaced their wording with my own.
You can see just a few of their lip balm templates below: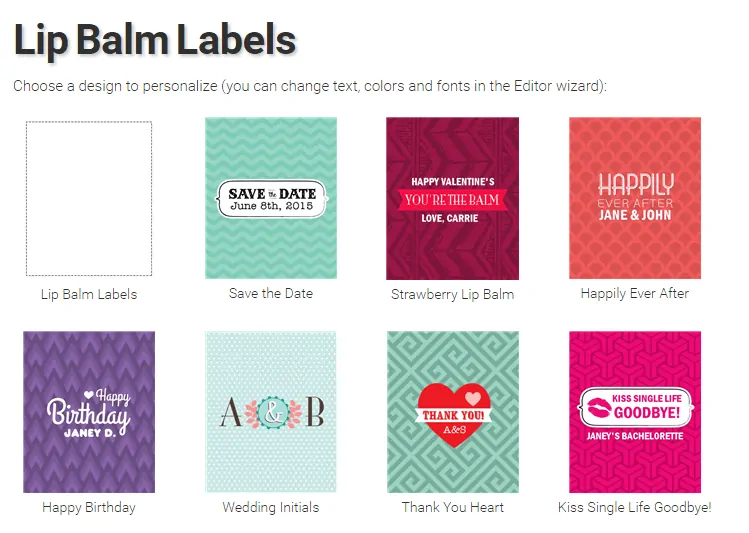 I chose the Kiss Single Life Goodbye template for my lip balm and simply replaced the text with my owner version:

There are so many options that I had fun just playing around with all of the different choices.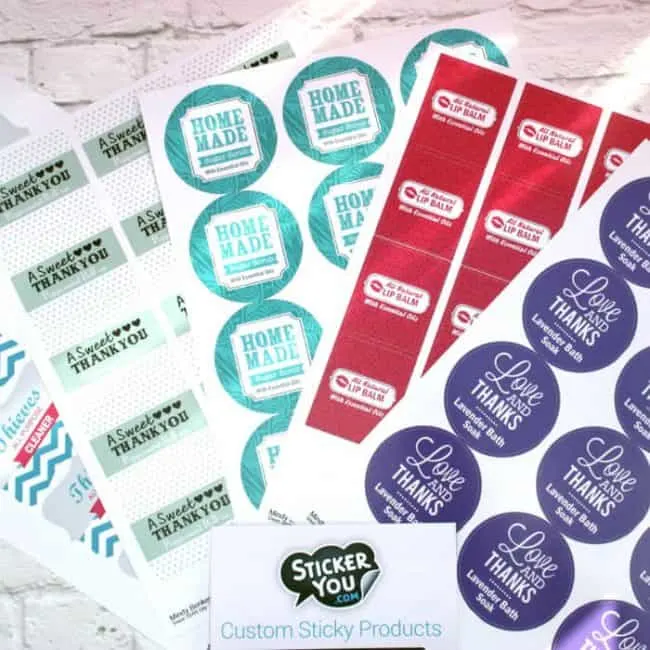 Here's All The Juicy Details:
You can create multiple designs on a single page for maximum customization and all labels are digitally cut, so they can be contour cut to your design.
They are perfect for small businesses or DIYers because there are no minimum order quantities and pages start at just $9.99.
The labels have a high quality shine which gives them a very professional look.
They can be created in a variety of sizes and are great to use on gifts, or when selling your homemade beauty products.
The labels are photo quality so you can even upload photos and use them on your products.
The material is waterproof, dishwasher safe, microwave safe, heat resistant, fade resistant and will stand up to mild abrasion.
You have the choice between white vinyl material or clear vinyl material. (They typically recommend white vinyl for bright colors or busy designs. But the clear labels also look beautiful if going for a more simplistic or modern design.)
Their premium vinyl material has great color reproduction, which means it is easy to match the color of the labels to a specific theme or color scheme.
The material will apply bubble free and has a strong but removable adhesive. If an error is made during application, the labels can be peeled up and replaced.
The label will remove clean with no adhesive left behind.
My Personal Experience Using StickerYou Labels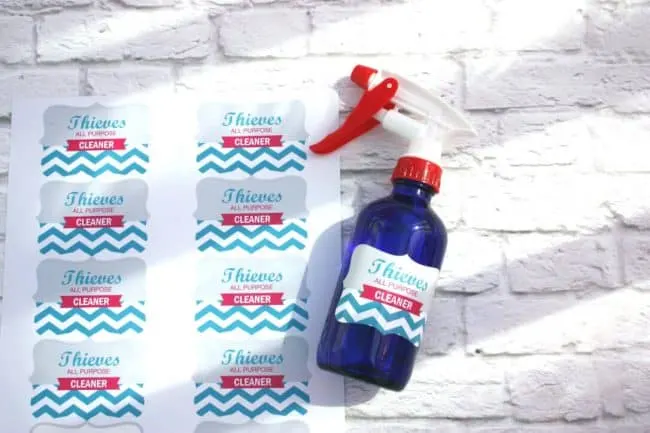 The most time consuming part of this experience for me was actually choosing what products I wanted labels for. Creating them on the StickerYou website really only took me a few minutes.
My labels were printed on the white vinyl and were perfect. The colors were so smooth and vibrant, which is hard to get when printing them yourself.
They were easy to apply. I was having a hard time applying the Thieves Cleaner label straight, but they were easily removed and straightened.
They were more stretchy than I had anticipated, so you have to be careful when removing and re-applying not to stretch them out.
But the most exciting thing for me!! I totally washed my sugar scrub lid and the label still looks immaculate. How exciting is that!
So how do you get your hands on these lovely labels?
How to Save 10% on Your StickerYou Labels
Ready to make your DIY Creations POP?
Visit StickerYou.com and create your very own custom labels. Simply enter the Coupon Code: MINDY10OFF to save 10% off of your complete order. This coupon code is good through December 31, 2017 and can be used more than once!
It's time your hard work is reflected on the outside of your products!
Be Sure to Pin This Post For Later: