DIY hair conditioner doesn't require fancy ingredients. You likely have everything on hand, especially the magic ingredient.
DIY conditioner is a great solution to add to your natural hair care routine.
You want soft, touchable hair without the tangles.
Getting a brush through your hair should not be like hacking your way through the Amazon Jungle.
You don't want a conditioner to weigh your hair down either. And let's face it, many conditioners do just that.
If you're searching for an effective DIY conditioner recipe. Look no further!
Today I've got an easy DIY conditioner recipe for you. You may already have all you need in your cabinets!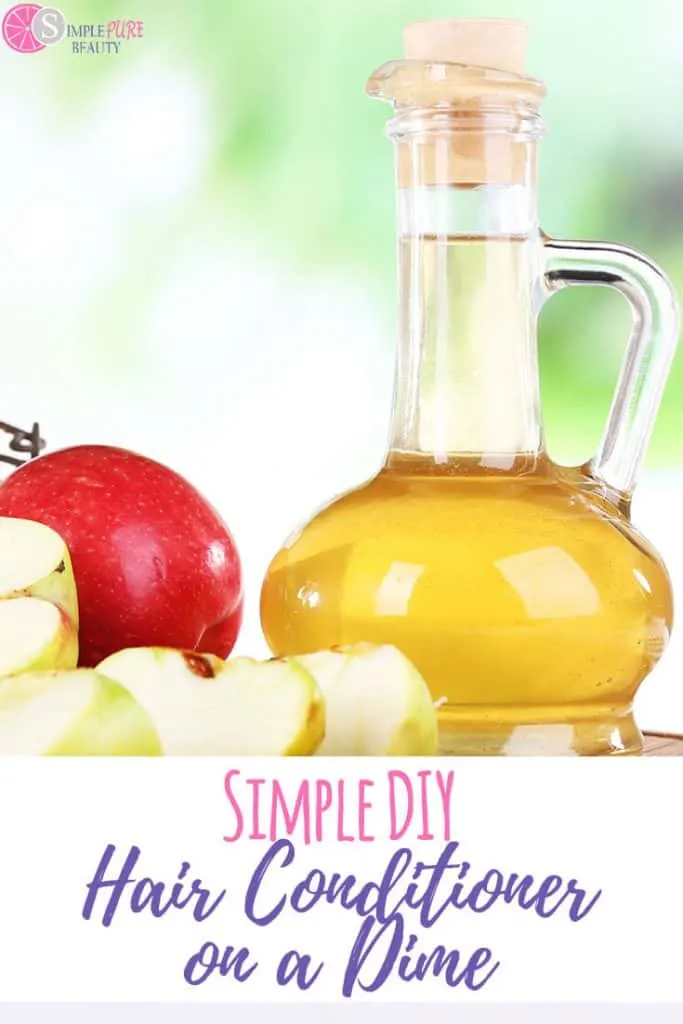 It takes all of 2 minutes to make up and is shelf stable for long periods of time. Plus, it's cost-effective.
No exotic ingredients to worry about going bad when subjected to the heat in your shower. While I'm still a fan of fancy ingredients in hair care products, they aren't necessary in this recipe.
I love how simple and effective DIY conditioner can be. So, let's dive in!
The Magic Ingredient – Vinegar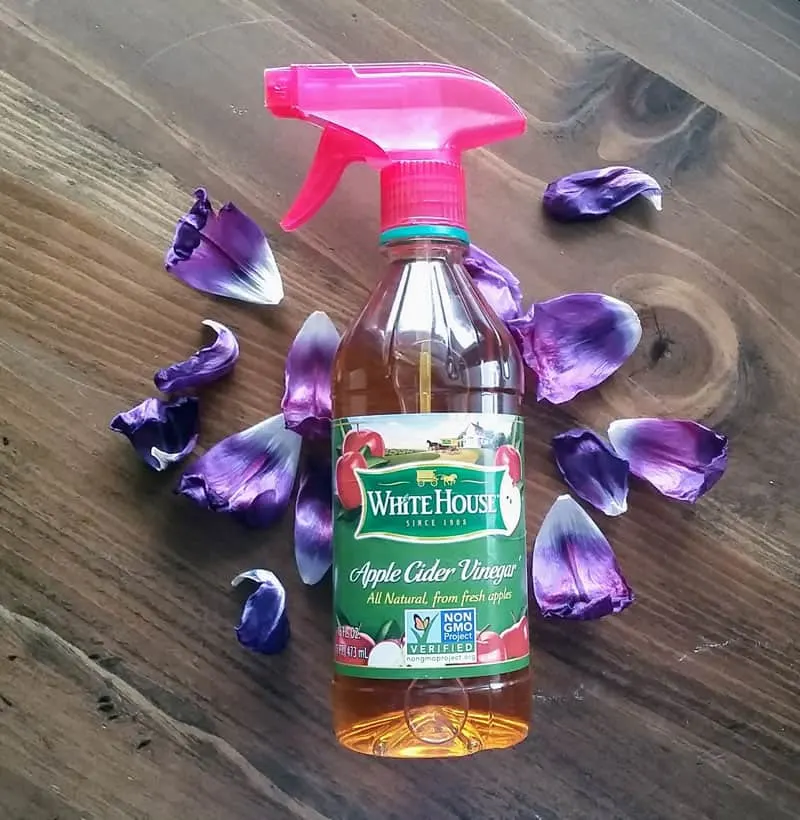 Say what?! You're thinking – I don't want vinegar on my head!!! But stay with me here, you'll be happy you did.
I'm ashamed to admit, I resisted trying this recipe for years.
I thought it was a little too crunchy for me. Worried that I'd wind up smelling like vinegar all day long.
I know you're hesitant too. And that's completely normal.
Sometimes we need to step out of our comfort zone.
Do something a little crazy!
That's where all the good stuff happens anyway. This is the time to step out and try something new.
After I tried it, I felt frustrated for not trying it sooner.
I promise you won't smell like vinegar all day if you use the DIY vinegar conditioner. Once your hair dries, there will be no lingering smell from the vinegar.
I can barely smell the vinegar after I've rinsed my hair.
Plus, you'll add some great smelling essential oils to help things smell better. My favorite essential oil to add is lavender.
How It Works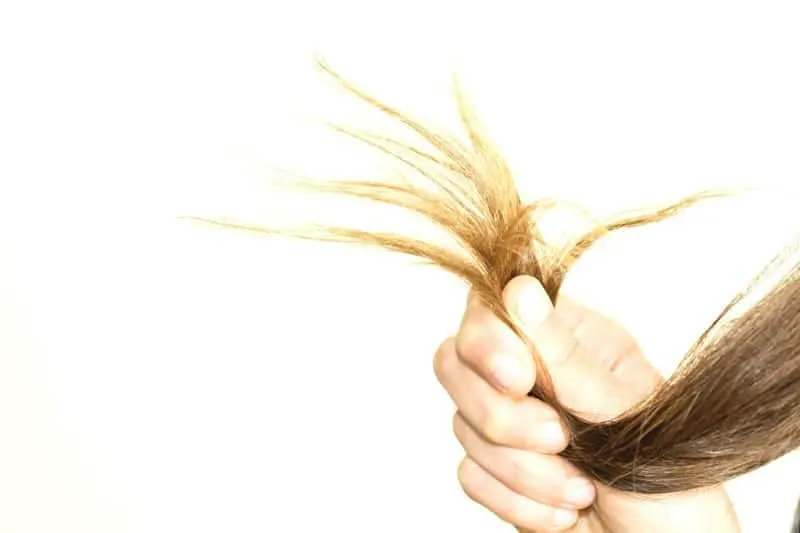 We've all seen those close-up pictures of damaged hair on TV commercials.
Each strand of hair is made up of overlapping scales. When hair is damaged, the scales are all rough and jagged looking. This makes hair porous.
That jagged mess makes your hair a tangled mess that is difficult to brush.
When your hair is healthy, the scales look smooth, sealing in moisture.
Vinegar works to settle down those scales. Smooth them out.
That means fewer tangles and easy brushing.
Plus, shiny hair.
I noticed how shiny my hair was once I made the switch to vinegar conditioner. And it really did make my hair easy to brush. I was a little shocked how well it works.
Here are a few other benefits of using apple cider vinegar in your hair:
Balances the PH of your hair
Vinegar has antibacterial properties Source
Helps with dandruff Source
Cleanses buildup from your hair
Help maintain fresh hair color for longer Source
What You'll Need
How to Make DIY Conditioner
Pour half or 2/3 of the vinegar out of the bottle into another container.
Add water to fill the bottle back up all the way
Then add 10 drops of your essential oils
Optional – add 10 drops of argan oil
Optional – substitute witch hazel for 1/2 of the water if you need help with dandruff
Put the spray bottle top on and shake
How to Use it
Shake before each use.
Spray onto hair, concentrating on the tips of the hair. If you have dandruff, spray the vinegar solution on the scalp too.
Be careful, it will sting if you get it into your eyes. In the few years I've been using vinegar conditioner, I only once got it into my eyes.
Let it sit for a few minutes.
Rinse.
I use it every time I wash my hair – every other day in my case. In between washes, I keep my hair fresh with dry shampoo.
I've heard others say it's best to use weekly or less frequently. I'd start off using the DIY vinegar conditioner every wash and see how your hair reacts. You can always scale it back.
The two optional ingredients – argan oil and witch hazel provide some additional benefits.
Argan oil is amazing for dry hair, hair loss, and to increase hair's shine. Some say it also helps with dandruff. Makes sense if it can help restore dry hair.
Witch hazel has two benefits.
1 – It helps to keep the essential oils dispersed in the liquid.
2 – It may help heal dandruff when applied to the scalp.
Let's move on it what vinegar is best to use.
What Type of Vinegar is Best?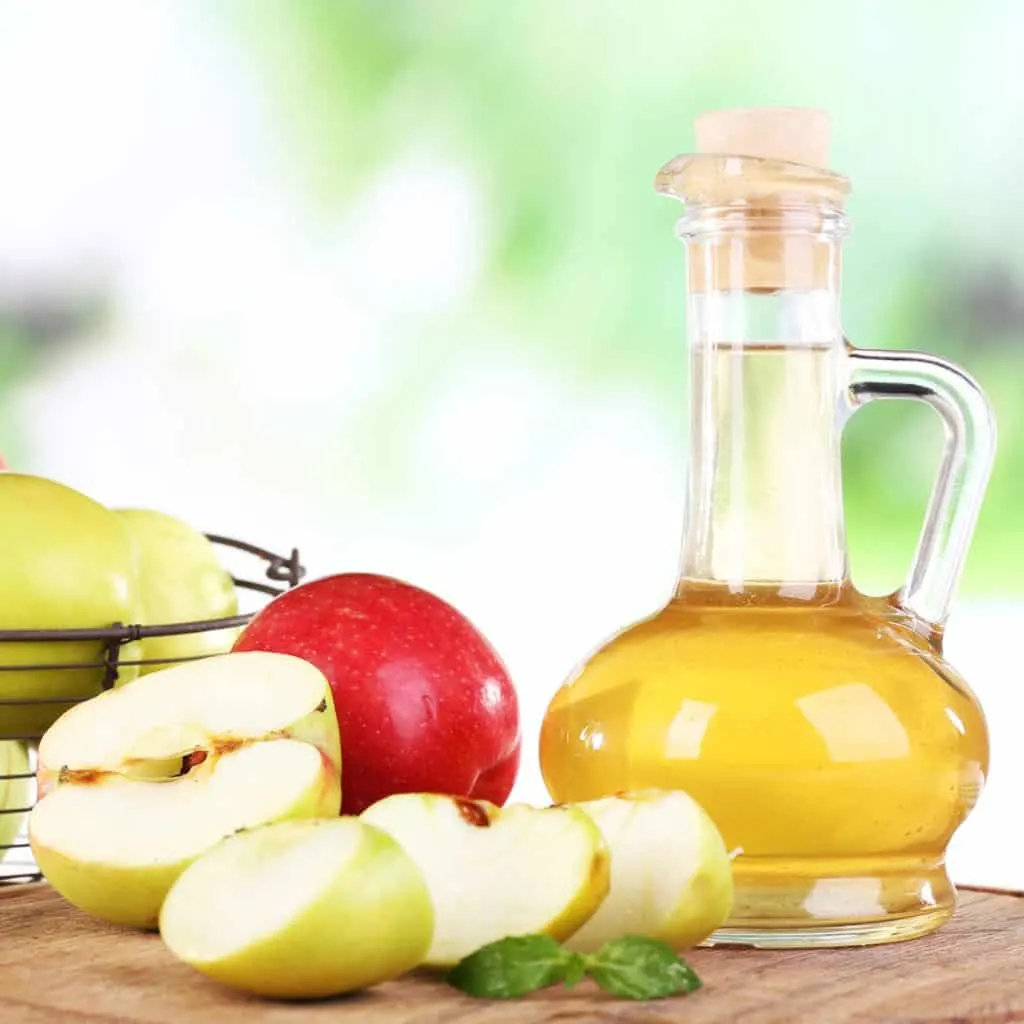 I use regular apple cider vinegar in this recipe.
There is also unfiltered apple cider vinegar with the "Mother."
Vinegar is made through the fermentation process. Essentially a "mother" culture of bacteria converts the liquid into vinegar.
Most apple cider vinegar you buy at the store is pasteurized. Vinegar is made through fermentation. The fermentation occurs because of a "mother" culture of bacteria. It's a stringy, slimy substance.
Most manufacturers remove the "mother" culture. Making the cider vinegar more appealing to the masses. In the process, they filter out all good bacteria from the "mother" culture.
If you let vinegar sit long enough, it will start growing another "mother" culture. I've experienced this in lemon or orange infused vinegar cleaning sprays.
It's completely harmless if you start growing some in your vinegar. The "mother" is good for you.
The most common brand of unfiltered apple cider vinegar you'll hear about is Bragg. I've found unfiltered apple cider vinegar at Aldi too. It's a more economical option. Both work the same in my book.
Now I might be in the minority on this one, but I use the cheap, pasteurized apple cider vinegar on my hair. I've tried both and never noticed a difference.
If you struggle with dandruff, I suggest the unfiltered vinegar. Those good bacteria will help restore balance to your scalp.
Put On Your Big Girl Pants
Okay, it's time to put on your big girl pants and give it a try.
I know you're still a little skeptical.
I was in your shoes a few years ago. Just trust me on this one.
All it will cost you is $1 for the bottle of apple cider vinegar and the 2 minutes to mix it up.
Do you DIY your hair care? Ever tried vinegar? I'd love to hear your experience!
Sources:
http://www.organicauthority.com/delicious-beauty/how-to-use-apple-cider-vinegar-for-hair-and-skin.html
https://ebena.net/benefits-apple-cider-vinegar-your-hair
http://coconutsandkettlebells.com/apple-cider-vinegar-hair-rinse/