Tired of uneven skin tone? Check out the super simple single ingredient for radiant looking clear skin, Lemon Essential Oil!
Has mother nature taken a toll on your skin? Have age spots crept up – almost without warning? Maybe you have old acne scars and discoloration.
Uneven skin tone is a common problem. You're not alone.
There is hope. Radiant, clear skin is attainable.
And you can do it naturally.
Surprising Results
A few years ago, I wouldn't have left the house without foundation on.
While my skin wasn't terrible, I struggled with acne plus old acne scars.
It was embarrassing. Still is a little to admit it to the world.
I was still getting acne. As an adult. A problem I rarely struggled with as a teen.
I'm living proof acne is a real problem for many adults. Not just something you get in your teens. If you struggle as well, you're not alone!
I finally discovered food sensitives trigger my acne. When I cleared up my diet, my skin got clear.
If I slipped up, a pimple made its appearance less then an hour after eating a trigger food.
Crazy right?!
If you struggle with adult acne, take a serious look at your diet. I can't eat dairy, gluten or eggs. And I do my best to avoid corn and soy too. Every person is different, no one size fits all.
But that's a story for another day.
The point is old acne marks and discoloration left me frustrated.
Can you relate?
Add in some age spots and those dreaded forehead wrinkles, and it's a recipe for sad looking skin. Such a weird combo to be dealing with right?!
Then I discovered a magic ingredient that made my skin clear again and faded old scars and age spots.
And honestly, at first, I didn't really believe that it would work.
One night I binge watched YouTube videos about the benefits of lemon essential oil.
I gave it a try – and it worked!
It even faded most of the freckles I had remaining on my face from my youth.
Freckles all the adults thought were adorable when I was a kid. But I secretly despised them. After all, when you're 17, you don't want to look 14, right?!
Those freckles made me look younger then I was.
As an adult, we all want to look younger then we are. Funny how that works out huh?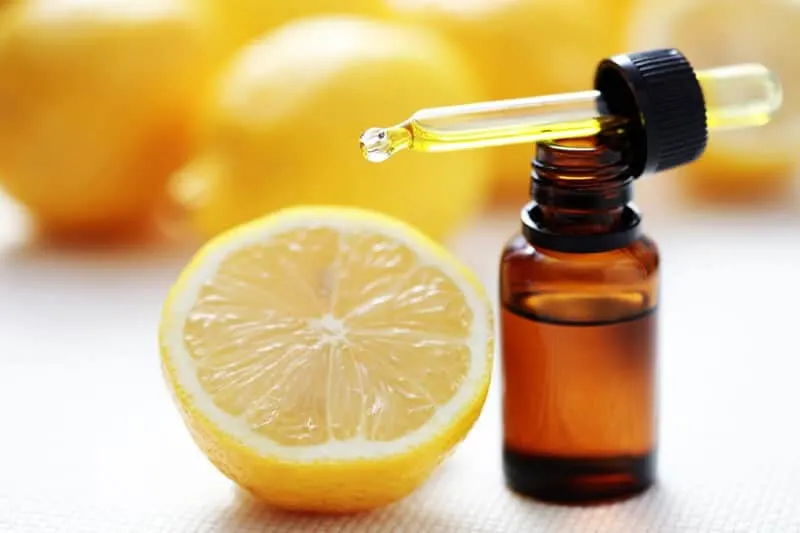 Why Does Lemon Work to Fade Age Spots?
Lemon essential oil is like lemon juice on steroids. It's very strong.
Picture a fresh glass of homemade lemonade – the sweaty glass dripping in the heat? The bittersweet taste as it hits your lips?
Bonus – you get all that wonderful lemon juice and pulp goodness!
While lemon juice is good for you, the lemon peel is even better for you. Rarely do you hear people eating lemon peel unless you're adding lemon zest.
Lemon peel contains Limonene. All citris fruits contain Limonene.
You need to pay attention to Limonene – it's amazing stuff!
There are some concerns about irritation from lemons.
Dilute lemon essential oil in a carrier oil making sure to limit the essential oil to a 2% or less dilution.
Lemon essential oils is photosensitive – meaning it's easier to get a sunburn
Lemons also do an amazing job at whitening and brightening. You'll see lemon advertised on cleaners and laundry products. And for good reason.
Lemon will have the same effect on your skin. It helps to even skin tone by fading scars, age spots, and even freckles!
Lemon helps reduce the appearance of wrinkles too.
Amazing right!?
So let's talk about how to add Lemon Essential Oil to your skincare routine.
3 Ways to Add Lemon to Your Skincare Routine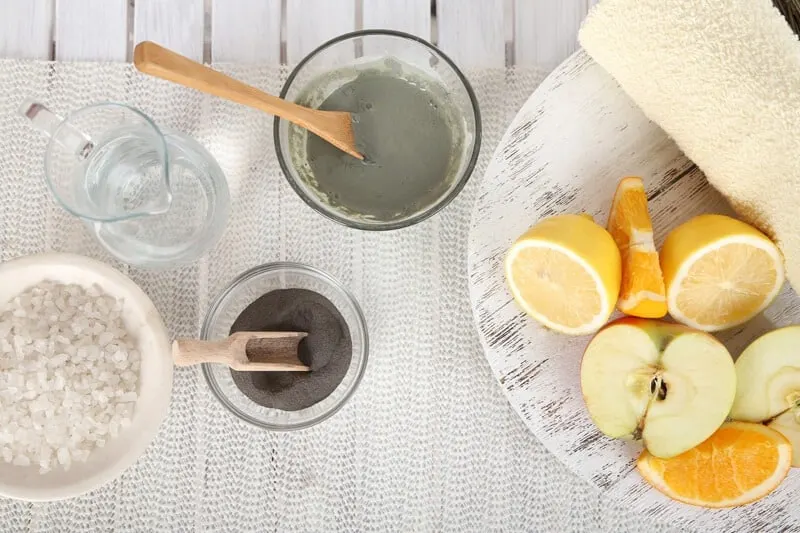 I like to add lemon essential oil everywhere I can. Just make sure you'll be out of the sun after you apply it. Remember it will make your skin more sensitive to sunburn.
Face Masks with Lemon Essential Oil
Whether you make DIY face masks or use storebought ones, it's so easy to add lemon essential oil to the mix.
If you're whipping up a face mask, just add a few drops of lemon essential oil making sure to keep the essential oil at or below a 2% dilution.
If you're using a premade skin mask, just add lemon essential oil to the face mask before applying it.
Nightly Face Serum with Lemon Essential Oil
I use a nightly skin serum. It's a mixture of rosehip seed oil and essential oils.
I used to make homemade lotion.
But making homemade lotion is work and you have to think about preservatives since you add water.
I find a serum to be more effective and more bang for your buck. A little goes a long way and it really helps hydrate my skin.
I simply add lemon essential oil to my skin serum at a 2% or lower dilution and shake it. That's it.
I do keep a separate skin serum for night and day. I'd advise you to do the same.
You can even add lemon essential oil to your body lotion to help even skin tone. Plus reduce the appearance of the dreaded stretch marks!
Face Scrub with Lemon Essential Oil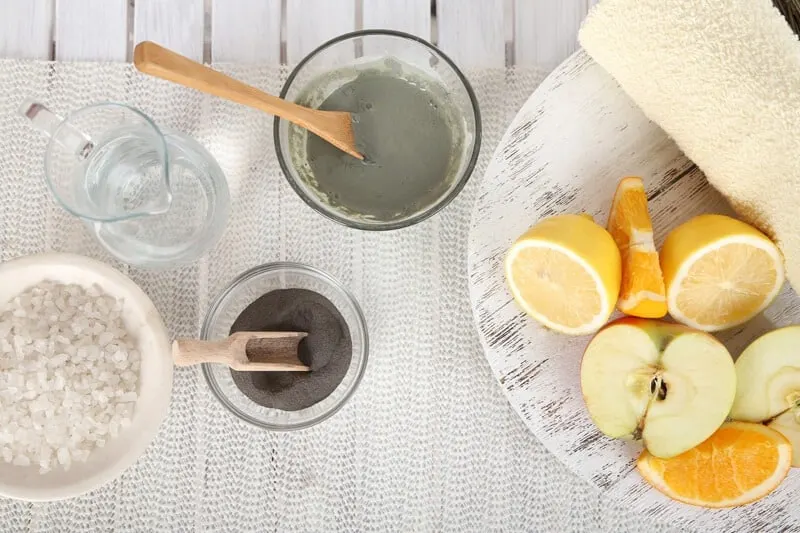 Lemon Essential Oil Face Scrub
I use a face scrub a few times per week and when I whip up a batch I add lemon essential oil to the mix.
How Will You Use Lemon Essential Oil in Your Skincare Routine?
Now you know how effective lemon essential oil can be for your skin. Apply daily to even skin tone, fade age spots, and even help fight wrinkles.
How will you add lemon essential oil to your skincare routine?
I'd love to hear from you if you have another way you incorporate lemon essential oil.
Be Sure to Pin this Post for Later: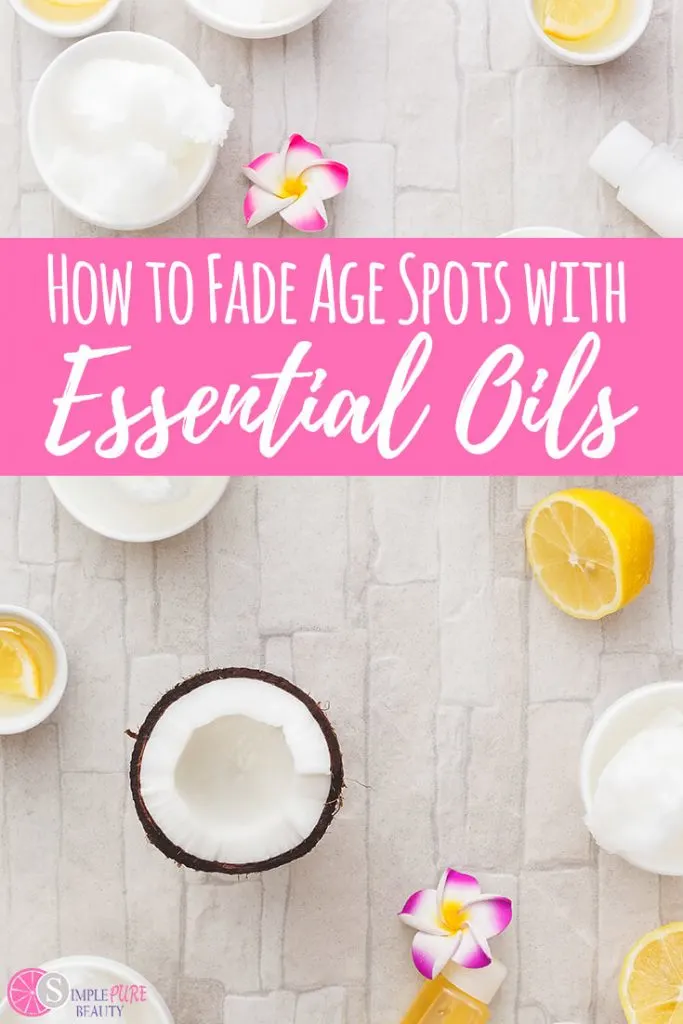 Additional Resources