These DIY hair dye options are the perfect way to express yourself in a fun and chemical-free way!
The fun, excitement, and self-expression found in coloring your hair can be tempting. Vivid colors can cheer you up and boost your look, while darker shades can give your strands a rich, healthy hue.
However, it's important to remember that not all methods of hair color are created the same.
Many commercial hair dyes contain harmful ingredients that can cause damage to your hair and health.
Even worse, most hair dye users don't use color as a one-time option. They opt for various coloring jobs a year, which puts them at risk for long-term exposure to these dangerous chemicals.
Most times, the average consumer doesn't know how to recognize the chemicals that they should be avoiding in hair dyes.
Both semi-permanent and permanent dyes contain substances that have been known to cause skin irritation, hair loss, and even have the ability to enter the bloodstream. Here are a few of the most known culprits – and the most dangerous.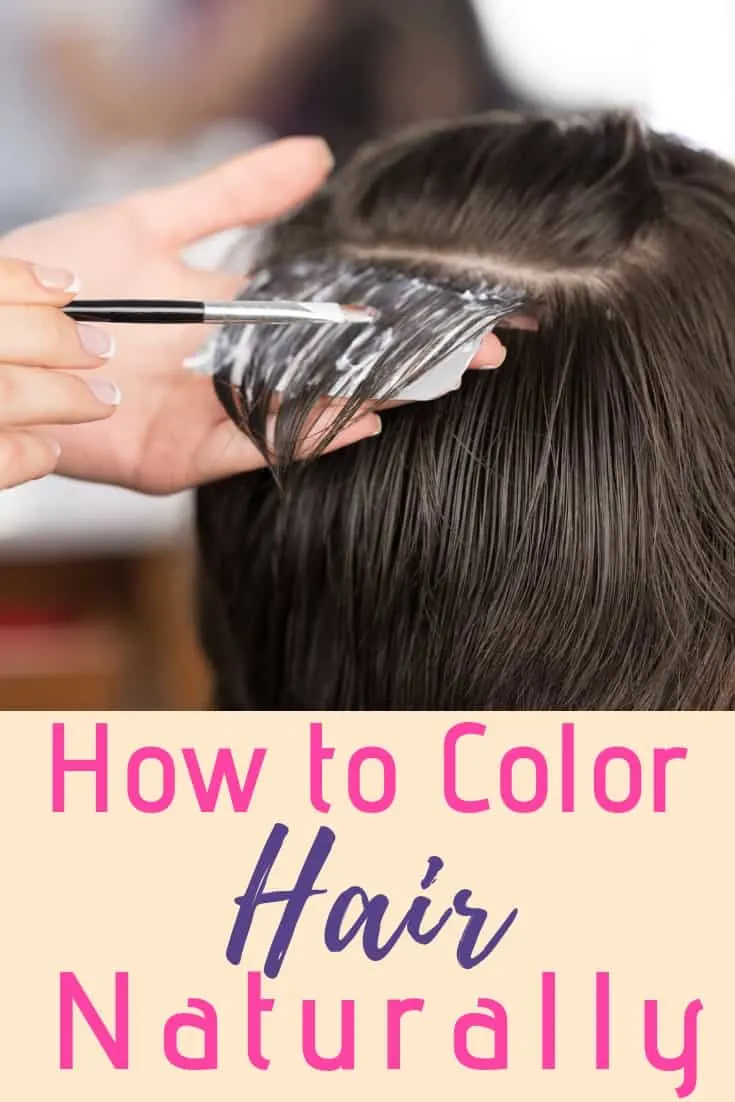 DIY Hair Dye Options To Protect and Moisturize Your Hair
Did you know that there are a lot of great natural hair dye product options that you can use instead of over the counter options? In addition to that, there are also some things that you should be aware of before making any type of decisions.
Keeping an eye out for danger
The best way to ensure that you avoid most of the harmful chemicals would be to avoid mainstream hair color brands that are permanent and synthetic. This happens to be where the highest doses of the following ingredients are usually found.
diaminobenzene,
toluene-2,5-diamine,
resorcinol etc.
The variety of health effects that this short list can cause ranges from scalp, skin, eye and lung irritation to major immunotoxicity allergies.
Hair breakage, hair loss and hair thinning have all been reported, and it has long been alleged that they may also lead to various forms of cancer, including skin and bladder cancer.
Aside from this list, the fragrances found in hair products also have a part to play in possible negative health effects.
Allergies, dermatitis and even respiratory problems are a few of the risks associated with the synthetic perfumes/fragrances used to mask the harsh scents of chemicals used in hair coloring formulas.
Fortunately, there's good news for the women and men who can't fathom the idea of giving up hair coloring forever. There are a number of safe hair coloring methods available that are affordable, easy to use, and most importantly – risk-free.
Natural hair dye products for the health conscious
Firstly, if you feel like you can't color your hair on your own and you'd prefer to get it done professionally at a salon, it's essential that you do your research!
Finding a salon that is clear about having natural-based coloring products on offer is a good idea. You can even visit beforehand for a consultation with the salon's colorist, in which you can ensure that you find out everything that you need to know about before scheduling an appointment.
To go completely natural and to avoid all chemicals fully, you can also choose to opt for using products that are commonly found right in your kitchen cupboards.
This is the best bet to ensure that you're one hundred percent protected from harmful toxins, and to ensure that your hair and body doesn't experience any adverse effects.
DIY natural hair color ideas you've got to try
Carrot juice
For a warm reddish-orange tint on light brown or blonde hair, carrot juice has been used for ages by those who are dedicated to harmless methods of achieving beautiful hues.
You can simply juice several carrots (based on the length and thickness of your hair) and combine the juice with your favorite carrier oil. A few of the best hair oils would be olive oil, coconut oil, or even avocado oil as your options. All three are relatively affordable, so using them for a mixture like this won't put too much of a dent in your pocket.
Leave the mixture on for at least hour, or longer if you want to ensure maximum color transfer. You can use a plastic bag or a shower cap to generate some heat and get better color payoff. Afterward, rinse with water and use a cuticle-sealing product like apple cider vinegar or aloe vera juice to seal the color into your hair.
The final result depends on the original shade of your hair color, but you'll notice a reddish tint on darker hair and a ginger hue on lighter blonde hair.
Aside from its natural coloring properties, carrot juice is also super beneficial for hair and scalp health. For one, carrots are packed with vitamin A, which stimulates the scalp to produce the hair's natural oils, sebum.
Sebum conditions soften and protect the hair without the use of chemicals – the perfect choice for health-conscious consumers!
It also assists in the growth of strong, healthy hair because of the magnesium, phosphorus and vitamins B, C and E that are present in carrots.
These stimulate increased blood circulation in the scalp, which brings nutrients in the blood to the hair follicles at a more concentrated rate.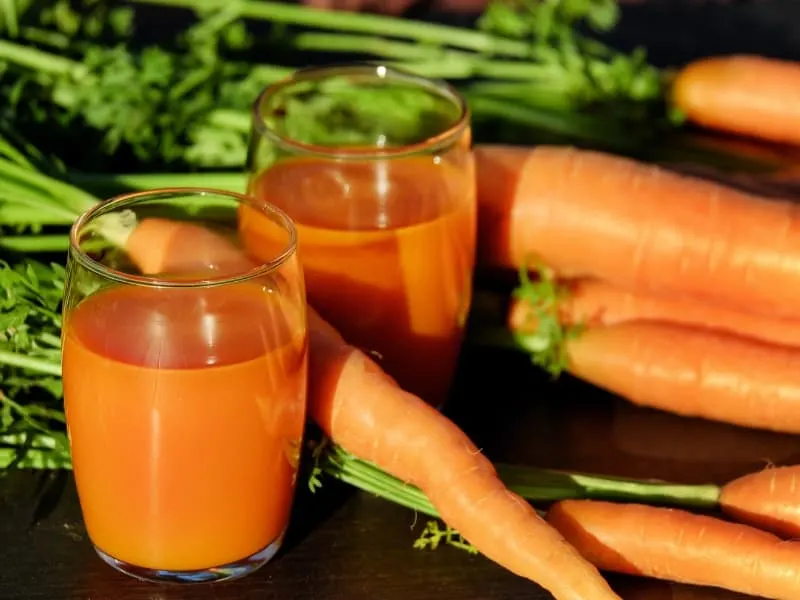 Beet juice
Carrot juice is great for a warm shade, but for a deeper hue with a cool undertone, beet juice is a superb option.
Similarly to using carrot juice, simply juice one or more beets and mix the juice with a carrier oil.
Let the mixture set in your hair for at least an hour before washing it out with water.
The shampoo is sure to strip some of the colors away immediately, so avoid it for as long as you can afterward.
Beetroot juice also holds many benefits for your hair! These little bulbs contain iron, copper, manganese, protein, folic acid, and even vitamin B5, all of which play a part in strengthening and nourishing your hair strands.
Lemon juice
Lemon juice is a much more permanent option than the other DIY hair coloring methods described here, as it isn't used to impart pigment, but to strip it from your hair.
It has long been used for skin lightening purposes, and its effects on hair are just as appreciated. Persons with brown or blonde hair do well with the lemon juice method.
Though not as effective as using bleaching powder and developer as with traditional bleach jobs, lemon juice creates subtle but noticeable highlights that you'll love.
Pour the lemon juice into a spray bottle for easy application, then spray the juice onto your hair until it's completely saturated.
Comb the mixture through, then sit in the sun for a while to really help the mixture to activate. Leave the juice on for two hours more then rinse it out with water.
Follow up with a moisturizing conditioner, as lemon juice has the tendency to be drying to hair, and repeat as often as you need. It may take a while to see results, as lemon juice isn't a one-time lightening product, but trust us – the results will be more than worth it!
Coffee
Red tones and highlights are always stunning to see, but sometimes, you just want a rich, dark color to make your hair appear shiny and healthy.
Coffee lovers will be pleased to find out that there's yet another use for their beloved brew – an all-natural dark rinse for any shade of hair!
Brew a strong pot of coffee. Then, ditch the creamer and sugar. Instead, you can mix a cup or so of conditioner into the coffee to improve the consistency and help you to condition while you darken.
Saturate your hair with the coffee mixture for an hour or more, then rinse.
The change is often two to three shades darker than your original color. It doesn't last forever, but it's a great alternative to harmful chemical dyes.
Last, but definitely not least…you need to check out this recipe for creating All-Natural Red Hair Dye. It's no secret that I'm all about anything natural and chemical free…and I was beyond ecstatic when I came across this recipe! There are no chemicals in it and it's made from beet juice, honey, and coconut oil. How amazing is that?!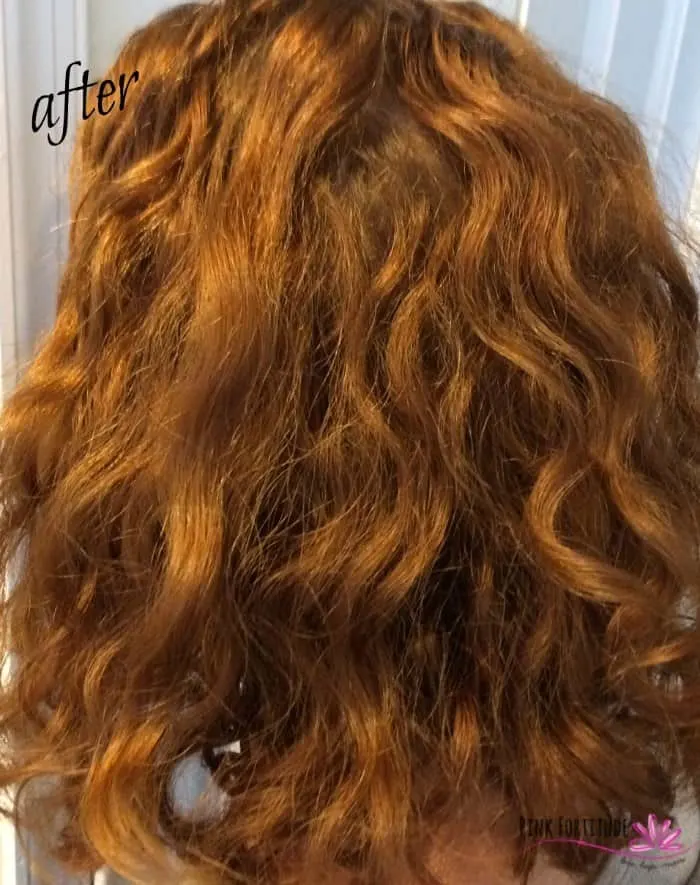 Using henna hair dye for safe hair color at home
There are many chemical dyes that market themselves as henna dyes, but only the pure powdered henna or lawsonia inermis is considered 100% safe and should be used by those who want to avoid chemical use on their hair and scalp.
Pure henna does not dye hair black or brown as other chemical dyes claim. The pigment obtained from henna use is actually a reddish-brown, rusty color.
Henna not only colors hair effectively, but it also binds to the hair shaft similarly to how the protein binds to the hair. This protects our hair from breakage and shedding, which is just the icing on the cake for this powerful herb.
You can mix henna powder with water or conditioner depending on how strong you want the mixture to be. It should be thick enough to scoop, but not so thick that you can't apply it to your hair strands with ease.
Saturate your hair from roots to tips and cover with a shower cap or plastic bag, and leave the mixture on your hair for about three to four hours.
After rinsing, the color that you find depends on the lightness of your natural hair color. Blondes and light browns are usually successful in instantly creating reddish hues, but dark hair is typically only seen in sunlight after the first use.
Repeating the treatment every few months does increase the intensity, but because henna acts like a protein, it's absolutely necessary to alter your deep conditioning routine to suit. Stay away from protein conditioners and opt for intensive hydrating masks to ensure that your hair remains supple and moisturized.
Correcting hair color damage the effective way
If you've already become a victim of commercial hair dyes and you've been met with damaged hair, it can be pretty disappointing. Loss of curl pattern, split ends, thinning and dryness are all common effects associated with chemical hair dyes.
Thankfully, your hair isn't doomed to damage all its life! Here are a few simple but effective methods of hair color damage repair that certainly get the job done.
Trim away the worst damage
Bushy tumbleweed ends do nothing but make your hair look horrible and cause split ends to affect the rest of your hair.
Chopping the ends of your hair by at least two inches can make a huge difference in the look and feel of your hair.
You can even choose to go for a short cut like a stylish bob or a cute pixie cut to restart your hair journey and get rid of most of the color in one big cut rather than several little ones.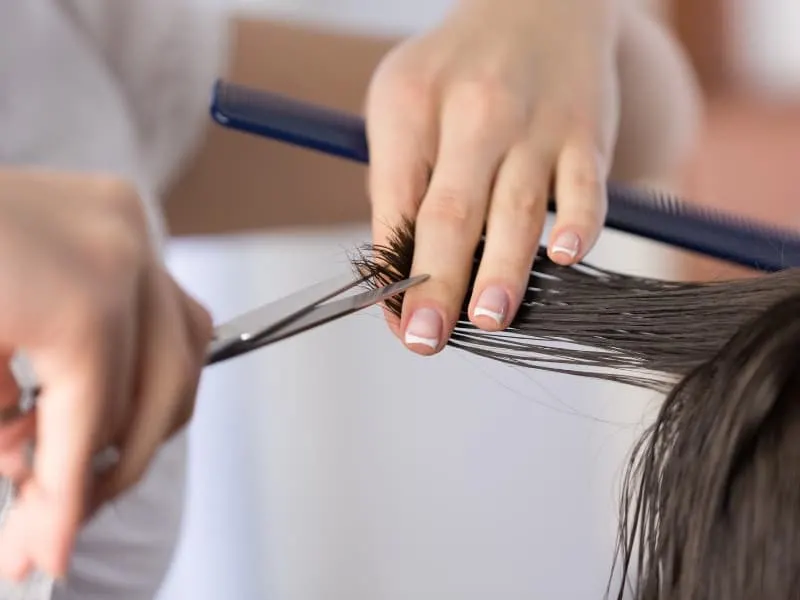 Avoid heat styling like the plague
Silky straight hair or big bouncy curls might be perfect for that upcoming occasion, but is further damage worth looking good for one night? If your hair is damaged because of color use, it needs time to rest and recuperate. This means no heat tools! Heat sucks the moisture out of the hair strand – especially strands that are already damaged and compromised.
DIY hair color damage repair for softer, healthier hair over time
To get your hair back to its perfect health after experiencing hair color damage, store-bought masks aren't the only way.
You can also whip up your own mixtures at home and receive the same nourishing effects. It's cheaper and safer, as you know exactly what you'll be putting onto your hair.
Hot oil treatments
Hot oil treatments are one of the most effective ways to transform dry, brittle hair from bleaching or hair coloring.
Warm up olive, coconut, jojoba or grapeseed oil, then apply liberally to your entire head. Thirty minutes to an hour is the recommended time, but many choose to leave the oil treatment in overnight and wash it out the next morning.
Bi-weekly homemade masks
There are many masks that you can mix up right in the comfort of your kitchen. These masks provide moisture and nutrients to hair damaged by the dye and have no negative effects.
These include banana masks, avocado masks, yogurt masks, mayonnaise masks, and the list goes on!
Gelatin protein mask
Gelatin – yes, the stuff jello is made of – is high in collagen. This makes it a top choice for a natural protein treatment for dye-damaged hair. Protein is a must for color-damaged hair, as it helps to fill in the gaps in the hair strand.
This not only strengthens weak hair but allows it to hold onto moisture without having it escape through the cuticle too easily.
With these simple DIY hair dye options, you'll never have to worry about chemicals again!