If you're looking to make your own DIY Micellar Water look no further!
Check out our amazing DIY recipe for the list of ingredients you will need.
You won't be disappointed!
What is Micellar Water?
Micellar Water is a multi-use cleansing product made with purified water and micelles.
These micelles that work to attract dirt and impurities and lift them from the surface of your skin.
It's a very effective deep cleaner and will remove sweat, dirt, and other excess oils.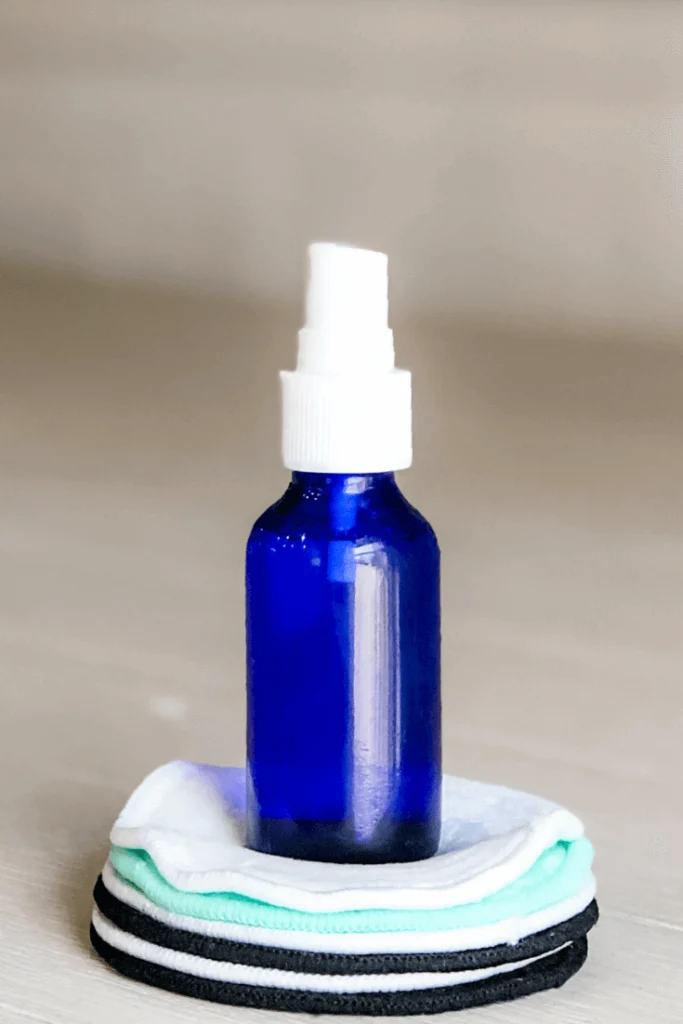 How to use Cucumber Micellar Water
Cucumber Micellar Water is easy to use! Just give the container a quick shake to mix up the ingredients.
Put some of the micellar water onto a cotton ball or cotton pad and swipe over your entire face. That's it!
Should micellar water be rinsed off?
You don't need to rinse the micellar water off after use; however, it is a good idea to remove anything you put on your skin.
You can still reap all the benefits of your DIY Micellar Water even if you choose to rinse it off after a few minutes.
If you choose not to, there won't be any real issues or adverse effects.
Can I use micellar water every day?
You can absolutely use Micellar water every day, in fact, you can use it to clean your skin up to twice a day. It can actually serve as your face wash if you'd like to simplify your beauty routine!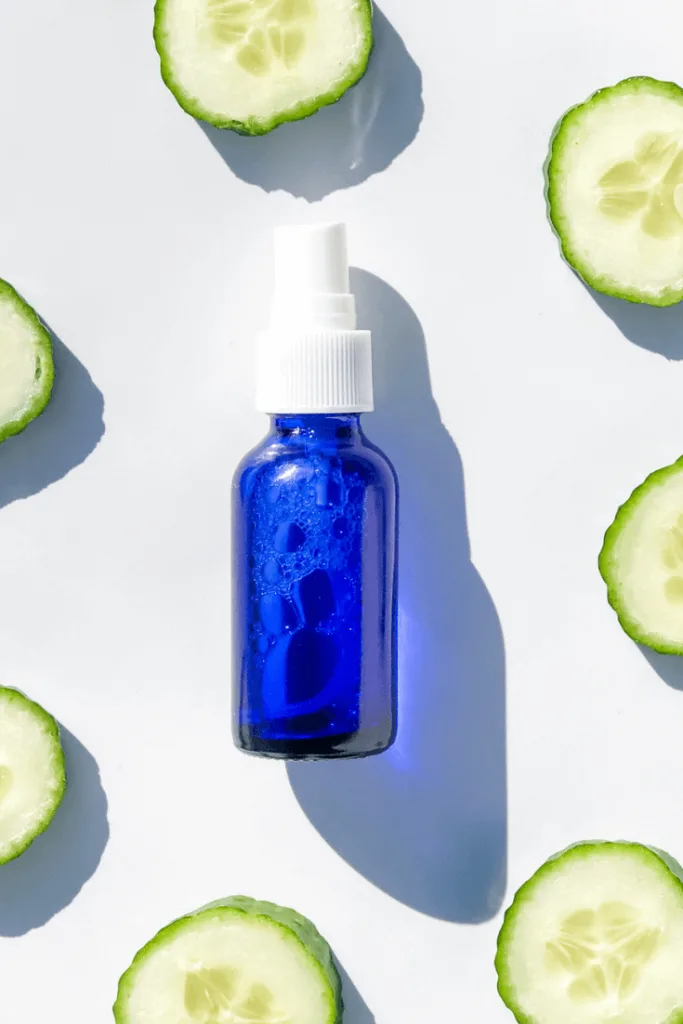 Cucumber DIY Micellar Water Ingredients
Cucumber Hydrosol serves many purposes, such as keeping skin youthful and healthy. It also softens skin, allowing damaged or scarred tissue to heal.
Distilled Water carries an extremely high amount of hydration to your skin and has no adverse side effects. It is very versatile and is used as the base for this recipe. Tap water can contain things like chlorine, that when left on skin, can cause additional dryness. Using distilled water in this recipe will help keep your skin hydrated and balanced!
Vegetable Glycerine attracts moisture to your skin, allowing it to appear younger and healthier. Like cucumber hydrosol, it has very effective anti-aging properties that will keep your skin youthful and smooth.
Caprylyl Capryl Glycoside is a natural surfactant that is ECOCERT compliant and provides gentle cleansing to the skin.
Cucumber Extract has powerful soothing qualities and is known for helping ease pain from sunburns and decrease irritation. Its soothing properties also enable it to reduce puffiness around the eyes.
Dermosoft 1388 Eco is a great preservative and helps to balance your skin's Ph levels. It also has strong anti-inflammatory properties that will reduce inflammation when applied or used.
Cucumber Skincare Benefits
Cucumber is actually an excellent aid in terms of soothing irritated acne-prone skin. It can reduce swelling while also utilizing its potent antioxidant properties to protect your skin and keep it hydrated. It can also soothe sunburns and other forms of skin damage.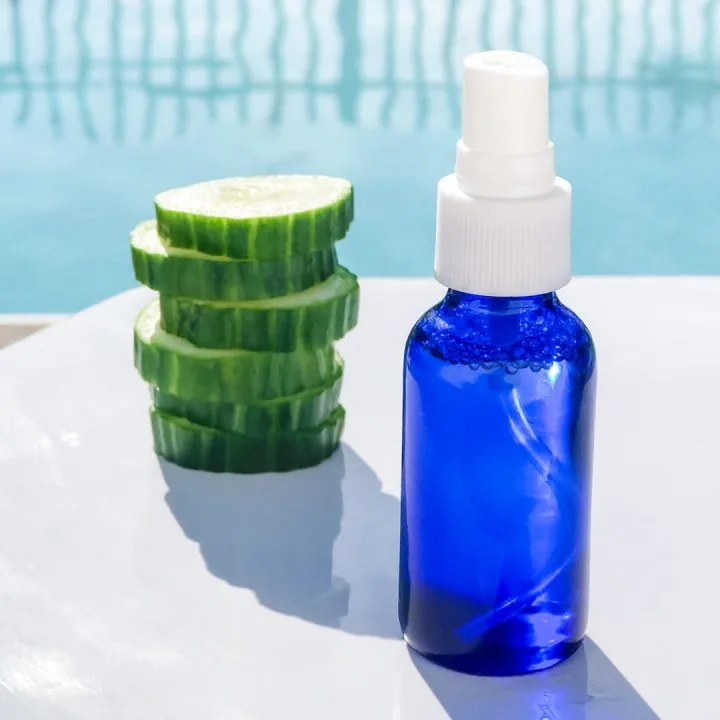 Cumber Micellar Water Recipe
This DIY Cucumber Micellar Water will gently cleanse the skin while cooling!
Instructions
Mix together cucumber hydrosol and water in a glass beaker.
Add the vegetable glycerin & cucumber extract to the beaker and stir well.
Add the Caprylyl Capryl Glucoside and stir gently to avoid foaming
Check that the pH is as close to 5.2 as possible
If pH is not in range, you can adjust it (Click here to learn how to adjust pH)
Add preservative and mix completely. Check and re-adjust pH if needed.
Pour into bottle
Notes
I've included weight & standard measurements, but these aren't as precise as measuring in the grams provided. I highly recommend purchasing a jewelry scale like this one for your formulating.
Recommended Products
As an Amazon Associate and member of other affiliate programs, I earn from qualifying purchases.
Micellar Water FAQs
How do you make Cucumber Micellar Water at home?
It's actually very easy to create your own Cucumber Micellar Water from home using our recipe! You'll need the ingredients listed above as well as a few materials that you probably already have on hand!
What ingredients are needed to make Cucumber Micellar Water?
There are a variety of recipes that tell you how to make your own Micellar Water. For our recipe, you'll need Cucumber Hydrosol, Distilled Water, Vegetable Glycerine, Caprylyl Caryl Glucoside, Cucumber Extract, and Dermosoft 1388 Eco.
What are surfactants?
Surfactants are molecules with hydrophilic heads that are attracted to water. These molecules help break down the resistive tendencies between water and oil, thus generating an effective solution that delivers results.
What does Micellar water do to your face?
The micellar water attracts all the makeup and dirt particles in your skin, removing the toxins and hydrating your skin at the same time. This is a very versatile cleanser that can not only hydrate, but it can also tone and moisturize your skin!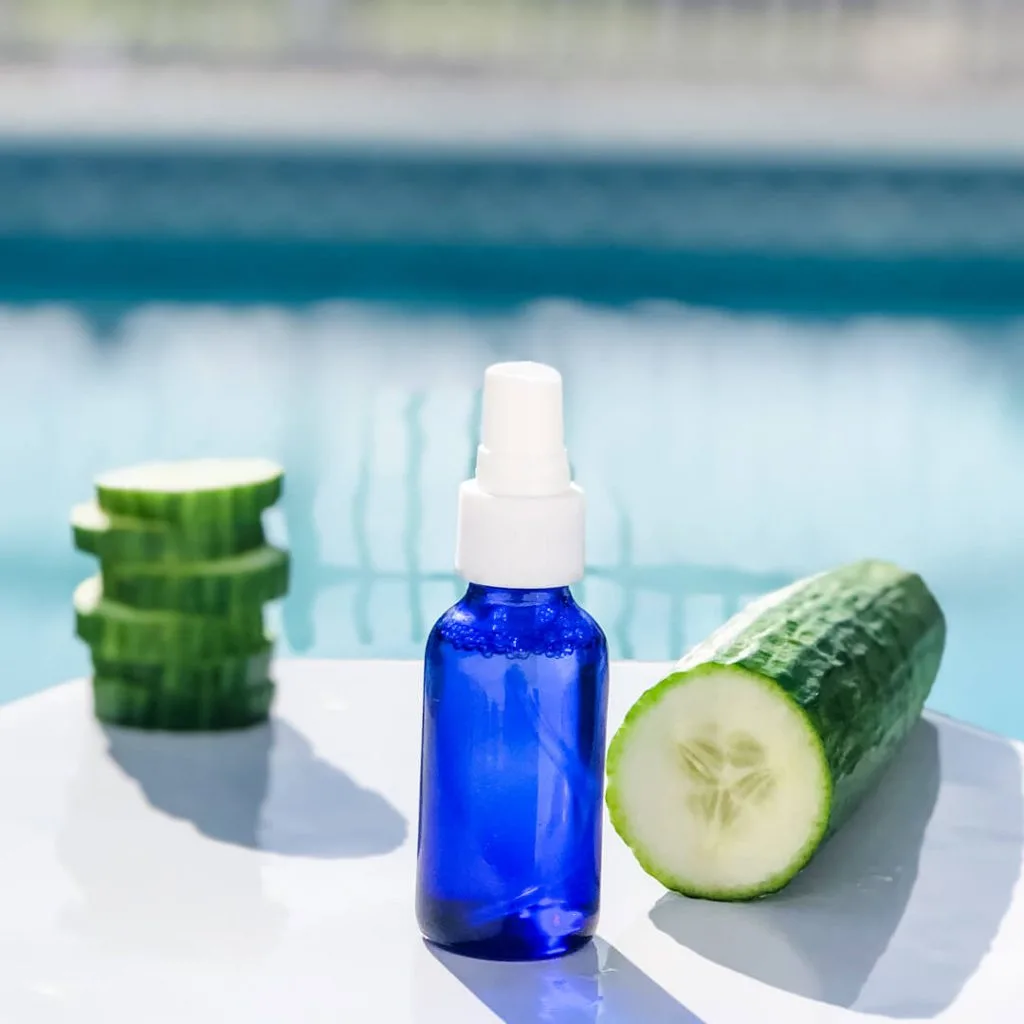 What is Micellar Cleansing Water?
Micellar Cleansing Water is composed of magnetic particles that pull the oils and dirt from your skin. With no harsh side effects, it won't irritate or damage your skin either. It can also remove makeup and creams.
What Are the Skin Benefits of Micellar Water?
Micellar Water works great specifically for acne-prone skin, making it an incredible option for people who may also be prone to oily skin. Not many deep cleansers will remove without leaving some kind of grease residue behind. Cucumber Micellar water doesn't leave anything behind when you remove it!
Share & Pin this DIY Cucumber Micellar Water Recipe for Later!