If you have a few simple ingredients lying around, you can make homemade dry shampoo in just a few minutes! Completely natural and safe!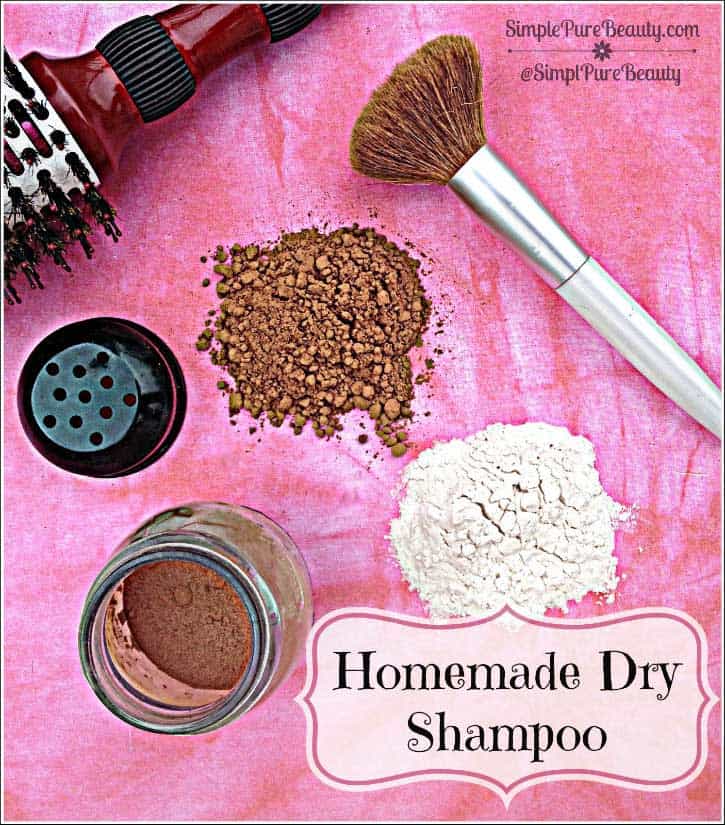 Have you ever overslept, woke up and realized you are now late for work or an appointment and there's no time to wash your hair? You look in the mirror and cringe knowing you can't possibly go out in public with your hair a greasy mess.
Some of you may grab a hat and throw it on. Problem solved.
Unfortunately, I am not really a hat person. I'm not sure if I even own a hat. I guess I could borrow one from my kids if I was really desperate.
But, thankfully there is another option. Dry Shampoo.
Why Use Dry Shampoo?
Dry shampoo is perfect for those moments when you have somewhere to be and no time to wash your hair. Dry shampoo freshens your hair by absorbing the excess oil that makes it look greasy.
Please note: Dry shampoo does not actually clean your hair and shouldn't replace washing. Sorry to disappoint if you were thinking you wouldn't ever have to wash your hair again. 🙂
What is the Best Dry Shampoo?
Well, first let's talk about what is NOT the best dry shampoo. I have listed some of the popular brands of dry shampoo below and I would recommend avoiding them at all cost.
They all, unfortunately, have pretty bad ratings in the Skin Deep Database and include ingredients that have been linked to cancer, allergies and asthma. You can click on each link to read more about the ingredients in each dry shampoo and their side effects.
So, the best dry shampoo, in my opinion is one that you make yourself with a few simple ingredients. Not only will you save money, but you will know for sure that you are using a safe natural dry shampoo.
How to Make Homemade Dry Shampoo
For Light Hair:
Ingredients:
For Dark Hair:
Ingredients:
How to Apply Homemade Dry Shampoo
Homemade dry shampoo can be applied several ways:
Sprinkle it onto roots using a shaker or your fingers. Then comb through hair or just tousle with your fingers.
Use an old makeup brush to brush the dry shampoo onto your roots. This can be quite messy so I was looking for a better option and I found a refillable makeup brush on Amazon for $5. This would be perfect for applying your dry shampoo without making a huge mess:
So, there you have it. A super simple way to make homemade dry shampoo!
Blessings,

Have you ever tried homemade dry shampoo? I would love to hear about your experience!