Ready to learn how to color soap naturally? Handmade soap is so much more fun when you add some color. Whether you're an old pro or just wondering how to make soap – colored soap making is more fun!
Today you'll learn 3 ways to color soap naturally.
When you color soaps naturally, they are actually good for your skin. Color and medicinal benefits – a double win!
Dyes are typically used to color soaps. But if you're making homemade soap, the last thing you want to add is synthetic dye to your all-natural soap recipe.
….Or add other chemicals that may not be good for your health.
That's why you're making homemade soap after all right?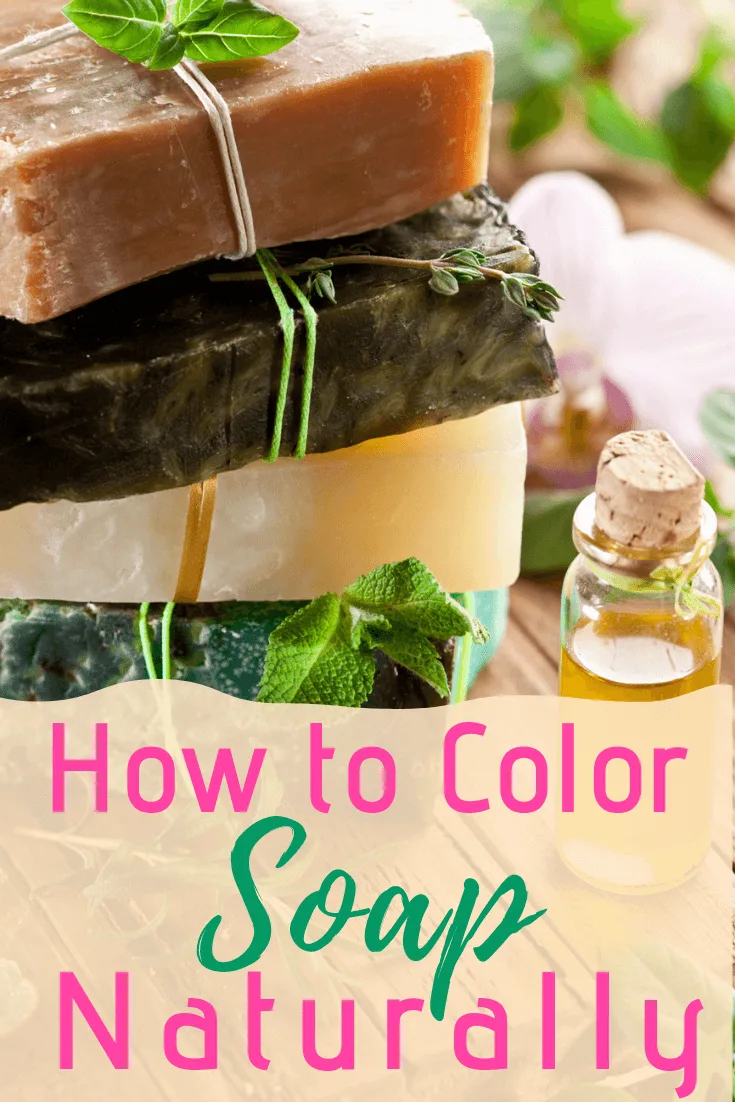 How to Make Soap Fun
In our home, we like to keep it fun with naturally colored soaps. And fun shapes!
With 4 little kids, having soap in fun shapes and colors makes washing fun!
You can also add fun scents!
Essential oils add a wonderful scent and have medicinal benefits. My favorite is lavender. The only drawback is the scent from essential oils do tend to fade.
I prefer to keep our soap unscented as my asthma goes nuts when I am around fragrances. You can read more to determine if your asthma and fragrance are related.
You can also use a phthalate free fragrance oil.
Today I'm going to share some of my favorite way to color soap.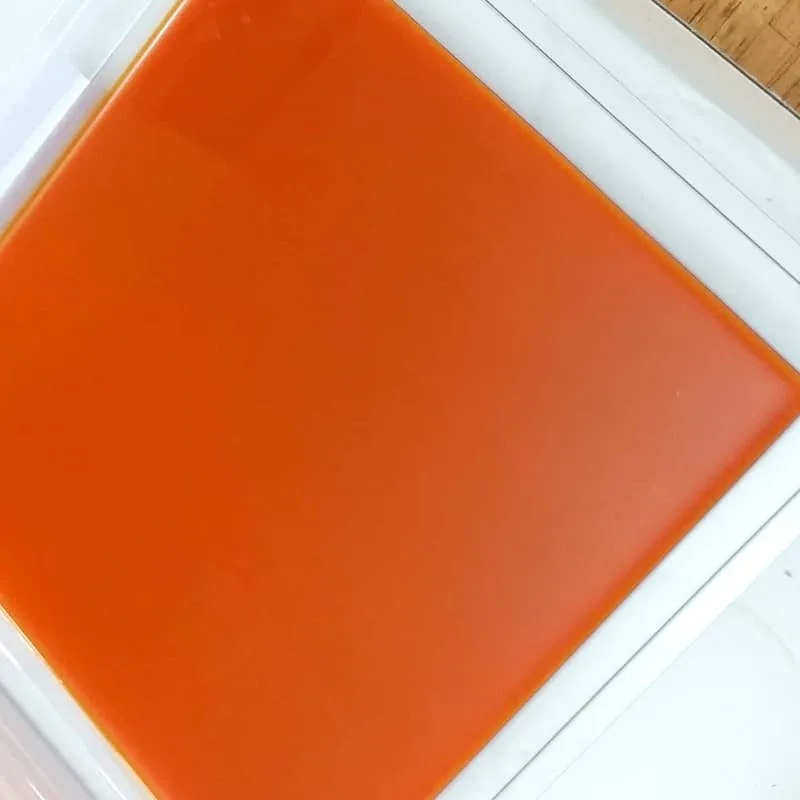 Best ways to Color Soap Naturally
Adding color to cold process soap is easy and makes the soap more appealing. Appearance is everything!
Coloring Soap with Spices
Spices found in your kitchen are a fabulous way to color soaps. My favorites are cocoa powder, paprika, and turmeric.
Activated charcoal is not a spice but a popular additive to handmade soap.
I like to set aside a few tablespoons of oil from my pre-measured oils for my soap batter. I add the spice to the oil and whisk with a fork until combined. Then I add it to back into my soap batter.
I use 1 tsp of colorant per pound of oils.
You can make a beautiful swirl soap too by dividing your soap batter. Then color part of your soap batter and leave the rest plain.
So many fun options!
Coloring Soap with Vibrant Oils
Some oils are naturally colorful. My favorite oils to provide natural color to soap are:
Red Palm Oil
Buriti oil
Just add to your recipe for some natural color.
Coloring Soap with Herbal Infusions
You can naturally color any oil with an infusion! This is really fun and you can get the kids involved.
I have a gorgeous hibiscus plant out front. The gorgeous red blooms make a beautiful addition to my soap making. I let it infuse in oil for a few weeks and strain out the remainder of the petals. It leaves a gorgeous pink color!
You don't even have to buy anything. Look around for at the plants you have outside.
Even those pesky dandelions in your yard. Dandelion flowers could give you a lovely yellow soap. Or the greens could give you a garden green colored soap. Plus dandelion is a powerhouse of medicinal benefits.
You can buy herbal powders made from plants too. Herbal powders are dried plants ground into a fine powder.
So many options!!
Coloring Soap with Micas
So you may be wondering just how to use mica powder in soap. Micas are naturally mined from the ground. And they produce the most vibrant colors of all the options.
But micas are my least favorite natural soap colorant.
There is some debate whether the micas are really natural. There might be some enhancement behind those vibrant colors. Regardless, I believe they are much better then typical dyes.
I prefer a natural looking bar of soap. But it's totally my preference and you should color as your heart leads you.
Natural Turmeric Soap Recipe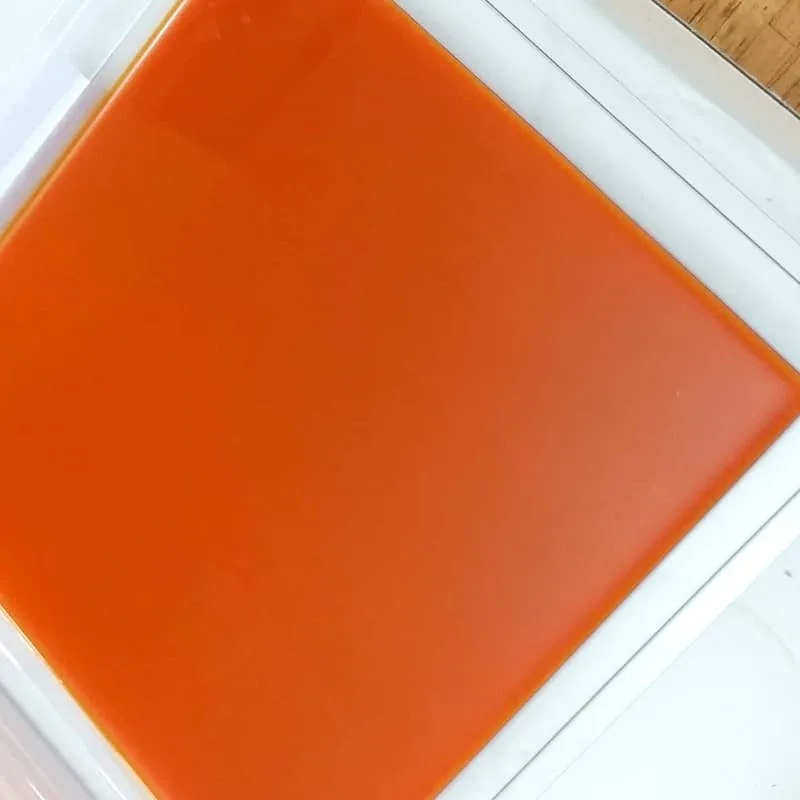 Natural Turmeric Soap
In this recipe I'm going to use spices (turmeric) and red palm oil. It is a one pound recipe that gives me a lovely shade of yellow soap.
Turmeric is one of my favorite spices to use in soap making. Turmeric has medicinal benefits to your skin and body. I even take turmeric internally everyday.
Materials
35% Lard - 158.76 grams (5.6 ounces)
23% Red Palm Butter - 104.33 grams (3.68 ounces)
10% Olive Oil - 45.36 grams (1.6 ounces)
Lye (NaOH) - 65.7 grams (2.32 ounces)
Water - 172.36 grams (6.08 ounces)
Instructions
*I always recommend that you run your recipe through a soap calculator prior to making soap, just in case there is a typo. Soap making needs to be precise. I use Soap Calc. You cannot just double a recipe or halve a soap recipe.
Melt all your oils and stick blend to combine. I prefer to soap cool, so I mix my oils ahead of time. Typically during the day when I have time and make soap at night.
It makes the soap making process much faster.
Put on your protective gear and measure your water and lye separately.
Slowly add your lye to your water.
Stir until dissolved. It will get hot and release some fumes. Do this outside or with a kitchen fan running. I wear a mask.
Mix your turmeric into a few teaspoons of your oil mixture. The add it back to your oil mixture.
Slowly pour your lye water into the the oils and stick blend to combine until a light trace has been reached.
Then pour into your molds. Fun shaped soaps are more fun!
Unmold your soap in 24 hours and let it cure for 3-4 weeks.
Recommended Products
As an Amazon Associate and member of other affiliate programs, I earn from qualifying purchases.
What Naturally Colored Soap Will You Create?
Now that you have some simple color options to add to your soap… what will you use?
Stretch beyond artificial colors and use the rainbow that nature gave us.
Comment below and tell me what your favorite color soap is!!