Almond oil is a great addition to your skincare routine, it is an emollient and also has anti-aging properties. The Almond oil benefits for skin will help protect, moisturize, and soothe!
Keep Reading to Learn all about Almond Oil and how to use it in your skincare routine.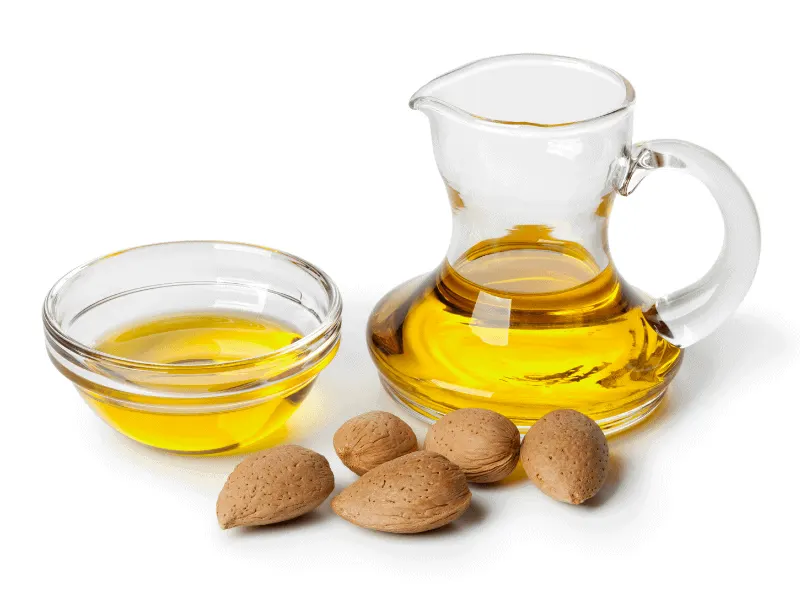 What is Almond Oil?
Almond oil is the oil that is extracted from a ripe almond.
It is important to note that there are two types of almond oil; there is sweet almond oil and bitter almond oil.
Sweet almond oil is an excellent carrier oil and is often used in cosmetics to help trap moisture on the skin while bitter almond oil is considered an essential oil and is often used for its scent.
To make sweet almond oil the almond is pressed to extract the oil using minimal heat.
This process helps to keep the nutrients of the almond in the oil. Almond oil is rich in fatty acids and is an excellent emollient which makes it great for soothing dry or irritated skin.
Sweet almond oil is a very versatile oil and is used in many cosmetic products to help moisturize and protect skin.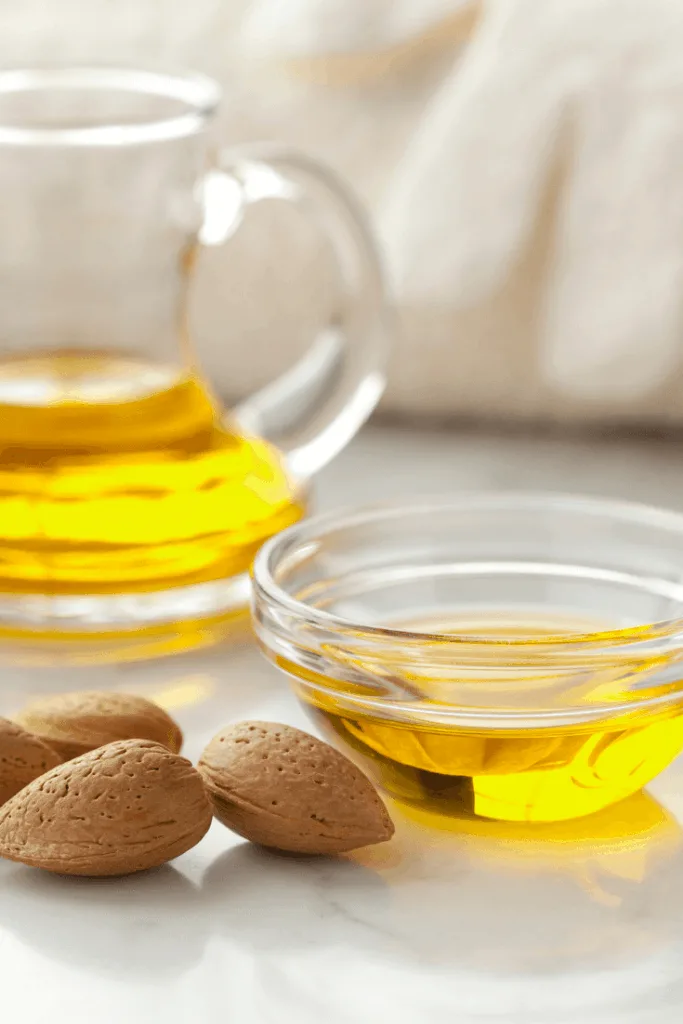 Almond Oil for Skin Quick Facts
Almond Oil Scientific Name:
The scientific name for sweet almond oil is Prunus dulcis var amygdalus and bitter almond oil is Prunus dulcis var amara.
Almond Oil Comedogenic Rating:
The comedogenic rating for almond oil is 2, meaning it is not likely to clog pores.
Almond Oil Extraction Method:
Almond oil is extracted from the seeds of the almond.
Almond Oil INCI Name:
Prunus Amygdalus Dulcis (Sweet Almond) Oil
Almond Oil COSING Number:
56677
Almond Oil Skincare Recommendations:
Almond oil is recommended for those with dry and inflamed skin.
Almond Oil Absorption Rating:
Almond oil has an absorption rating of 3, meaning it has an average absorption rate and leaves a very faint oily or satiny finish on the skin.
Almond Oil Composition: Fatty Acids
Palmitic Acid (C16:0)
3%
Stearic Acid (C18:0)
2%
Oleic Acid (C18:1, ⍵-9)
75%
Linoleic Acid (C18:2 ⍵-6)
20%
Phenols
470 mg/kg
Vitamin E
273 mg/kg
(mainly α-tocopherol)
*Fatty acid breakdown is shared from
Modern Cosmetics Volume 1
.
Almond Oil Benefits for Skin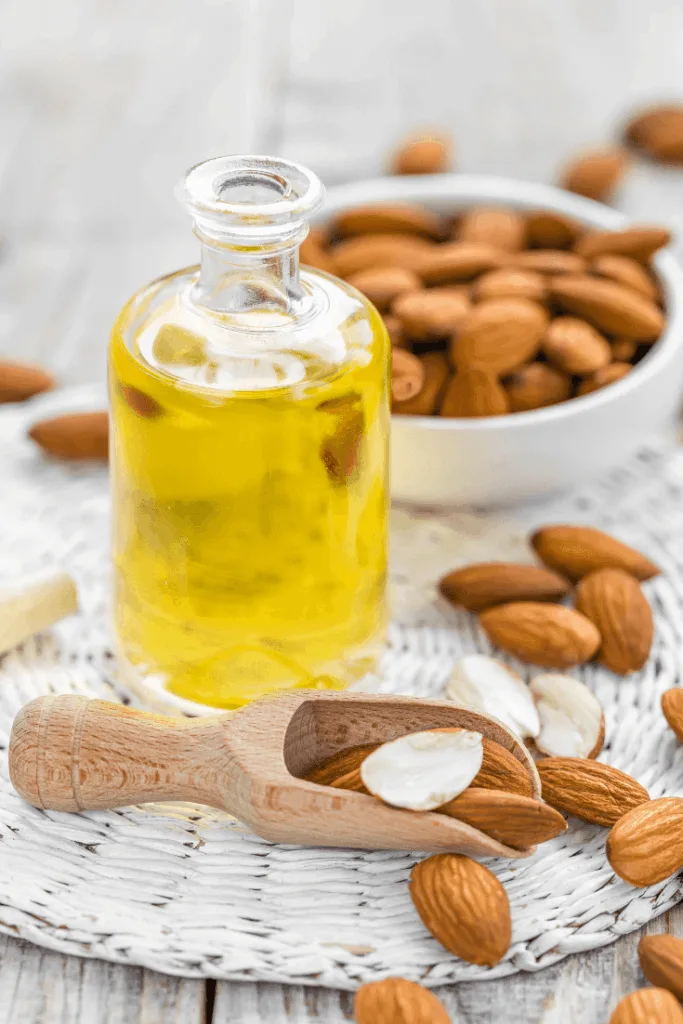 Making sweet almond oil a part of your skincare routine can be a must!
The high concentration of fatty acids and water in sweet almond oil help it to trap moisture against the skin to help hydrate and soothe skin.
It is also high in Vitamins A and E which help to protect the skin from environmental damage.
While almond oil isn't non-comedogenic, meaning it can clog your pores, it can still make a great base in your skincare products and help with dry or irritated skin.
Popular Almond Oil Uses for Skin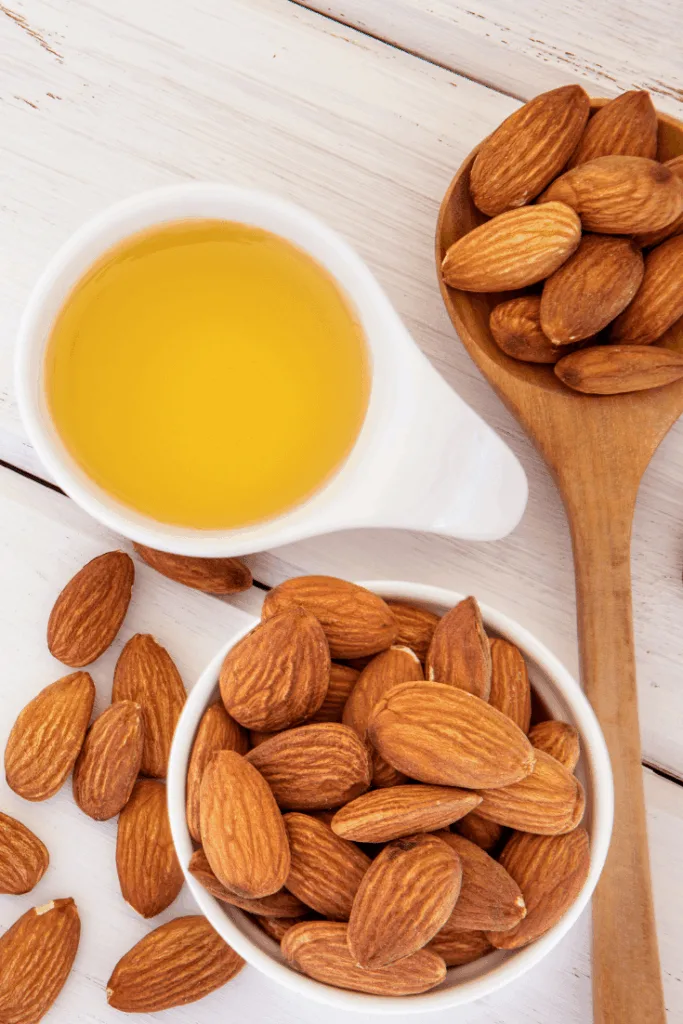 Sweet almond oil has been used for centuries for dry, irritated, and overall angry skin. It can be used to help soothe inflamed and troubled skin.
Almond oil is also an excellent addition to any skin routine that is looking for anti-aging properties due to its protection from UV damage.
Almond oil is a very versatile oil and is used for things such as removing make-up, routine moisturizer, and as a cleanser.
Warnings/Contraindications for Almond Oil
Almond oil is generally safe however, it is recommended that prior to applying it to your face that you do a patch test on another area of skin if you have never used almond oil.
It is also recommended that if you are allergic to nuts to avoid using almond oil.
If you would like more carrier oil ideas, you can download our Free Carrier Oil Cheat Sheet below. It will give you a quick overview of each carrier oil, benefits and skin type compatibility.
[cp_popup display="inline" style_id="11497″ step_id = "1"][/cp_popup]
Where to Buy Sweet Almond Oil
Photo Credit: mountainroseherbs.com
Mountain Rose Herbs is committed to putting people, plants, and planet before profit with everything they do. They are committed to sustainability, and a certified Zero Waste company. They currently only offer shipping to the United States & Canada.
Photo Credit: soapmakers-store.com
Based in the United Kingdom, Soapmakers Store is a family owned business specialising in the sourcing and supply of premium quality ingredients to the Cosmetic, Toiletry, Aromatherapy, and Soapmaking Industries. With over 40 years experience in the Natural Ingredients Industry, they will endeavour to be your 'one stop shop' for quality raw material supplies. They do offer shipping outside of Europe, but there will be additional charges.
Photo Credit: www.newdirectionsaromatics.com
New Directions Aromatics is a Canadian based company offering a wide variety of skincare and formulating supplies. They also offer a variety of Organic, Fair Trade & Ecocert Ingredients. They ship mainly to Canada & the US, but do offer International Shipping as well.
Photo Credit: pronounceskincare.com
If you like to support small businesses, get your high quality Certified Organic Almond Oil from my friend, Jess over at Pronounce Skincare! (Ships Worldwide)
Now that you know all about Almond Oil Benefits for Skincare, you're probably ready to make some recipes.
Check out the skincare recipes below that all include almond oil as an ingredient!
Almond Oil Skincare Recipes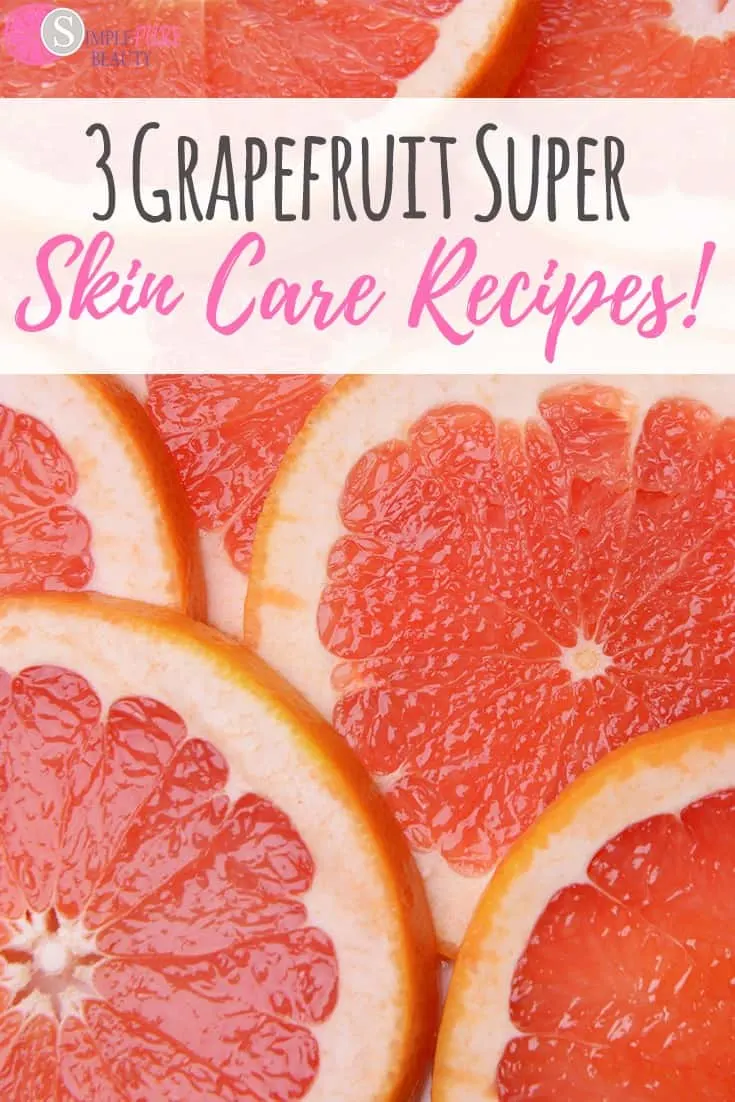 There are many grapefruit essential oil uses for skincare. You can easily add grapefruit to your skincare routine with these 3 simple recipes. Summer is …
Pin Almond Oil Benefits for Skin!
I hope you've enjoyed learning all about the benefits of Almond Oil for your Skin. Be sure to pin this post for later!