Want pearly white teeth? Step away from the chemical-ridden store-bought teeth whitening kits and try one of these easy, at-home natural DIY teeth whitening recipes – for sparkling, white teeth without the harsh ingredients!
I get it – you crave that glistening Hollywood smile. But what's the sense of having dazzling, white teeth if they're damaged or painful?
Store-bought teeth whitening kits might be effective, but that doesn't necessarily mean they're safe.
So before I share my top natural teeth whitening methods with you, let's talk through the dangers of teeth whitening kits – and why you should avoid using them at all costs!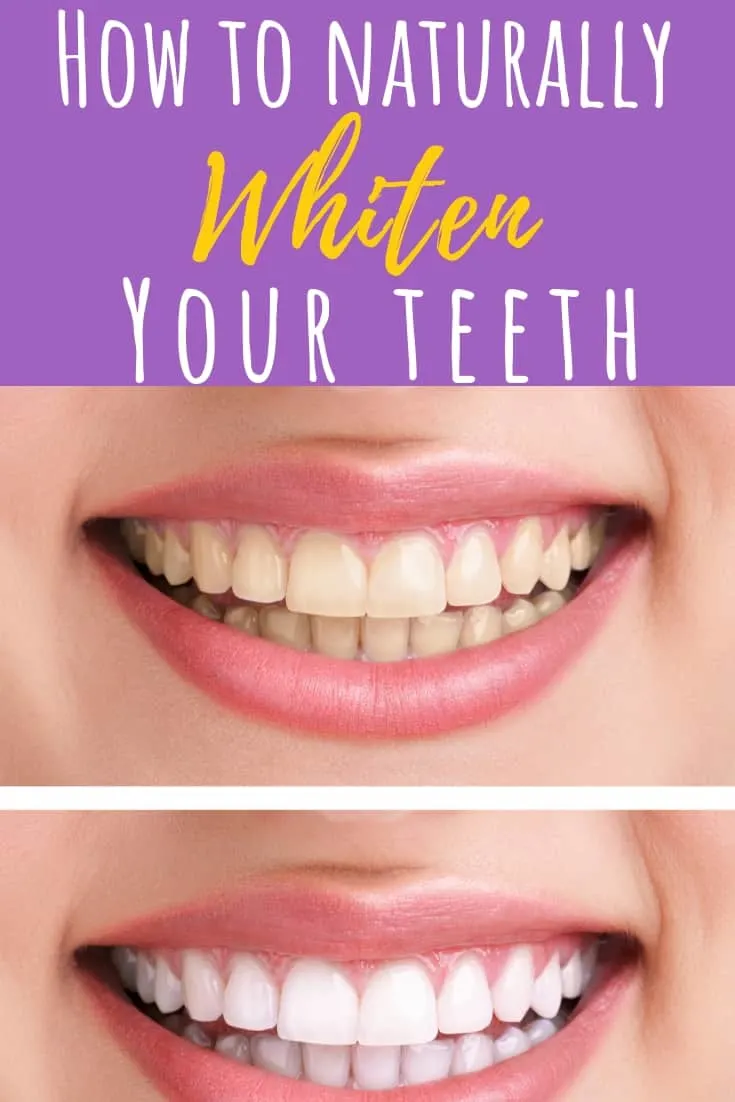 AVOID STORE-BOUGHT TEETH WHITENING KITS
Most at-home kits contain a cocktail of nasty chemicals. Typically, a kit will contain a bleach called hydrogen peroxide which will help to lighten your teeth.
This is the same chemical which is found in bathroom and toilet bleach – and I'm guessing you wouldn't want to brush your teeth with that! If ingested (even slightly) it can cause stomach issues and pain.
Some store-bought and online teeth whitening kits have been found to contain 300 times the legal amount of hydrogen peroxide – sometimes, unknowingly to the consumer.
Plus, these sorts of kits can be super abrasive. So while they might remove those stubborn stains you're desperate to get rid of, they'll also remove your enamel – so you'll basically be spitting your teeth down the sink.
Not ideal!
And there's more.
A lot of over-the-counter teeth whitening kits are extremely acidic, which can cause further damage and long-term sensitivity when used incorrectly.
Don't be fooled by thinking a high price tag means a safe product.
No matter how expensive the teeth whitening kit you use is, you could still end up with painfully sensitive teeth and gums, burns, worn away tooth enamel and other health issues.
THE BENEFITS TO WHITENING YOUR TEETH NATURALLY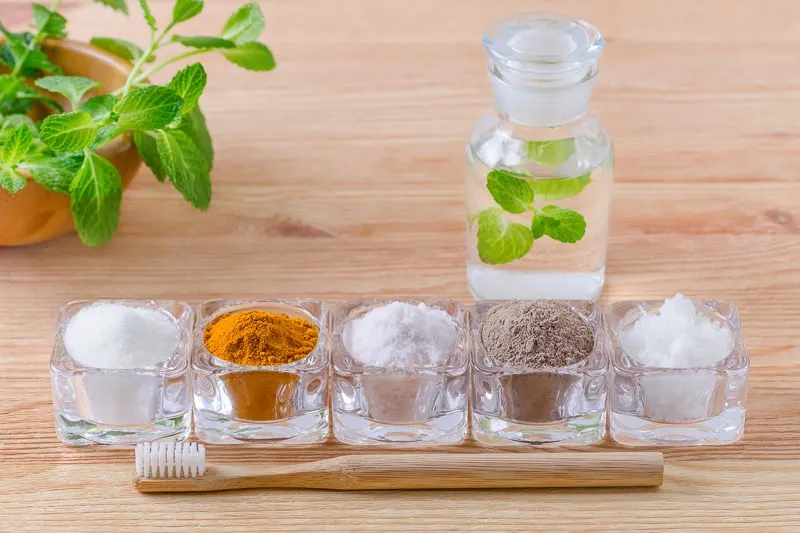 We all want to hear the words "you've got a beautiful smile" once in a while, but if store-bought teeth whitening kits are a no-go, how can you get your teeth looking sparkling, white, and clean?
Well, you're in luck.
The desire for a brighter smile has been around way before modern, chemical solutions were available.
There are many natural ingredients which can help you get whiter teeth, without the risk of damage.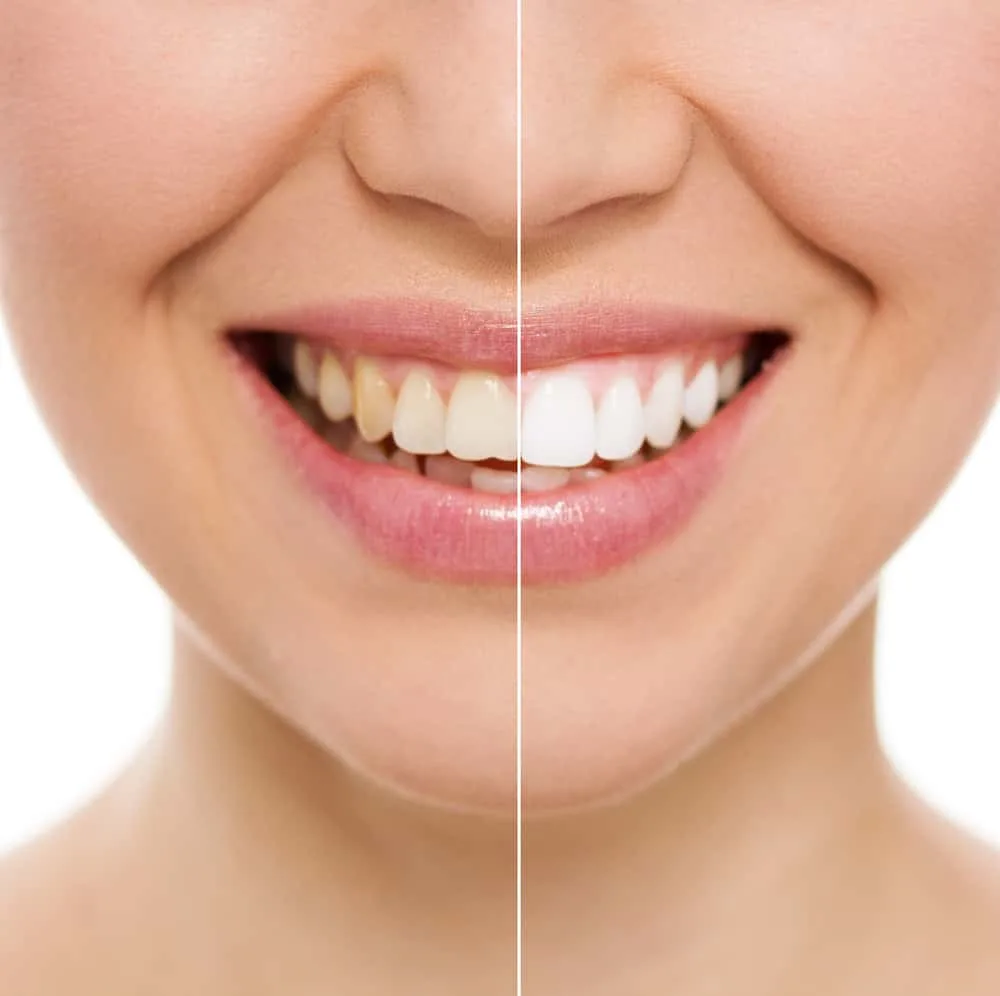 And unlike the kits we discussed earlier, natural, DIY teeth whiteners are gentle and can help remove stains and brighten at the same time as remineralizing teeth and helping to keep them healthy.
Oh, and let's not forget that homemade teeth whitening is way more affordable than the kits you'll find in-store or at a salon. It's basically a win-win!
DIY NATURAL TEETH WHITENING OPTIONS
Ready to whiten your teeth naturally? Here are some great options!
Baking Soda Teeth Whitener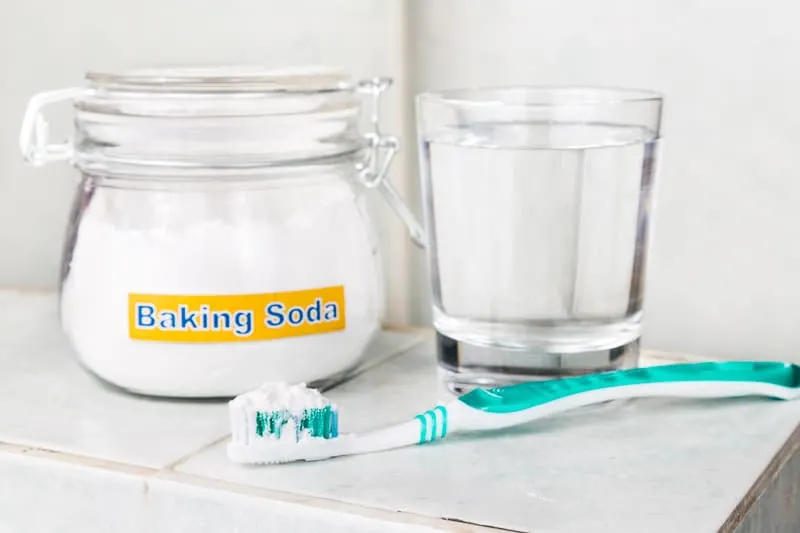 Baking soda is brilliant at removing the buildup of plaque which can give teeth a yellow tinge. Plus, the alkaline nature of baking soda gives it an extra discoloration-fading boost!
A study once found that toothpaste which contained baking soda is way more effective than toothpaste which doesn't. It also found that the higher the concentration of baking soda, the greater the brightening and stain-removing effect!
And the best part? If you like baking, you've probably already got this DIY teeth whitener in your kitchen cupboard!
But wait up a minute! Although baking soda is a fantastic homemade teeth whitener, it's no good for killing bacteria – so make sure you use your normal toothpaste afterward.
What you'll need
1 teaspoon baking soda
2 teaspoons water
Method
One of my favorite natural whitening tricks has got to be making a baking soda teeth whitener paste! Simply grab a bowl and mix the baking soda with the water, and pop it on your toothbrush. Make sure all your teeth are coated and give them a good brush for around two minutes.
Too much baking soda could wear down your enamel, so don't overdo it. Use the treatment just once a week, and you should see a brightening of your teeth over time. Voila!
Charcoal Teeth Whitener
Have you seen one of those crazy, before and after teeth whitening pictures wherein one image, the teeth are completely black?
Don't worry, they didn't have a severe dental hygiene issue – they were just using activated charcoal to whiten their teeth!
You might already know that charcoal is often kept in hospitals for anti-poisoning purposes. This mineral is so highly absorbent that it can counteract the effects of food poisoning – yep, it's super powerful stuff.
And its benefits don't stop there. It's absorbent properties mean that activated charcoal can pull out stubborn stains from our teeth, as well as prevent cavities and kill bad bacteria in the mouth.
And don't worry, the scary-looking black stain washes away instantly!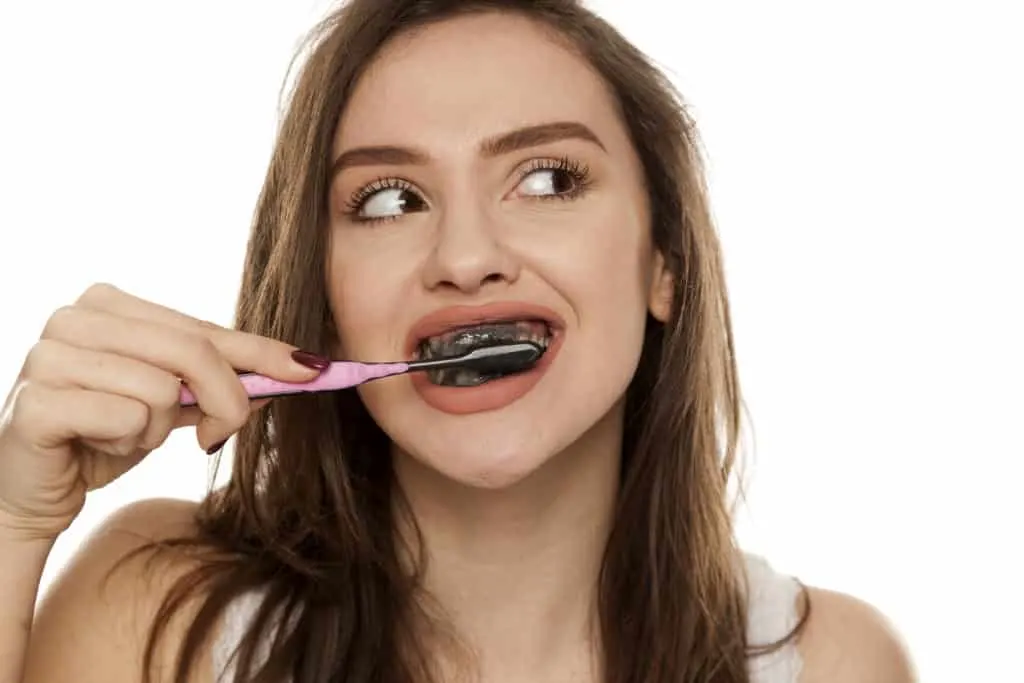 Where do you buy activated Charcoal? Head to your nearest natural health store and ask for activated charcoal – they're more than likely to have it in stock.
What you'll need
A toothbrush which you don't mind staining black
Activated charcoal powder
A cup or bowl
Water
Napkin, paper towel or cloth
Method
Wet your toothbrush, get your activated charcoal powder and simply dip it in so your toothbrush head is covered.
Next, get brushing – for at least 2 minutes, though you could carry on for up to 5.
Now, although this DIY charcoal teeth whitener is effective, it's also pretty messy – but that's where the cup comes in!
Rather than ending up with a charcoal-stained sink, spit into the cup.
Rinse your mouth thoroughly with water or go ahead and brush your teeth as normal. Use your napkin or cloth to clean up any mess before it dries.
Charcoal teeth whitener is pretty gentle, so you can use this method often. We'd recommend using it a couple of times per week to keep your teeth gleaming!
Like this DIY post? Don't forget to check out these as well:
Turmeric Teeth Whitener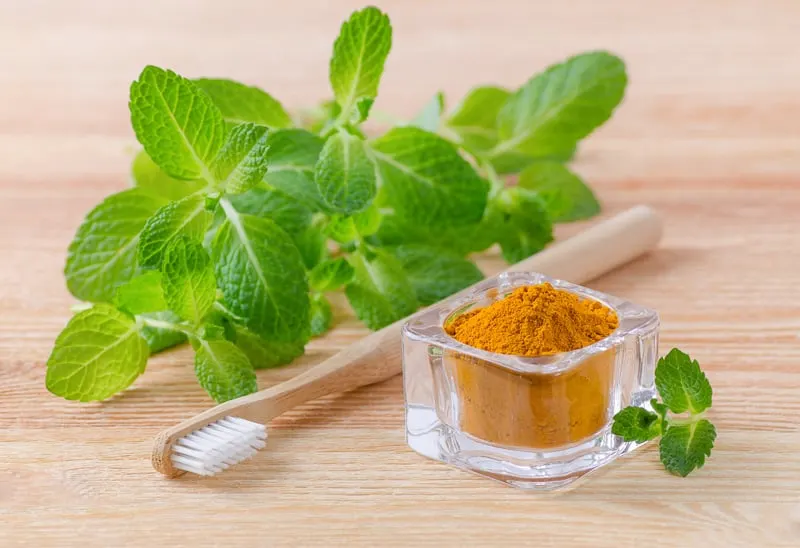 Using a bright yellow spice to whiten teeth? You probably think I'm crazy – but turmeric is an amazing DIY teeth whitening method!
We all know that turmeric is a powerful anti-inflammatory which has serious health benefits, but it has multiple oral healthcare benefits, too.
Turmeric can help to remove the plaque which causes a yellow discoloration to linger on your teeth, as well as prevent a range of dental and gum diseases.
A study even revealed that turmeric prevents gum disease as well as a traditional mouthwash when used regularly – impressive, huh?
Turmeric is super affordable – and you likely already have it in your spice rack. But don't forget that turmeric has a habit of turning anything and everything yellow – so put on an old t-shirt and place a towel on the floor before using it.
What you'll need
1 teaspoon high-quality turmeric
A cup or bowl
A toothbrush which you don't mind staining yellow
Water
Napkin, paper towel or cloth
Method
This one is so easy!
Put the turmeric into a bowl and dip your wet toothbrush straight in it.
Brush as you normally would, ensuring you have a covering of turmeric all over your teeth and gums.
Let it sit for around 5 minutes, before rinsing out your mouth with water and brushing with your normal toothpaste.
As with the charcoal teeth whitening method, spitting the paste into a cup when you're finished can help prevent any mess or stains.
Make sure you wipe up any turmeric which has dropped into the sink or on the floor as soon as possible with the cloth.
You can use this homemade teeth whitening method as often as you like – turmeric can do no harm!
Make your own homemade turmeric toothpaste
Love turmeric? As well as simply brushing with the spice, we've got a great DIY toothpaste which can help lift stains and brighten your smile.
What you'll need
1 teaspoon turmeric
2 teaspoons coconut oil
A bowl and a fork
An airtight container
Method
In your bowl, mix the coconut oil and turmeric together and mash with a fork until smooth.
You'll find it difficult to mix if the coconut oil is solid, so make sure it's at room temperature before you begin!
Put your DIY coconut oil and turmeric teeth whitener into an airtight container and you're good to go.
Use it as you would any other toothpaste, as often as you'd like. And beware, this toothpaste will stain your toothbrush yellow!
DON'T WANT TO DIY? TRY THESE NATURAL TEETH WHITENING PRODUCTS
Don't want to go full-on DIY but still want a natural teeth whitener? No worries – there are loads of natural teeth whitening products and kits on the market which can help you remove stains and get a dazzling smile – without nasty chemicals. Here are a few to consider!
Tuxedo Charcoal Teeth Whitening Powder on Amazon

This product has had rave reviews all over the internet and has the power to clean, heal and whiten your teeth. It does this whilst still being free from any chemicals, using only the power of nature to keep your teeth shiny and healthy!
As well as charcoal, which we already know is a great DIY teeth whitener, this powder contains bentonite clay which helps to remineralize teeth, and organic mint and orange peel to freshen and prevent bad breath.
Miswak Club Natural Teeth Whitening Kit on Amazon
Want to try something a little bit different? This teeth whitening kit is made from the Salvadora persica, a tree which has natural teeth-cleaning power. The natural antiseptics in the miswak brush are able to lift stains and discoloration, eliminate the bacteria which causes bad breath, gum disease and mouth ulcers.
Our favorite part of this product is that they're handbag friendly – so you can easily freshen up your teeth whenever you need to!
The Dirt All Natural Tooth Powder on Amazon
The Dirt claim that their ingredients are so safe, you could eat them! Okay, I wouldn't recommend eating it – but it's good to know. The product lifts surface stains using a mix of baking soda and bentonite clay, whilst freshening breath with a blend of cinnamon, nutmeg, and orange essential oils. It lasts up to 6 months, too – a bargain!

Activated Charcoal Toothpaste on Amazon
When life gets busy but you still want white teeth without turning to harsh whitening kits, activated charcoal toothpaste should be your go-to. It's got all the benefits of using an activated charcoal teeth DIY tooth whitening paste, without the mess and time-factor. You'll have white teeth, fresh breath, and plaque-busting ingredients all in your normal 2-minute brush – with no cleanup necessary!
HOW TO KEEP YOUR TEETH WHITE
Okay, so you've experimented with our DIY teeth whitening options or bought yourself a natural teeth whitening kit – and now your teeth are shiny, dazzling and white.
But don't stop there! As well as keeping up with your new homemade teeth whitening regime, here's how you can stop new stains from forming in the first place.
Get rinsing – Simply rinsing your mouth out after every meal is a great way to prevent stains from forming. Some foods and drink, in particular, are notorious for inducing stubborn teeth stains. Watch out for these bad boys: Coffee, tea, soda, wine, cranberry juice, berries, tomato sauce, beetroot, and soy sauce.
Opt for a straw – Got a little bit of a soda or iced coffee addiction? Don't we all! Try to drink through a straw when possible – the liquid won't touch the front of your teeth, preventing stains.
Ditch the cigarettes – Not only does tobacco increase your risk of developing cancer, but it can also stain your teeth – pretty badly, actually. Head to your doctor if you're struggling to quit. It'll really boost your health!
So, although it might seem tempting to reach for a teeth whitening kit which contains bleach and other dangerous chemicals, there's absolutely no need.
You can get a bright, sparkling smile with ingredients you might be able to find in your kitchen cupboard. Let me know if you try out one of my natural teeth whitening ideas – I'd love to hear your results!