This DIY aftershave recipe for men is seriously so simple! No need to buy aftershave at the store when you can whip up this simple aftershave recipe!
Whether you're looking for a great DIY gift to give the man in your life or just want to make the switch to natural homemade grooming products, an essential oil aftershave is the perfect solution. It's ideal for protecting and soothing sensitive skin.
Daily shaving can take a toll on facial skin, leaving it susceptible to bacteria and feeling a bit uncomfortable. Our men's aftershave recipe will protect and nourish with every use. I have been using this recipe for my own skin toner because it's so soothing! I just love it! haha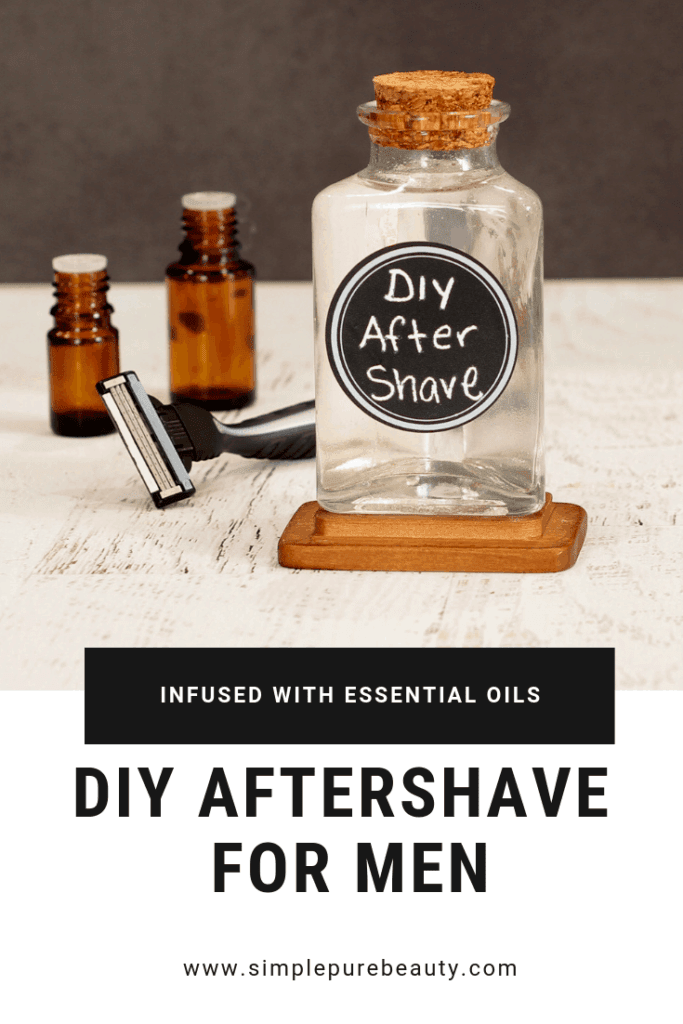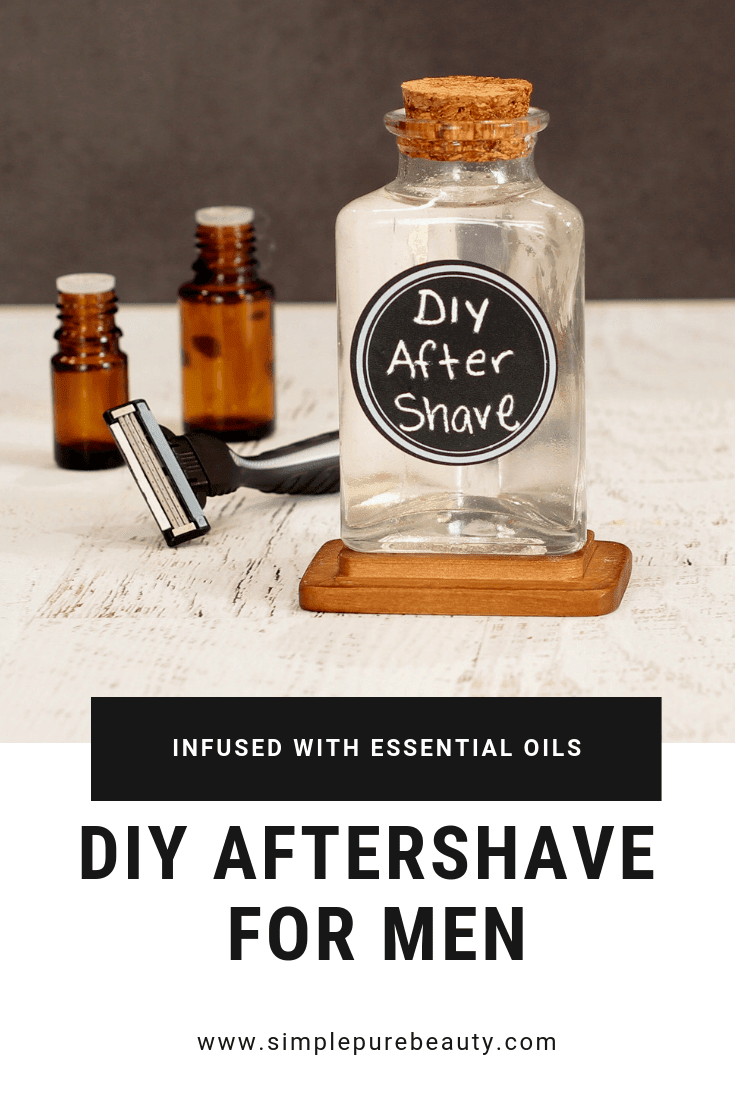 Is aftershave necessary?
Mens aftershave isn't essential, but it can help to soothe and protect the skin. Making it a part of the post-shaving routine is a great way to help the skin recover and reduce irritation.
The ingredients in our homemade aftershave recipe are specifically chosen to calm irritation, stop the bleeding from any nicks, and act as a disinfectant to prevent bacteria from getting into those tiny cuts.
What is the purpose of aftershave?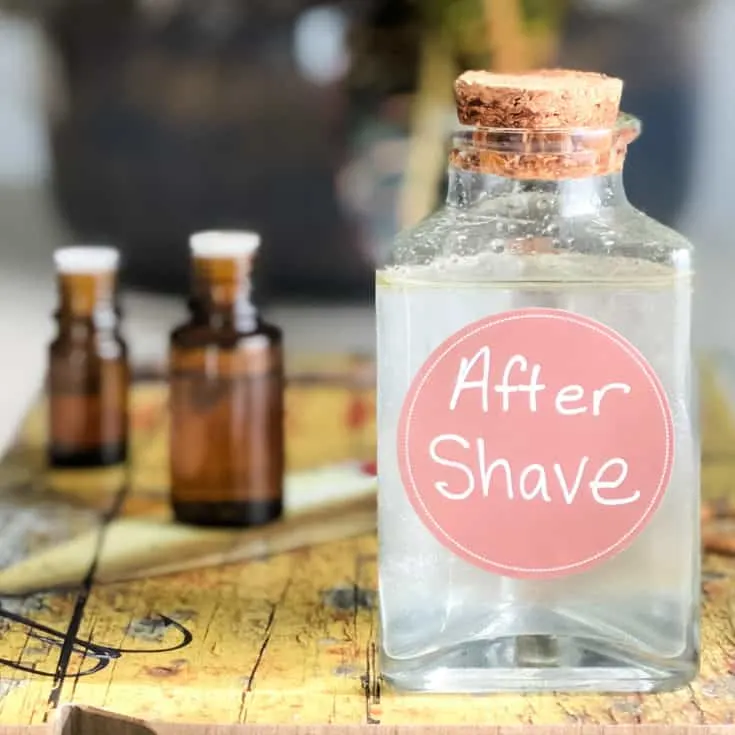 While it typically has a fresh and attractive scent, aftershave is useful for much more than just helping you smell nice. The right combination of ingredients in an aftershave can help soothe and condition the skin, which tends to be extra sensitive after shaving.
As the razor runs across the hairs, it also takes off a bit of the top layer of the skin. It can also leave tiny, even microscopic nicks that can allow bacteria to enter. Aftershave will protect your face post-shave.
How to use aftershave?
Before applying aftershave, it helps to open up the pores.
Place a hot towel over the shaved area and pat gently. Shake the aftershave well to incorporate the essential oils and spray a few times in the palm of your hands. Then gently massage into face and neck. It will penetrate the pores, healing any open cuts and soothing redness and irritation.
Once it soaks into the pores, you'll enjoy a fresh scent on your face while knowing that it's well protected.
How to make DIY aftershave
To make a natural aftershave, you'll need just a few simple ingredients. Ideally you want your aftershave to include an astringent, anti-inflammatory, and moisturizer.
Witch hazel works as an astringent, calming any irritation and reducing redness. It also has antiseptic properties, helping to block bacteria from entering the skin.
Aloe will soothe those sensitive areas post-shave and it acts as a powerful moisturizer. Once you've combined those 2 ingredients with glycerin to help hold them together, you'll add the essential oil blends. A blend of frankincense and benzoin will soften and smooth the skin. Another blend of oils to try is lime, bergamot, patchouli, and cedarwood. This blend gives a fresh, invigorating scent.
Ready to make your own DIY Aftershave for Men?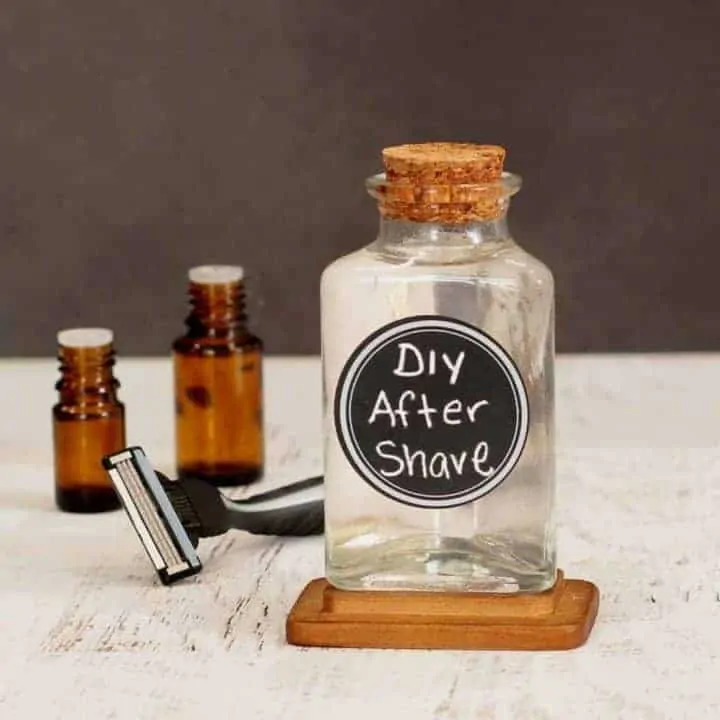 DIY Men's Aftershave Recipe
Materials
4 tbsp Witch Hazel
3 tbsp Aloe Leaf liquid/juice/gel
1 tbsp Glycerin - draws in moisture
Essential oil / blend (Choose one below)
ESSENTIAL OIL BLENDS
12 drops Frankincense Essential Oil
5 drops Benzoin Essential Oil
or
2 drops Lime Essential Oil
5 drops Bergamot Essential Oil
2 drops Patchouli Essential Oil
3 drops Cedarwood Essential Oil
Tools
** Shake well before using to incorporate essential oils
Instructions
Mix witch hazel and aloe leaf and glycerin into a 2 oz bottle.
Add essential oils and shake well.
Check & adjust pH to within a range of 3-8 and add Preservative, shake to combine.
Re-check pH and adjust (if needed) to a skin friendly pH of around 5.
Shake well before use.
Recommended Products
As an Amazon Associate and member of other affiliate programs, I earn from qualifying purchases.
Using a homemade aftershave is a great alternative to store-bought products. Many of them contain ingredients like alcohol that can actually dry out the skin and strip it of moisture. The best way to soothe, soften, and heal sensitive areas post-shave is with an essential oil aftershave that you can create right at home. Skin need a little extra help post-shave? Sometimes we need a moisturizing boost, try out this hydrating aftershave balm that melts right into skin!
If you enjoyed this recipe and the man in your life needs some more skin-soothing action, then try whipping up their pre-shave oil! This oil will help prepare his skin for shaving, giving him an even more comfortable shave!