Ahh, a fresh, smooth shave. There isn't much that compares to a perfect shave, especially when you have an aftershave balm that helps soothe irritation and moisturize your skin, helping you get the most out of your shave!
Aftershave balms are a wonderful way to help hydrate your skin after shaving and soothe any irritation!
Keep reading to learn how to make a soothing diy aftershave balm at home!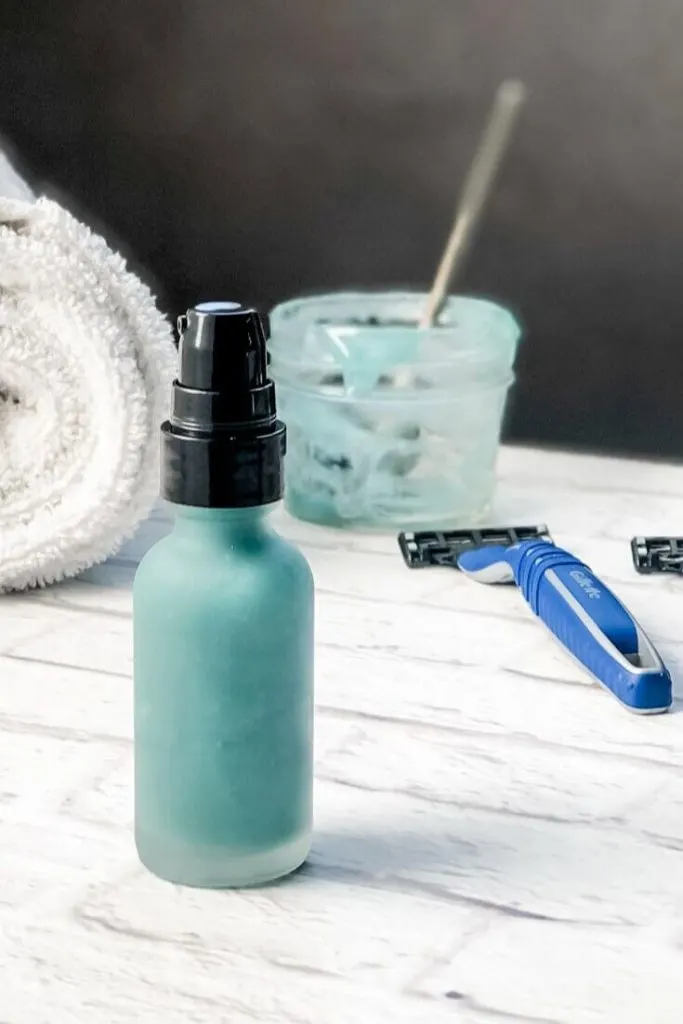 What is an aftershave balm?
Aftershave balm is a soothing and moisturizing balm that helps skin recover and heal from shaving. This balm is easy to spread over skin and rehydrates it to help get rid of any post-shave discomfort.
Aftershave balms can be used on most skin types to help you get a more comfortable shaving experience!
Aftershave lotion vs. balm
Aftershave lotions are a common alternative to aftershave balms; however, most store bought lotions contain alcohol and can worsen post-shave irritation!
Balms do not contain alcohol and tend to be much more gentle on skin. Balms also form a protective layer over the skin to help promote healing and protect skin while recovering from shaving.
Why use an aftershave balm?
Aftershave balms have many benefits to your skin, including
Moisturizing skin
Promotes healing
Protecting skin
Helping skin recover from shaving
Soothes skin after shaving
Moisturizing and Soothing
Shaving can dry out your skin and cause a feeling of tightness or tingling. This is due to a lack of moisture in your skin. Using a post-shave balm will replenish your skin's moisture and help alleviate skin irritation that can come from shaving.
Promotes Healing and Protecting
Shaving can cause micro-cuts on your skin, especially if you have skin that is sensitive or uneven. When you make an aftershave balm a part of your shaving routine, you are helping your skin heal from shaving while providing it with a barrier of protection from further damage.
Recovering From Shaving
If you already have dry skin, you know how your skin can feel after shaving.
Discomfort and skin irritation don't have to be a regular part of shaving! Including an aftershave balm in your routine will help your skin recover from shaving more quickly.
Shave prep tips to avoid razor burn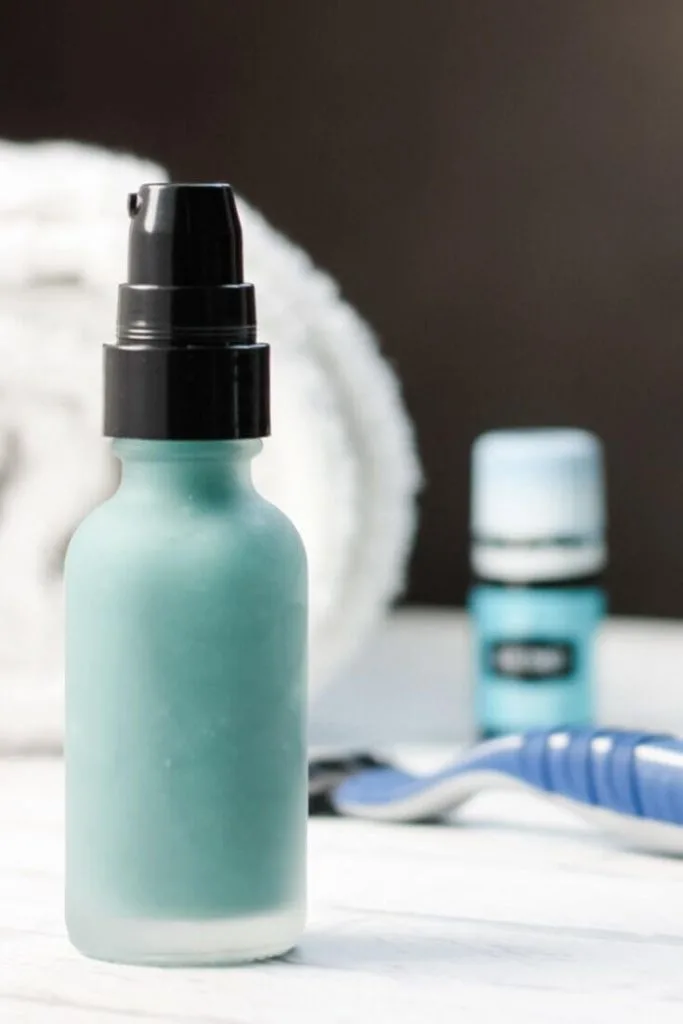 If you have sensitive skin or are prone to razor burn; you don't have to suffer!
Preparing your skin for shaving is an essential step to getting the best, most comfortable shave!
Here are a few of our best tips:
Do not dry shave
Use a pre-shave oil to prep skin for shaving
Use lukewarm water to shave
Use a high-quality shaving butter or cream
Do not bear down on your razor
Rinse your razor after each swipe
Dry your razor after you shave
Change your razor blade often
Shave preparation is an important part of getting a more comfortable shaving experience, if you struggle with unhappy skin after shaving, then take the time to prep your skin beforehand!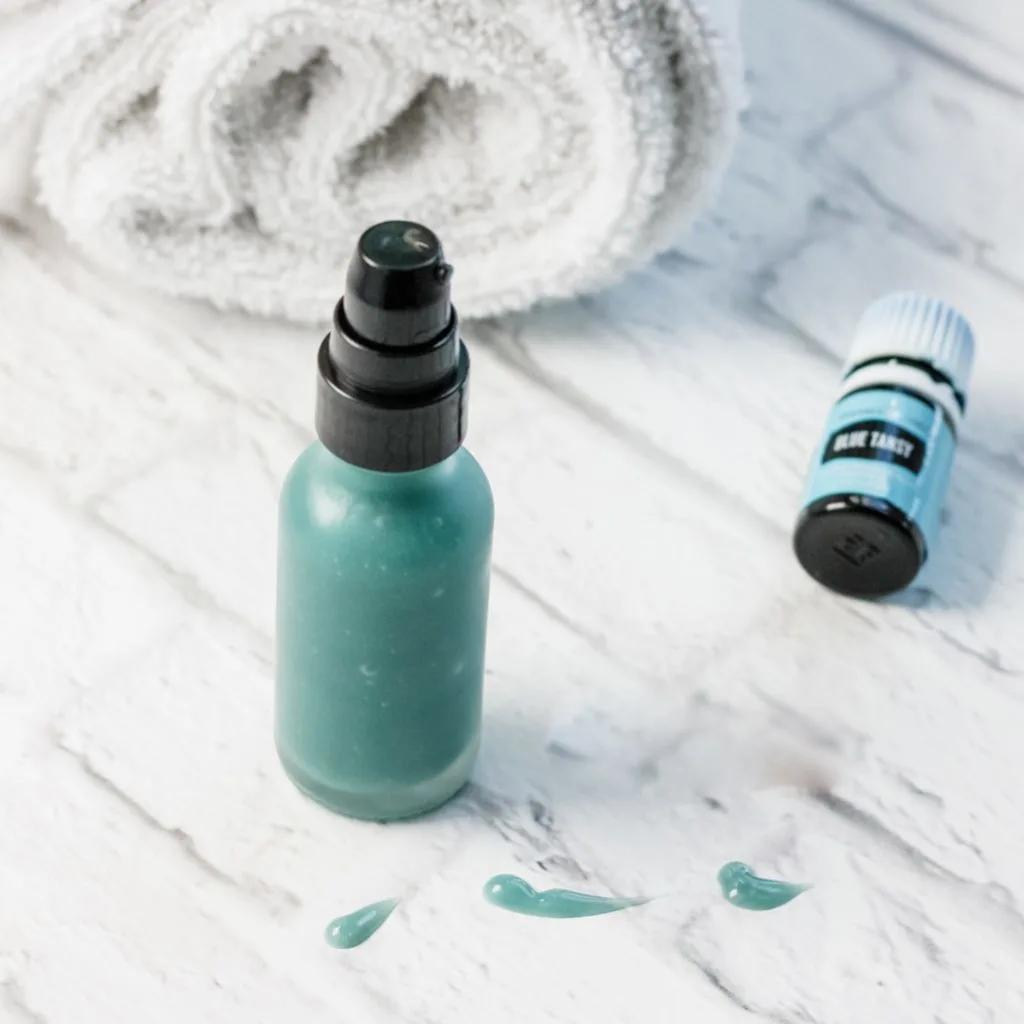 DIY Aftershave Balm Ingredients
Check out the ingredient list for our all-natural aftershave balm!
These ingredients make our after-shave balm recipe moisturizing and help calm skin! They are all non-comedogenic because we wanted to create a product that would not cause breakouts when used on the face.
This wax is derived from beeswax but has a very different texture! It adds a gel-like consistency to recipes; it makes this balm easy to spread onto skin without causing more irritation!
It also helps form a protective barrier on skin to help prevent further damage.
This lightweight, non-comedogenic butter is not likely to clog pores and absorbs into skin easily. It is moisturizing and deeply penetrates skin to deliver much-needed hydration and nourishment. It is often used as a replacement for cocoa butter and shea butter because of its lighter weight consistency!
This semi-solid oil is an emollient that helps seal moisture to skin and protect it from damage. It is a wonderful oil for dry, damaged, aging, or irritated skin.
In this recipe, it helps soothe skin and rehydrate it after shaving, helping your skin recover more quickly!
Babassu has recently become one of my new favorite skincare oils. It is very similar to coconut oil in its consistency and these two oils can be used interchangeably.
Coconut oil can cause skin reactions in some people and it may clog your pores. Babassu is a great non-comedogenic alternative!
This liquid wax soothes inflamed skin and has antibacterial properties. This oil is also lightweight and readily absorbed by skin, making it a great moisturizing agent in this recipe.
It is a great healing agent, which is excellent for anyone who suffers from razor burn and razor bumps.
Grapeseed oil is a popular, low cost carrier oil that contains high levels of linoleic fatty acid which actually promotes ceramides on the surface of the skin. Not only does grapeseed oil help prevent dryness but also helps reduce fine lines and wrinkles by acting as an occlusive to seal water into our cells.
This oil is light in texture and absorbs quickly into skin, making it the perfect choice for anyone looking for an easy to use skincare oil!
This little-known oil has many medicinal properties, including soothing irritation from things like razor burn or insect bites! It also helps alleviate itchiness that can come from dryness and rashes.
This ingredient can work wonders for your skin. It is moisturizing, anti-aging, tightening, and protecting. It will not clog pores and helps reduce irritation and inflammation. It is very similar to the oils our skin naturally produces, so it is readily absorbed by skin!
This extract is used to help increase hydration of the skin and reduce damage that can come from day to day activities, this includes shaving! It also aids in wound healing and has soothing properties to help reduce inflammation and irritation.
This powder is used to help relieve skin irritation from rashes, acne, and burns. In this recipe it will help calm and soothe skin with its anti-inflammatory properties. It helps to balance skin to prevent oil build-up and can even out your skin!
The essential oils in this recipe helps boost the benefits of this recipe including offering extra anti-inflammatory properties, moisturizing, and balancing. They also add wonderful fragrances to your recipe!
Vitamin E oil is packed with antioxidant properties to help it protect skin; it also moisturizes and nourishes skin. It helps you maintain healthy, happy skin!
This natural preservative will help protect your aftershave balm from the growth of bacteria and fungi, increasing the shelf-life! It can also add a little extra hydration to your formulation.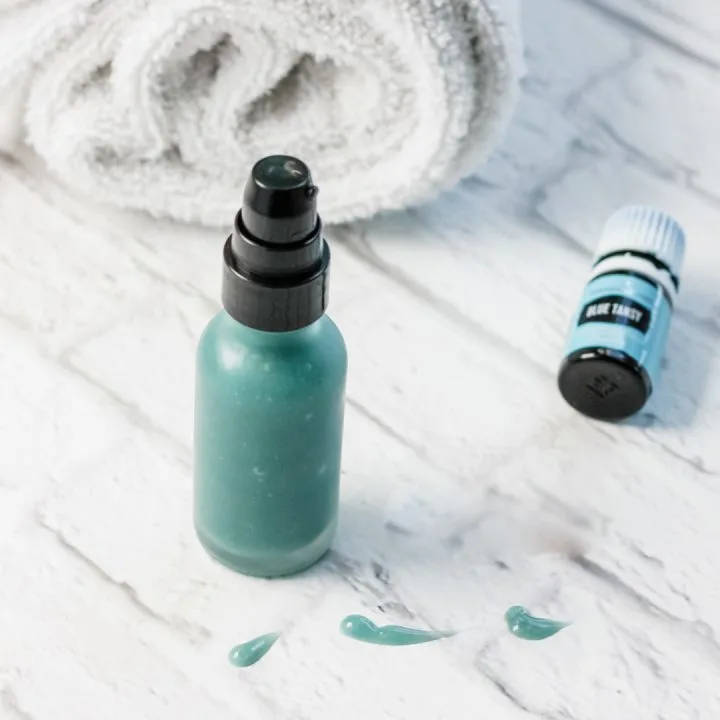 DIY Aftershave Balm for Sensitive Skin
DIY Aftershave Balm for Sensitive Skin
Instructions
Add cera bellina wax, kokum butter and oils to a heat-safe beaker or pyrex
Heat in a double boiler until fully melted
Remove from heat
Let cool to 40° C
Add in calendula extract, essential oils and vitamin e oil
Mix well and continue stirring as mixture cools
Once your mixture cools to trace, add in arrowroot powder and combine well
Pour into container *Note: I added balm to a pump bottle, but once it reached final consistency it was too thick. I would recommend a balm container.
Notes
I added balm to a pump bottle, but once it reached final consistency it was too thick. I would recommend a balm container.
Recommended Products
As an Amazon Associate and member of other affiliate programs, I earn from qualifying purchases.
Aftershave Balm FAQs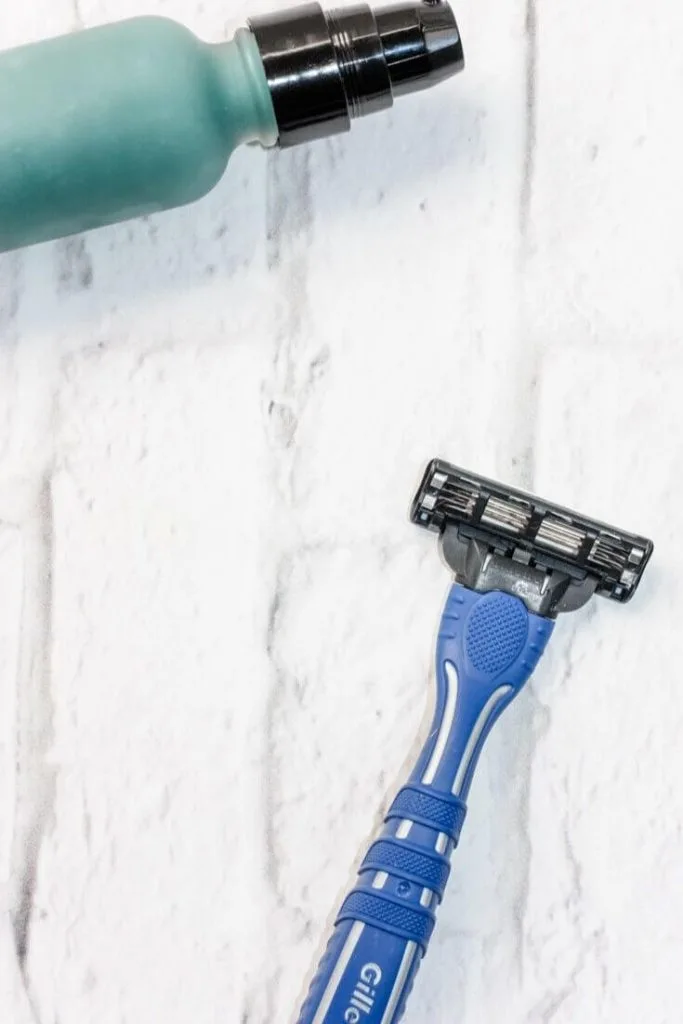 Let's cover some frequently asked questions about aftershave balm!
How do I stop ingrown hair irritation after shaving?
Ingrown hairs are a painful part of shaving for many people, but prepping your skin before you shave and taking care of your skin afterwards can help ward off ingrown hairs and reduce the irritation that comes with them.
Using an aftershave balm will calm your skin and reduce irritation, helping reduce the amount of ingrown hairs that occur from shaving.
What is the difference between aftershave and aftershave balm?
Aftershave is an important part of any shaving routine, regardless of what kind of aftershave you use. There are a lot of aftershave products on the market, such as more traditional aftershave splash products and lotions.
Many aftershaves contain alcohol and menthol to create that novelty cooling effect that aftershaves are known for and give immediate relief to any burning sensations; however, in many people, this can lead to dry skin, which is the opposite of what you want!
A post shave balm does not contain alcohol and tends to be more gentle on skin while protecting skin as it recovers from shaving.
If you prefer a more traditional aftershave, you may want to try one of these DIY aftershave recipes.
What oil is good after shaving?
While using moisturizing products after shaving is a great way to help your skin, we don't recommend using plain oils. Many people recommend oils like coconut oil or avocado oil after shaving, but these oils are more likely to clog your pores.
If you want to help your skin without contributing to more irritation, try this aftershave balm recipe full of natural ingredients that work together to soothe skin without clogging pores.
What makes a good aftershave?
The best aftershave balms include key ingredients that deliver great results. We believe the best products are ones that you make yourself or that include natural ingredients.
Look for soothing and hydrating ingredients, and be sure that none of them are irritating, such as menthol or alcohol. We also recommend look for things that promote healing to help your skin more fully recover before your next shave!
Do you use shave balm before or after?
Aftershave balm is meant to be used on freshly shaved skin. A little goes a long way; all you have to do is apply a small amount of balm to the area you shaved in order to get the most out of your balm and your shave!
In conclusion
We hope you enjoyed learning how to make DIY aftershave balm for sensitive skin! This natural recipe is packed with ingredients that will soothe your skin and leave you feeling refreshed after every shave.
What are your favorite aftershave products? Let us know in the comments below!
Pin this post for later!
If you are excited about trying an aftershave balm, then pin this post for later!