This DIY Baby Wash is gentle and soothing for baby's delicate skin! Infused with lavender and calendula for extra soothing and healing properties!
If you take a peak around the internet, you're sure to find that there are many baby wash options on the market. Some are marketed as natural and safe for baby's delicate skin, while others are full of harmful chemicals.
Of course they aren't marketed this way, it's up to us to do our research and know what baby products we should just avoid all together.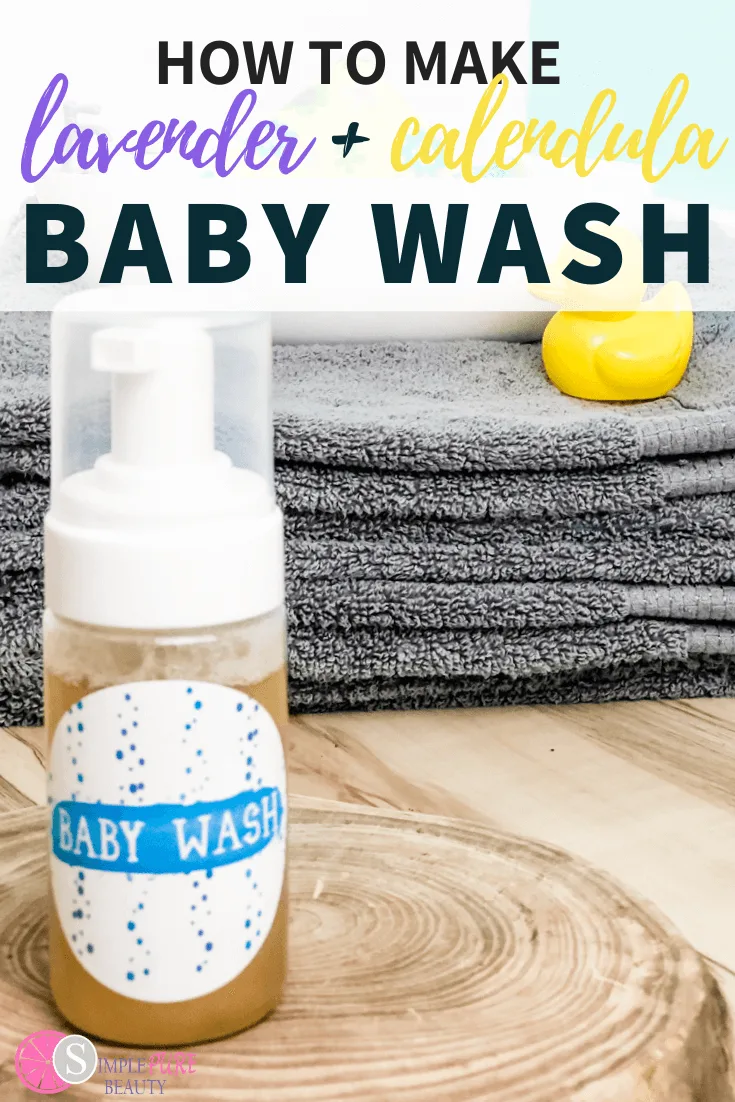 In this post, we're going to explore some of the harmful ingredients found in many mass-produced baby washes, as well as look at a great, natural, safe alternative to make your own baby wash.
How often should a baby bathe?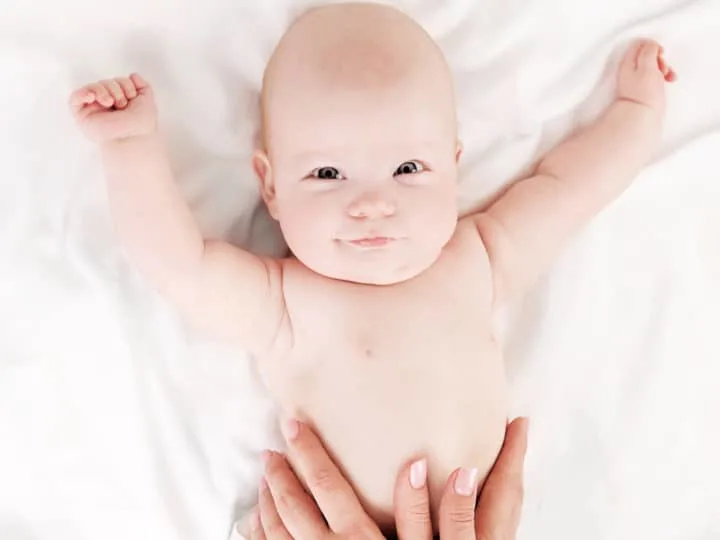 First, let's start with bathing basics. Baby's delicate skin doesn't need washed every single day.
In fact, bathing baby every day could lead to baby's skin ending up dried out.
Instead, bathing baby 2-3 times per week using a gentle cleaning wash works great until baby becomes more mobile and is actually getting dirty throughout the day.
Once this happens you can move to every day or every other day for bathing as needed.
Regardless of how often baby is being bathed, it's a good idea to follow the bath up with a good moisturizer.
Using a moisturizer after bathing will help replenish any moisture lost during the bath and protect baby's delicate skin.
This is a great calming baby body recipe that is perfect after bath!
Is it really necessary to wash babies with soap?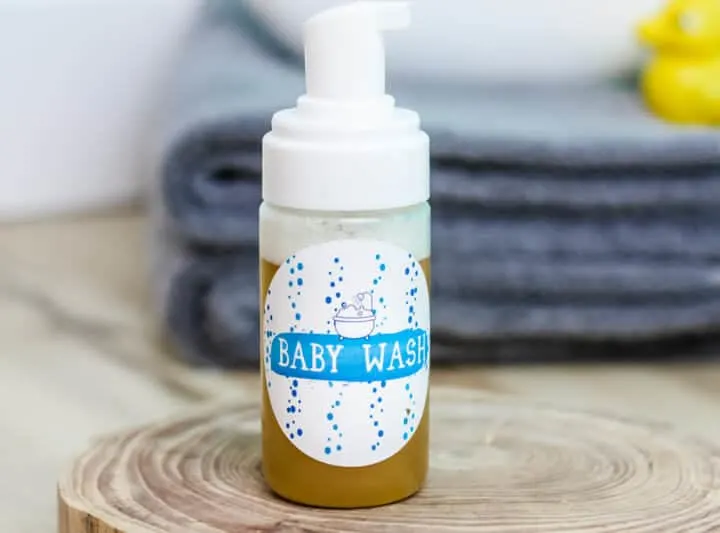 There's a lot of debate online about whether you need to use baby wash on your baby or if all baby needs is water.
Baby's skin can definitely benefit from using a baby wash, however, they don't need the super deep lathering found in many commercial baby wash products.
Deep lathering is generally harsh on anyone's skin, especially babies.
Commercial baby washes can be full of harmful ingredients that it would be best to avoid all together.
These are generally possible carcinogens, endocrine system disruptors, or neurotoxins.
Some of the harmful ingredients most often found in commercial baby washes are as follows:
You can read more about harmful ingredients commonly found in baby care products here.
Is homemade baby wash safer for my kid than store bought baby wash?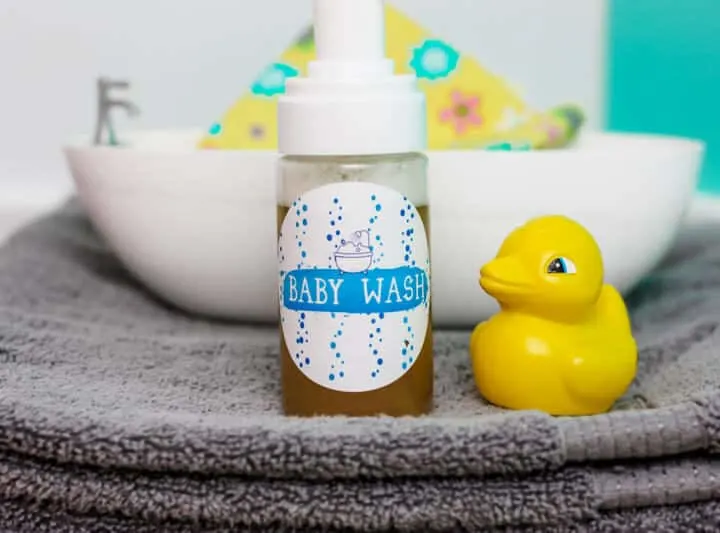 Luckily, there are many great alternatives for natural ingredients to use on our precious little ones instead.
If you're looking to completely DIY your baby's skincare routine, you may also enjoy these recipes:
With that, making your own homemade baby wash is much safer than using a store-bought wash because you can choose what ingredients you put in your homemade wash.
Another great benefit of making your own baby wash is that you can completely customize it based upon what you and baby like best.
You can also change the formula up if baby's skin needs any sort of special attention.
Best Baby Wash Ingredients: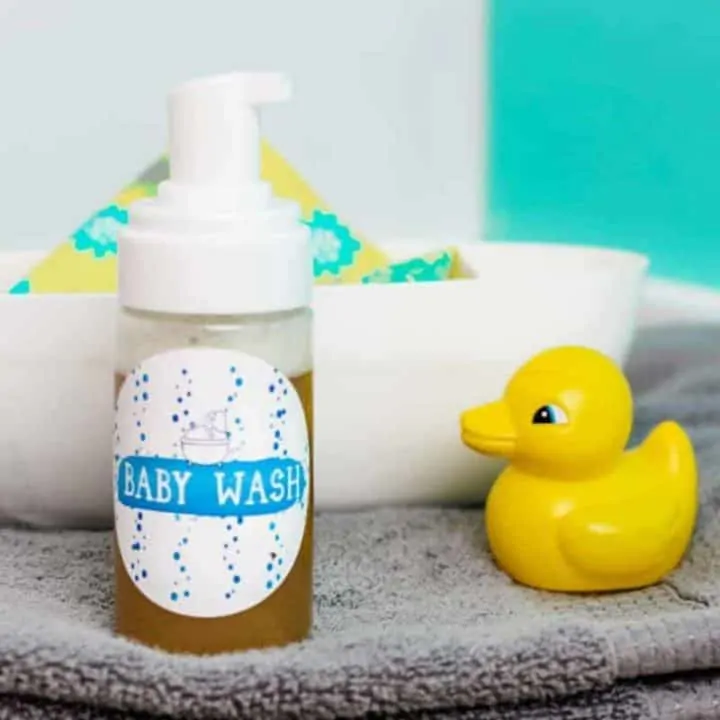 Calendula and Lavender Baby Wash Recipe
This DIY Baby Wash is gentle and soothing for baby's delicate skin!
Materials
Instructions
Boil distilled water and then add herbs, remove from heat, & cover until cooled.
Strain.
Add the rest of the ingredients, stir, and add to a bottle. ** Best if added to a foamer bottle like this one.
Recommended Products
As an Amazon Associate and member of other affiliate programs, I earn from qualifying purchases.