Baby massage is a great way to bond with your baby. Beyond bonding with baby it can also help baby sleep better, soothe baby, and help with baby's digestion. Today, we're going to dive into baby massage oils to use with baby and how to get started with massage.
This recipe is created to safely use on babies and little ones, but feel free to add a few more essential oils and use it yourself.
It is amazing!
I have kind of been on a safe baby skincare kick lately so if that's something you're looking for, you'll probably love these recipes too:
What is the Best Oil for Baby Massage?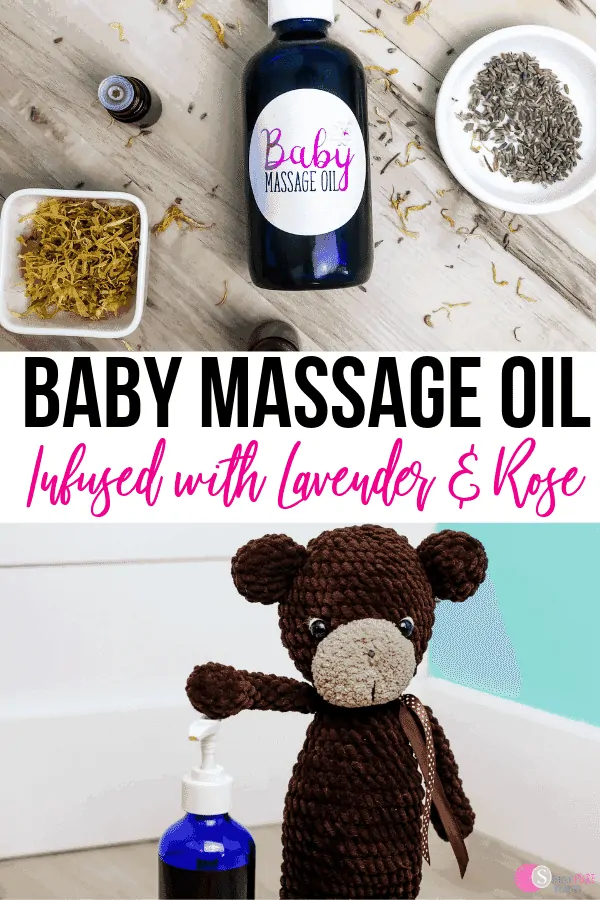 There are so many great carrier oils that can be used while massaging baby. Some of the top ones are olive oil, coconut oil, sweet almond oil, grapeseed oil, and castor oil.
Each of these oils are known for their abilities to be soothing and nourishing to the skin while helping to also moisturize the skin.
Of course, whichever carrier oil you choose, you'll want to discontinue its use if baby has any type of reaction to it.
Tip: If the baby has any sort of allergies and you're unsure about which carrier oil to use, grapeseed oil is known to be hypoallergenic.
Should I Use Baby Massage Oil?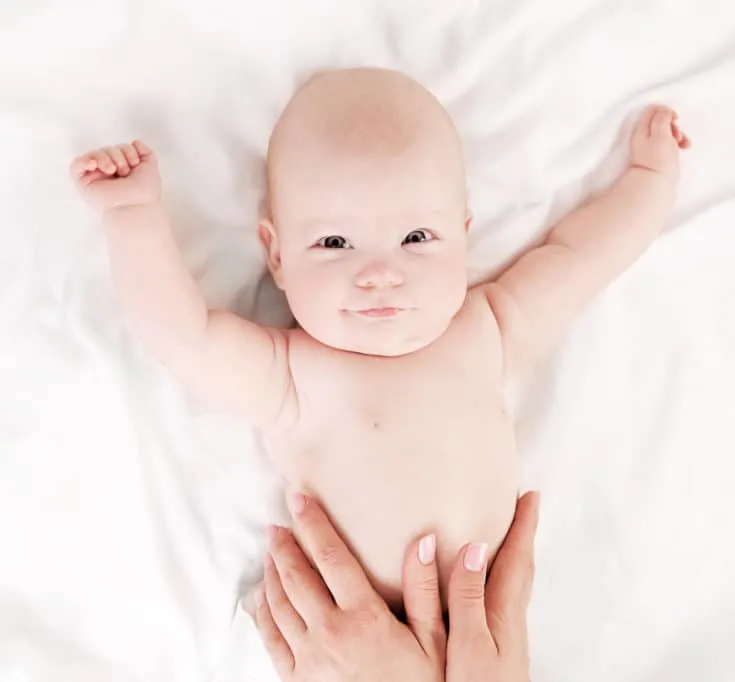 Yes, if you're going to be massaging baby, using a baby massage oil is highly beneficial!
Not only will it hydrate baby's skin but it will allow your hands to move more smoothly over the surface of baby's skin, making for a more comfortable and soothing massage for your little one.
Your hands will also benefit from the hydration the massage oil supplies.
Almond Oil for Baby Massage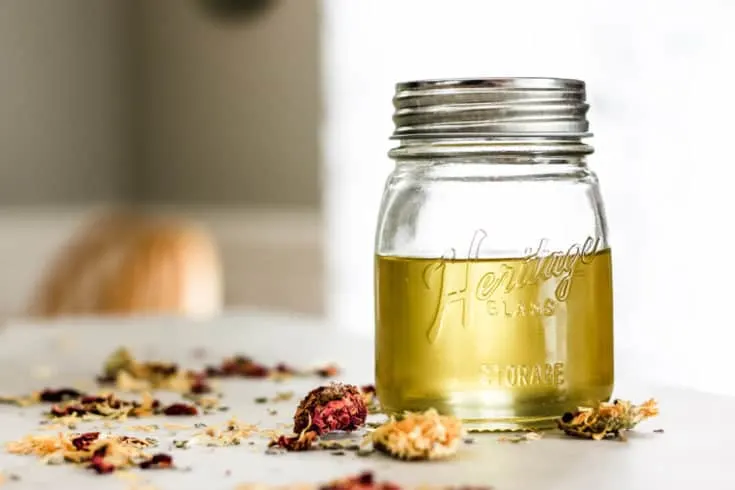 Sweet almond oil is a great carrier oil choice for many applications, including baby massage. It contains vitamins A and E which helps keep skin healthy and soft.
It also can help heal any skin irritations baby may have as well as help baby's delicate skin to retain moisture.
In the recipe I'm sharing today, I used Sweet Almond oil as the main carrier oil.
Is Baby Oil Mineral Oil?
So what about those bottles of baby oil you see everywhere? Why not just use that for your baby's massage?
Baby oil that you purchase in the store is mineral oil. The makers of commercial baby oil use different chemicals that act as fragrance to make the oil smell good, but it's still definitely mineral oil.
These companies don't always have your baby's best interest at heart.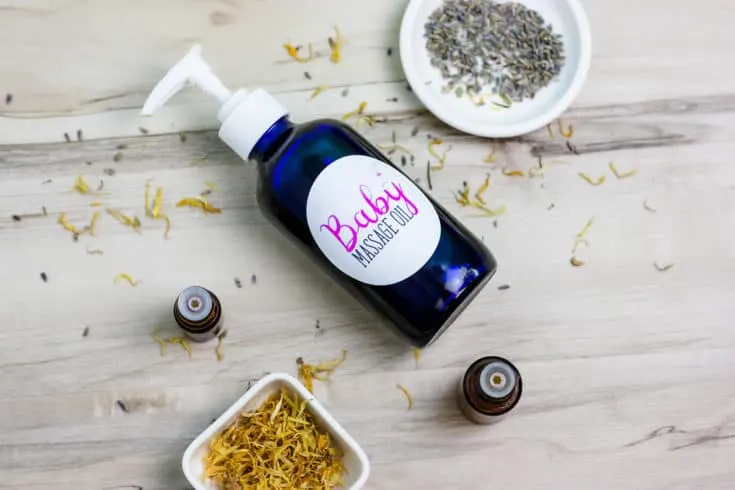 Is Mineral Oil Safe for Babies?
Quite frankly, mineral oil shouldn't be used on anyone's skin, but it most definitely shouldn't be used on baby's skin.
Mineral oil essentially works as a plastic wrap on the skin. It traps things out, but it also traps things in. Our skin is meant to allow toxins to pass through easily as the body rids itself of them.
If your skin is coated with mineral oil, these toxins can't escape, which allows them to build up and cause a variety of health and wellness concerns.
Essential oils also do not work well with mineral oils. Just as the mineral oil keeps the skin from being able to release toxins, it also keeps things from being able to enter the skin, including essential oils.
It's best to just stay away from mineral oil based products (petroleum jelly included). You can replace mineral oil based products with this recipe, or by simply using the vegetable-based carrier oil of your choice instead.
Baby Massage Instructions
Want to try massaging your baby but you're not sure how? It's okay. There are a lot of great instructions to be found on the internet for massaging baby.
Baby Center has a great slideshow teaching you how to start massaging baby, with step-by-step pictures. You can access the slide show here.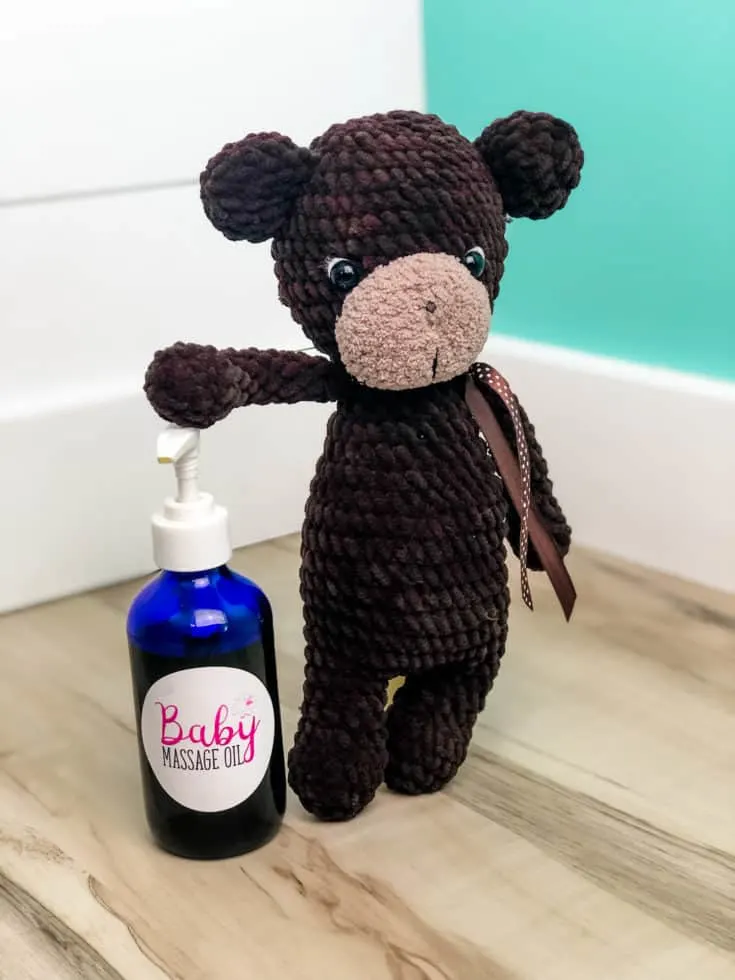 How to Make the Best Baby Massage Oil:
This recipe is full of skin loving ingredients.
Sweet Almond Oil, Jojoba Oil, and Hempseed Oil are all very nourishing to baby's skin and hydrating.
Calendula is a great soothing herb that is wonderful for protecting the skin and healing any irritations.
Rose soothes the skin and is very relaxing.
Lavender and Sweet Orange essential oils, both known for their relaxing and skin nourishing properties.
Infusing Carrier Oils with Herbs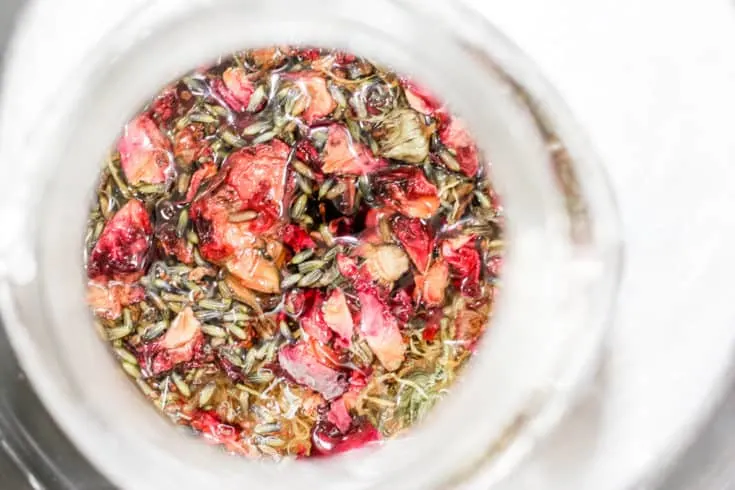 This baby massage oil recipes briefly covers infusing your carrier oils with herbs.
I have a complete tutorial where I share 3 different ways to infuse your carrier oils.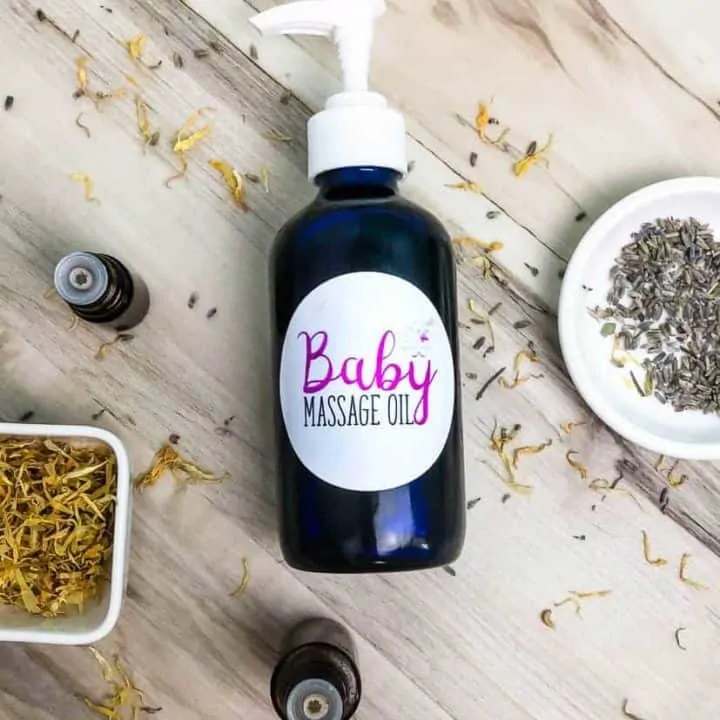 Best Baby Massage Oil Recipe Infused with Lavender and Rose
Additional Time:
5 minutes
Total Time:
1 hour
6 minutes
You're going to love this baby massage oil recipe.
Materials
2 tbsp Rose petals
1 drop Lavender essential oil
1 drop Sweet Orange essential oil
Tools
Double Boiler: Heat safe container placed in pan with several inches of water.
Notes
To Use:

Add a few drops of the massage oil to your hands and rub together gently before applying to baby's skin. Make sure your hands have slightly warmed the oil before touching baby's skin to ensure maximum comfort for baby.
Recommended Products
As an Amazon Associate and member of other affiliate programs, I earn from qualifying purchases.