If you're looking for an anti-aging oil that delivers deep hydration and is versatile enough to use on your skin and your hair, well, you're in luck!
Evening Primrose Oil is an excellent choice for anyone who needs an oil that is heavy enough to deeply moisturize and nourish, as well as reduce signs of aging!
Today we're digging into all of the top 5 anti-aging benefits of evening primrose oil for the skin and how to add it to your skincare routine.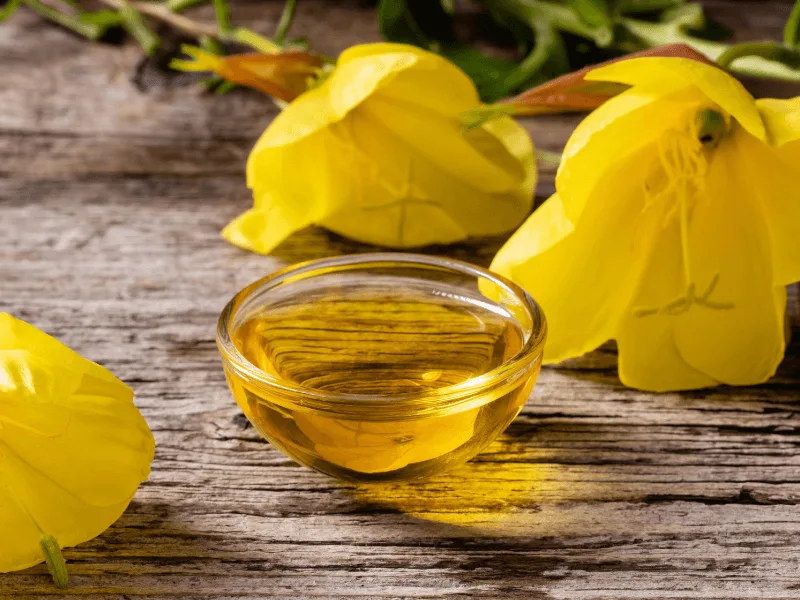 What is Evening Primrose Oil?
Evening Primrose Oil is an oil that is extracted from the seeds of the Yellow Evening Primrose wildflower.
This natural oil is heavier than others, but can be used for many things such as, reducing the signs of aging, is a great moisturizer, and can even help ease symptoms of eczema!
In skincare, it is often used to increase elasticity and firmness.
Evening Primrose Oil is a great option for those who are looking to reduce the signs of premature aging and prevent blemishes from forming.
Here is some important info about this wonderful oil:
Evening Primrose Oil Quick Facts
Evening Primrose Oil Scientific Name:
The scientific name for Evening Primrose Oil is Oenothera biennis L.
Evening Primrose Oil Comedogenic Rating:
Evening Primrose Oil has a comedogenic rating of 3 which means it could clog your pores, particularly if you already have oily skin.
Evening Primrose Oil is Extracted from:
Evening Primrose Oil is extracted from the seeds of the yellow evening primrose wildflower. The oil is separated from the seeds using a process called cold pressing.
Evening Primrose Oil INCI:
Oenothera Biennis Oil
Evening Primrose Oil COSING Number:
35639
Recommended for:
Evening Primrose Oil is recommended for individuals with dry, irritated, inflamed, or allergy-prone skin.
Evening Primrose Oil Absorption:
Evening Primrose Oil has an absorption rating of 5; this means that it is very slow to absorb and can leave a heavy oily residue on skin.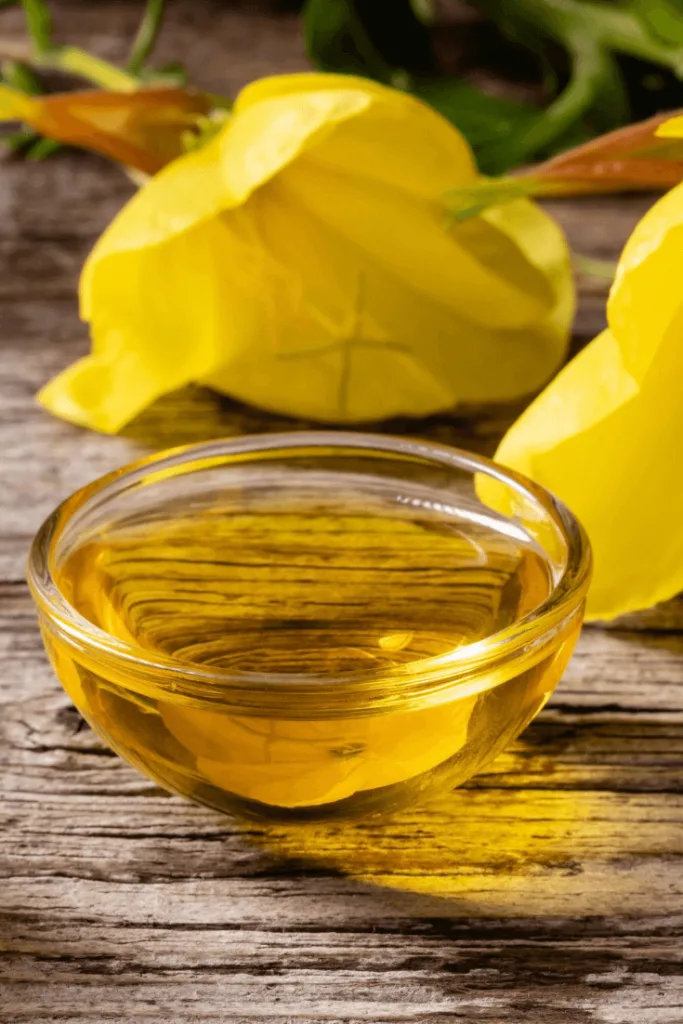 Evening Primrose Oil Properties & Composition
| | | |
| --- | --- | --- |
| Palmitic Acid (C16:0) | 6.0% | |
| Palmitoleic Acid (C16:1) | 2.0% | |
| Oleic Acid (C18:1, ⍵-9) | 7.0% | |
| Linoleic Acid (C18:2 ⍵-6) | 74.0% | |
| α-Linolenic Acid (C18:3, ⍵-3) | 10.0% | |
| Phytosterols | 10,000 mg/kg (Ꞵ-sitosterol: 8,500 mg/kg) | |
| Vitamin E | 341 mg/kg (tocopherol: 335 mh/kg) | |
*Fatty acid breakdown is shared from
Modern Cosmetics Volume 1
.
Linoleic acid is the most prominent fatty acid in evening primrose oil. Phytosterols are also abundant, with their quantity sometimes reaching 1 percent.
Phytosterols are known for their anti-oxidative and photo-protective properties.
Because evening primrose oil is oxidatively very unstable, it has a greenish-yellow color and a distinctive mild, somewhat sour odor kind of like vegetable oils containing a lot of polyunsaturated fatty acids.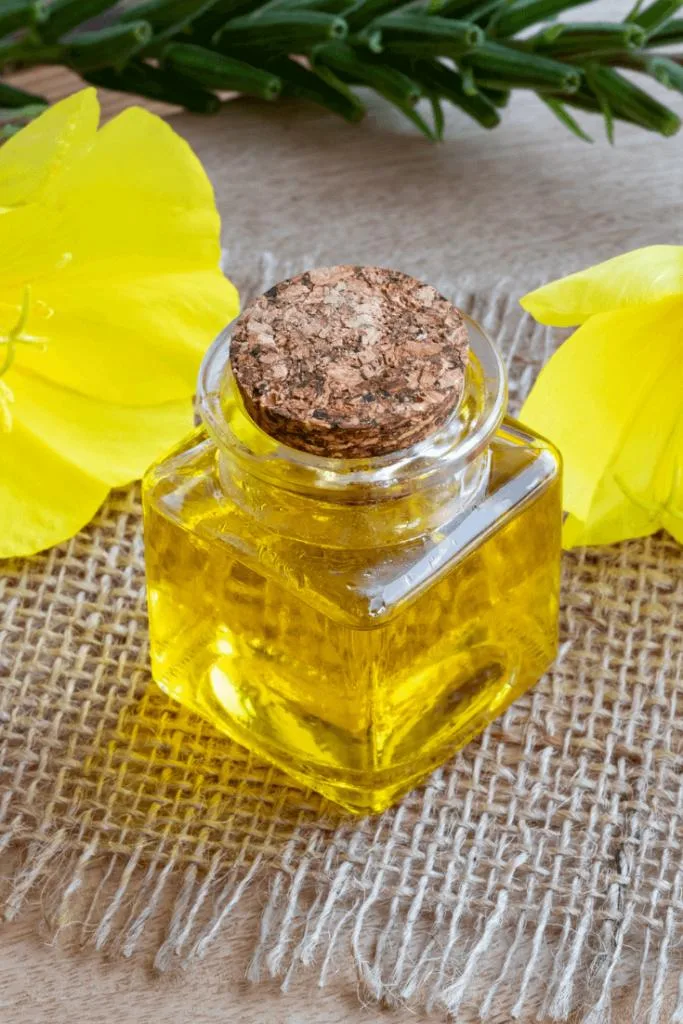 Top 5 Anti-aging Evening Primrose Oil Benefits for Skin
Evening primrose oil has a host of benefits for skin. Not only is it protective, it can also help improve skin health, soothe irritation and inflammation!
Because evening primrose oil is rich in essential fatty acids, it may help reduce the effects of aging on your skin. It also nourishes and moisturizes skin by locking hydration inside to leave skin nourished and hydrated.
Let's take a look at the top 5 anti-aging benefits of evening primrose oil.
1. Evening Primrose Oil is Anti-Inflammatory
Evening primrose oil contains GLA (gamma-linolenic acid), which evens out inflammation and redness by reducing the production of pro-inflammatory chemicals like prostaglandins, leukotrienes, and histamines.
2. Evening Primrose Oil May Prevent Premature Aging
Evening primrose oil and its essential fatty acid, gamma-linolenic acid, or GLA protect skin from oxidation and prevent skin aging, helping to preserve skin's youthful appearance and suppleness.
3. Evening Primrose Oil for Breakouts
Evening primrose oil contains acne-fighting and anti-inflammatory properties that can help soothe redness and irritation from acne, shrink the appearance of pores, and prevent new breakouts from forming.
4. Evening Primrose Oil Stimulates Collagen Production
Evening primrose oil stimulates collagen production and speeds up the formation of new collagen fibers, resulting in smoother-looking skin and a reduction in fine lines and other signs of aging.
5. Evening Primrose Oil is Moisturizing
Since evening primrose oil is an emollient, it helps to maintain skin's hydration and has a powerful ability to moisturize, hydrate and nourish dry skin. It is also great for hydrating dry hair as well as sealing moisture into the hair shaft.
How to Use Evening Primrose Oil on your Skin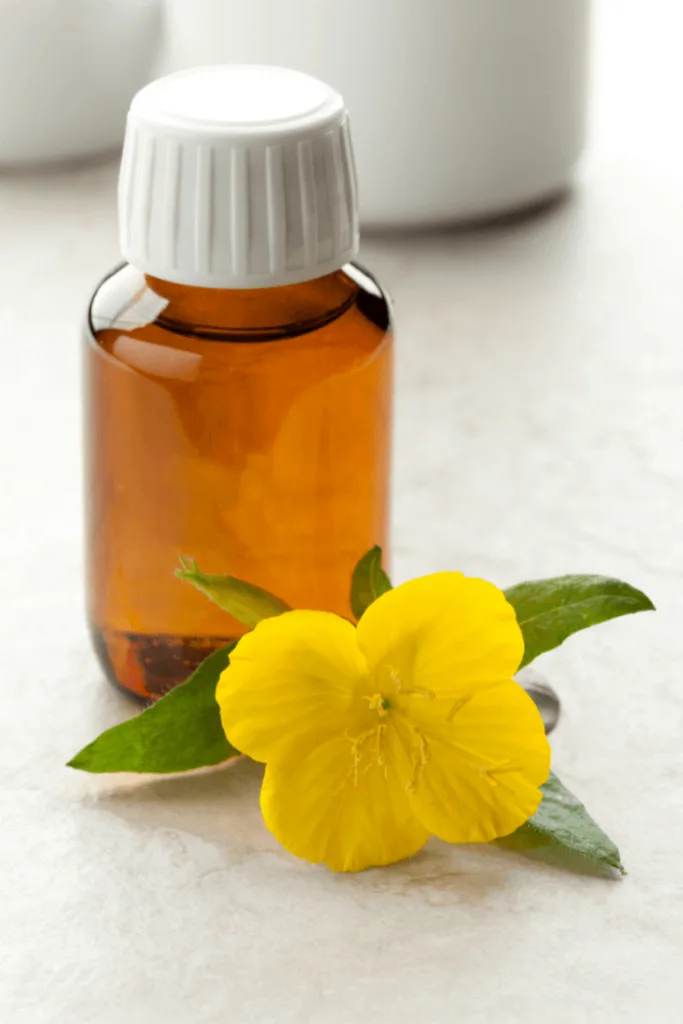 Evening primrose is a popular natural oil to use in skincare product. Products containing evening primrose oil can be found in many forms including cleansers, serums, lotions, and oils.
Here are some popular evening primrose oil uses for skin.
Face Oils & Night Creams
Evening Primrose Oil is often used as a key ingredient in facial oils and night creams to reduce the signs of aging.

It can also be used in moisturizers to reduce the appearance of wrinkles and fine lines.
Anti-Aging Treatments
Evening primrose oil is known for its ability to have a tightening effect on skin, so it is often included as an ingredient in anti-aging facial peels, and other topical treatments.
It makes a great addition to other products and can be used alone. Many people like to use it in a mask to add deep hydration and reduce inflammation and puffiness.
Evening Primrose Oil can be mixed with other products to form creams, serums, and balms that help deeply protect your skin. Many of these formulations target irritated and rough skin, and aim to reduce damage and inflammation.
Evening Primrose Oil and Atopic Dermatitis
There was a study done to see if topical evening primrose oil combined with an amphiphilic and a stable water-in-oil emulsion would aid in the improvement of barrier function in atopic dermatitis.
After 4 weeks of treatment or 1 week without treatment, the research team measured transepidermal water loss (TEWL) and stratum corneum hydration in two groups of 20 people with atopic dermatitis.
The barrier function test was also conducted with sodium lauryl sulphate (SLS) and nicotinic acid ester.
Evening primrose oil showed a protective effect on the stratum corneum barrier when used with the water-in-oil emulsion, not the amphiphilic emulsion. The vehicle you choose is therefore a crucial element in evening primrose oil's performance topically applied.
Evening Primrose Oil Substitutes
When looking for substitutes for evening primrose oil you'll want to look for an oil that is a little heavy and slower to absorb. One oil that fits this bill is Avocado Oil.
It has the same comedogenic rating and is an oil with larger molecules that take longer to penetrate skin. Avocado Oil, like Evening Primrose Oil, is hydrating and anti-inflammatory.
A few other good options would be:
Safflower oil
Cottonseed oil
Note: Cottonseed oil is also great for leaving skin soft and silky. Keep that in mind when you are making this switch!
Warnings/Contraindications for Evening Primrose Oil
There are not any warnings for topical use of evening primrose oil, it is important to note that it is comedogenic and may clog pores for some people.
If you have acne or oily skin, use caution in the amount of oil that you apply to your skin and speak to your doctor if your skin conditions worsen.
It is also a good idea to perform a patch test on your skin to see how it reacts especially if you have sensitive skin. If you have had no adverse reactions after 48 hours, you can try it on your face!
Where to Buy Organic Evening Primrose Oil for Skin
Mountain Rose Herbs is committed to putting people, plants, and planet before profit with everything they do. They are committed to sustainability, and a certified Zero Waste company. They currently only offer shipping to the United States & Canada. (Use Code: SIMPLEPURE15 to save 15% of all regular prices items!)
Photo Credit: https://www.fromnaturewithlove.com/
From Nature With Love proudly offers an inspiring range of premium quality certified organic, conventional and complementary personal care ingredients for use within skin care, hair care, aromatherapy, massage, spa, herbalism and soap making applications. They also offer a Rewards program that pays you back 10% in rewards on every order. From Nature With Love is a US based company that does offer International Shipping.
In Conclusion
As you can see, there are many benefits of using evening primrose oil for the skin including reducing inflammation and redness, speeding up skin renewal rate, promoting hydration, reducing fine lines and wrinkles, and much more!
If you are looking for a way to target anti-aging issues like dryness or puffiness around the eyes then evening primrose oil really needs to be in your skincare routine. It's an amazing natural product that offers deep moisturization that works well into your daily routine helping improve collagen production naturally.
I hope you enjoyed learning all about the benefits of Evening Primrose Oil benefits for skin! Be sure to share and pin this post for later!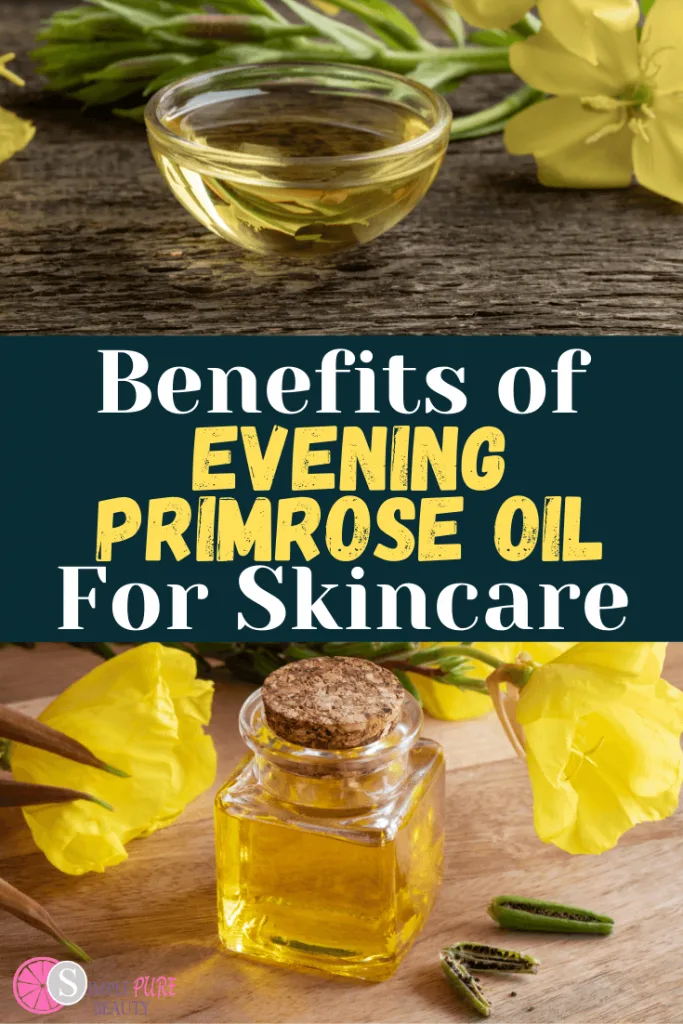 References
Wolfgang Gehring, Renate Bopp, Frank Rippke, & Max Gloor. (2012). Effect of Topically Applied Evening Primrose Oil on Epidermal Barrier Function in Atopic Dermatitis as a Function of Vehicle. Arzneimittelforschung, 49. https://doi.org/10.1055/s-0031-1300475
Kocevar Glavac, N., Janes, D., Lumpert, M., Stojilkovski, K., Kokalj, M., Tavcar Benkovic, E., Gosenca Matjaz, M., Hendrychov, H., Gasperlin, M., Lunder, M., Baumgartner, S., Glavac, I., Kreft, S., Zvonar Pobirk, A., & Zmitek, K. (2018). Modern cosmetics: Ingredients of natural origin : a scientific view. Sirimo dobro besedo.
Parker, S. M. (2015). Power of the seed: Your guide to oils for health & beauty.