Tallow soap has been made for centuries. Bring it into the modern era with this DIY homemade tallow soap recipe. You won't be disappointed by its moisturizing properties.
Homemade All-Natural tallow soap is pretty awesome! There are tons of benefits to using tallow in soaps, specifically 100% grass-fed tallow.
Did you know tallow has been a staple in soap making for centuries?
It produces a hard bar that cleans your skin without stripping it of its natural oils. It should be a staple ingredient in your soap making cabinet!
Tallow can be a cost-effective soap making oil if you're willing to do a little bit of work. Quality soap-making ingredients can get expensive, making tallow a great alternative.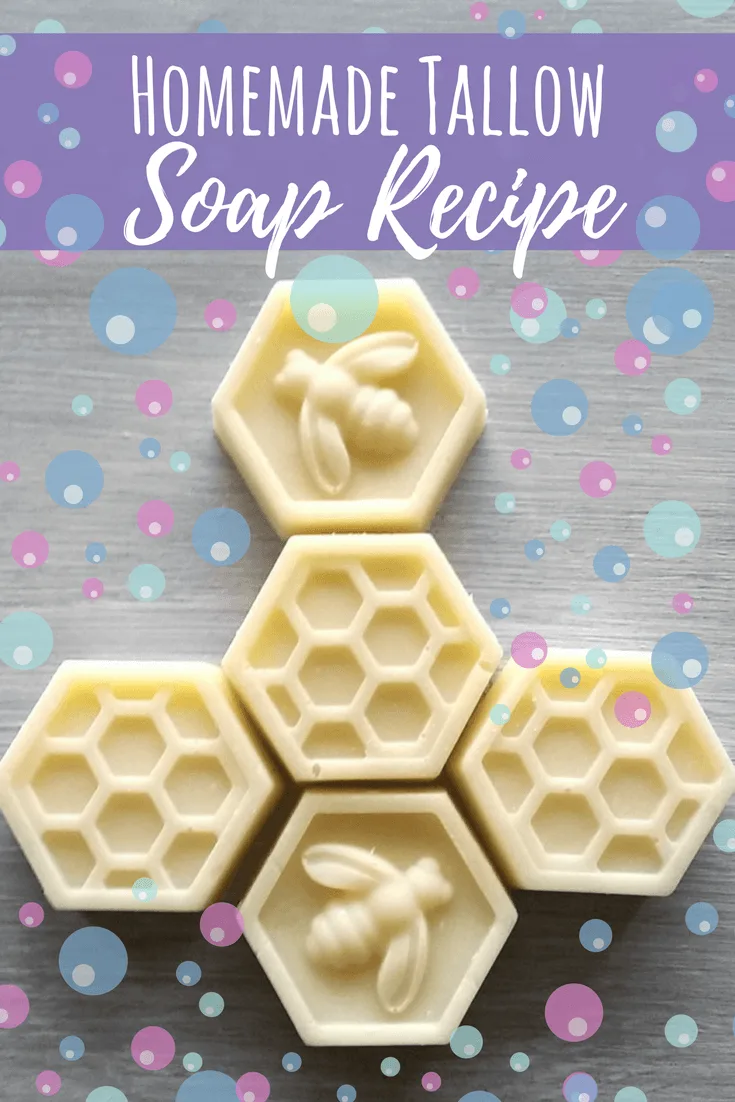 What Is Tallow?
Tallow is the fat from slaughtered cows. Stay with me, even if it freaks you out a little. Our ancestors have used tallow in soap making for centuries. And for good reason.
Why did our ancestors use tallow to make soap? It was cheap, readily available, and made some awesome homemade soap!
Instead of throwing out the fat from a slaughtered cow, the fat is used to make soap. They were smart like that and used every resource they had available.
Tallow is best from a specific type of fat on the cow called suet. It's the hard fat around the kidneys. Ask your butcher, they will get you the right stuff.
Rendering tallow is the process of transforming big hunks of cow fat into creamy tallow. To do this, chop the fat into small pieces. Then heat the fat at a low temperature. I use an old crockpot. When the fat melts, a liquid separates from the impurities. Strain the liquid to get out all the impurities. When cooled, pure tallow is a creamy butter-like consistency.
Tallow is a great substitute in baking for lard. It has a similar consistency. We all know lard got a bad rap lard got for many years. But they were wrong, lard is not the red-headed stepchild. Neither is tallow. Hydrogenated oils like Crisco are what to avoid.
Both lard and tallow like make a great bar of soap. And make an amazing pie crust!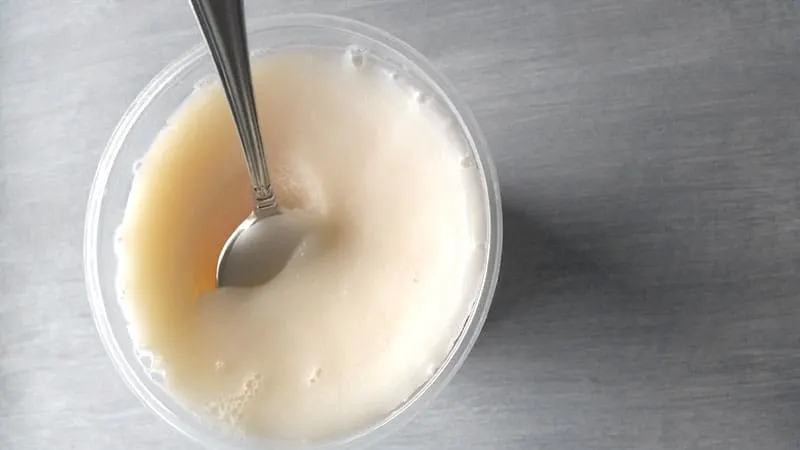 Benefits of Tallow
Tallow might make you cringe to think about slathering it on your skin. I did for a second and then I used it. Once I used it, all my hesitation melted away. Yours will too.
Tallow has been used for centuries to heal irritated skin and in healing balms. There are some pretty remarkable stories of tallow healing what other treatments couldn't.
It makes sense. Tallow so closely resembles the composition of our cell membranes.
Tallow acts the same way our skin does to lubricate and waterproof our skin. So if you've got dry skin, using tallow is like giving your skin a healthy boost of moisture. One that your skin can actually use.
Grass-fed tallow contains conjugated linoleic acid (CLA) and palmitoleic acid. Giving tallow anti-cancer, anti-inflammatory, and anti-microbial properties. Think about that every time put some tallow on your skin. (source) I bet your Dove bar can't say that.
Tallow is great for nourishing the skin as a lotion. I make tallow balm to soothe irritated skin. It helps my son's eczema on his legs. Tallow balm is my #2 favorite lotion, a close second to whipped shea butter lotion.
Why 100% Grass Fed Cows Are a Must
All tallow is not created equal like it once was when our ancestors used it. Farmed cows fed a GMO and pesticide laden diet of soy and corn store lots of those toxins in their fat. A diet that cows were not meant to eat.
Tallow from 100% grass fed cows is best. Many of the benefits of tallow listed above only apply to 100% grass-fed tallow and NOT their traditional grain fed counterparts.
Grass-fed cows have higher vitamin and mineral levels than traditionally farmed cows. A study showed as much as a 4 times greater vitamin E level in the grass-fed cows. (source)
100% grass-fed cows have 3 – 5 times the amount of CLA (the anti-cancer stuff you want). (source)
I hope you're convinced that 100% grass-fed tallow is worth a little more money. Pick 100% grass-fed cows so you get all the good stuff, none of the bad.
We split 1/2 a grass fed cow with friends a few times a year. As a bonus I get lots of free tallow that I render myself.
If you ask around, you'll find farms in your area too.
I love that our meat comes from an old family farm in Northern Pennsylvania. My friend got married near where they raise the cows. I've seen it firsthand. It's beautiful! Picturesque. But… in the middle of nowhere. Although the middle of nowhere is a great place for my food to come from. Right?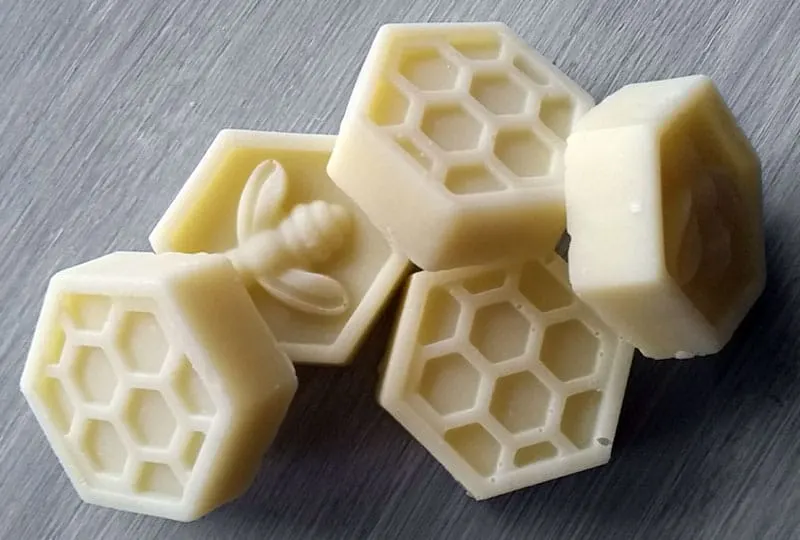 Tallow Soap Recipe
Some people make tallow soap with 100% tallow. I prefer a few other oils to balance out the tallow soap, 50% tallow and the rest a combination of oils.
Tallow makes a hard bar of soap that is fairly cleansing.
Tallow does NOT produce a lot of bubbles. I love bubbles. So…. I add some oils to give more of a bubbly lather. It's a personal preference. If you love bubbles like me, learn how to make your own foaming hand soap!
100% tallow soap is still awesome.
If you buy 1/2 or 1/4 cow already, you can get the tallow for free. Just ask the butcher and render the tallow yourself. I prefer to do it on our porch since my husband complains about the smell.
Or if you prefer to buy tallow pre-made, I'd recommend this supplier. There are some suppliers on amazon too, just pick one who uses grass-fed cows.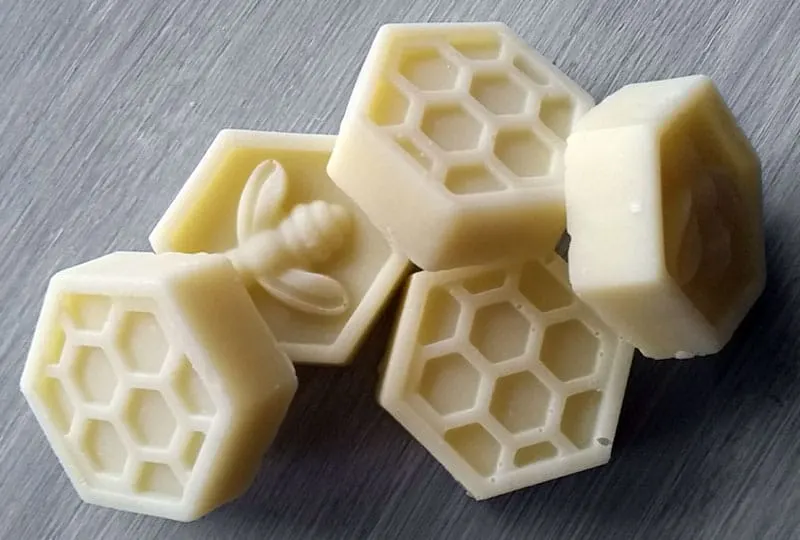 Homemade Tallow Soap
Additional Time:
12 hours
Total Time:
12 hours
20 minutes
Make Some Soap
Now that you have a foolproof recipe, get making some soap! Tallow has amazing benefits for your skin. Cash in on those benefits for you and your family by using 100% grass-fed tallow in your soap.
And, if you loved making this tallow soap then why not expand your soap-making? I also have some wonderful recipes for goat milk soaps that are absolutely luxurious!
Comment below and tell me if you've ever used tallow in soap or skincare products before. I'd love to hear about your experience.