DIY shea butter lotion is perfect to make yourself or to give as a gift. Lotions in the store aren't always what you think they are, even if they seem to be natural. Ditch toxins and know exactly what you are putting on your skin.
It's love at first sight with this DIY shea butter lotion recipe. Shea butter effortlessly soothes dry skin without the greasy feeling. I get almost instant relief for my dry, irritated skin – all without the unknown ingredients in store-bought lotion.
I bet you've seen shea butter advertised in all sorts of products and on TV. It's on labels everywhere in the soaps and lotion aisle.
Unfortunately, you're not getting what you think you are with store bought lotion. If you pick a lotion bottle that advertises "with shea butter" you'd expect it to be one of the major ingredients, right? Nope. Usually, store-bought lotion and skincare products only contain small quantities of shea butter.
How do you know how much shea butter a product contains? You can get a good idea in a few seconds by looking at the ingredient list. The first ingredient is the largest ingredient in the recipe. The 2nd ingredients has the 2nd largest amount. It goes in descending order.
Usually, I find shea butter at the end of the ingredient label. So small quantities, even trace amounts. Not all you were hoping for when you purchased that lotion "with shea butter." While you're getting some benefit, it's nothing like you'll get in this DIY Shea Butter Lotion recipe.
Shea butter is often the most expensive ingredient used in store bought lotion. It makes sense why they add it in small amounts. Manufacturers can legally say a skincare product contains shea butter, even if it contains a minuscule amount. The shea butter is still in there.
Pretty deceptive right?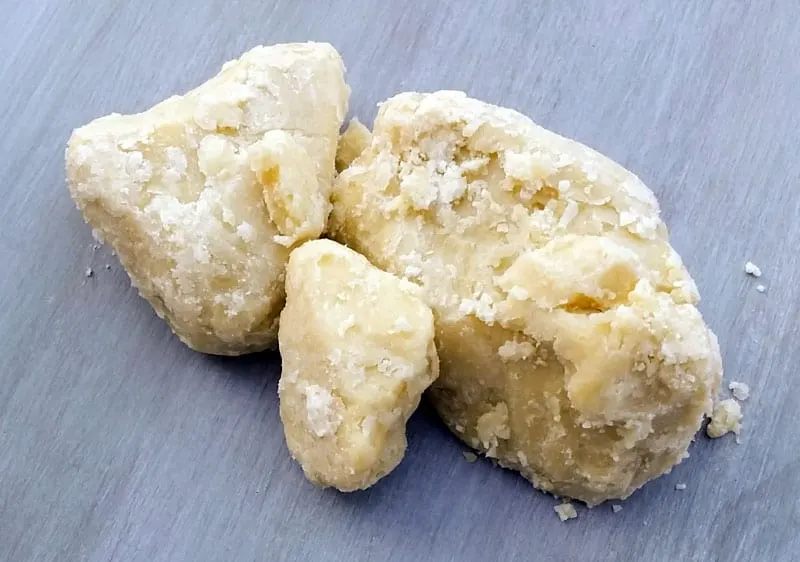 Benefits of Shea Butter
Shea butter is one of my favorite butters to use in lotion and soap making. I buy it in bulk, I like it that much!
You'll be a super fan too once you try it.
I could go on and on telling you shea butter is amazing. How well it moisturizes my skin when regular lotion falls short. How it absorbs into my skin leaving only soft skin behind…. no greasy feeling.
You'd have to take my word for it and you don't know me. So let's review a few studies on the benefits of shea butter. A little confirmation that I'm not blowing smoke is always good, right?
A study done by the Journal of Oleo Science found shea butter is anti-inflammatory. That's great news if you have any chronic skin conditions or dry skin. Their study even discovered the fats in shea butter help inhibit the growth of tumors – wow! I didn't even know that.
A study by the American Journal of Life Sciences found shea butter is anti-aging and anti-inflammatory. Anything that naturally anti-aging is amazing! It's a no-brainer why everyone wants shea butter in their skincare products!
Shea butter lives up to all the hype and then some.
Why Body Butter is Better
Have you ever made your own lotion? There are 2 big problems with DIY lotion. Check out why I stopped making lotion.
The Problem with Lotion:
Lotion absorbs slowly and leaves a greasy feeling. Still a great product, better than store-bought stuff. But disappointing.
You need to add preservatives to prevent mold growth when you add water to any skincare product. Water makes it hard to keep lotion fresh.
Pumpable lotion prevents contamination since you don't dip your fingers in the lotion. Water is added to make lotion pumpable. Which means more preservatives to keep it fresh. Plus you're paying for a watered down product. Good thing its easy to use since you'll have to apply it over and over again to get the desired moisturizing effect.
If you really want to heal your skin, you need a thick lotion. A balm.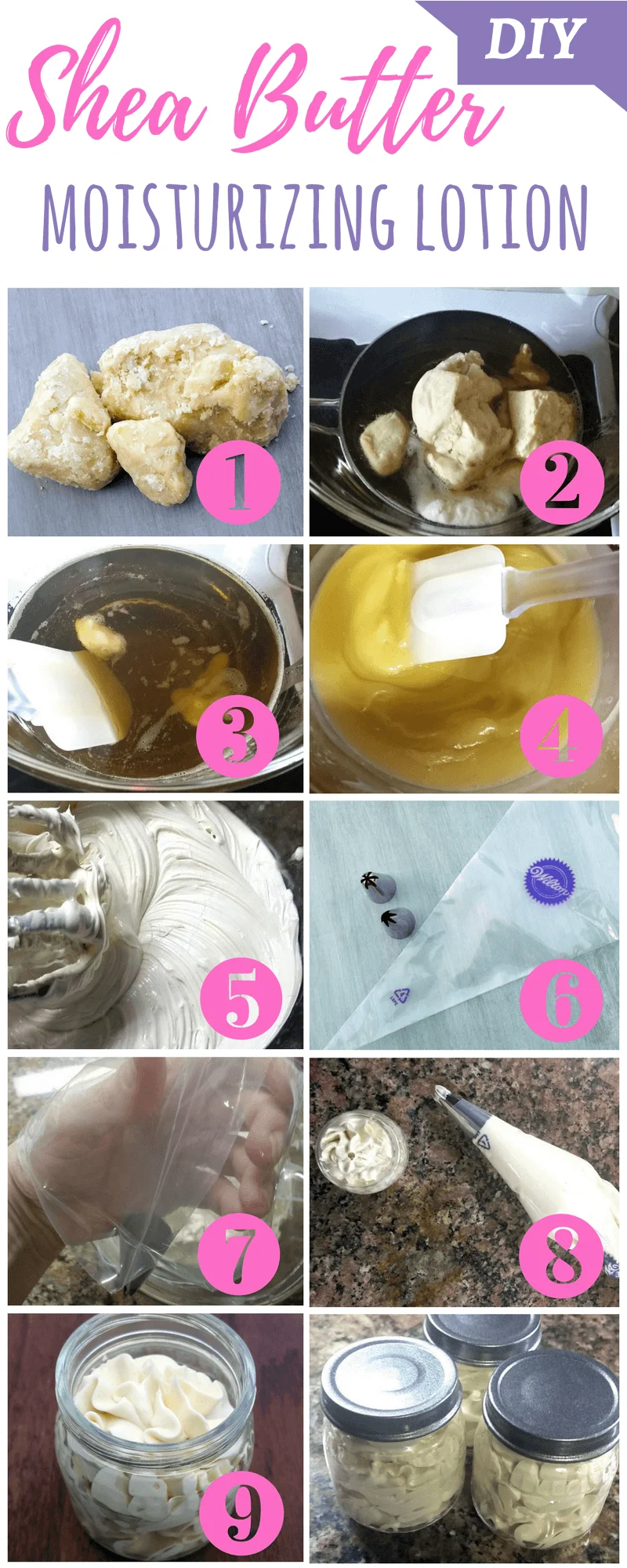 DIY Shea Butter Lotion Recipe
Ingredients:
Equipment Needed:
Electric mixer – a stand mixer makes it super easy
Container to store your lotion in
Heat-safeeglass Bowl
Instructions:
Sterilize all your equipment with boiling water or run them through the dishwasher. You need to sterilize the lotion container you'll be using too.
Fill a small pot ¼ the way with water. Bring it to a boil and put a small glass bowl in the pot to act as a double boiler.
Lower the temperature of the burner. Add your shea butter and grapeseed oil.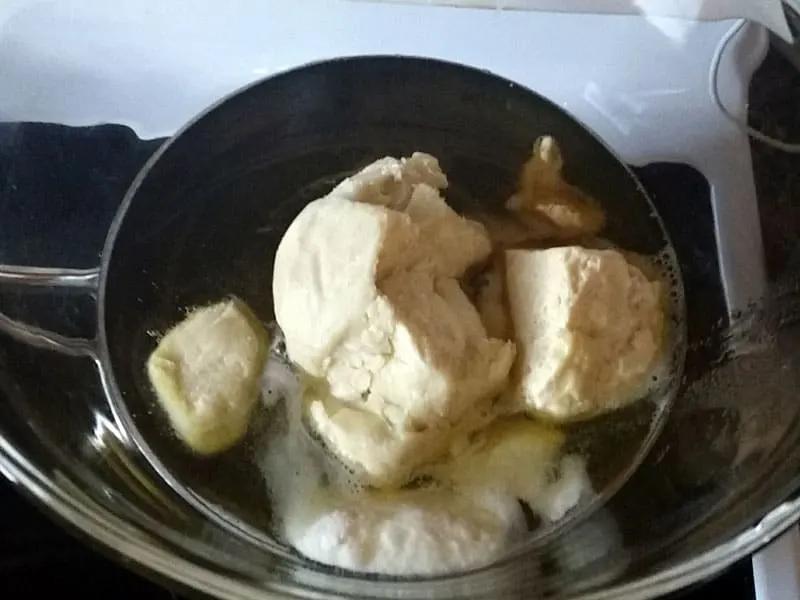 Your goal is to melt the oil at the lowest temperature possible.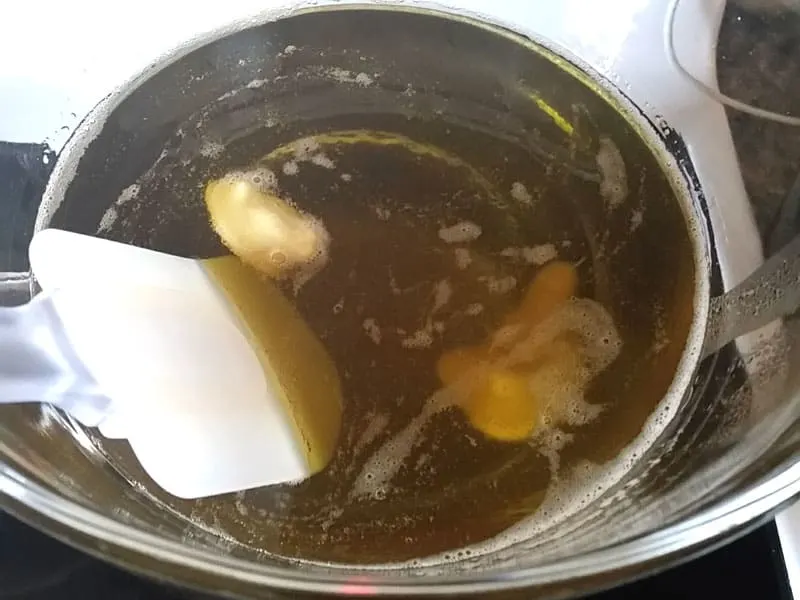 You can also melt your oils in the microwave. I prefer the stovetop method.
Once you melt the shea butter, let the mixture cool. It may take a few hours at room temperature. If you put it in the fridge to cool, set a timer. Or you'll wait too long and have to melt the shea butter all over again. I should know, I've done it a few times!
Once the mixture is opaque and the consistency of thin pudding it's time to whip. This is when I add my essential oils. The lotion should take less than 5 minutes to whip up. If you feel like you're getting nowhere, let it cool a little longer.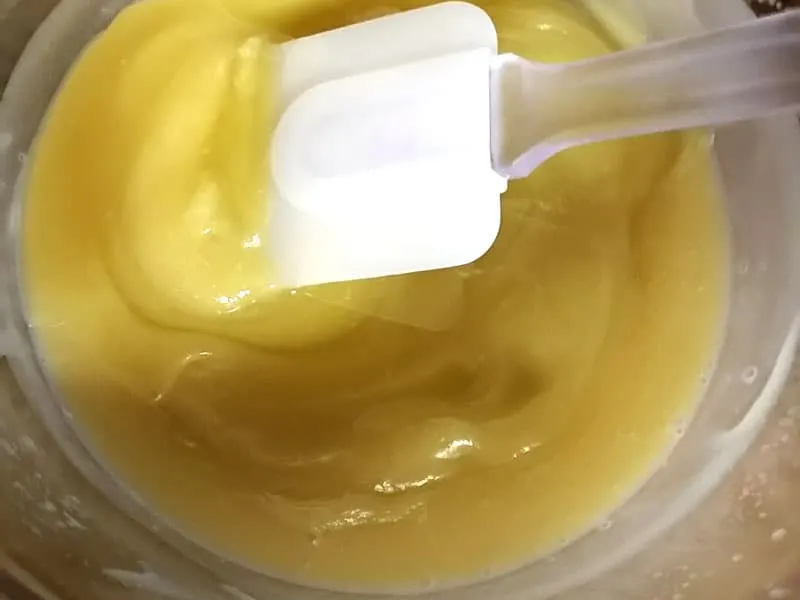 I use a handheld mixer but you could use a kitchen aid mixer for a more hands-off approach. I just whip the shea butter in the same bowl I heated it in. It means fewer dishes.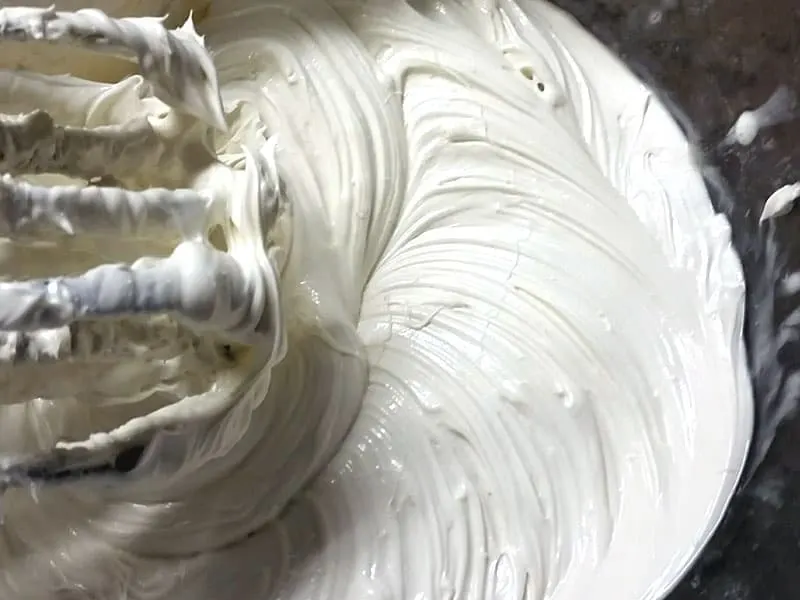 Like magic, the texture of the lotion will change. The lotion will change from a mushy mess to the consistency of whipped buttercream. The longer it cools the harder it will get. If you're going to pipe it, do it immediately. Don't wait an hour for your favorite show to be over.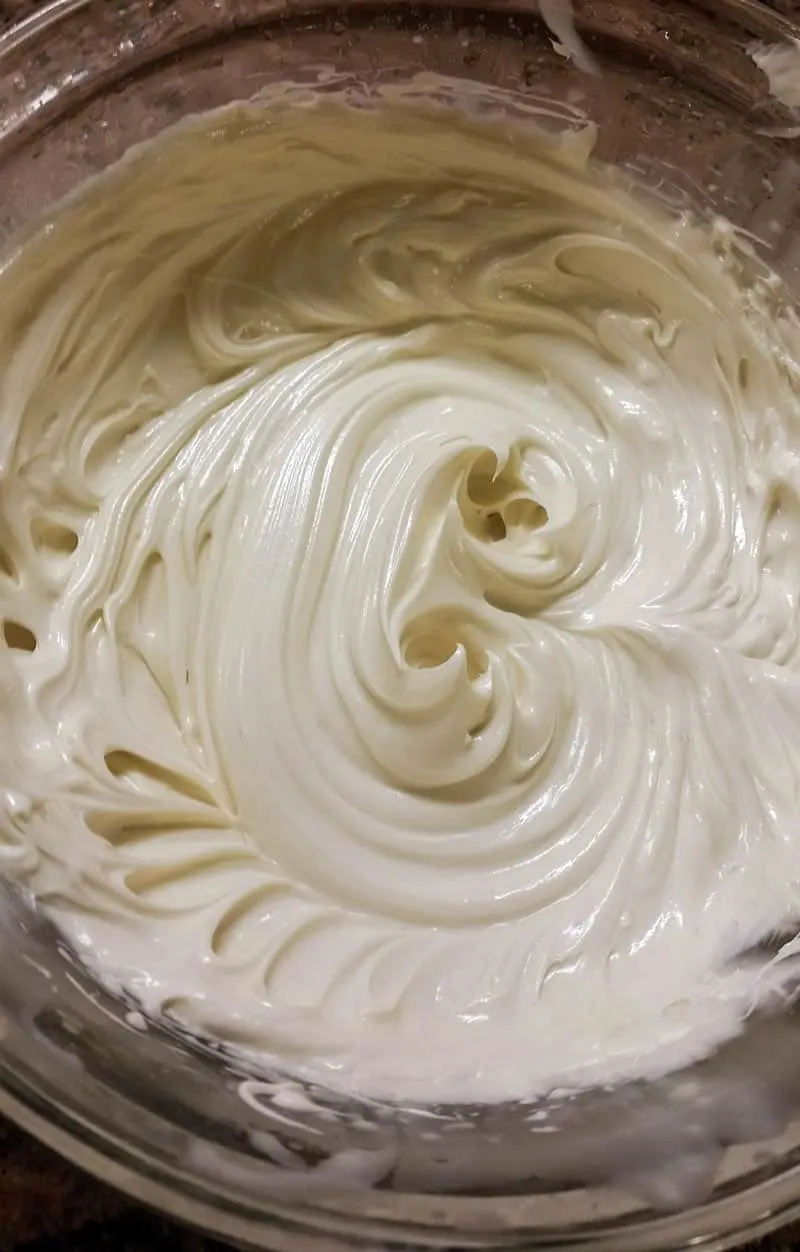 Now transfer it to your container and you're done!
Lotion Making Tips
Clean out as much lotion from the bowl and beaters as you can with a spatula. I then use my finger to scrape as much as I can into a container. I rub a bunch on my body in the kitchen and on my kids if they happen to walk by. I'm usually well moisturized after a lotion making session. I use up the rest of the scraped out lotion over the next few days. It's amazing how much lotion you can get off the beaters. Don't waste it.
Plus you'll save lots of time washing dirty dishes.
I have bowls and spatulas I use only for soap and lotion making. Shea butter is edible so you can use your regular kitchen tools if you choose. My kids have snuck a lick before only to realize it was gross lotion, not frosting. Joke is on them – yet I feel safe because all the ingredients are edible!
DIY Shea Butter Lotion Variations
You can get fancy and mix things up. I like to give shea butter lotion as a gift. Piping the lotion takes the presentation up a notch.
Put the whipped lotion in your pastry bag, and attach your favorite tip. Pipe the lotion into your container.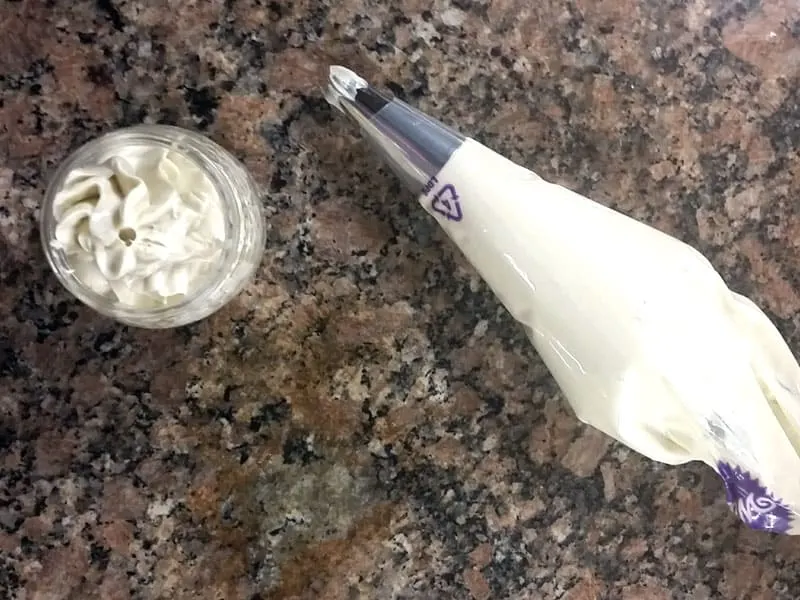 You can also mix up the 2nd oil you use. Grapeseed oil is only a suggestion – it's what I use; and is a fast-absorbing carrier oil. Some other options are coconut oil, jobaba oil, sweet almond oil, or avocado oil.
Make sure you're using a hexane-free oil. To save a buck, manufacturers use a petroleum byproduct called hexane to extract the oil from the plant. Instead of taking the time to press the oil out.
You can adjust the amount of the 2nd oil you add too.
Add more oil for a softer lotion. Experiment with 1/2 tablespoon more at a time. If you add too much oil, it will be greasier.
Add less oil for a harder lotion. In the summer I choose to make my DIY shea butter lotion with only shea butter. With the winter cold, I need the 2nd liquid oil to make it soft enough to use.
And if you mess up and the lotion seems too soft add ½ teaspoon of cornstarch to firm it up. Or more melted shea butter. Only do this if you're still in the whipping process.
You can repurpose old baby food jars to give shea butter lotion as gifts. I spray paint the lids with a silver metallic paint. They are the perfect size for gifts and free is always a win!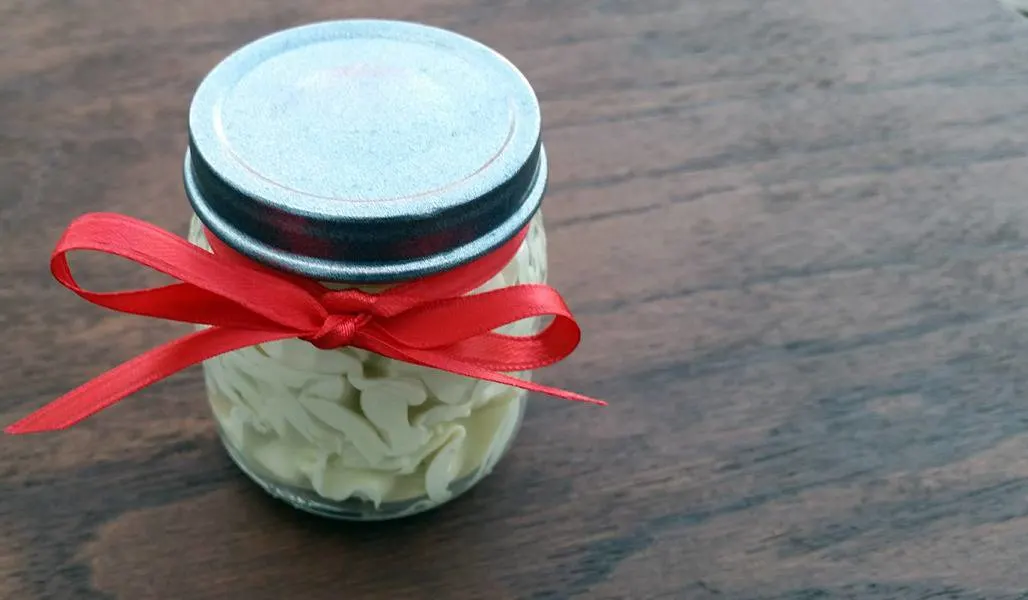 Make Some Lotion
Once you use shea butter lotion, you'll never look back. It's the best lotion there is!
Pick up some shea butter and get to work. Unrefined shea butter is best so your lotion retains all the beneficial properties. That's why we melt it at a low temperature.
Make yourself some today and double the batch to give some shea butter lotion away as gifts. They'll love you for it!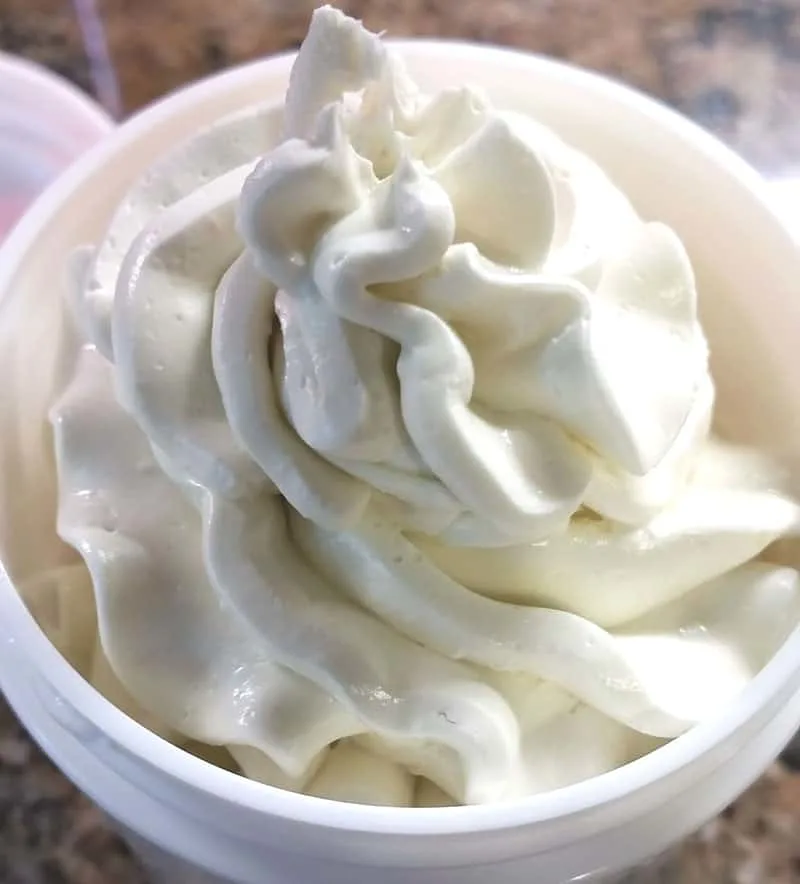 DIY Shea Butter Lotion Recipe
Total Time:
1 hour
15 minutes
You may also enjoy these posts: