You've probably seen shea butter benefits touted on all kinds of skincare labels from body lotions and soaps to primers and make-ups.
But why is it such a popular choice in the world of beauty?
For several reasons; this moisturizer is perfect for many skin types and provides some amazing all-around moisture that will carry you all throughout your day, no matter what life throws at you!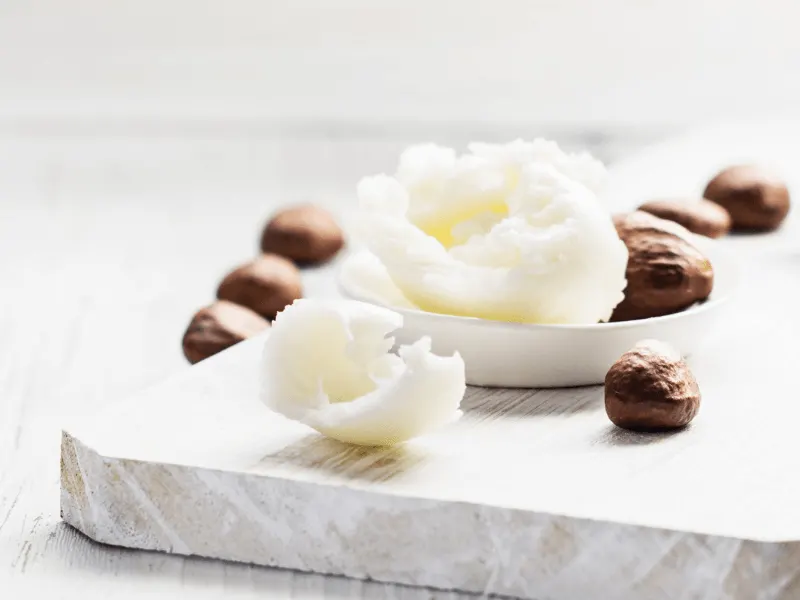 What is Shea Butter?
Shea butter is the ideal moisturizer for many skin types and is found in many beauty products.
It is made from extracting the fat from a shea nut and has been used for many, many years to aid in the healing and treatment of many skin ailments.
It's high absorbability makes it a great addition to any skincare routine and it won't leave your skin feeling heavy or oily.
Shea butter can help with inflammation of the skin, help heal chafing or chapping, and even has anti-aging properties.
[et_bloom_inline optin_id="optin_8″]
Shea Butter for Skin Quick Facts
Shea Butter Scientific Name:
The scientific name for shea butter is Vitellaria paradoxa.
Shea Butter Comedogenic Rating:
Shea butter has a comedogenic rating of 2 so it is not very likely to clog your pores.
Shea Butter Extraction Method:
Shea butter is extracted from the kernels of the nut found on a shea tree.
Shea Butter INCI Name:
Butyrospermum Parkii (Shea) Butter
Shea Butter COSING Number:
55024
Shea Butter Skincare Recommendations:
Shea butter is recommended for individuals who have dry to normal skin or those who are seeking anti-aging effects in their moisturizer.
Shea Butter Absorption:
Shea butter contains both linoleic acid and oleic acid which balance each other out to make it easily absorbed by the skin. Shea butter also absorbs very fully so it will not leave skin heavy or oily after application.
---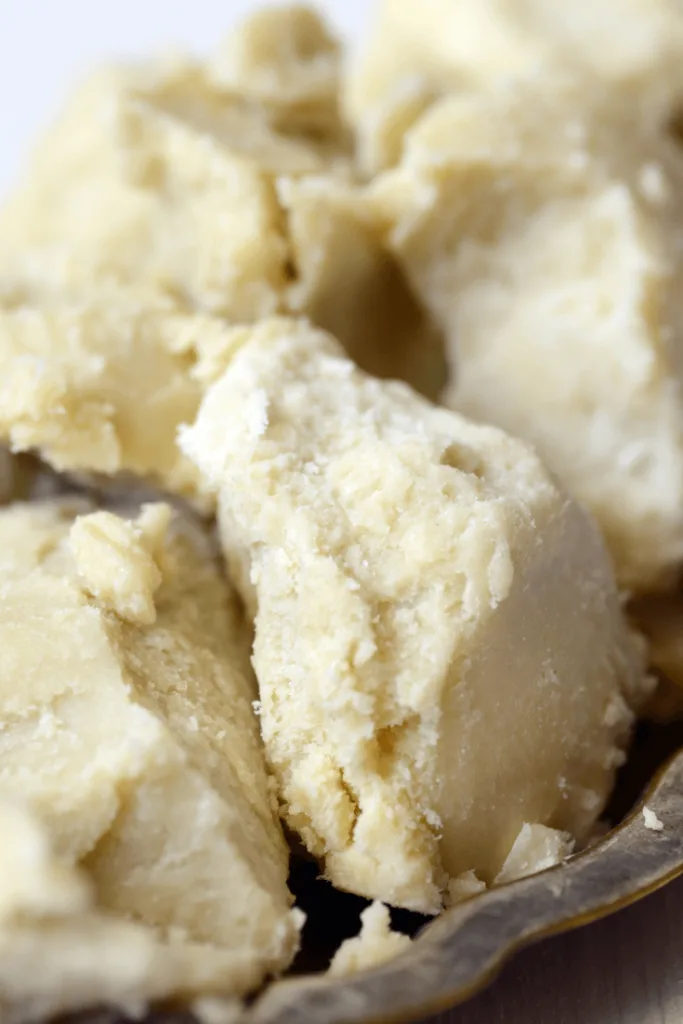 Shea Butter Composition: Fatty Acids
Palmitic Acid (C16:0)
4%
Stearic Acid (C18:0)
38%
Oleic Acid (C18:1, ⍵-9)
49%
Terpenoids
30,000 mg/kg
Linoleic Acid (C18:2 ⍵-6)
5%
Phenols
3,600 mg/kg
Vitamin E
220 mg/kg
(α-tocopherol; 141 mg/mg)
*Fatty acid breakdown is shared from
Modern Cosmetics Volume 1
.
Shea Butter Benefits for Skin
Shea butter can benefit your skin in so many ways.
It can help make your skin appear younger by keeping it plump and moisturized

Aid in fighting inflammation and soothe irritation

And it can even help protect your skin from environmental damage.
Shea butter is often found in moisturizers since it is an emollient which helps to hold moisture to the skin to keep it hydrated.
Popular Shea Butter Uses for Skin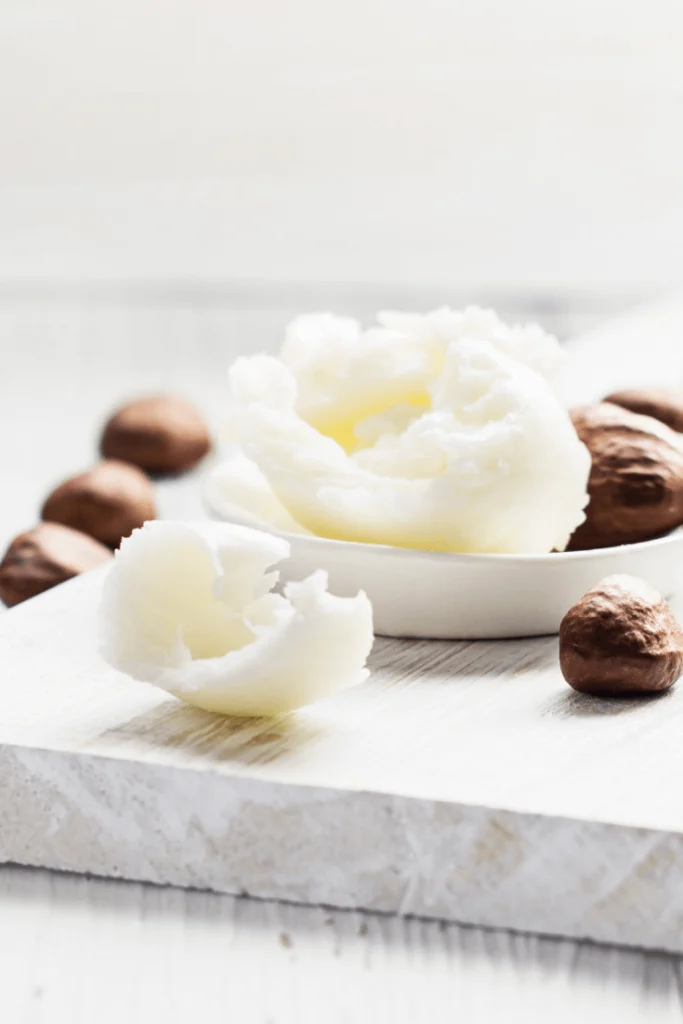 Some of the most popular uses for shea butter are as a moisturizer to keep skin hydrated and happy.
It is also used to help reduce the appearance of fine lines and wrinkles.
Shea butter is also often used to aid in treatment of eczema and acne as well as helping fade or reduce the appearance of stretch marks.
Shea Butter Substitutes
Shea butter is a softer butter. Because of this, mango butter can be a good substitute for shea butter in skincare recipes.
If you are someone who doesn't particularly like the smell of shea butter in your products, mango butter is a great alternative.
Warnings/Contraindications for Shea Butter
Shea butter is fairly safe to use, there are very few warnings in association with used shea butter as a topical moisturizer.
Even people with tree nut allergies do not often observe allergic reactions when using shea butter.
It is always recommended to do a patch test on a less sensitive area of the skin prior to applying it to your face, and talk with your doctor about adding shea butter to your skincare regime if you have tree nut allergies, or a skin condition.
Photo Credit: mountainroseherbs.com
Mountain Rose Herbs is committed to putting people, plants, and planet before profit with everything they do. They are committed to sustainability, and a certified Zero Waste company. They currently only offer shipping to the United States & Canada.
Ivory, 100% Pure & Raw - Moisturizing and Rich Body Butter for Dry Skin - Suitable for All Skin Types - Use Alone or in DIY Whipped Body Butters - 16 oz (1 LB) Bar
Photo Credit: soapmakers-store.com
Based in the United Kingdom, Soapmakers Store is a family owned business specialising in the sourcing and supply of premium quality ingredients to the Cosmetic, Toiletry, Aromatherapy, and Soapmaking Industries. With over 40 years experience in the Natural Ingredients Industry, they will endeavour to be your 'one stop shop' for quality raw material supplies. They do offer shipping outside of Europe, but there will be additional charges.
Photo Credit: www.newdirectionsaromatics.com
New Directions Aromatics is a Canadian based company offering a wide variety of skincare and formulating supplies. They also offer a variety of Organic, Fair Trade & Ecocert Ingredients. They ship mainly to Canada & the US, but do offer International Shipping as well.
Photo Credit: pronounceskincare.com
If you like to support small businesses, get your high quality Certified Organic Almond Oil from my friend, Jess over at Pronounce Skincare! (Ships Worldwide)
Now that you know all about Shea Butter Benefits for Skincare, you're probably ready to make some recipes.
Check out the skincare recipes below that all include shea butter as an ingredient!
Shea Butter Skincare Recipes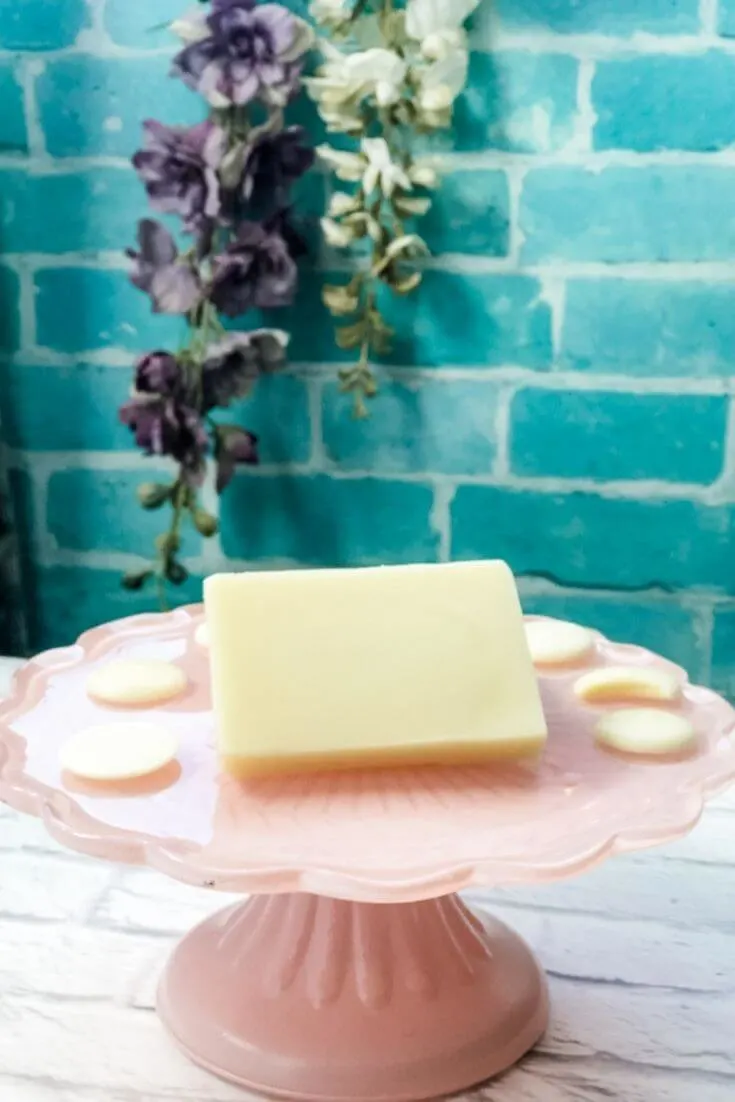 Looking for a body lotion that supports your zero waste lifestyle? Suffer from dry, cracked skin? Then you'll need to check out this DIY, deep …
Pin Shea Butter Benefits for Skin!
I hope you've enjoyed learning all about the benefits of Shea Butter for your Skin. Be sure to pin this post for later!