Skip those chemical sprays to hide that bathroom smell, and give this DIY Poo-Pourri Spray recipe a try instead!
Let's talk embarrassing moments…we've all had 'em, right?
The mother of all embarrassing moments that sticks out in my mind is the realization that any "poo" bathroom sprays bought from the store have a distinct smell that makes everyone automatically know exactly what happened the second you come out of the bathroom.
It's horrifying to exit the restroom and have all eyes on you already…but then if someone is waiting to walk in next….they know.
UGH…I'm certain we've all been there a time or two, but it's not something that we should have to go through time and time again.
Hiding those fresh bathroom smells and those ones that tend to linger shouldn't have to be a constant worry on your mind. And worse yet, some bathrooms just have that "smell" about them that doesn't always smell so clean. The good news? You can cover those smells with ease!
My new go-to for our bathroom Poo-Pourri Spray? This super simple DIY Poo-Pouri spray that's made with essential oils!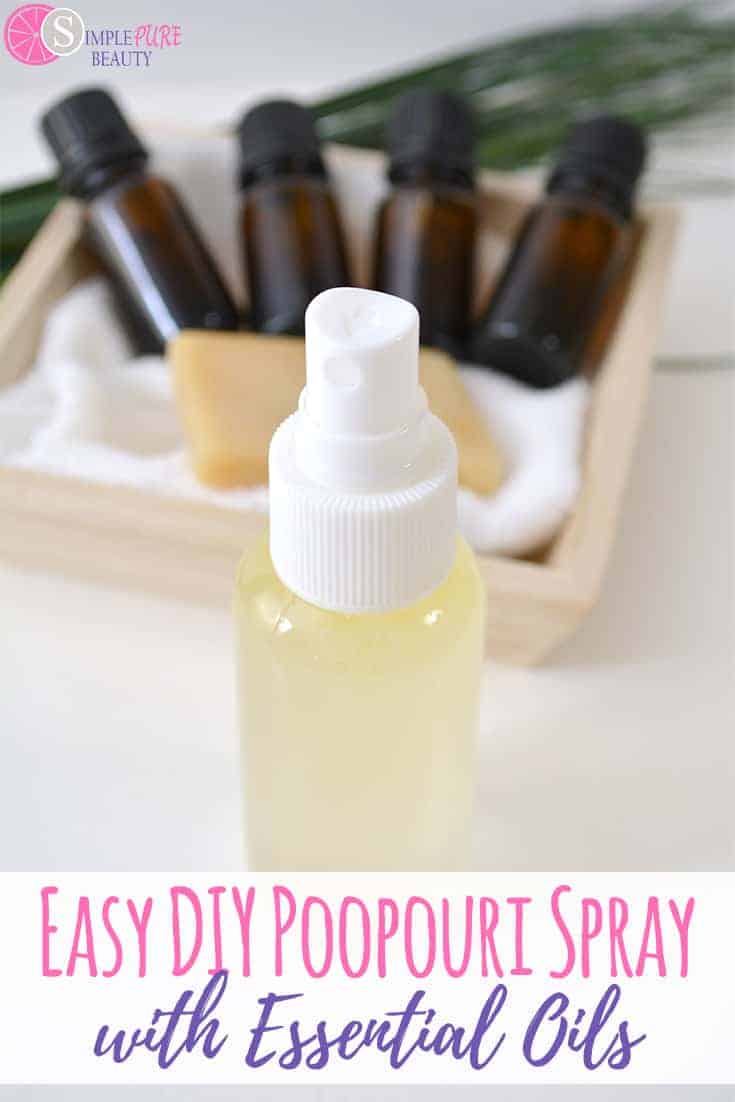 How to Make DIY Poo-Pourri Spray
Add water to your spray bottle, almost to the top.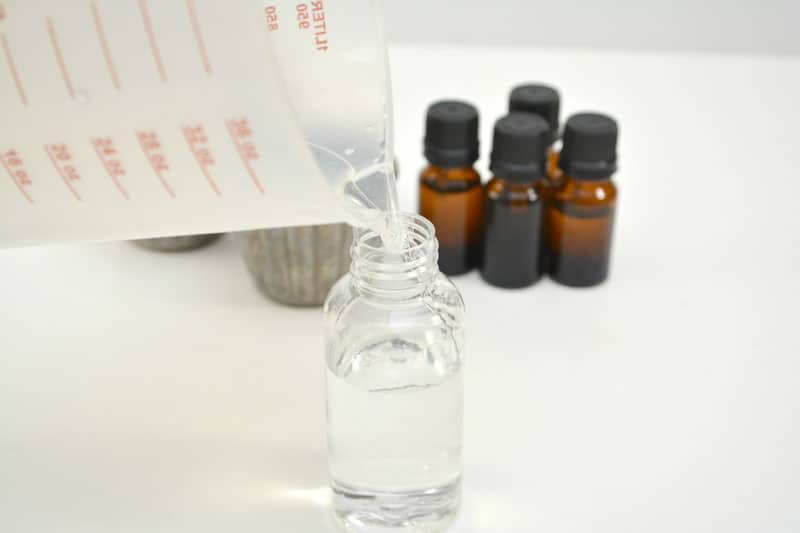 Top off with glycerin and witch hazel (to help emulsify the oils).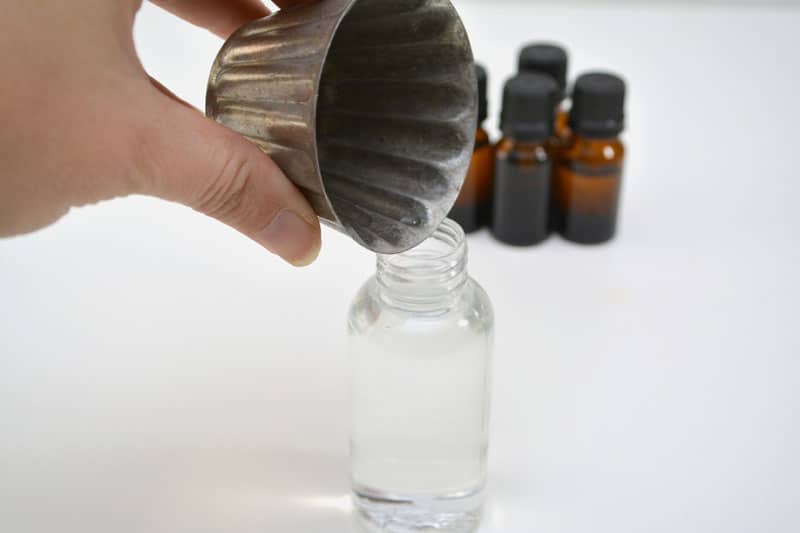 Add my favorite blend of essential oils or create your own mix.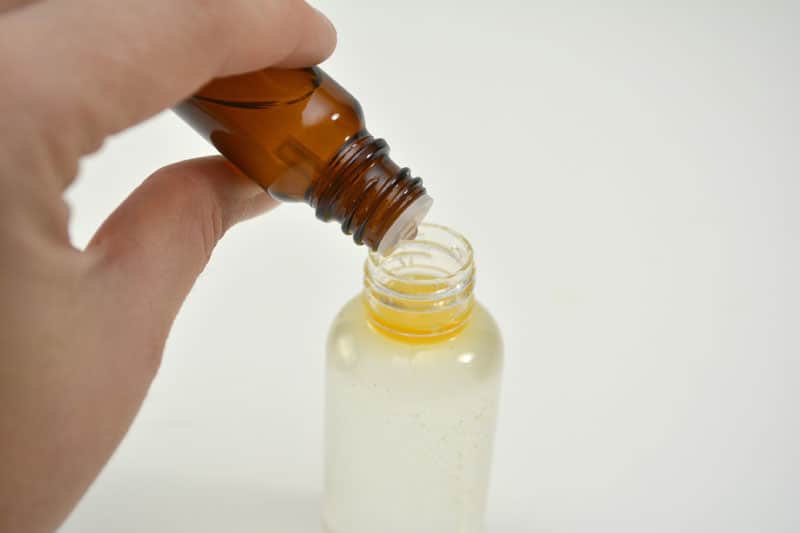 Cap, shake, and spray!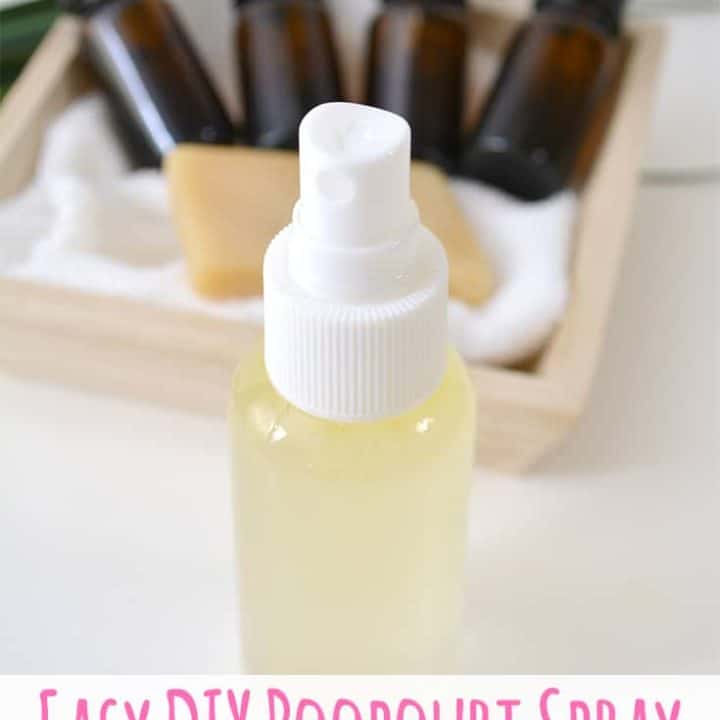 DIY Poo-Pourri Spray
Materials
½ c. Water
10 drops Cedarwood essential oil
10 drops Lemongrass essential oil
10 drops Grapefruit essential oil
4 oz. Spray bottle
Instructions
Fill a spray bottle almost to the top with ½ cup of water. You may use just under the full ½ cup of water, as you need to leave enough room at the top of the bottle to add the other ingredients.
Pour in 1 teaspoon of vegetable glycerin.
Add 1 teaspoon of witch hazel.
Place 10 drops of cedarwood essential oil into the spray bottle.
Mix in 10 drops of lemongrass essential oil.
Add 10 drops of grapefruit essential oil.
Lastly, pour in 5 drops of frankincense essential oil.
Place the top back onto the spray bottle, and shake the mixture vigorously.
To use, place 5-10 mists of spray on top of the water inside the toilet bowl to form a film before using the restroom. You can also spray a few mists into the toilet bowl after each use as well. Be sure to shake the bottle well before each use to redistribute the essential oil in the mixture.
Recommended Products
As an Amazon Associate and member of other affiliate programs, I earn from qualifying purchases.
Benefits to using DIY Poo-Pourri Spray
First and foremost, when you're using anything DIY, you're eliminating the use of toxic chemicals in your home.
Have you ever stopped and read the ingredients that are on those cleaners that you have stored in your house? Names or words that you have to stop and read twice to try to pronounce are an indicator that it's not natural, and not healthy to keep in your home.
What many people fail to realize is that when chemicals are used and sprayed into the air, those chemicals can travel and touch other aspects of your home.
Why take the risk of the chemicals floating through the air when you can use essential oils instead?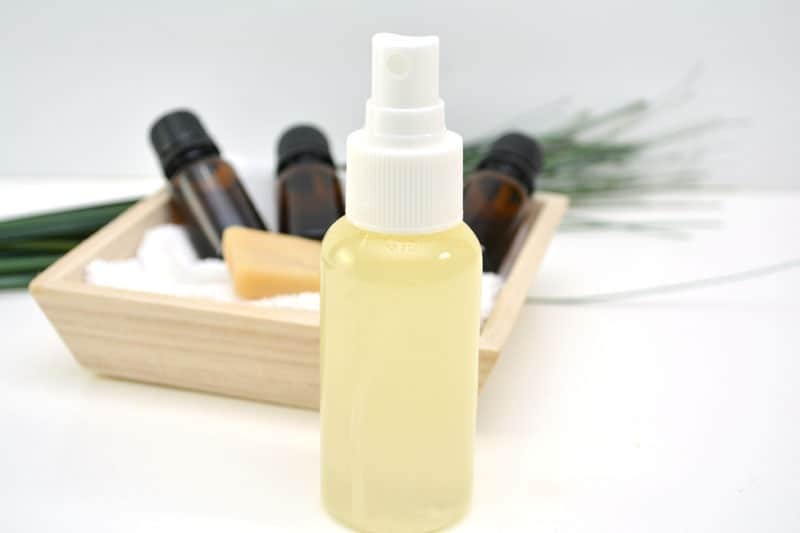 Not only does this DIY Poo-Pourri spray eliminate the worry of using harsh chemicals, but the combined ingredients of essential oils create a pleasant non-"bathroom" smell that won't make you embarrassed to have follow you out of the restroom.
If you get self-conscious about using the restroom when you travel, making this ahead of time and taking with you is a breeze as well! Who would have thought that it was possible to have your own traveling Poo-Pourri spray at your disposal whenever you need it?
In just a few simple steps, you'll have your own bathroom spray that you can use with ease and without guilt! It's one of those bathroom smells that you'll be happy that others catch a "whiff" of!
What are your favorite essential oils to add to this DIY?