These homemade milk bath recipes will have you longing for a nice, warm and relaxing bath! Go ahead, you deserve it after a long day!
When's the last time that you had a nice, warm relaxing bath? If you have to stop and think about it…it's probably been a while.
You deserve a treat!
And if you don't want to go out to the spa and deal with everything there, why not create your own little slice of heaven at home?
The best part? These homemade milk bath recipes are simple to make and full of awesome ingredients!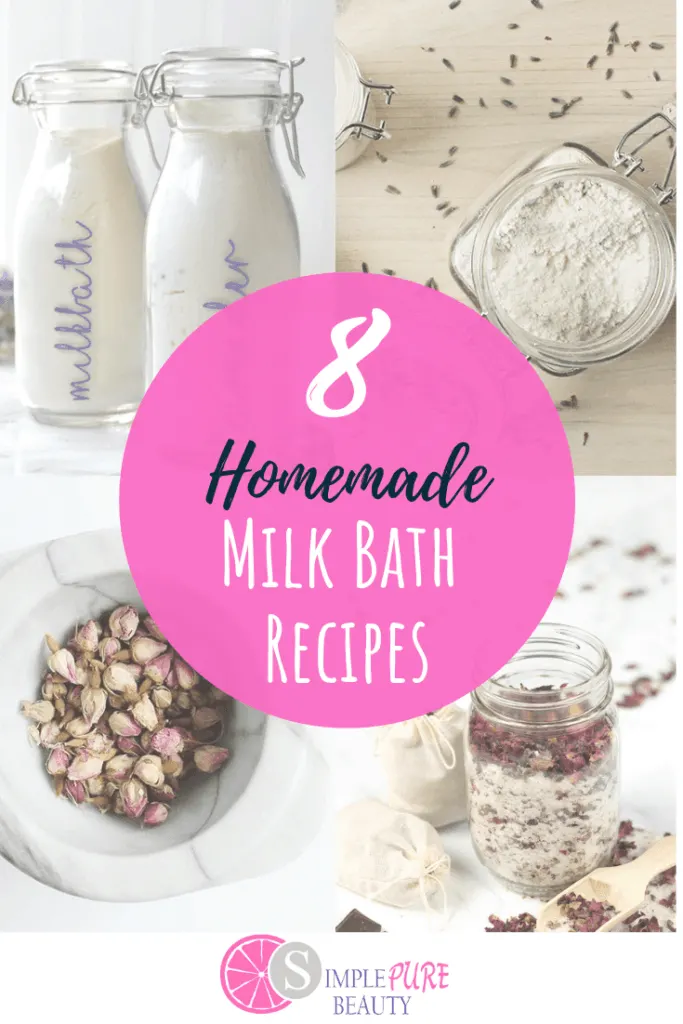 What are the benefits of a milk bath?
Milk baths are great for your skin! They make your skin soft, smooth and fresh!
No chemicals, no words you can't pronounce…just good, natural items that won't do harm to your body. Make one or make them all, but make certain that you take the time to give your body a soak!
You'll be amazed at just how simple these milk bath recipes truly are!
Do you have to shower after taking a milk bath?
That is up to you! Most people prefer to rinse off after a milk bath because, well..they smell like milk.
A quick rinsing off can fine but any more and you might be washing away all that softness that you just got from the milk bath.
How often should you take a milk bath?
There is no wrong or right number. If and when you feel like your skin could use a little moisture, a milk bath is a great option. Simple, right?
And once you find that you've perfected the recipes, you can start making them and gifting them to all your family and friends.
Homemade Milk Bath Recipes
These homemade milk bath recipes are simple and easy to make!

There you have it! 8 super simple, easy milk bath recipes that literally anyone can create.
It's time to treat your skin to a silky, smooth milk bath today!
Want to take your milk bath to the next level? Goat milk soaps are nourishing and hydrating soaps that are fragrant and wonderful for skin! They are the perfect addition to any milk bath and you can check out some simple, refreshing recipes for goat milk soaps!
Have you ever taken a milk bath before?