Are you ready for a tension melting massage that will make you forget about the stress of adulting? We have the perfect CBD infused recipe for you! So sit back, relax, and let this CBD massage oil take you to your happy place!
What makes CBD oil massages so great?
Well, first of all, CBD is a wonderful oil to help fight inflammation and get you started on the road to relaxation!
CBD oil is a wonderful additive to your regular massages when applied to the skin CBD oil interacts with nearby cannabinoid receptors to reduce inflammation, help reduce pain, and make more of your massage!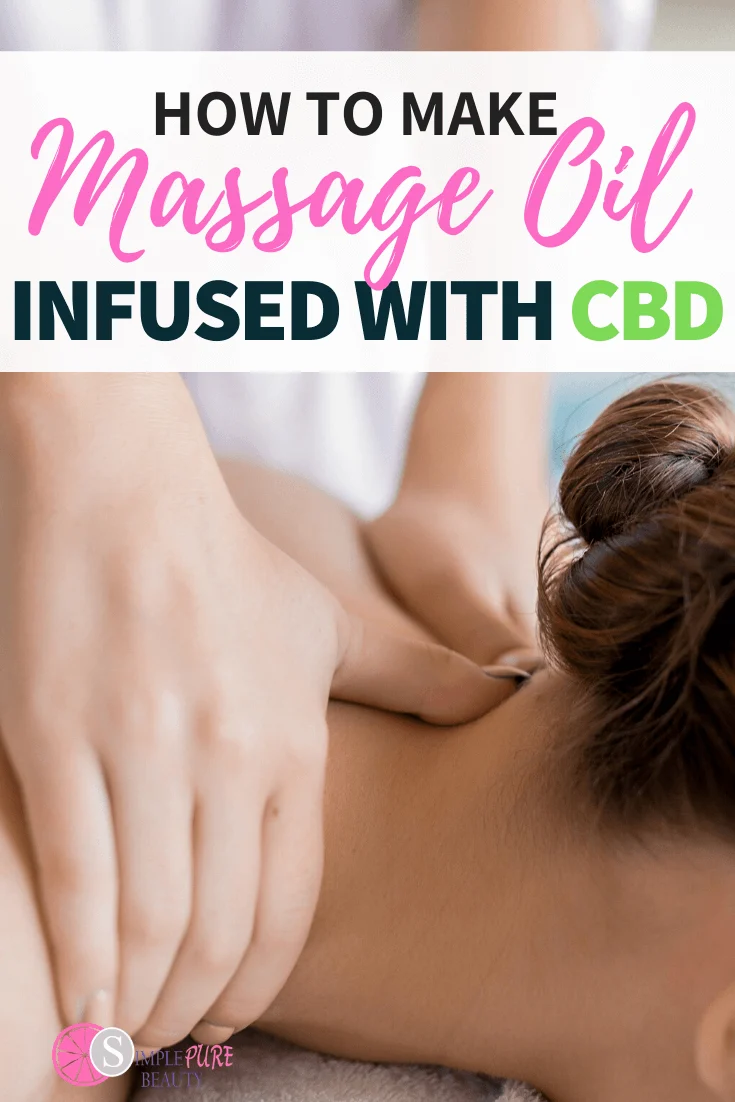 CBD massage benefits
So we know CBD can be relaxing and obviously so are massages so, what happens when you mix the two together?
Since CBD can interact with receptors found in the skin, using it topically can be a great way to get some instant relief from nagging soreness!
CBD massage oil brings all the benefits of CBD to your skin while delivering a massage experience that is out of this world!
CBD is also known to reduce tension and stress, when you mix these properties with the relaxation of a massage you could experience reduced tension, improved healing from exercise, relief from joint and nerve pain, and moisturized skin!
We also have a relaxing massage oil recipe for babies without CDB that is amazing!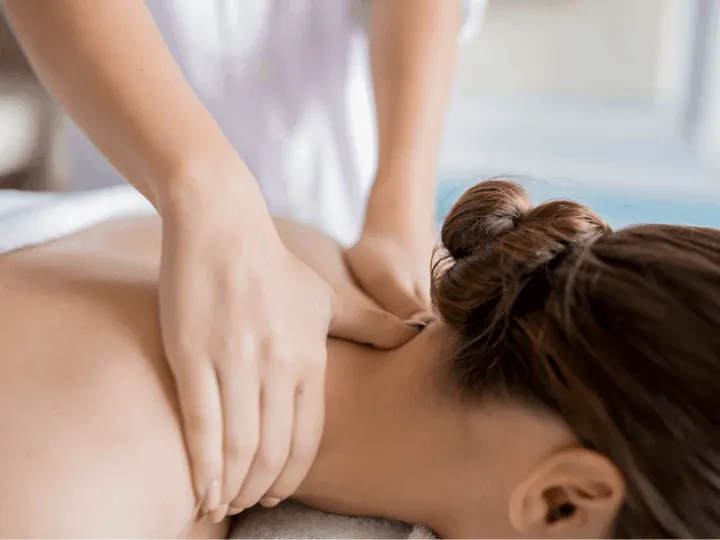 Choosing a CBD oil to use in your massage oil
Choosing the right CBD oil for your skin is probably the most important thing once you decide to make CBD oil a part of your beauty routine!
There are a lot of different aspects to choosing the right CDB oil for you.
First take into account your skin type, this will help you figure out the best carrier oil for your CBD oil.
To learn more about why this is so important, check out our comprehensive CDB Skincare 101 post.
Also consider the strength of CBD oil that you would like to use in your skincare routine!
Read all about the benefits of CBD oil as well as how to calculate the strength of CBD oil, carrier oils, and much more in an informative CBD oil and skincare article!
I personally prefer CBD oil that uses hemp seed oil as the base oil as it's great for the skin.
This 600mg CBD Oil is a great option for your skincare recipes: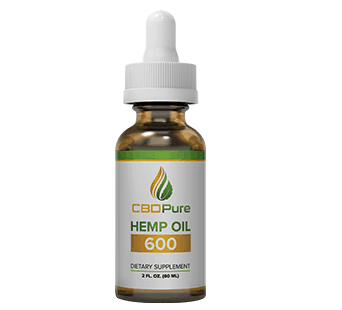 CBD Pure uses non-gmo, organic hemp oil, performs rigorous testing and offers a 90 day money back guarantee.
Where to buy CBD massage oil
If you aren't in the DIY spirit and want to buy CBD massage oil, there are many different manufacturers to buy from!
Goodgoo Rose+Lavender CDB Massage Oil is a blend of Sunflower Seed Oil, Jojoa Oil, Olive Oil, Calendula, Rose Oil, Lavender Oil and Hemp Extract.
Lazarus Naturals CDB Massage Oil is a blend of Jojoba Oil, Sweet Almond Oil, Fractionated Coconut Oil and Hemp Extract.
Always make sure you research any CBD Company and their products.
Terminology in the CBD industry is not regulated and some labels can be misleading; be sure that products you purchase contain CBD oil and that they are purity tested; preferably by a third party so you know their products are the real deal!
If you ever question the contents of massage oil, don't be afraid to call the manufacturer so you get what you pay for!
CBD Massage oil Ingredients:
We are keeping it simple with our massage oil recipe, using the most soothing and relaxation ingredients:
Hemp seed oil is a great oil for hydration, plumping and smoothing! It is full of omega fatty acids that moisturizes skin without clogging pores. It can also help to balance out skin to reduce oiliness.
Sweet Almond oil is full of Vitamin E which helps to health, protect and rejuvenate skin. This oil can help to protect skin from UV radiation and can reduce fine lines and wrinkles.
CBD Oil is a great oil for your skin! We cover all of its benefits to skin in our main CBD Skincare article, but, it can help reduce inflammation, reduce the appearance of acne and blemishes, and can even help reduce eczema and psoriasis. It's a wonderful addition to any skin routine and can help rejuvenate skin!
This is the CDB Oil we are using in today's recipe.
Essential Oil Blends in Massage Oil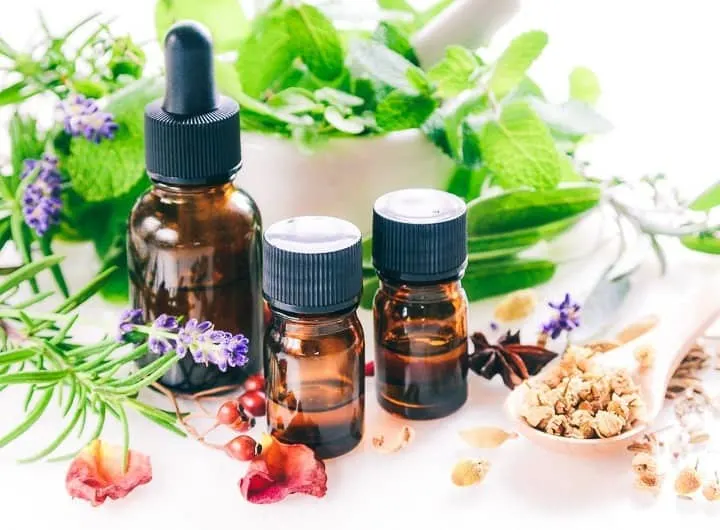 As if a CBD infused massage oil wasn't good enough, we have three different essential oil blends to customize your massage experience!
Muscle Support Essential Oil Blend
Our first blend is an anti-inflammatory mixture that will calm your mind, relieve muscle soreness, and make your tension melt away!
It is a refreshing, relaxing mix of siberian fir, lavender, and eucalyptus oils.
This blend not only packs a light, minty fragrance but it also fights inflammation, douses anxiety, and relaxes the mind.
Relaxing Essential Oil Blend
Next up is a mixture that will calm your mind and make your tension melt away!
With bergamot, lavender, and frankincense oils, this blend will make you forget all the stress of the day!
Sensual Essential Oil Blend
Last, but not least, we have a magical combination that will get you on the road to relaxation!
Our blend of patchouli, sweet orange, and ylang-ylang oils bring anti-inflammatory and increased recovery properties right to you!
These oils are a wonderful combination for rest and recovery; and for a tantalizing twist, you can add some jasmine oil to spice up this massage!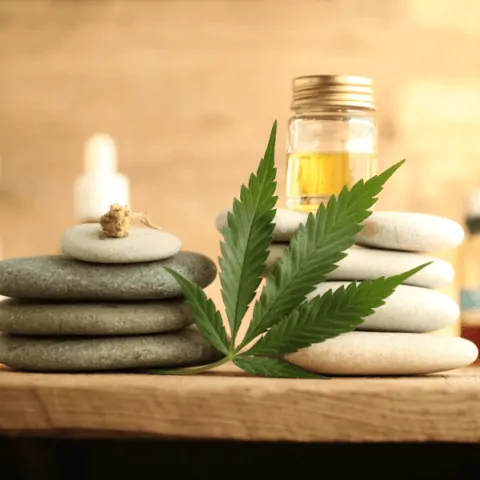 CBD Massage Oil Recipe
Make your own CBD infused massage oil!
Materials
90 drops Essential Oils (choose your blend below)
Muscle Support Essential Oil Blend
30 drops Siberian Fir Essential Oil
30 drops Eucalyptus Essential Oil
30 drops Lavender Essential Oil
Relaxing Essential Oil Blend
30 drops Lavender Essential Oil
30 drops Bergamot Essential Oil
30 drops Frankincense Essential Oil
Sensual Essential Oil Blend
20 drops Patchouli Essential Oil
20 drops Sweet Orange Essential Oil
20 drops Ylang Ylang Essential Oil
10 drops Jasmine Essential Oil (Optional)
Instructions
Add all ingredients to 8 oz glass bottle and shake gently to blend.
Recommended Products
As an Amazon Associate and member of other affiliate programs, I earn from qualifying purchases.
Low down on CBD massages
With all the relaxation of a massage and the powerful properties of CBD oil, a CBD oil massage marries the two in a magical way that will get you on the road to a calm and clear mind!
There are so many uses for CBD and one of our favorites is a massage oil that will treat your mind and body to a spa day, right at home!
Be sure to Pin this CDB Massage Oil Recipe for Later: