Cocoa Butter is an ingredient in many skin care products that we see on the shelves, and for good reason. Cocoa butter benefits for skin are numerous!
It packs a big antioxidant punch and helps protect skin from free radical damage.
Cocoa Butter is easily absorbed into the top layer of skin and helps keep moisture on the skin's surface helping to prevent dehydration and chapping. It can help heal skin and fight inflammation.
The fatty acids that help make up Cocoa Butter help it fight signs of aging as well and make it a great addition to any skincare routine!
It comes in refined and unrefined forms to make it even easier to incorporate alone or as an ingredient in your own DIY recipe.
Keep Reading to Learn all about Cocoa Butter and how to use it in your skincare routine.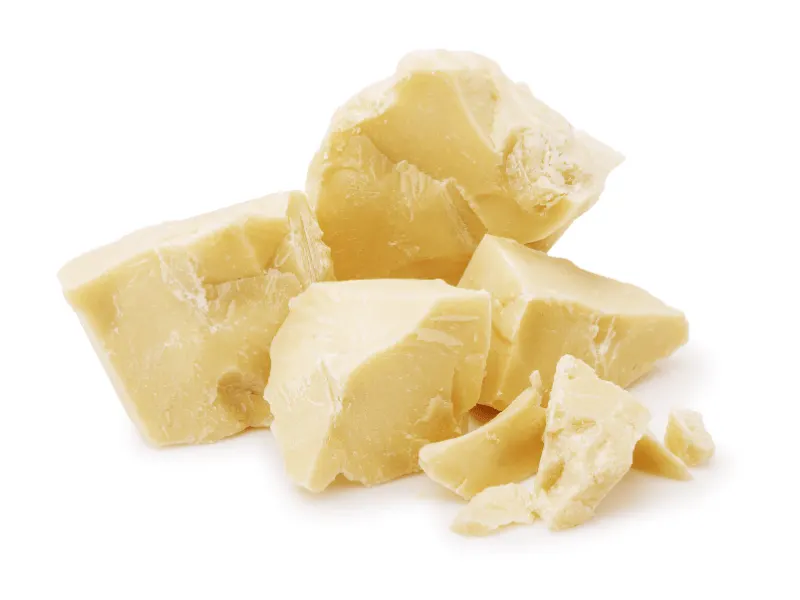 Cocoa Butter for Skin Quick Facts
Cocoa Butter Scientific Name:
The scientific name for Cocoa Butter is Theobroma oil.
Cocoa Butter Comedogenic Rating:
Cocoa Butter has a comedogenic rating of 4 which means that it can definitely clog pores.
Cocoa Butter Extraction Method:
Cocoa Butter is extracted from whole cocoa beans that come from the cacao tree. They are fermented and then dried. After that, the hulls are roasted and separated to produce nibs. These nibs are ground and the heat from the grinder melts the fat away, turning the nibs into a liquid where the butter is extracted.
Cocoa Butter INCI Name:
Theobroma cacao (Cocoa) Seed Butter
Cocoa Butter COSING Number:
60291
Cocoa Butter Skincare Recommendations:
Cocoa Butter is recommended for people who have dry, chapped skin. Cocoa Butter is a very rich moisturizer and is not recommended for people with very oily or acne-prone skin.
Cocoa Butter Absorption Rating:
Cocoa butter absorbs into the skin quite easily and quickly settles into the outer layer of skin. Its low melting point makes it easy to absorb into warm skin.
Free Comedogenic Ratings Chart
If you would like more information on the Comedogenic Ratings of your skincare ingredients, you can download our Free Comedogenic Ratings Chart below. It will give you the Comedogenic Rating of 75 Carrier Oils and Butters.
[cp_popup display="inline" style_id="11588″ step_id = "1"][/cp_popup]
Cocoa Butter Composition: Fatty Acids
| | |
| --- | --- |
| Palmitic Acid (C16:0) | 28.2% |
| Stearic Acid (C18:0) | 21.6% |
| Oleic Acid (C18:1, ⍵-9) | 22.8% |
| Linoleic Acid (C18:2 ⍵-6) | 4.9% |
| Lauric Acid (C12:0) | 19.7% |
| Undecanoic Acid (C11:0) | 1.7% |
| Caprylic Acid (C6:0) | 1.7% |
*Fatty acid breakdown is shared from
Modern Cosmetics Volume 1
.
What is Cocoa Butter?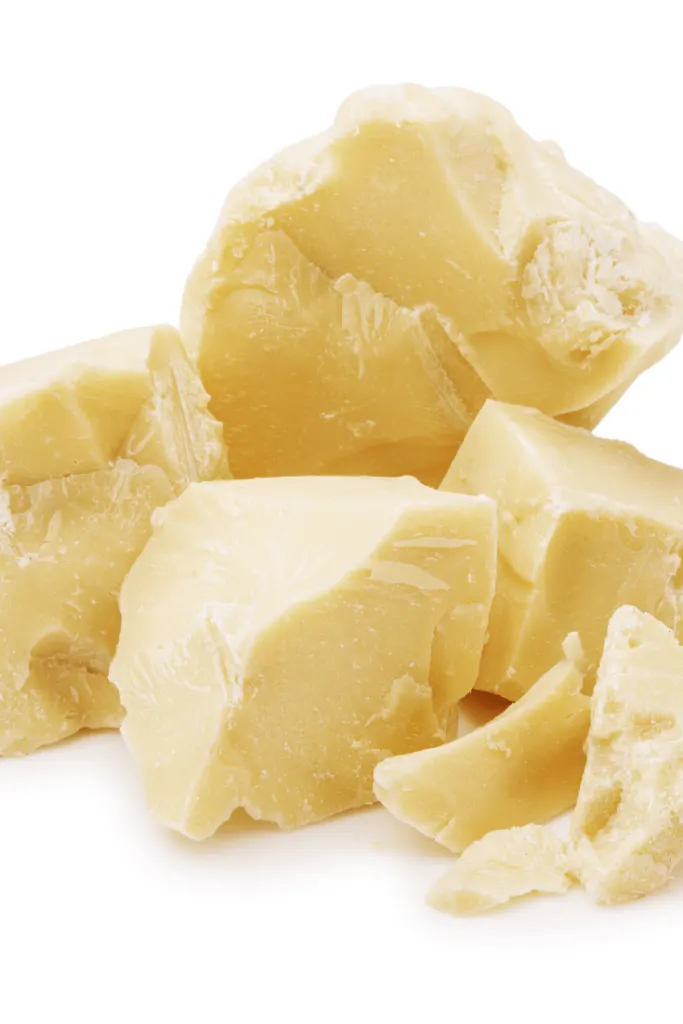 Cocoa Butter is the edible butter that is extracted from the cocoa bean.
It is the primary ingredient in chocolate and is used very widely in the skincare industry.
Cocoa Butter is an active ingredient in many lotions, creams, and balms.
Cocoa Butter has been shown to also have several health benefits. It has long been touted for its incredible benefits for skin and is used in a variety of ways.
Cocoa Butter Benefits for Skin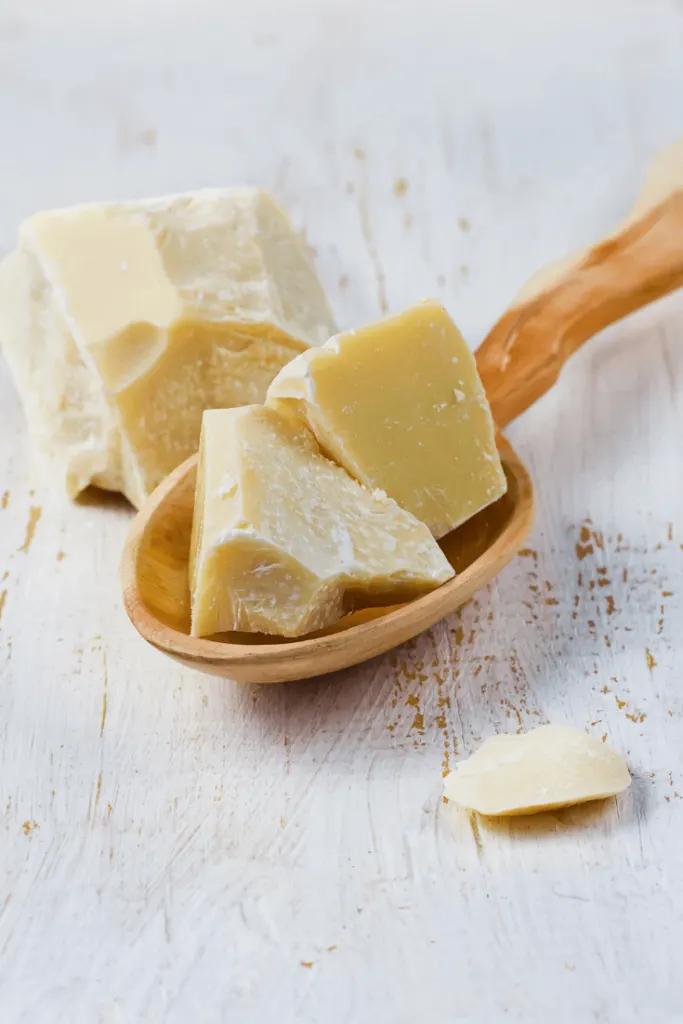 Cocoa Butter has many benefits for skin. First off, it helps boost skin health.
Many skin care products contain cocoa butter and it's because of the antioxidants that the butter is chock full of!
These antioxidants help fight inflammation and protect skin from environmental damage.
The antioxidants in Cocoa Butter combined with its major moisturizing action helps prevent signs of aging and improve skin's elasticity.
Since Cocoa Butter is made up of several fatty acids it forms a protective layer over the skin to help prevent loss of moisture and keep skin hydrated.
Cocoa Butter is also thought to help improve the look of stretch marks and scars. Many pregnant women also use cocoa butter during pregnancy to prevent stretch marks although there is not a lot of scientific evidence to prove this.
Cocoa Butter Uses for Skin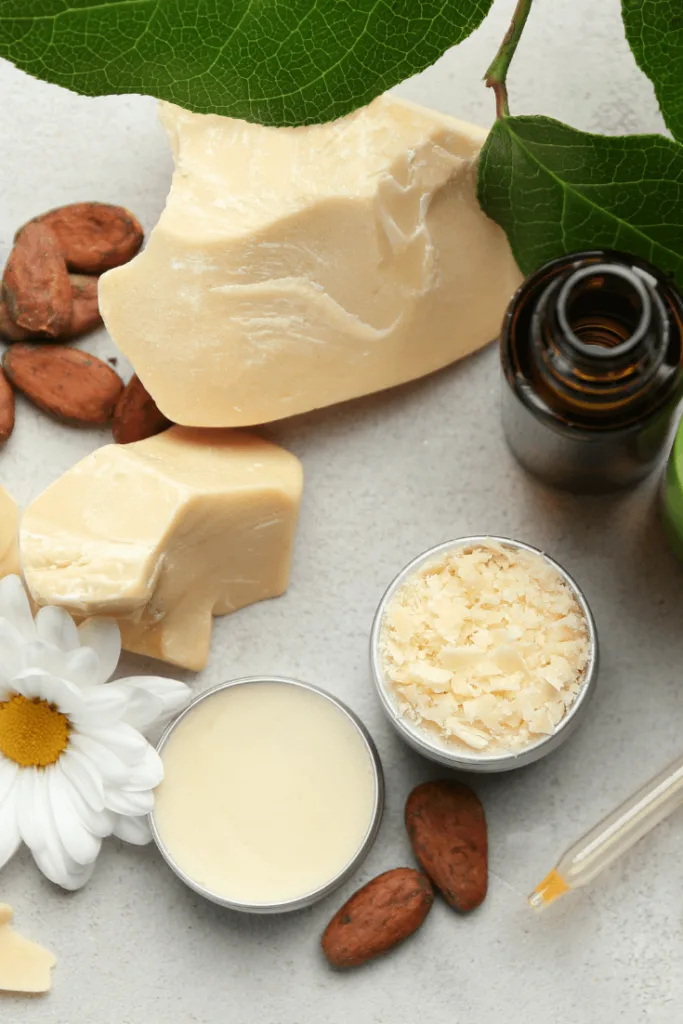 Cocoa Butter has many uses in skincare and is a main ingredient in many cosmetic products.
Some of the most popular skincare products that Cocoa Butter is used in are lotions, lotion bars and heavy moisturizers.
Cocoa Butter is also often used in lip balms and creams. Cocoa Butter is often used in products that promote skin health and anti-aging effects.
It is highly moisturizing and can often be found in night creams that help boost skin hydration.
Cocoa Butter Substitutions
If you're making your own products and want to find something to substitute for Cocoa Butter, you could try:
Shea butter and Mango butter are both softer than cocoa butter, so if you choose to substitute one for cocoa butter, it will create a softer end product.
Warnings/Contraindications for Cocoa Butter
There are not many contraindications for Cocoa Butter. It is not recommended that you use Cocoa Butter if you are allergic to cocoa powder or any products made from it.
It is also not recommended for use if you have very oily or acne-prone skin as it does have a comedogenic rating of 4.

Always perform a patch test on a less sensitive area of skin and wait 48 hours. If your skin remains irritated then you can apply a Cocoa Butter product to your face.
Where to Buy Cocoa Butter
Better Shea Butter was founded in 2013 with a signature 1 lb brick of Unrefined Shea Butter, sourced from a small women co-op in Ghana. They later expanded to offering other butters, oils and botanicals that are carefully and ethically sourced. They believe that the use of simple ingredients, and the creation of skin care products is fun and easy.
Photo Credit: mountainroseherbs.com
Mountain Rose Herbs is committed to putting people, plants, and planet before profit with everything they do. They are committed to sustainability, and a certified Zero Waste company. They currently only offer shipping to the United States & Canada.
Photo Credit: www.newdirectionsaromatics.com
New Directions Aromatics is a Canadian based company offering a wide variety of skincare and formulating supplies. They also offer a variety of Organic, Fair Trade & Ecocert Ingredients. They ship mainly to Canada & the US, but do offer International Shipping as well.
Photo Credit: soapmakers-store.com
Based in the United Kingdom, Soapmakers Store is a family owned business specialising in the sourcing and supply of premium quality ingredients to the Cosmetic, Toiletry, Aromatherapy, and Soapmaking Industries. With over 40 years experience in the Natural Ingredients Industry, they will endeavour to be your 'one stop shop' for quality raw material supplies. They do offer shipping outside of Europe, but there will be additional charges.
Photo Credit: pronounceskincare.com
If you like to support small businesses, get your high quality Certified Organic Cocoa Butter from my friend, Jess over at Pronounce Skincare! (Ships Worldwide)
Now that you know all about Cocoa Butter Benefits for Skincare, you're probably ready to make some recipes.
Check out the skincare recipes below that all include Cocoa Butter as an ingredient!
Cocoa Butter Skincare Recipes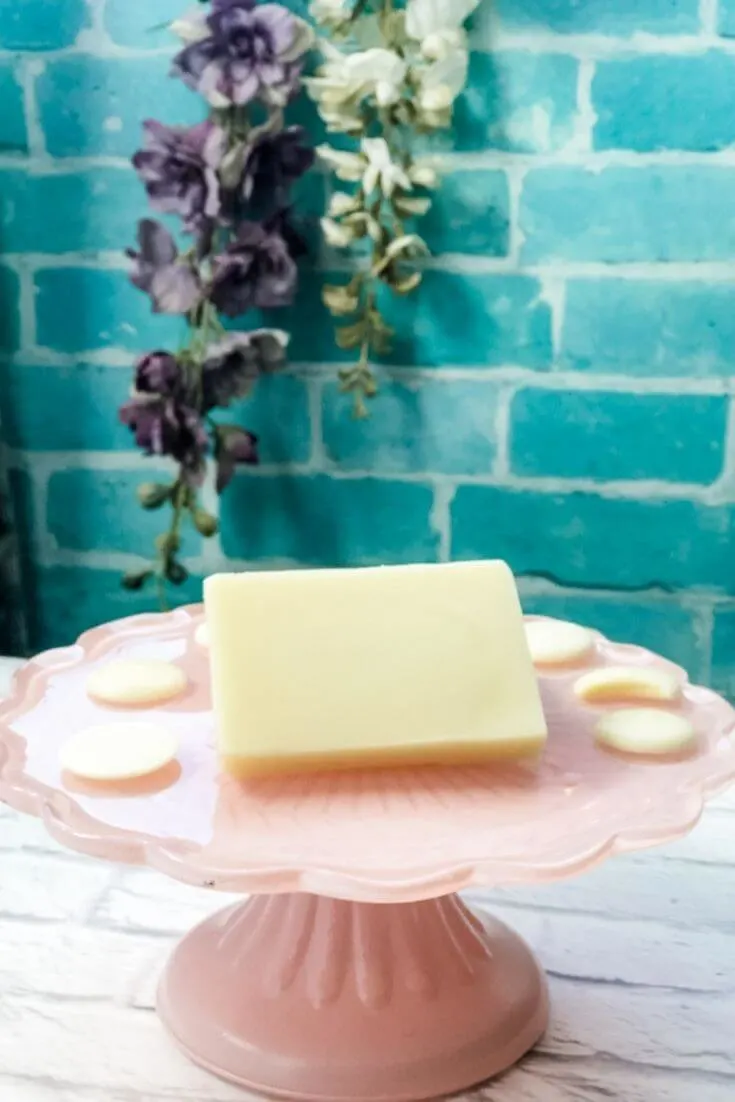 Looking for a body lotion that supports your zero waste lifestyle? Suffer from dry, cracked skin? Then you'll need to check out this DIY, deep …
Pin Cocoa Butter Benefits for Skin!
I hope you've enjoyed learning all about the benefits of Cocoa Butter for your Skin. Be sure to pin this post for later!