AMTicide Coconut is a natural preservative that can be used in a variety of products. It provides great antifungal protection to help lengthen the shelf life of your skincare products and even adds an extra punch of hydration!
If you're looking for an antifungal preservative, check out the guidelines below to see if this is the one for you!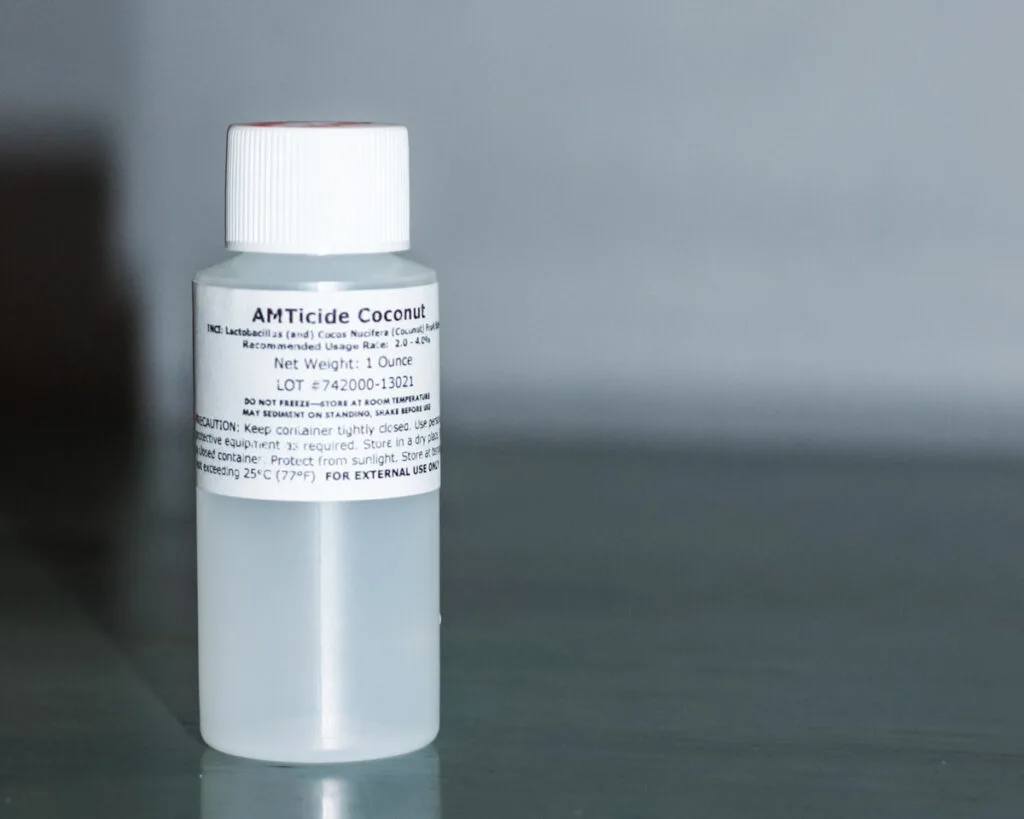 AMTicide Coconut Quick Facts
AMTicide Coconut INCI:
Lactobacillus & Cocos Nucifera (Coconut) Fruit Extract
COSMOS and ECOCERT Standards:
AMTicide Coconut is COSMOS and ECOCERT approved.
AMTicide Coconut Ingredients:
Coconut fruit and Lactobacillus
AMTicide Coconut Preservation Activity:
AMTicide Coconut has natural phytocompounds that have been found to prevent the growth of fungus and mold. The fermentation of Coconut fruits by using Lactobacillus increases these compounds which disrupt the cellular processes in fungal cells.
Is AMTicide Coconut Water Soluble?
AMTicide Coconut is water-soluble.
PH Compatibility:
AMTicide Coconut is compatible with pHs 3 through 8.
Recommended Usage Levels:
The suggested usage level of AMTicide Coconut is 2-4%.
What is AMTicide Coconut?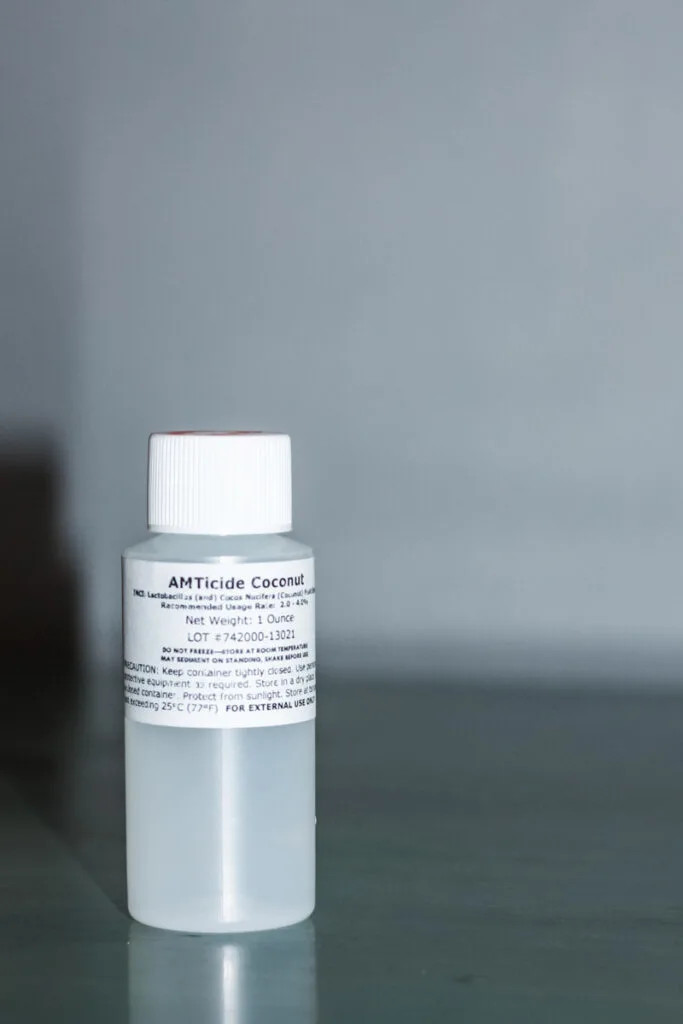 AMTicide Coconut is a preservative that is made from fermenting Coconut fruits with Lactobacillus.
AMTicide Coconut was developed after investigating the properties of MCTs (medium-chain triglycerides). These MCTs were found to have incredible antifungal properties.
By adding Lactic Acid to Coconut Oil it was found that this product could disrupt the cellular process for many fungal cells.
Thus, the idea for fermented Coconut fruit came about!
AMTicide Coconut can provide excellent protection from various fungi; particularly yeast and mold.
It can also provide a hydrating component to your product making it the perfect addition to any product!
Is AMTicide Coconut Safe?
AMTicide has an excellent safety profile; it has a wide range of global regulatory acceptance, which means it is widely accepted as a safe product.
Although AMTicide Coconut is generally considered to be safe, if you have an allergy to coconuts or related nuts, you should consult with your physician about the risk of using this preservative topically.
Is AMTicide Coconut Natural?
AMTicide Coconut is a natural product made from fermenting coconuts using lactobacillus.
It is a preservative that meets ECOCERT standards. It can be used in natural and organic products.
AMTicide Coconut Uses
Because of it's compatibility with other ingredients AMTicide Coconut can be used in a variety of products including:
And much more!
How to Use AMTicide Coconut Preservative in Formulations
AMTicide Coconut can be added to a variety of formulations to add protection against yeast and molds.
It should be used with another preservative that provides antimicrobial protection, such as Leucidal Liquid, to provide a more broad-spectrum of preservation.
AMTicide Coconut is most compatible with pH levels 3-8; be sure that you test your products pH before adding this preservative!
It has a recommended usage level of 2-4% of your water content. If you are using it in conjunction with Leucidal Liquid it is recommended to use 2% AMTicide Coconut and 2% Leucidal Liquid.
For most skincare products, you want a PH of 5-5.5. This can be adjusted using a pH modifier like Sodium bicarbonate or Citric acid.
AMTicide Coconut Warnings
AMTicide Coconut does not come with many warnings but, as with any preservative, wear protective clothing when working directly with it and clean up any spilled product.
If you have any kind of nut allergy, please consult your physician before using this preservative in your products.
If you have any concerns about working with AMTicide Coconut, call the manufacturer for clarification.
Where to Buy AMTicide Coconut Preservative
Photo Credit: lotioncrafter.com
Lotion Crafter offers a wide variety of ingredients for all of your formulating needs. They offer carriers oils, preservatives, exfoliants, anti-aging ingredients, butters and so much more. I order a lot of my supplies from Lotion Crafter. Lotion Crafter offers local & International shipping.
Photo Credit: www.formulatorsampleshop.com
Formulator Sample Shop carries a wide range of formulating and skincare ingredients including carrier oils, butters, preservatives, and more. They do offer International Shipping as well.
Photo Credit: www.wholesalesuppliesplus.com
Wholesale Supplies Plus offers a wide range of soap making & formulating supplies including bases, additives, carrier oils, fragrance & more. They are based in the US & while they do offer International shipping, they currently do not serve EU member states.
Other Natural Preservative Options
If AMTicide Coconut Preservative doesn't work for your formulation, check out these other natural preservative options.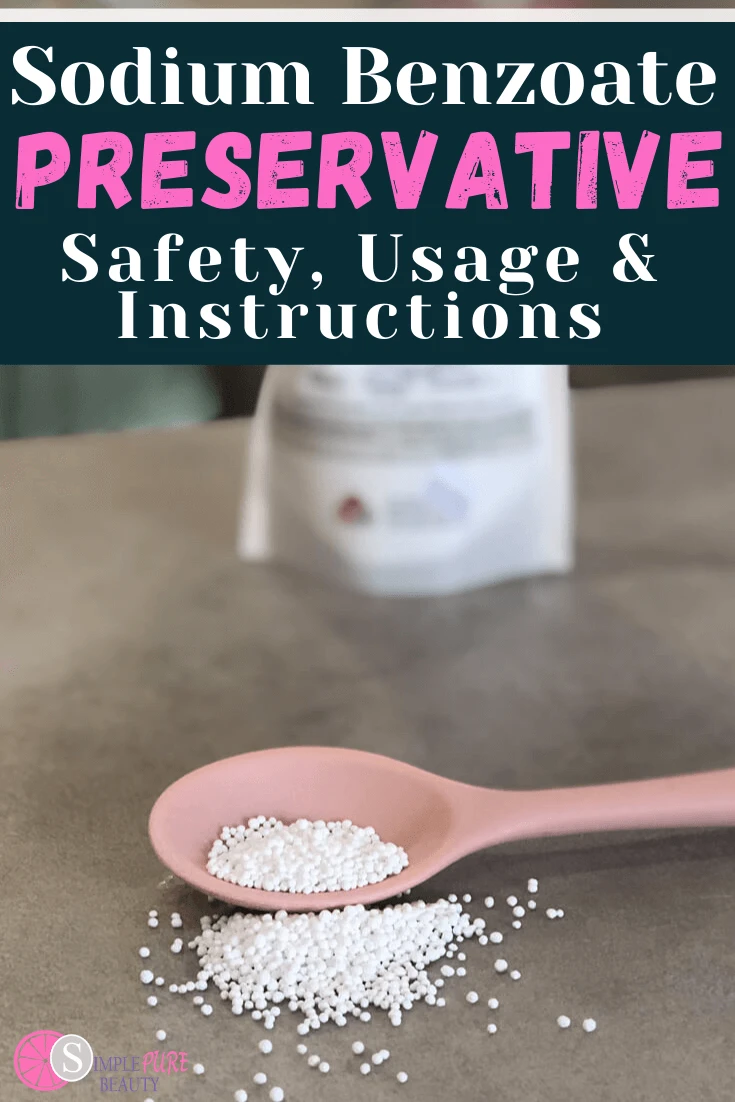 Sodium Benzoate is a naturally derived anti-fungal preservative that is most effective at a very low pH in skin and hair products. It is most …
Share and Pin this Post for Later!
I hope you've enjoyed learning all about AMTicide Coconut for your skincare formulations. Be sure to share and pin this post for later!