DIY Hyaluronic Acid Serum is so easy to make and its ability to help your skin maintain moisture is unmatched.
Hyaluronic acid is all of the rave in anti-aging skincare. Unfortunately as we get older, our skin loses hyaluronic acid.
When hyaluronic acid is applied to the skin, it increases the moisture level in the skin and has been shown to reduce the signs of aging.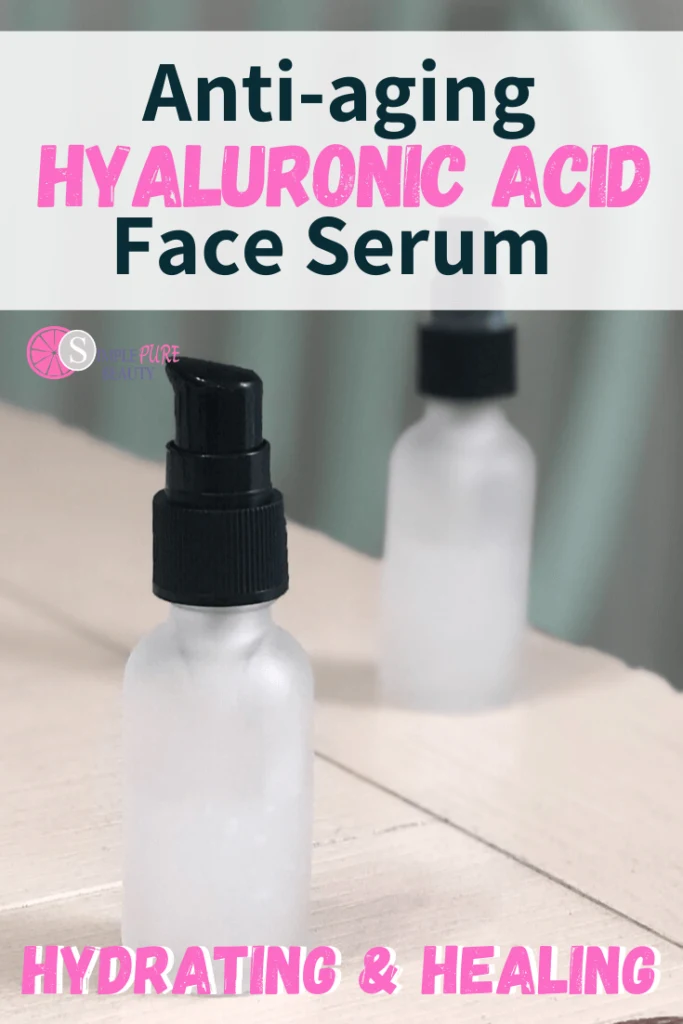 What is Hyaluronic Acid?
Contrary to the second part of its name, hyaluronic acid is not an actual "acid" per se. It will not burn your skin. Do not let the name scare you away because hyaluronic acid can be your skin's best friend.
Hyaluronic acid is a natural glycosaminoglycan (polysaccharides that are an important component of connective tissues) that is naturally occurring in our bodies, with half of it being found in our skin.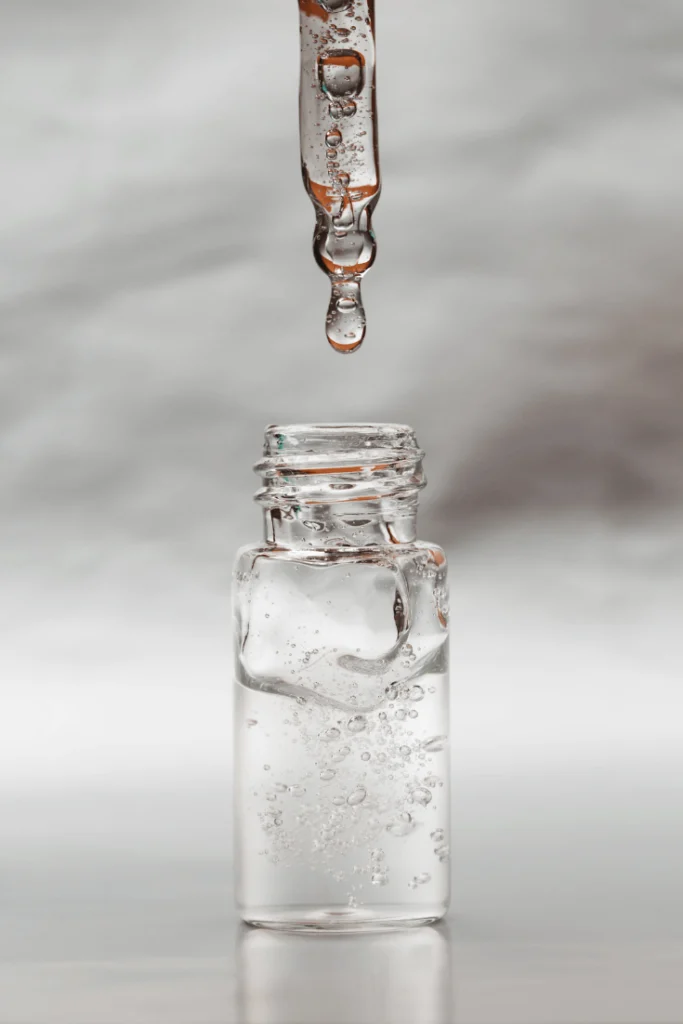 It plays an integral role in maintaining and regulating moisture within our tissues. As we age the amount of hyaluronic acid production gradually slows down resulting in fine lines and wrinkles. Hyaluronic acid can retain moisture up to 1000 times its own weight in water giving you a more youthful look. (source)
Can Hyaluronic Acid be Used as a Serum?
Hyaluronic acid, on its own cannot be used as a serum but all you need are a few ingredients to make your own DIY Hyaluronic Acid Serum.
Can I Use Hyaluronic Acid Every Day?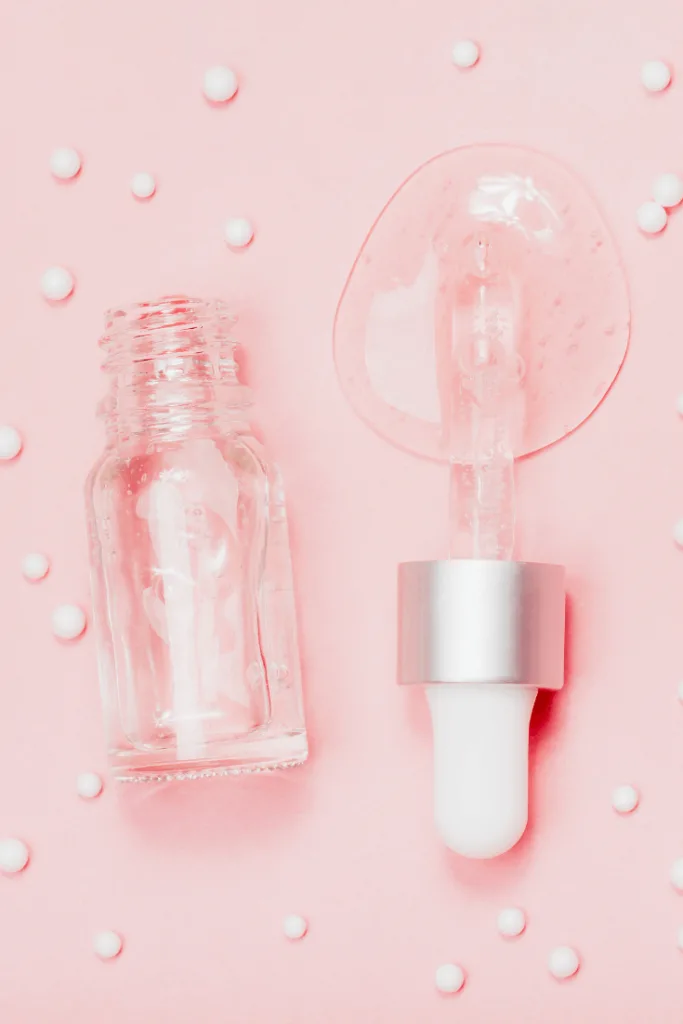 Hyaluronic acid serum is applied topically to damp skin before you apply your moisturizer. It can also be used in conjunction with other face creams such as sunscreen or your daily moisturizer.
Should You Use Hyaluronic Acid Morning or Night?
Used regularly as part of your skincare regimen, hyaluronic acid will help plump up your skin decreasing the appearance of fine lines and wrinkles. It is safe to use daily, but for people with the most sensitive skin, using in the morning and night may be a bit too much.
Hyaluronic acid basically acts like a sponge on your skin by attracting and retaining moisture due to its water-attracting properties. (source)
Should You Use Hyaluronic Acid & Vitamin C Serum Together?
These 2 powerhouse ingredients absolutely can be used together. For even better anti-aging results, you can whip up this DIY Vitamin C Serum Recipe and use it alongside your Hyaluronic Acid Serum.
How to Make DIY Hyaluronic Acid Serum?
It is no surprise that hyaluronic acid is a popular ingredient in the beauty industry with many beauty brands adding hyaluronic acid into their creams and serums.
The downside is that some brands only add a small amount of hyaluronic acid into their serums and some even mix it with toxic chemicals.
You can make your very own diy hyaluronic acid serum from home with the same great benefits of the more expensive brands.
To make your own hyaluronic acid serum, you will need to purchase some high quality Hyaluronic Acid Powder.
High Molecular Weight or Low Molecular Weight Hyaluronic Acid?
There is some debate as to whether you should use a high molecular weight (or low molecular weight hyaluronic acid for your skincare recipes. Some sources think that low molecular weight HA penetrates better into the skin's surface.
While others think it actually causes inflammation in the skin. I would suggest doing your research on this topic if you are concerned at all. You can also add both to your serum if you like.
DIY Hyaluronic Acid Serum Ingredients
You will need a few ingredients to make your own serum including:
Hydrosol or Floral Water – A few good options would be Lavender or Rose Hydrosol.
Distilled Water – If you don't have floral water, you can just add more distilled water.
Vegetable Glycerin – Vegetable glycerin is a humectant that helps draw water to the skin. We will be using our glycerin to help disperse the hyaluronic acid into our serum as well.
Xanthan Gum – Xanthan gum is a natural gum polysaccharide that is used as a thickener.
Hyaluronic Acid – I have chosen a high molecular weight hyaluronic acid for this recipe, but as we covered before, you can include both high and low in your recipe.
Dermosoft Eco 1388 – Because this is water based, we will be adding a preservative.
This preservative provides outstanding broad spectrum antimicrobial activity. It is a little weak against yeast. You could add an additional preservative to boost the yeast protection, but I recommend storing your serum in a bottle with a pump top to prevent any outside contamination.
In the past I've recommended Geogard ECT as a broad spectrum preservative for water based products because it claims to be water soluble. But unfortunately the Benzyl Alcohol isn't completely water soluble which can lead to skin sensitization issues, which we don't want.
This formula calls for 1 gram of Dermosoft 1388 Eco.
I recommend purchasing a jewelry scale to accurately add preservatives to your formulations.
I have included a conversion as well, if you don't have a jewelry scale. You can add 3/16 tsp of the preservative Dermosoft 1388 Eco.
If you don't have measuring spoons this small, you can find them on Amazon here. Let's get to the recipe!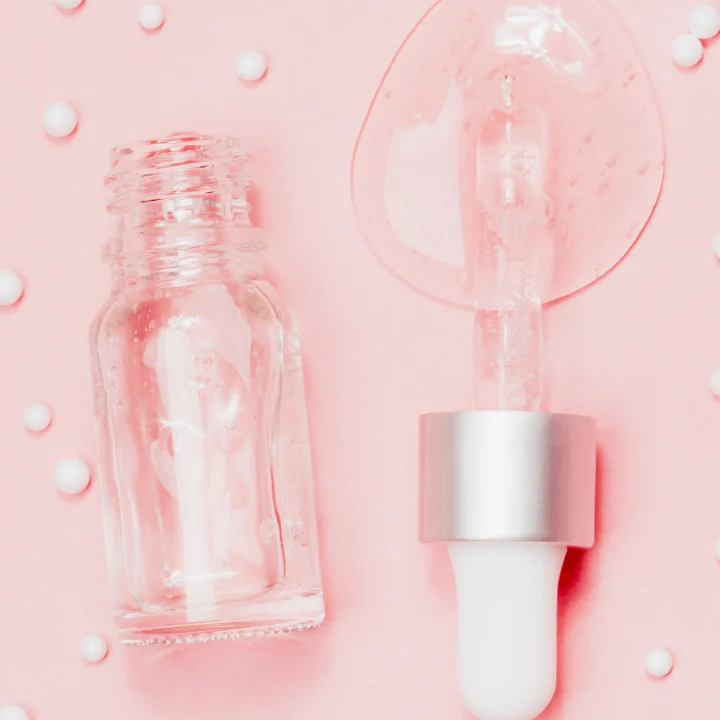 DIY Hyaluronic Acid Serum
Instructions
Combine your distilled water and Dermosoft 1388 Eco in a glass beaker and mix until incorporated.
Add your hydrosol to the water, preservative mixture.
Add Glycerin, Xanthan Gum and Hylaluronic Acid to separate small beaker and mix well.
Slowly incorporate the Glycerin, Xanthan Gum and Hyaluronic Acid mixture to water beaker, mixing well to incorporate. Set aside to swell.
When blend is clear, test pH and adjust to a skin friendly pH of around 5
Notes
Preservative: Dermosoft 1388 Eco requires the pH to be > 7 when adding. That is why we add this to the water phase at the beginning. At the end adjust your pH to around 5 for best results. Learn all about adjusting the pH of your skincare products here.
Shelf life: If you choose not to add a preservative to the serum the shelf life will be two weeks and must be stored in the refrigerator. If you add a preservative to your serum it can be used for up to three months and stored at room temperature.
Tips: For best results apply to damp skin and follow up with moisturizer of choice.
Recommended Products
As an Amazon Associate and member of other affiliate programs, I earn from qualifying purchases.
Be sure to pin this post and share it!