Let's face it, we're all getting older. But that doesn't mean we have to break the bank buying expensive anti-aging cream and wrinkle treatments. If you're looking for some simple homemade anti-aging skin care recipes, you've arrived at the right place!
Time seems to be flying by these days and the fine lines and wrinkles popping up remind me that I'm not getting any younger.
It's tough some days to look in the mirror and see an older, more wrinkled version, staring right back at me.
I'm a big believer in natural products and skincare recipes so today I wanted to share 21 Effective Homemade Anti-Aging Serums and Anti-Wrinkle Cream Recipes.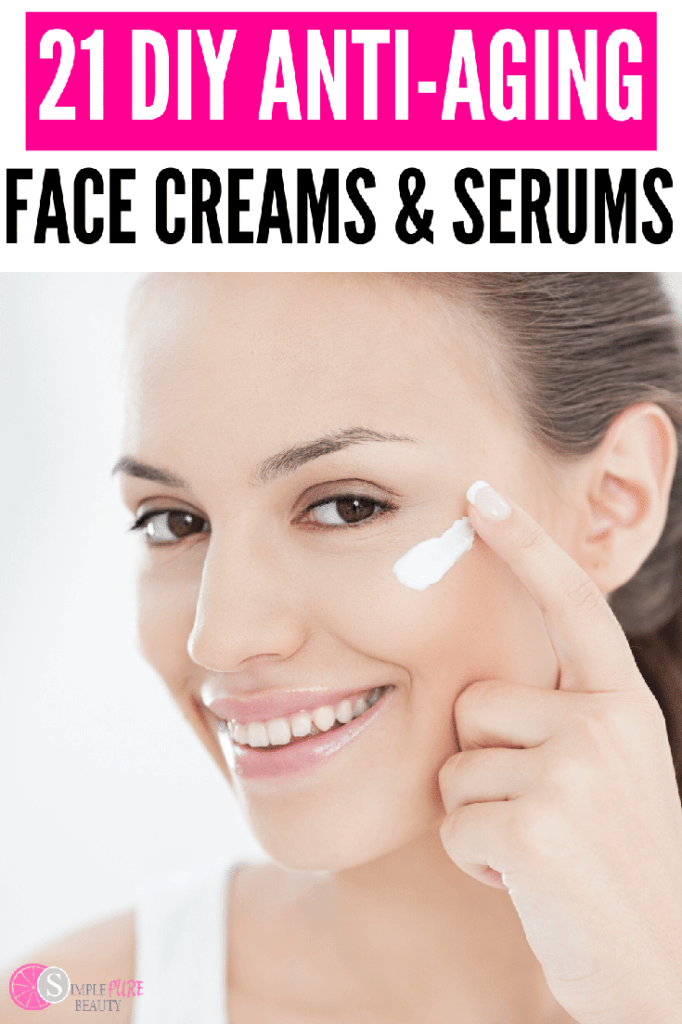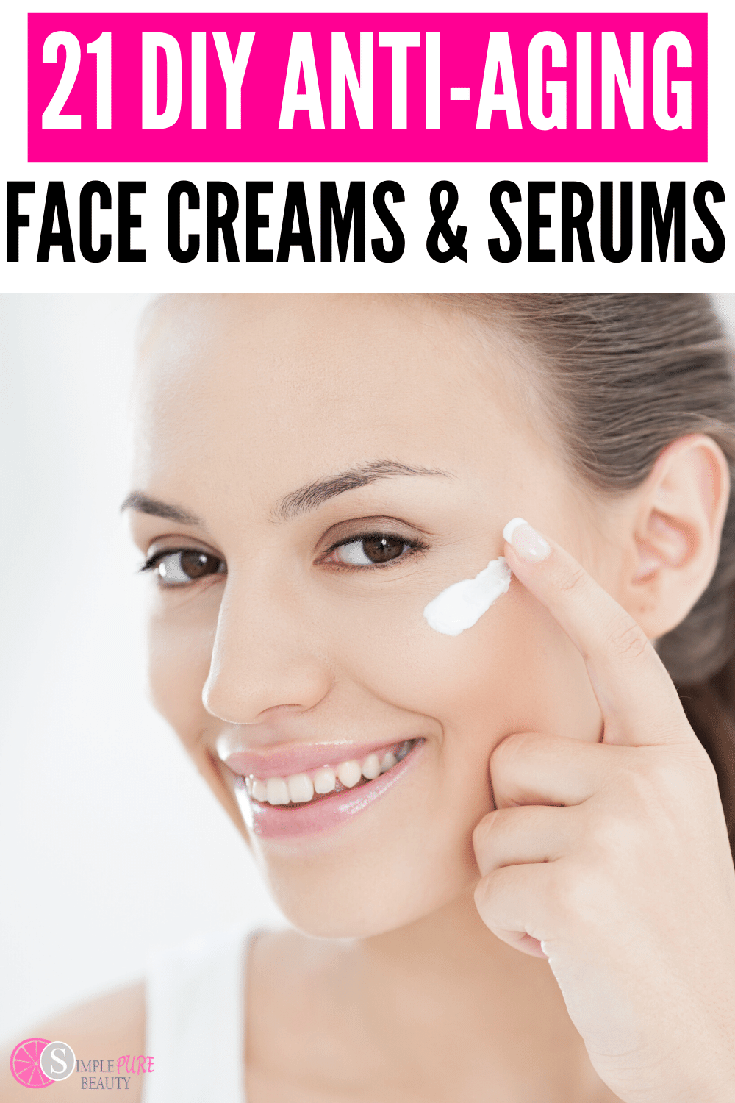 Anti-Wrinkle Creams and Serums can be pretty pricey, but what if you could make your own for a small portion of the price?
You'll be all about it, right? I know this is just an extra added bonus paired up with the fact that I'm not adding a bunch of chemicals to my face!
These 21 recipes use high-quality ingredients that effectively hydrate your skin and help prevent and reduce the appearance of fine lines and wrinkles.
Sounds pretty sweet, huh?
Where to Purchase Quality Ingredients
Lucky for you I have compiled a list of my favorite must-have anti-aging ingredients on my Amazon Anti-aging Ingredient List here.
Homemade Anti-Aging Skin Care Recipes
Now that we've tackled all the talking, let's get down to some of the top DIY face serum recipes, DIY face cream options, and DIY moisturizer recipes, too!
DIY Facial Moisturizer Recipes
You're going to love the ease of these homemade face cream recipes.
DIY Eye Creams & Serums
These simple DIY eye cream recipes are great for all types of skin types.
DIY Face Serums
Check out these simple DIY Face serum recipes!
This DIY CBD Face Serum is full of all kinds of anti-aging goodness!
Photo Credit: simplepurebeauty.com
This hyaluronic acid serum plays a big role in maintaining and regulating moisture within our tissues.
It can actually retain moisture up to 1000 times its own weight in water which can help to give you a more youthful look.
Photo Credit: simplepurebeauty.com
This simple DIY vitamin C serum for your face supports aging skin to keep it looking fresh. There is even an option to make Vitamin C powder as well.
Photo Credit: simplepurebeauty.com
With just 4 ingredients, you'll have results in no time at all! This recipe includes passionfruit seed oil, rosehip seed oil, palmarosa essential oil, chamomile essential oil.
Photo Credit: simplepurebeauty.com
Finding balance for your skin doesn't have to be hard. All you'll need for this simple recipe is jojoba oil, moringa seed oil, watermelon seed oil, lavender essential oil, and rose geranium essential oil. You'll love this combination.
Photo Credit: simplepurebeauty.com
Fighting wrinkles doesn't have to be expensive or hard to do. Make certain that you check out the rosehip oil benefits for skin and then gather up the easy ingredients to start to make this anti-aging serum.
Photo Credit: mommypotamus.com
Need to repair your skin? Here's your solution! This combination of rosehip oils and other essential oils can do wonders for your skin.
Photo Credit: pronounceskincare.com
Acne scars don't have to stand out. This skincare recipe can help. With just three simple ingredients of sweet almond oil, sandalwood essential oil, and lemon essential oil, this recipe is simple and easy to do.
What do you think about these homemade anti-aging skincare recipes?
Do you have a favorite from the list that you're excited to try?!
Be sure to Pin this Post for Later!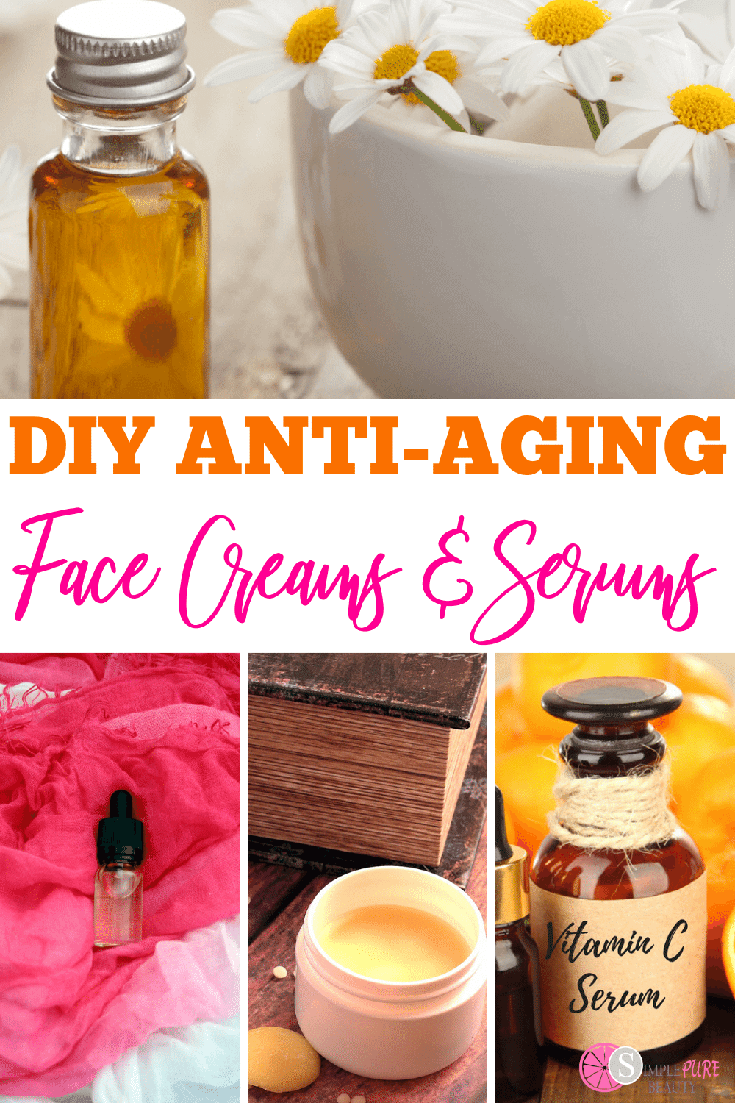 Note: Originally published in August 2014, this article was checked for accuracy and updated February 28, 2020 by Mindy Benkert