Rhassoul Clay, also known as Morrocan Red Clay, is a clay that is mined in Africa and is not widely available.
It is often used in skin and hair masks. It offers many benefits, including anti-aging and detoxifying.
Rhassoul Clay has been used for centuries to cleanse skin and keep it young and radiant. It is rich in essential minerals and nutrients to heal skin.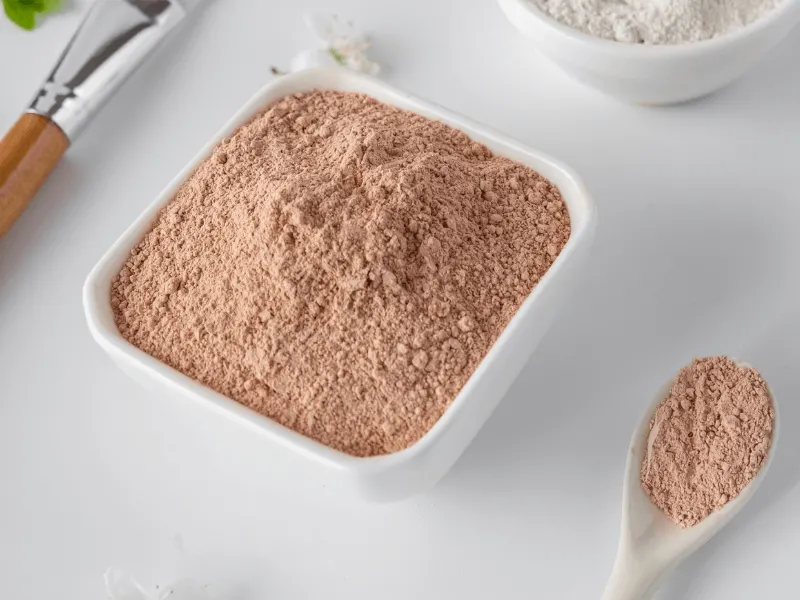 Rhassoul Clay for Skin Quick Facts
Rhassoul Clay Scientific Name:
Hecorite
Rhassoul Clay Comedogenic Rating:
Rhassoul Clay is non-comedogenic and is not likely to clog your pores.
Rhassoul Clay Extraction Method:
Rhassoul Clay is mined from the Atlas Mountains in Africa.
Rhassoul Clay INCI Name:
Moroccan Lava Clay
Rhassoul Clay COSING Number:
56973
Rhassoul Clay Skincare Recommendations:
Rhassoul Clay is recommended for individuals with normal to oily skin. Those with already dry skin should consider using Rhassoul Clay with moisturizers to prevent too much dryness or flaking.
Rhassoul Clay Absorption:
Rhassoul Clay can absorb 1.66 its mass in water, meaning that it is relatively absorbent and can pull oil from skin.
Rhassoul Clay Composition:
H2LiMgNaO12Si4-2
What is Rhassoul Clay?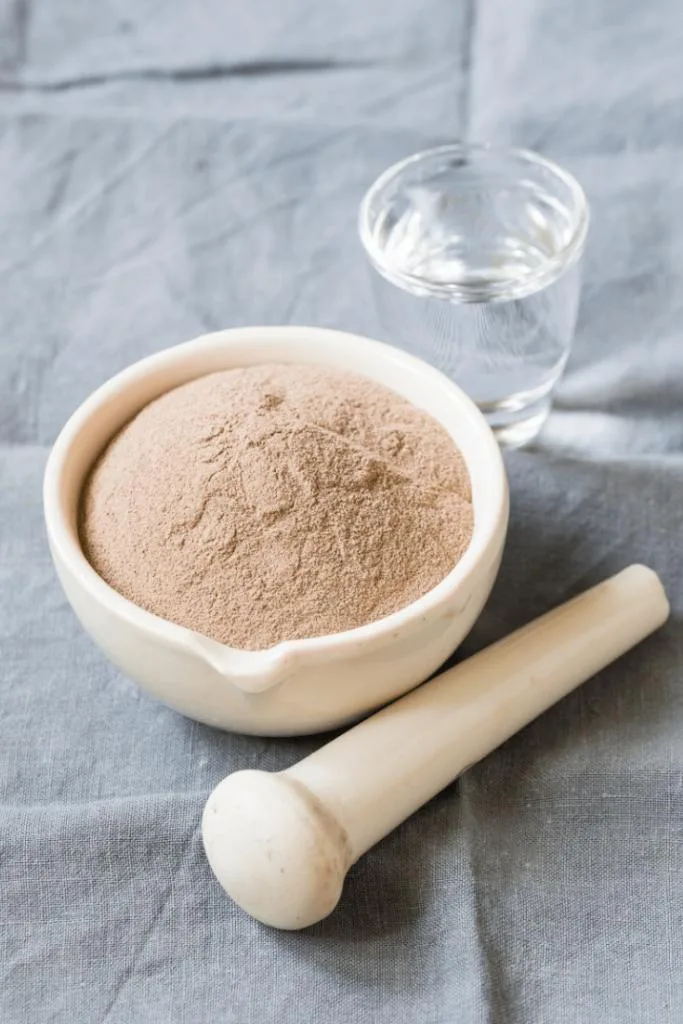 Rhassoul Clay is also known as Moroccan Clay or Moroccan Red Clay. It is an absorbent clay that is often used in face and hair masks.
Morrocan Red Clay has been used for centuries and is mined from the Atlas Mountains in Africa. It can be hard to mine, and there are only two known active deposits of the clay, making it less widely available than other clays used in cosmetics.
Rhassoul Clay Benefits for Skin
Rhassoul Clay is an excellent clay to use in face masks. It is absorbent and can pull oil and sebum from the skin. This can help to reduce blemishes and acne.
It can also reduce inflammation and redness and help to tone skin and even complexion.
Rhassoul Clay can help to fight fine lines and wrinkles while it pulls toxins and impurities from the skin.
This means that you'll see softer and more youthful skin.
The silica in Morrocan Red Clay can help to stimulate collagen production in the skin to keep skin young!

Rhassoul Clay is also a great natural cleanser; it helps to pull impurities from the skin and eliminate dead skin cells and unclogs pores. It helps exfoliate skin and improves skin clarity.
Popular Rhassoul Clay Uses for Skin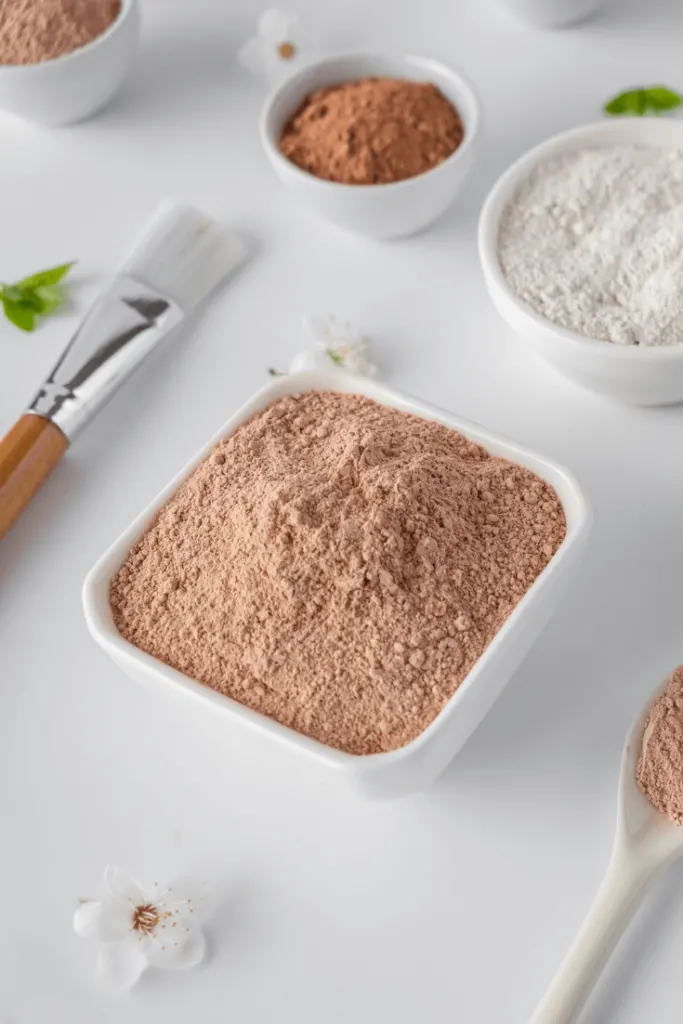 Rhassoul Clay is most popular in face masks to help cleanse and detoxify skin. It also helps to reduce acne and inflammation.
Rhassoul Clay can also be used as a hair mask or shampoo to reduce scalp flakiness. Rhassoul Clay can also be used as a cleanser and moisturizer to help clarify and tone skin.
Substitutions for Rhassoul Clay
Rhassoul Clay is a great clay, but if you're looking for an alternative clay to use, Kaolin Clay would be a great choice!
Kaolin Clay is not overly drying and offers many of the same benefits as Rhassoul Clay.
When picking alternatives to use for clays, be sure to take the absorption of each clay.
Bentonite Clay could also be an alternative; however, it is much more absorbent than Rhassoul Clay so be sure to account for that in your recipe.
Warnings/Contraindications for Rhassoul Clay
Rhassoul Clay is fairly safe to use; however, it should not be used every day or for extended periods of time. It can over dry skin and cause additional flakiness and irritation.
Always perform a patch test on skin when using new products. If your skin does not react after 48 hours, then you can apply it to your face.
Where to Buy Rhassoul Clay (Moroccan Red Clay)
Photo Credit: mountainroseherbs.com
Mountain Rose Herbs is committed to putting people, plants, and planet before profit with everything they do. They are committed to sustainability, and a certified Zero Waste company. They currently only offer shipping to the United States & Canada.
This Rhassoul Clay is 100% pure, organic, and natural straight from the Atlas Mountains of Morocco. No additives, no fragrances, paraben free and cruelty free.
Photo Credit: www.newdirectionsaromatics.com
New Directions Aromatics is a Canadian based company offering a wide variety of skincare and formulating supplies. They also offer a variety of Organic, Fair Trade & Ecocert Ingredients. They ship mainly to Canada & the US, but do offer International Shipping as well.
Photo Credit: www.fromnaturewithlove.com
From Nature With Love proudly offers an inspiring range of premium quality certified organic, conventional and complementary personal care ingredients for use within skin care, hair care, aromatherapy, massage, spa, herbalism and soap making applications. They also offer a Rewards program that pays you back 10% in rewards on every order. From Nature With Love is a US based company that does offer International Shipping.
Photo Credit: soapmakers-store.com
Based in the United Kingdom, Soapmakers Store is a family owned business specialising in the sourcing and supply of premium quality ingredients to the Cosmetic, Toiletry, Aromatherapy, and Soapmaking Industries. With over 40 years experience in the Natural Ingredients Industry, they will endeavour to be your 'one stop shop' for quality raw material supplies. They do offer shipping outside of Europe, but there will be additional charges.
Now that you know all about Rhassoul Clay Benefits for Skincare, you're probably ready to make some recipes.
Rhassoul Clay Skincare Recipes
Check out the skincare recipes below that all include clay as an ingredient!
In any of these recipes, the clay that is listed as an ingredient can be swapped out with rhassoul clay if you're looking for a less drying clay!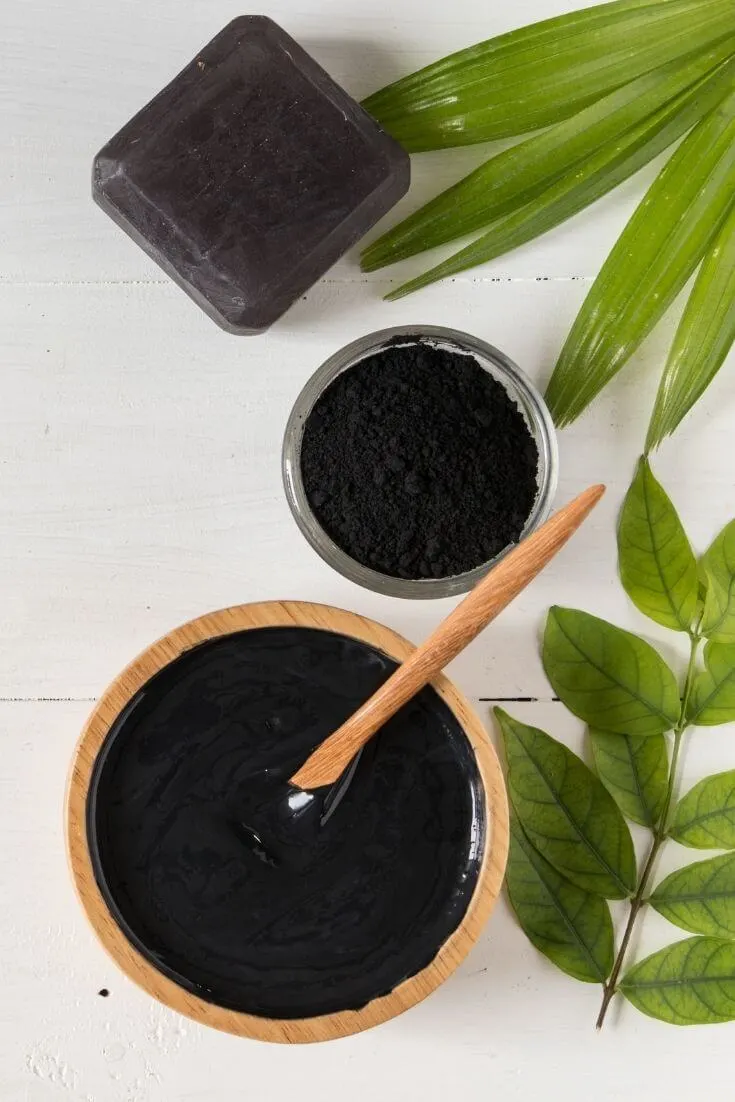 Face masks are the perfect way to relax and pamper your skin! If you are looking for a face mask that will clean your pores, …
Pin Rhassoul Clay Benefits For Skin!
I hope you've enjoyed learning all about the benefits of Rhassoul Clay for your Skin. Be sure to pin this post for later!