Although winter can be bad for dandruff and itchy scalp, it can sneak up on you at any time. If you're looking for natural remedies for dandruff and some itchy scalp relief, then keep reading.
I seem to suffer from extremely dry skin and unfortunately I do battle with dandruff and itchy scalp as well. This winter my skin has been extremely dry, inspiring my post that included 12 Amazing Body Butter Recipes.
But since you can't exactly use body butter on your scalp and hair, I am sharing a few natural home remedies for dandruff and itchy scalp today.
Dandruff occurs when the skin cells on your scalp shed, which is completely normal. But sensitivities, dry skin, shampooing too often or not enough can worsen these symptoms.
Thus resulting in an overabundance of shedding and visible, annoying dandruff.
So, here are my top 8 Home Remedies for Dandruff and Itchy Scalp: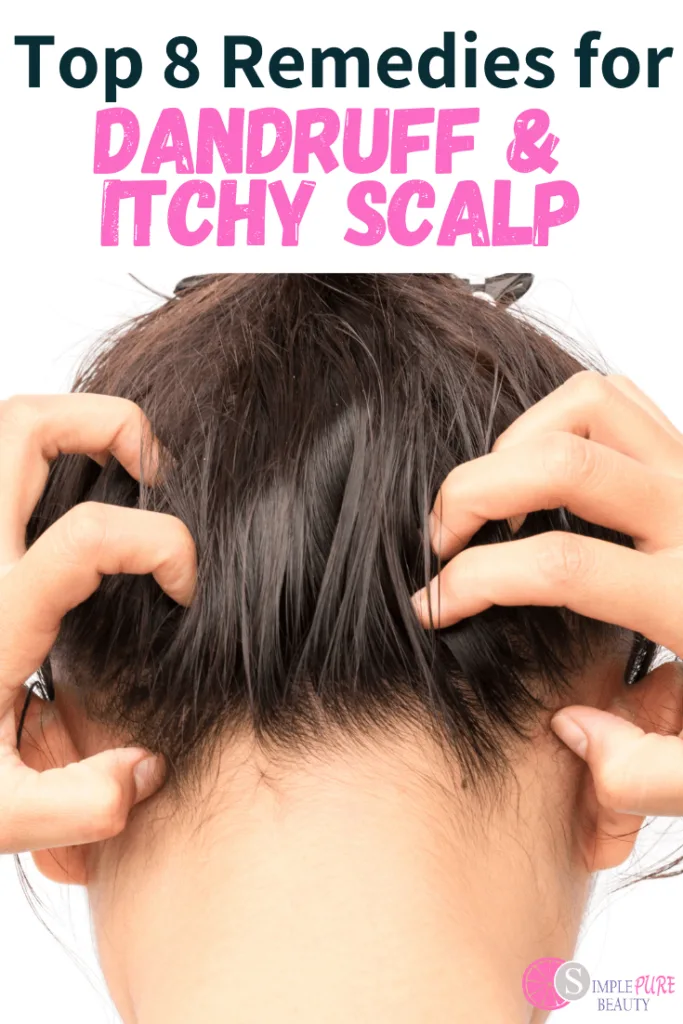 1. Salt Scrub for Dandruff:
Sprinkle some salt directly on your scalp and massage for around 10 minutes. Wash your hair as usual. This will help exfoliate and loosen existing flakes.
2. Lemon Juice Hair Rinse:
Lemons are amazing and they have so many uses. So it's no surprise that lemon juice can also help with dry and itchy scalp. Massage the juice of 1/2 a lemon into your scalp. Rinse hair with a glass of water and 1 teaspoon lemon juice. (Want to brighten your skin, try a Honey Lemon Mask)
3. Baking Soda for Dandruff:
Switch out your shampoo for baking soda. Sprinkle baking soda on your scalp and massage thoroughly. Rinse out and dry. This method can be used for several weeks to encourage natural oil production to prevent flaking. After you see improvement, you can return to your regular shampoo.
4. Olive Oil for Dandruff:
Mix 2 Tbsp olive oil, water and lemon juice. Massage mixture into wet hair before shampooing.
5. Egg Conditioner:
Using a raw egg as a conditioner ensures your hair has the correct amount of oil lubricating the follicle. This also nourishes the scalp preventing itching and flaking.
6. Apple Cider Vinegar Dandruff Treatment:
Mix 1 part apple cider vinegar with 1 part water and apply to scalp. Leave on for up to an hour, then wash hair. Of course you will be smelly while using this treatment…
7. Aloe Vera for Itchy Scalp:
Aloe Vera has a calming and cooling effect. This can be very helpful when dealing with itchy scalp. Simply massage aloe vera into your scalp before washing.
8. Coconut Oil for Dandruff:
Massage a few tablespoons of coconut oil into your scalp. Add a few drops of Tea Tree Oil for an extra punch. Leave on for up to an hour and shampoo as usual. Be sure to used unrefined coconut oil for the best benefits. You can read my full post on the benefits of coconut oil for your hair here.
That's it.
My top 8 natural home remedies for dandruff and itchy scalp.
I hope I've given you some good ideas. Sometimes the simplest things bring the greatest results!
And, if you loved these ideas and want to try out some DIY recipes that help nourish and moisturize, then try out these avocado hair mask recipes!
Have you had success with natural dandruff treatments? Please share by leaving a comment below.