Broccoli Seed Oil is a powerful moisturizer with anti-inflammatory properties that is a welcome addition to many skincare formulations, especially for mature, dry or damaged skin.
It will infuse moisture into your formulations to restore the lipidic film on your skin while blocking free radical damage!
Broccoli seed oil has been known as an all natural alternative to silicone, adding slip to your formulations.
It also does not clog pores or weigh down hair follicles making it a great addition to hair & skincare products.
Keep reading to learn all about the skincare benefits of Broccoli Seed Oil and where to get your hand on some!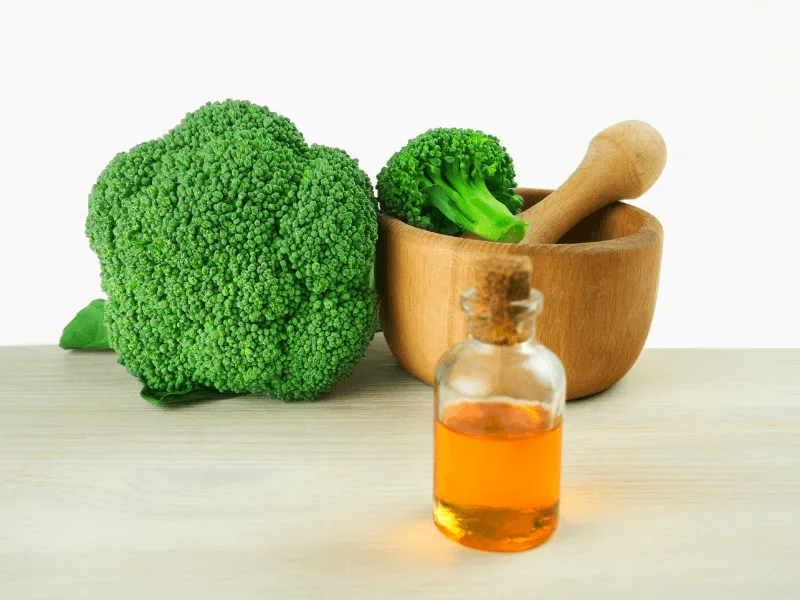 Broccoli Seed Oil Quick Facts:
Broccoli Seed Oil Scientific Name:
The scientific name for Broccoli Seed Oil is Brassica Oleracea Italica
Broccoli Seed Oil Comedogenic Rating:
Broccoli Seed Oil has a comedogenic rating of 1, meaning it has a very low likelihood to clog pores
Broccoli Seed Oil is Extracted from:
Broccoli Seed Oil is extracted from the seeds of the vegetable broccoli
Broccoli Seed Oil INCI:
Brassica Oleracea (Broccoli) Seed Oil
Broccoli Seed Oil COSING Number:
549611
Recommended for:
Broccoli Seed Oil is recommended for dry and aging skin.
Broccoli Seed Oil Absorption Rating:
Broccoli Seed Oil has an absorption rating of 3, meaning it absorbs at an average rate and leaves skin feeling soft and satiny
Broccoli Seed Oil Composition:
| | |
| --- | --- |
| Palmitic Acid (C16:0) | 2% |
| Stearic Acid (C18:0) | 1% |
| Oleic Acid (C18:1) | 13% |
| Linoleic Acid (C18:2 ⍵-6) | 13% |
| a-Linolenic Acid (C18:2 ⍵-3) | 9% |
| Gadoleic Acid (C20:1 ⍵-11) | 8% |
| Erucic Acid (C22:1 ⍵-9) | 47% |
*Fatty acid breakdown is shared from
Modern Cosmetics Volume 1
.
What is Broccoli Seed Oil?
Broccoli Seed Oil is a vegetable oil that is made by pressing the seeds of the broccoli plant. It is a lightweight, non-greasy carrier oil that is great for dry or maturing skin. This oil is also protective and helps protect skin from harmful UV damage.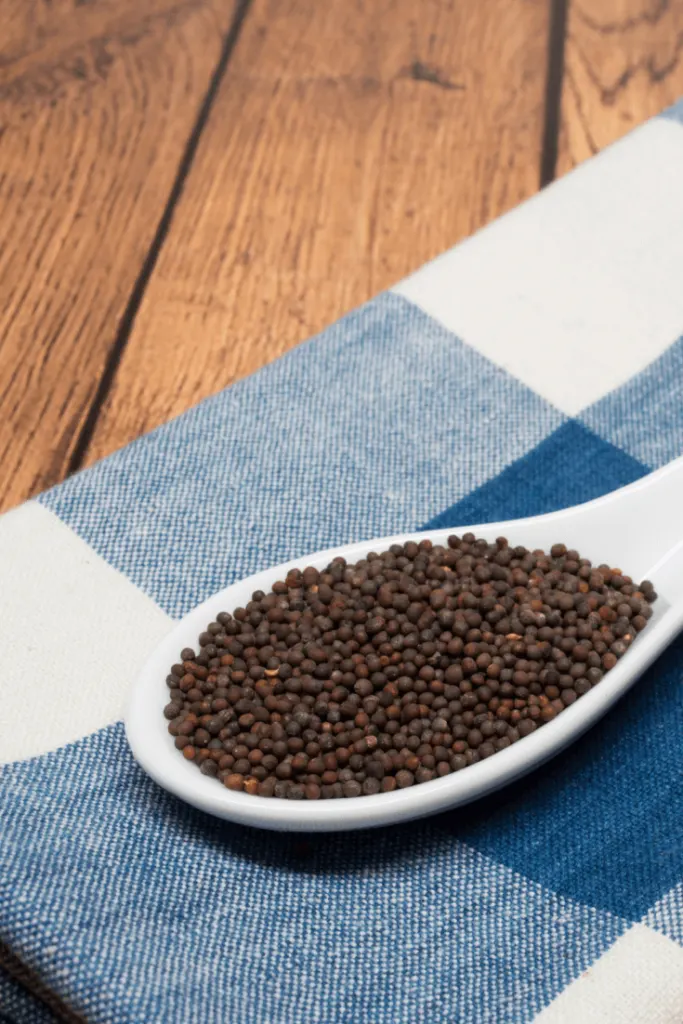 Broccoli Seed Oil Benefits for Skin
Broccoli Seed Oil has some very useful benefits for skin. It helps protect skin from UV damage while keeping skin hydrated.
It is quick to absorb into skin while it moisturizes making it a wonderful emollient to have in your skincare arsenal if you struggle with dry skin.
It helps block pollution and free radicals keeping skin safe and slowing down the aging process. It is a very nourishing oil that will also not clog pores.
It has anti-aging effects and can help reduce fine lines and wrinkles. It can also promote the healing of damaged skin helping you achieve a more even complexion.
Popular Broccoli Seed Oil Uses for Skin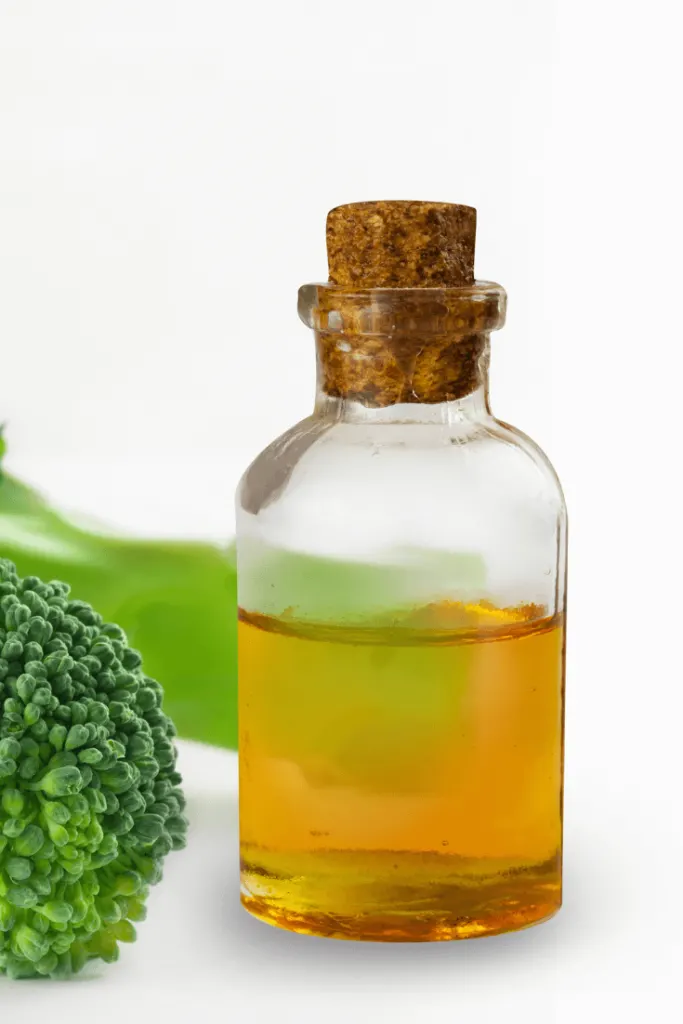 Broccoli Seed Oil can easily be blended into a variety of skin care products such as lotions, balms, and soaps. It is also popular for use in anti-aging serums and hair care products.
Broccoli Seed Oil can be used alone or in a DIY skincare recipe! You can apply a couple of drops of Broccoli Seed Oil to dry patches of skin to help deliver extra moisture and nourishment.
You can also use it as an overnight serum for deep hydration. Use caution if you already struggle with oily skin.
Broccoli Seed Oil is also used as a substitute for silicones, and is one of the only substitutes for dimethicone, in many makeup and hair care recipes. It has great slip and can help makeup stay in place and gives hair a shiny, frizz-free boost.
Broccoli Seed Oil Substitutes
Broccoli Seed Oil is a very unique oil, since it is an alternative for silicones in many recipes, it can be hard to find a substitute. It also has a very unique fatty acid profile. There is an oil that you can use as an alternative that has similar benefits for skin!
Abyssinian Oil is a great alternative to Broccoli Seed oil that is non-comedogenic; it is quick to absorb and leaves skin feeling soft and supple. This oil can be used in hair care and skincare; it is moisturizing and helps create a protective barrier over skin to keep it from drying out.
Daikon Radish Seed Oil is another option that is high in Erucic acid, with great slip and moisturizing properties.
Warnings/Contraindications for Broccoli Seed Oil
Broccoli Seed Oil is generally regarded as safe however if you are allergic to broccoli, you should probably pass on using this oil! It is always recommended to perform a patch test prior to using new products and ingredients to see how your skin reacts.
Where to Buy Broccoli Seed Oil
Pin Broccoli Seed Oil for Later
I hope you've enjoyed learning all about the Broccoli Seed Oil skincare benefits. Be sure to share and pin this post for later!