Face masks are the perfect way to relax and pamper your skin!
If you are looking for a face mask that will clean your pores, tone skin, and help reduce signs of aging, then it's time to give a charcoal face mask a try!
What could be better than that!?
One that you make right at home with all-natural ingredients!
Let's talk all things charcoal face masks!
What is a charcoal mask?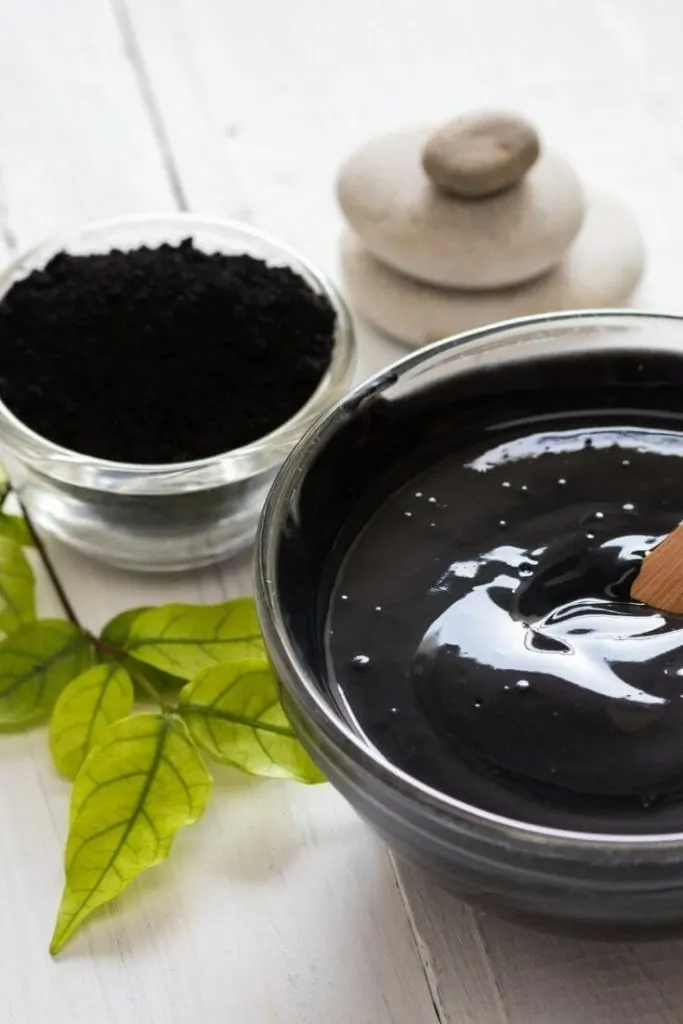 A charcoal face mask is a mask made using charcoal as the main ingredient. It has a pasty consistency, after applied, you leave it on your skin for several minutes to help draw out toxins, dirt, and grime.
Then you rinse it off to reveal, cleaner, clearer skin!
Charcoal masks are generally safe to use and are gentle on skin so people with varying skin types, sensitive skin, or combination skin can benefit from these masks.
Charcoal Mask Benefits
Charcoal face masks have many benefits for your skin, including:
Removing impurities from the skin
Absorbing dirt, oil, and toxins from your pores
Leaving the skin feeling light and refreshed.
Once you rinse your mask off, you might notice your skin looks brighter!
Charcoal masks help lift away dead skin cells and other debris, leaving you with brighter skin and less noticeable pores.
What's more, it can help tighten and tone skin, which means you'll be fighting those pesky fine lines and wrinkles!
What else can a charcoal face mask do?
Because a charcoal mask will help purify your skin and reduce oiliness, it will also help you reduce acne breakouts. It reduces sebum produced by skin and opens your pores; leaving you with youthful skin.
What is the Best Charcoal Mask for You?
We've covered the basics, now let's figure out what type of charcoal mask is best for you and your skin! When picking a mask, it is important to keep in mind your skin's needs.
Activated Charcoal Mask
Activated charcoal is a fine powder that is thought to absorb and remove toxins in your body and your skin. Using activated charcoal will help lift and remove dirt, oil, and excess sebum from your pores. You can use a peel-off or wash-off mask that includes activated charcoal.
Charcoal Peel Off Mask
Peel-off masks have become increasingly popular, they spread easily onto skin and then dry into a mask that you peel off of your skin.
While they do work great to unclog pores and pull away dirt, oil, and dead skin cells, they tend to be harsher.
They are not recommended for sensitive skin or for people who suffer from skin conditions such as rosacea, eczema, or psoriasis.
Charcoal Wash Off Mask
Charcoal wash-off masks are a great way to reap all the benefits of charcoal for your skin, without risking the damage that comes with a peel-off mask.
Glue and Charcoal Mask
A new trend hitting the DIY scene recently is a glue and charcoal face mask. While we aren't fans of glue peel-off masks, this DIY mask can be even more damaging.
Many DIY'ers use a cheap craft glue such as Elmer's glue and charcoal in an attempt to get a peel-off mask. While this glue is 'non-toxic' it is not natural or hypoallergenic.
This mixture can dry skin and clog pores. If you are looking for a safe face mask, we recommend our DIY charcoal face mask!
DIY Charcoal Face Mask Ingredients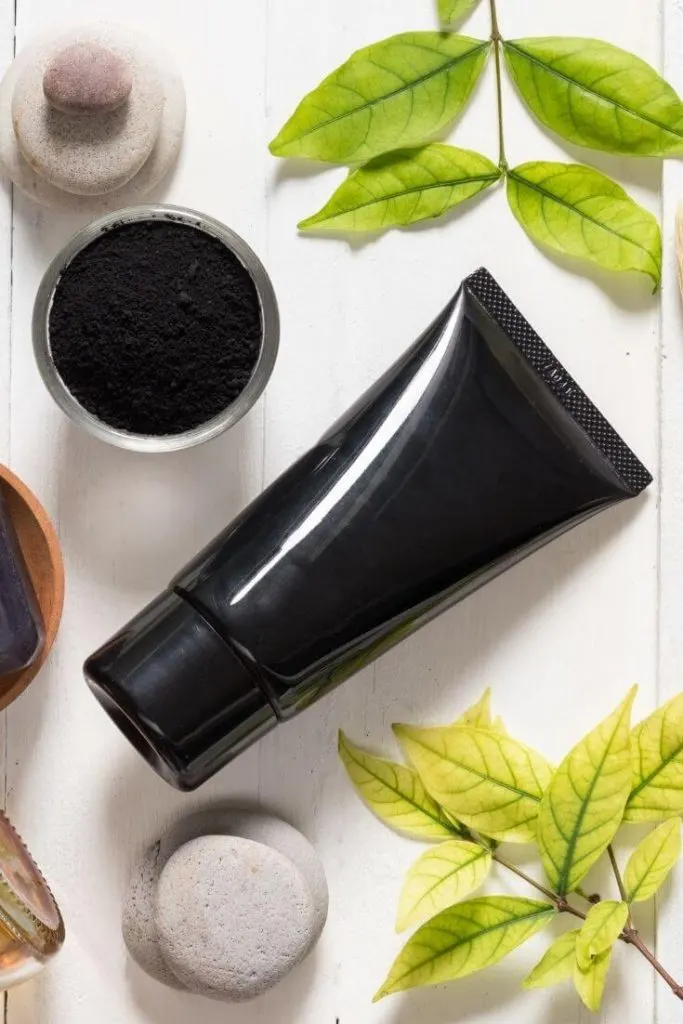 Since we've gone over a lot of information about charcoal face masks, let's talk about what makes this recipe perfect for your skin!
Rhassoul Clay is also known as Moroccan Red Clay. This clay is absorbent and helps lift away oil and debris from skin. It can help reduce the appearance of fine lines and wrinkles, helping you reveal cleaner and more youthful skin!
Bentonite Clay is an extremely absorbent clay that can absorb several times its mass in water. This means that it will help pull toxins and impurities from skin. This helps you achieve more radiant, glowing skin!
Charcoal is the magic that makes this mask great! It also helps absorb toxins and impurities and it also helps unclog and tighten pores. Charcoal will also tighten skin to help reduce signs of aging. When used regularly charcoal will help brighten and tone skin!
Wet Ingredients
It is up to you to choose the wet ingredient you'd like to use to mix with your dry ingredients. Each of these ingredients help hydrate, protect, and moisturize skin.
Honey has antibacterial and antimicrobial properties which cleanse skin even further.
A hydrosol or floral water is a great choice as well to support hydration and soothe skin. A few great options would be:
Aloe vera also helps soothe skin and reduce inflammation. This is also a great option to mix with your dry ingredients to create your mask!
What Supplies do I Need to Make a Charcoal Face Mask?
To make your DIY charcoal face mask you'll need to gather all of your ingredients. You will also need a scale to weigh out your ingredients and stirring rods to mix them together!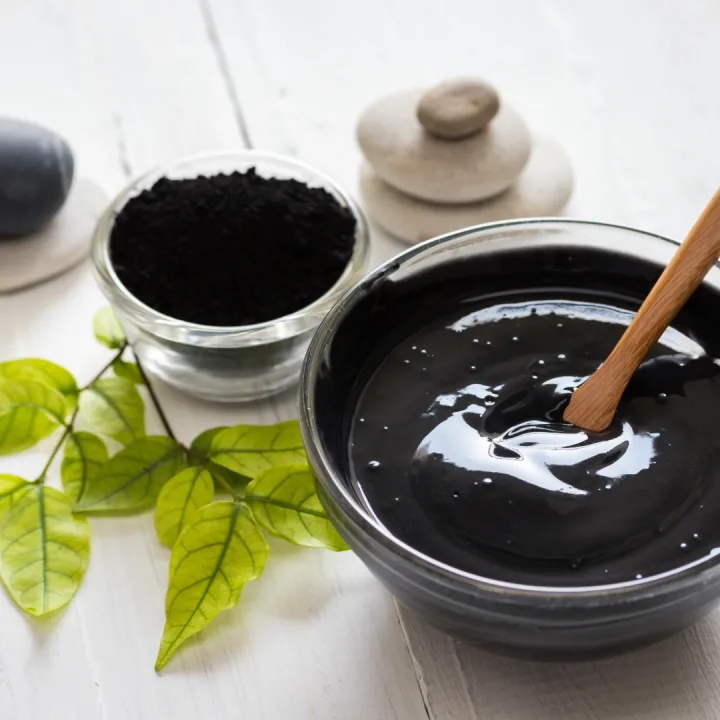 Charcoal Face Mask Recipe
Detoxifying and purifying DIY charcoal mask!
Instructions
Mix together dry ingredients
Add enough of your chosen wet ingredient to create a paste
Apply mask to skin and leave on for 15 minutes
Wash mask off and apply your favorite moisturizer or cream
Recommended Products
As an Amazon Associate and member of other affiliate programs, I earn from qualifying purchases.
DIY Charcoal Face Mask FAQs
You know a lot about charcoal masks now, here are some questions you may have!
Is charcoal good for your skin?
Charcoal is an excellent ingredient to add into your skincare routine if your skin is in need of a detox. You can also use charcoal if you struggle with chronically clogged pores or dull skin that needs a boost!
Do charcoal face masks work?
When used regularly and properly many people see significant results when using charcoal face masks. Be sure that you are following your mask with an effective moisturizer to balance your skin.
Does glue and charcoal mask work?
Using glue and charcoal to try and make a peel-off mask can do the opposite of what you want. They can be drying and actually clog pores and damage skin even further. The glue typically used in these masks is also typically not safe to use on your skin.
Can I use glue as a face mask?
There are no glues on the market that are safe to apply to skin and peel off. Many DIYers use craft glues to make peel-off masks in an attempt to clean their pores. We do not recommend this, it can cause damage to skin. These glues are typically labeled as non-toxic but that does not mean they are safe to use on your skin.
What should I look for in a charcoal mask?
When picking out a charcoal mask, you will want to look for natural ingredients that support your skincare goals. If you have oily skin then you will want to look for a mask that has absorbent clays to help reduce oiliness. If your skin is dry, you will want to look for more hydrating ingredients.
Can I use normal charcoal in a face mask?
Regular charcoal is used in cooking and drawing. If you are looking for charcoal that is safe to use on skin and will draw out impurities, you will want to find activated charcoal.
Charcoal face masks are the perfect way to help boost and balance your skin. If you struggle with clogged pores, problematic skin, or crave clearer skin, then give this mask a try. Get radiant, clearer skin by making this DIY charcoal face mask and using it right at home!
You May Also Enjoy These Face Mask Recipes:
Pin Charcoal Face Mask for Later!