Exfoliating your skin doesn't have to be hard, and you can make your own gentle exfoliator with three simple ingredients!
That's right, three ingredients! All you have to do is measure, blend and mix, and you'll have exfoliating cleansing grains that will cleanse your skin and leave it feeling soft and smooth.
What are cleansing grains?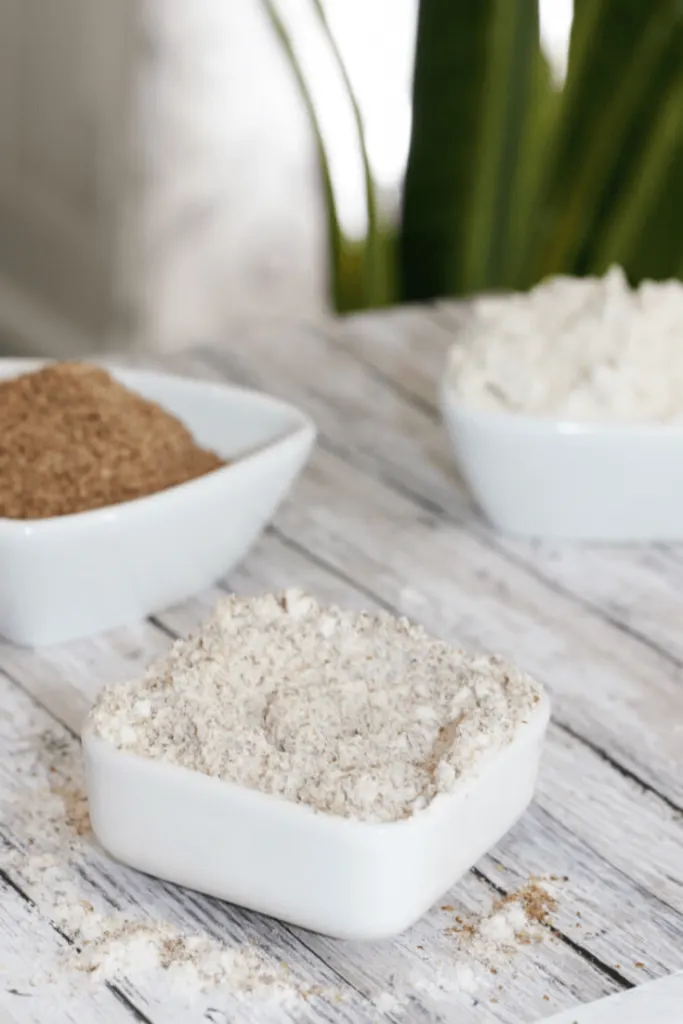 Cleansing grains are a simple diy skincare product that help gently exfoliate skin while washing away dirt and impurities.
They are perfect for anyone who is suffering from sensitive or easily irritated skin that want to exfoliate their skin using a natural cleanser without toxic chemical or harsh products.
Cleansing grains are so gentle they can be used on a wide variety of skin types and can help prepare your skin for the rest of your skincare products.
What do cleansing grains do for your skin?
Cleansing grains help remove dirt, debris, dead skin cells, and excess oil. They also help absorb excess oil from skin to help balance your skin out without irritating for stripping your skin,
They can also help reduce inflammation and irritation while reducing future buildup on your skin.
Because cleansing grains are not harsh and do not strip skin of its natural oils, they can help your skin regulate oil production so that you can maintain a more balanced complexion.
How do you use cleansing grains?
Using facial cleansing grains is just as simple as making them!
Once you've made your cleansing grains:
Place a small amount in the palm of your hand and rub your hands together
Either wet skin or add water to cleansing grains in your hand
Exfoliate with your new product by gently rubbing in circular motions for about sixty seconds
Rinse your skin thoroughly
After you have rinsed and dried your skin, apply your toner and continue your skincare routine. You can use your cleansing grains 2-3 times per week.
Should you exfoliate on wet or dry skin?
Whether you're using facial grains or another exfoliator, you should always exfoliate wet skin. Use warm water to prepare the skin for your product. This will help reduce irritation and inflammation that could be caused by excess friction from trying to exfoliate dry skin.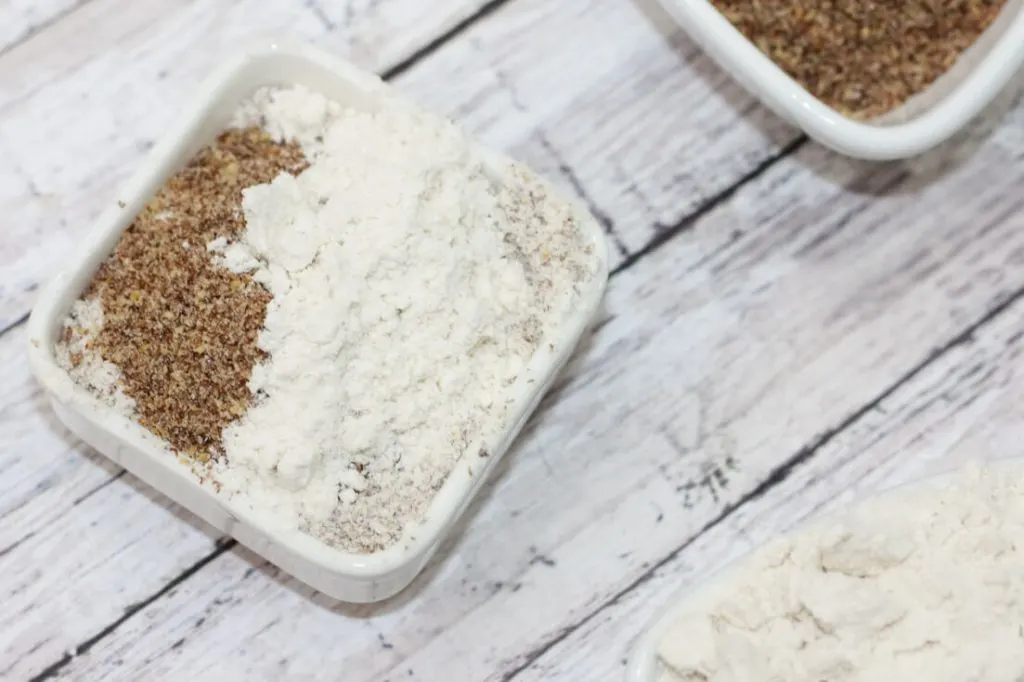 Cleansing grains ingredients
Cleansing grains can vary in their ingredients and one of my favorite parts of this recipe, is that you can modify it to meet your needs!
For our recipe, we will use freshly ground flaxseeds or flaxseed meal as a gentle exfoliant and rice flour to turn your grains into a paste that you can spread onto your skin. Rice flour helps lighten and brighten skin while removing impurities that can cause oily skin and breakouts.
You will use one part flaxseeds and one part rice flour and then create a paste by adding water or hydrosol.
So, what other ingredients can you use for this recipe? For your exfoliating ingredient, you can use organic oats or other raw grains.
If you suffer from over oily skin, you can use a gentle clay like kaolin clay, french green clay, or bentonite clay instead of rice flour! You could also substitute rice flour for oat flour or another soothing flour.
You can also use rosewater for an extra boost of moisturization and to help calm skin even more due to its anti-inflammatory properties.
Feel free to play around with this recipe and find what works best for you and your skin!
Making cleansing grains
As you can see making these cleansing grains is super easy and all you need are a few key ingredients you may already have at home!
I like making my cleansing grains in small batches and using what I make. If you are making your recipe to only use on your face, then start with 2 tablespoons of flaxseed meal and 2 tablespoons of rice flour and mix in your liquid of choice to make your paste.
If you are using flaxseeds you will need to grind them up. I love using a coffee grinder for this.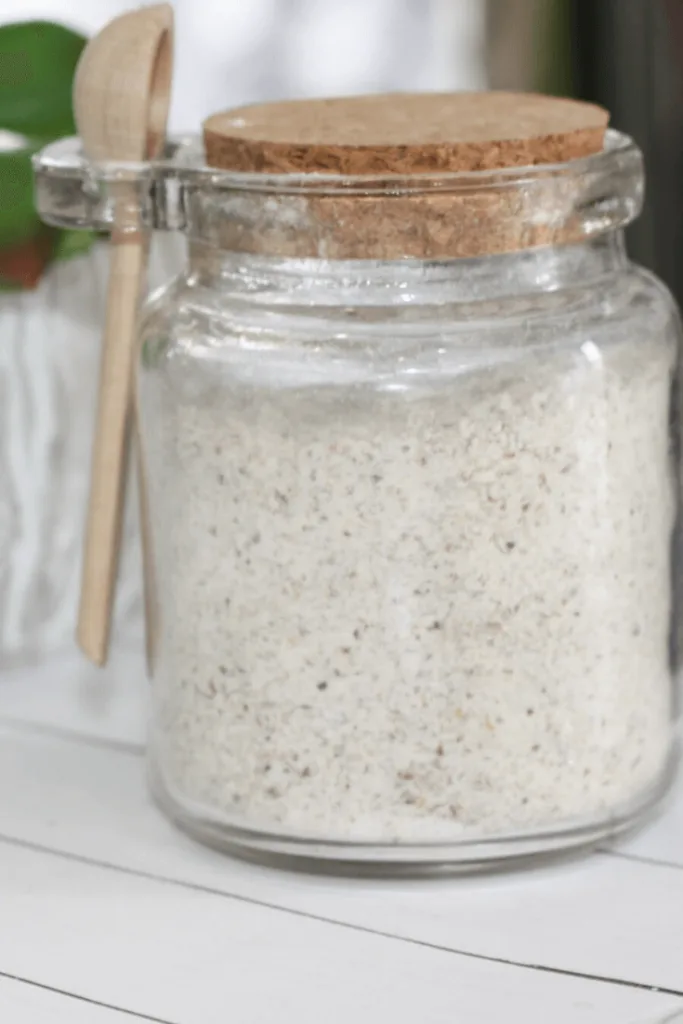 Storing your Cleansing Grains
I recommend keeping your dry ingredient mixture separately stored in a cool, dry place. Then you can measure out your dry ingredients and add the liquid of your choice to that amount each time you want to use your cleansing grains! This will help keep everything fresh and safe!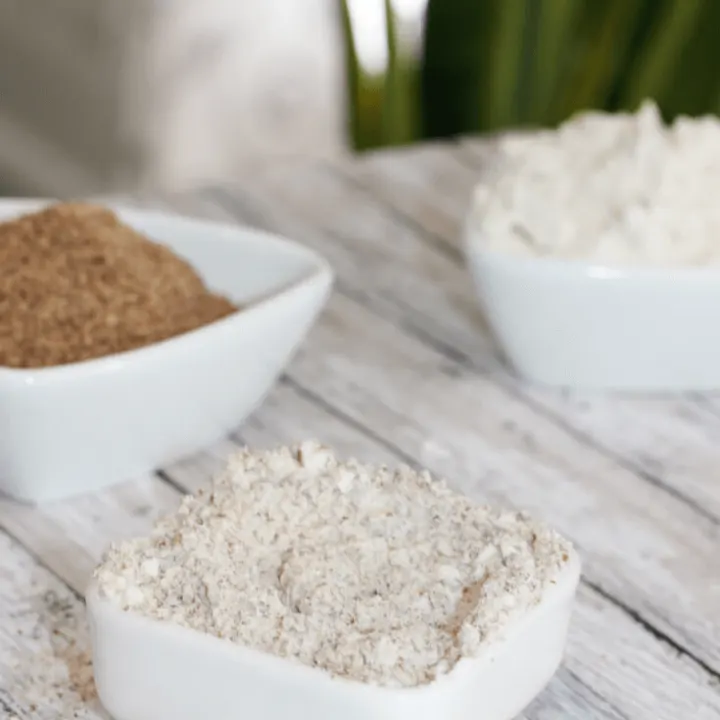 Cleansing Grains Recipe
Make cleansing grains perfect for sensitive skin!
Instructions
Create a paste by adding water or hydrosol to desired amount dry mixture
Scrub gently, rinse and apply toner
Recommended Products
As an Amazon Associate and member of other affiliate programs, I earn from qualifying purchases.
Cleansing grains FAQ's
Have a few questions about cleansing grains before you make your own? Let's see if we can answer some of them!
Who should use cleansing grains?
One of the best things about cleansing grains is that almost anyone can use them! Organic cleansing grains are gentle on skin and are the perfect, easy DIY exfoliator. No harsh chemicals and no toxic ingredients means that you can have soft, smooth skin without the worry or irritation.
How often should I use cleansing grains?
I recommend using your cleansing grains up to 2-3 times a week. Exfoliators are not meant for daily use. They are a good way to give skin a deeper clean than you would on a daily basis.
Does flaky skin mean I need to exfoliate?
If you're suffering from dry flaky skin, it could mean that you need to exfoliate, but it typically means that you are suffering from dry skin. Try out using cleansing grains to remove dead skin cells and flaking skin and follow up with a great moisturizer that helps lock in moisture.
Do I moisturize after exfoliating?
After using your cleansing grains, I recommend using a gentle toner and then apply your normal moisturizer that is used as part of your daily skincare regimen. Moisturizing after exfoliating will help your skin achieve that fresh polished glow!
If you want to improve the balance of your skin, gently exfoliate, and remove build-up on your skin without harsh chemicals or drying agents, then try out these cleansing grains!
Pin this post for later!