Sometimes when you are creating DIY skincare recipes, certain carrier oils are too heavy and leave a greasy feeling on the skin. The good news is, there are plenty of great skincare oils that absorb quickly, won't clog your pores and leave your skin with a silky feel.
Today I'm sharing 13 fast absorbing oils that are also non-comedogenic & anti-aging!
You are definitely going to want to add a few of these lovely oils to your skincare routine!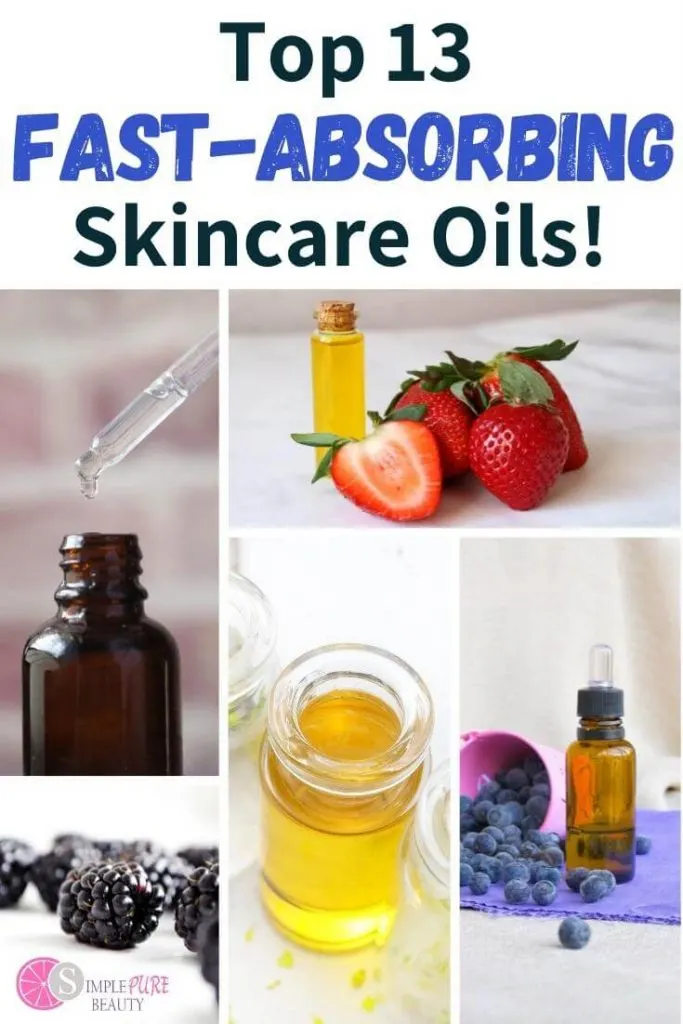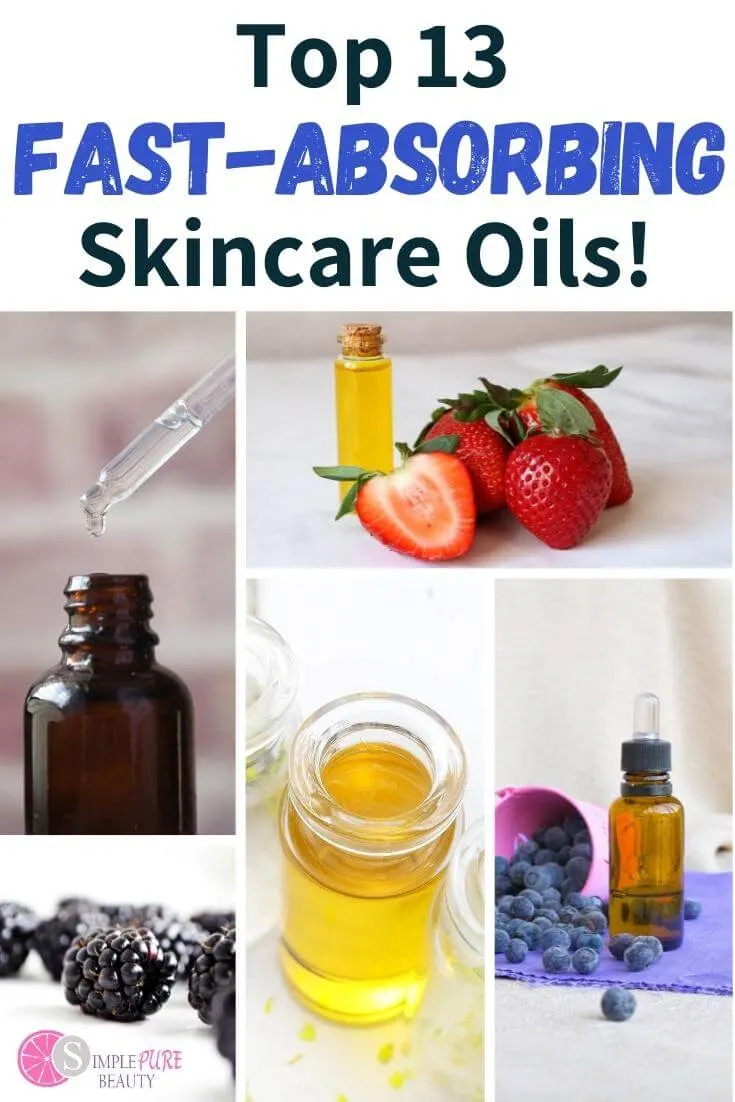 What is a carrier oil?
Carrier oils are used as a base in many skin & hair care recipes and help to dilute essential oils before they are applied to the skin.
Carrier oils also help to moisturize and nourish the skin and hair.
Carrier oils can be extracted from a variety of plants, including nuts, seeds, and fruits. Some carrier oils are better for certain skin types than others.
Do carrier oils clog pores?
There are definitely skincare oils that can clog pores and cause breakouts.
However, the oils that I am sharing today are all non-comedogenic, which means they should not clog your pores.
If you are concerned about oils clogging your pores, you should check out our post on the comedogenic ratings of oils and butters! You will find all of the comedogenic ratings for over 70 skincare oils and butters.
If you have sensitive skin or are prone to breakouts, you may want to test out each oil on a small patch of skin before using it in a recipe.
Are carrier oils anti-aging?
Yes & no… Not all carrier oils have anti-aging properties, but all of the oils I'm sharing today are anti-aging!
So not only are they safe to use on your skin because they won't cause breakouts, but they will also help to keep your skin looking young and healthy!
More about absorption rates
When I talk about absorption rates, I like to categorize them as:
1 – Very Fast
2 – Fast
3 – Average
4 – Slow
5 – Very Slow
The oils we're sharing today have either an absorption rate of 1 or 2. So they are rated as very fast or fast absorbing carrier oils.
A few examples of carrier oils that are slow to absorb would be:
These carrier oils are great for deep moisturizing skincare products like body butters or balms, but they may not be the best choice for products that you will be applying to your face or using in body oils and facial oils.
If you do choose to use slower absorbing oils in your skincare recipes, I would use them in smaller amounts.
Now, I'm sure you're excited to learn all about these fast absorbing, non-comedogenic, anti-aging carrier oils, so let's get to it!
13 Fast Absorbing, Non-Greasy Carrier Oils that are Non-Comedogenic & Anti
1. Abyssinian Oil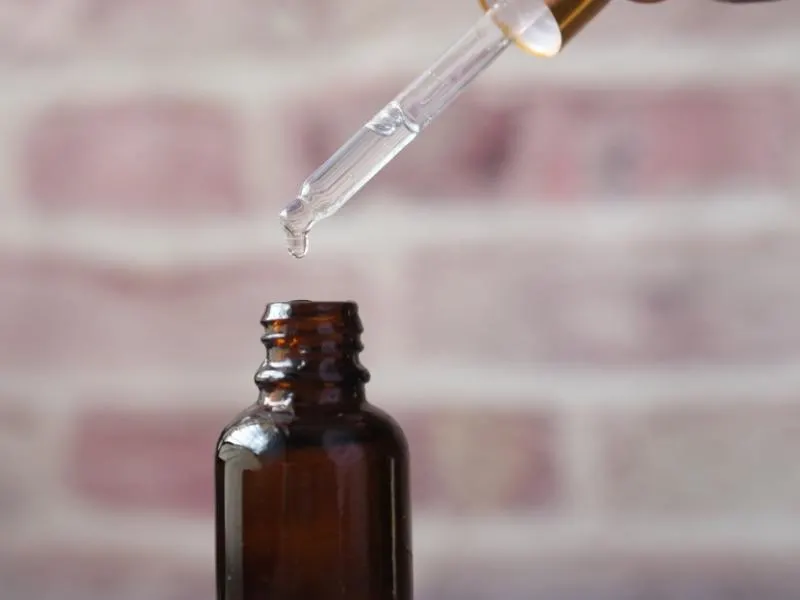 Abyssinian oil, a light, non-greasy natural seed oil, has amazing moisturization capabilities and is recommended for use by all skin types.
Abbyssinian oil has many skin benefits including its ability to dissolve excess sebum, making it perfect for helping with acne and blemishes. It helps even skin tone and reduce hyper-pigmentation and may also protect your skin from UV damage.
Because of its non-greasy feel, it is very popular for haircare recipes.
Abyssinian oil has a comedogenic rating of 0 and a very fast absorption rate.
2. Blackberry Seed Oil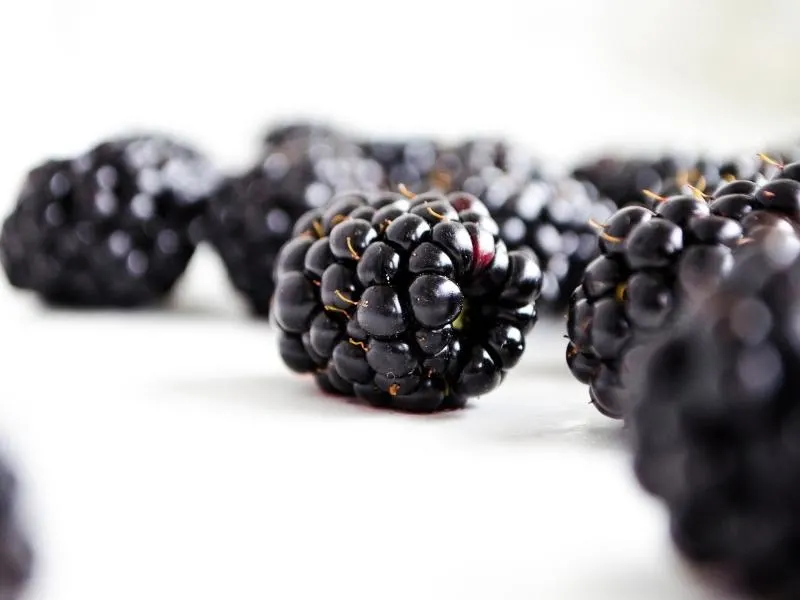 Blackberry Seed Oil is a luxurious and skin-healthy oil that can be used in many different cosmetic applications.
It contains vitamins C, A & E as well as other important nutrients like phytosterols which help repair damage to your skin!
Another Blackberry oil skin benefit is, it contains ellagitannins which are also soothing when applied topically, making this a great option for rashes, rosacea and eczema.
Blackberry seed oil has a comedogenic rating of 0-1 and a very fast absorption rate.
3. Blueberry Seed Oil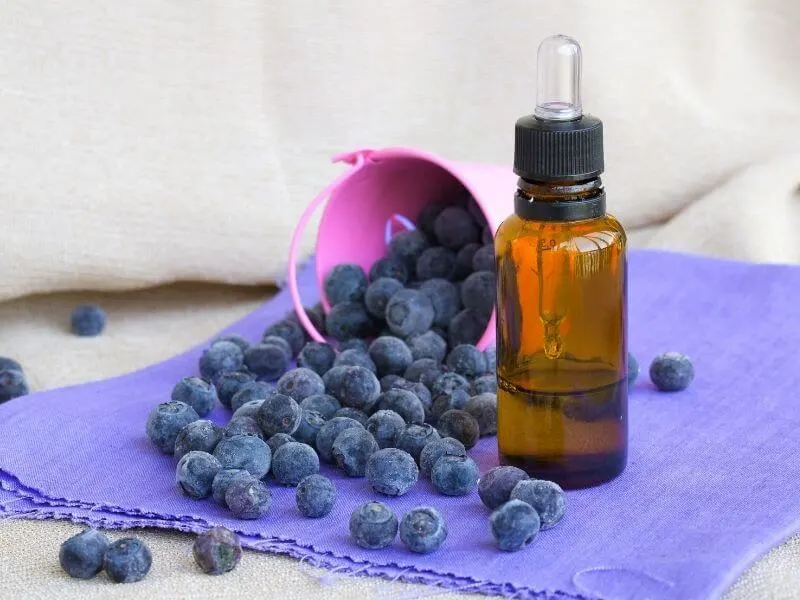 Blueberry Seed Oil is a rich and penetrative moisturizer that deeply moisturizes your skin without weighing it down or clogging the pores.
It has antioxidant properties to help protect against environmental stressors, improves barrier integrity for problem-prone skin while reducing fine lines and wrinkles. As you can see, Blueberry seed oil skin benefits are incredible!
Blueberry seed oil has a comedogenic rating of 0-1 and a very fast absorption rate.
4. Camellia Seed Oil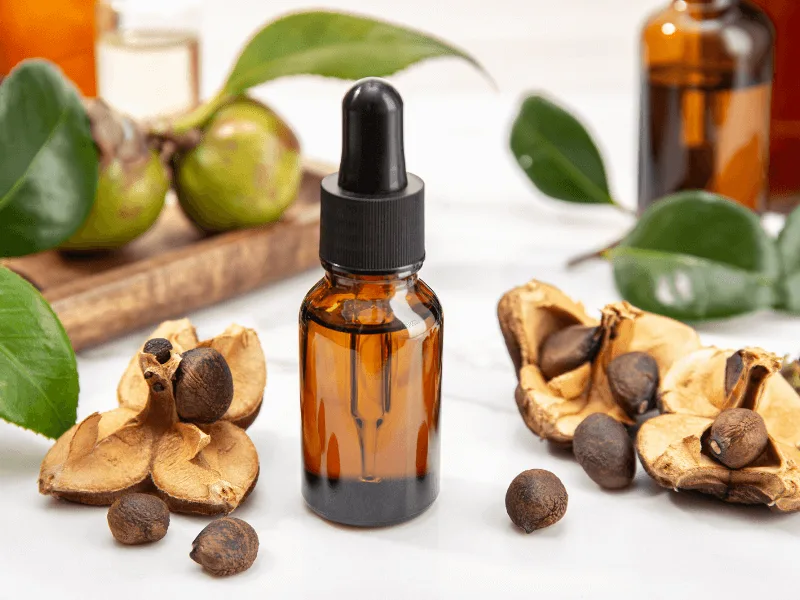 Camellia Seed Oil is packed full of antioxidants that help protect your skin and reduce irritation from environmental damage.
It is considered an astringent oil that helps reduce oil on skin which helps keep your skin cleaner and clearer. It is anti-inflammatory, this combined with its astringent properties make it perfect for helping treat acne.
This oil can also be used on hair and helps protect and hydrate your skin and scalp!
Camellia seed oil has a comedogenic rating of 1 and a fast absorption rate.
5. Cucumber Seed Oil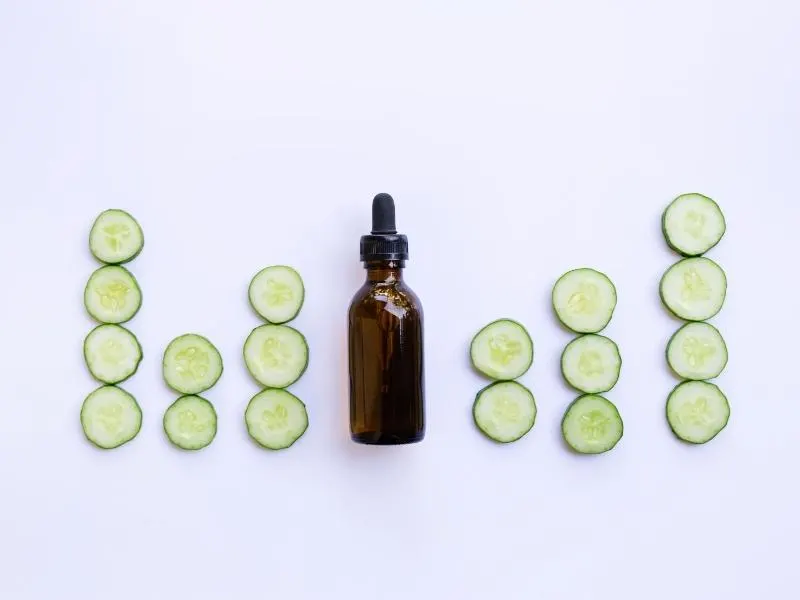 Cucumber Seed Oil is a great addition for any skin type, especially mature and aging.
This oil contains high levels of natural tocopherols as well as phytosterols that have the ability to nourish your cells while also promoting regeneration – which makes it an excellent choice if you have dry or eczema prone skin!
Cucumbers seed oil may be good at relieving psoriasis symptoms since it contains linoleic acid and omega-6 fatty acids and is very soothing for sunburns.
Cucumber seed oil has a comedogenic rating of 1 and a fast absorption rate.
6. Grapeseed Oil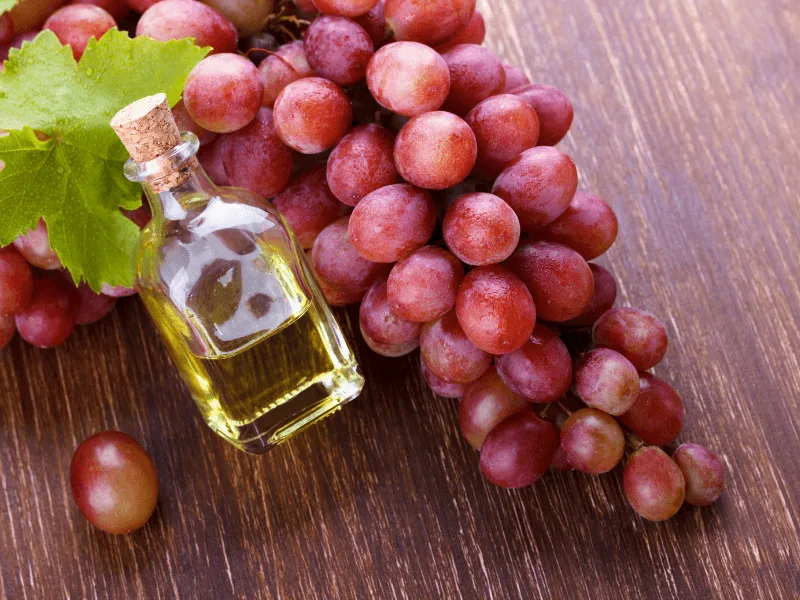 Grape Seed Oil is a popular, low cost carrier oil that contains high levels of linoleic fatty acid which actually promotes ceramides on the surface of the skin.
Not only does grape seed oil help prevent dryness but also helps reduce fine lines and wrinkles by acting as an occlusive to seal water into our cells.
This oil is light in texture and absorbs quickly into skin, making it the perfect choice for anyone looking for an easy to use skincare oil!
Grape seed oil has a comedogenic rating of 1 and a fast absorption rate.
7. Hazelnut Oil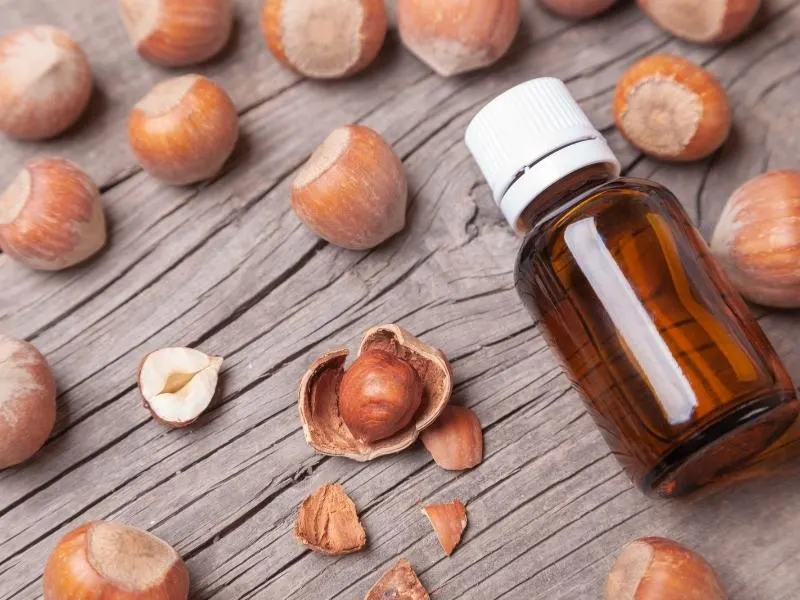 Hazelnut oil is a versatile and affordable carrier oil that can be used in many different formulations. It contains vitamins A, E & F which are great for anti-aging purposes as well as moisturizing sun damaged or dry skin.
Hazelnut oil is considered an astringent or drying oil, which means it may tighten and reduce the size of pores. It can also balance out the oils of the skin through its rich flavonoid make up (catechins).
Hazelnut oil has a comedogenic rating of 1 and a very fast absorption rate.
8. Kiwi Seed Oil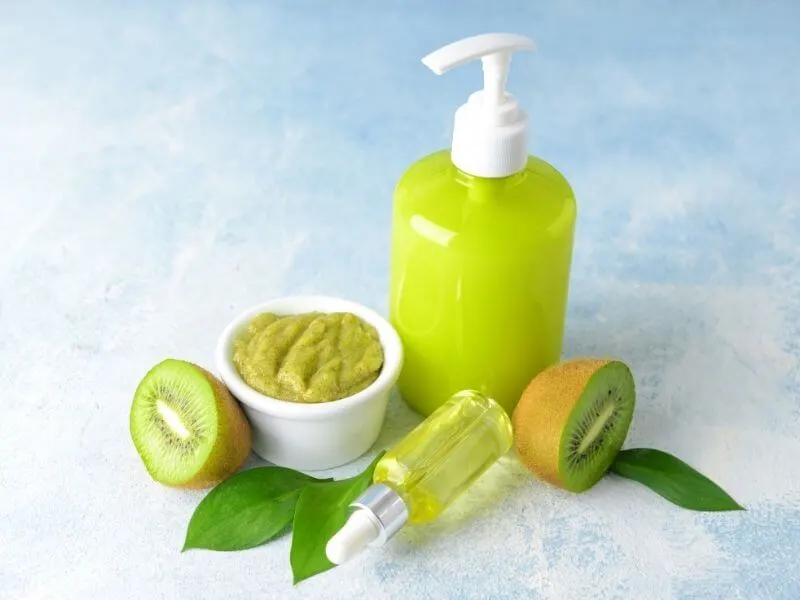 Kiwi Seed Oil contains 60% Omega 3 Alpha Linolenic Acid as well as 10 percent linoleic acid which can be very beneficial to dry or damaged skin!
It also contains Vitamin C which makes it perfect for anti-aging skin care products. Its highly nourishing properties are great at moisturizing all types including aging, or dry damaged skin.
Kiwi Seed Oil absorbs quickly and is great for redness and sensitive skin.
Kiwi seed oil has a comedogenic rating of 1 and a fast absorption rate.
9. Meadowfoam Seed Oil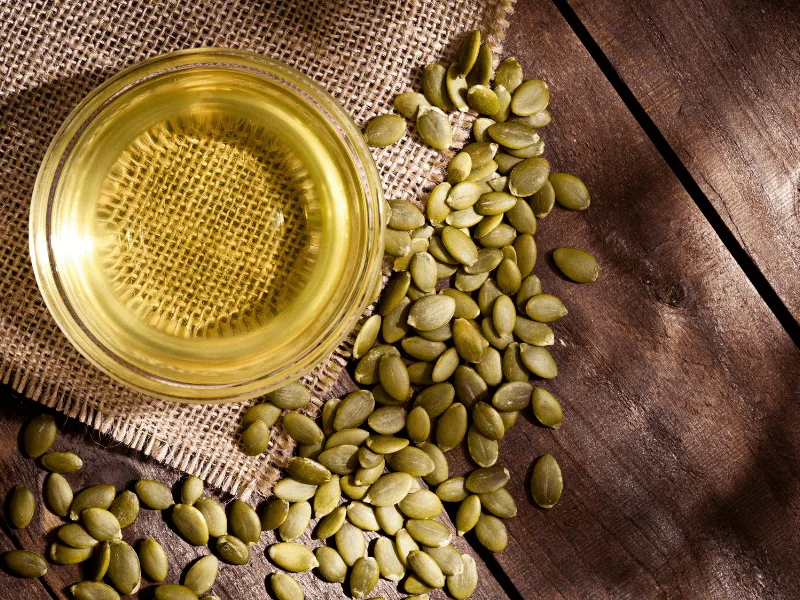 Meadowfoam Seed Oil is an incredible skin moisturizer, as well as being balancing and protecting. This oil, with its low comedogenic rating, is perfect for those looking for an oil that will easily absorb and won't clog pores.
Meadowfoam Seed Oil is light and very easily absorbed, it's easy to spread evenly on skin and won't leave an oily residue.
It is also great for dry skin conditions, reducing inflammation, smoothing fine lines, and protecting your skin from sun damage due to its deep moisturizing properties.
It can also serve as a conditioner for your hair, adding moisture and healthy shine to your scalp.
Meadowfoam seed oil has a comedogenic rating of 1 and a fast absorption rate.
10. Rosehip Seed Oil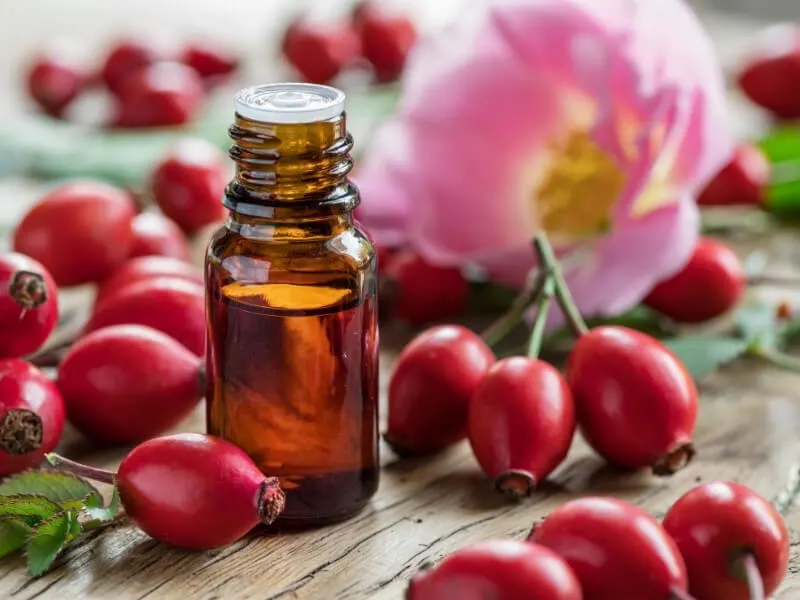 Rosehip Seed Oil is an excellent choice for anyone looking to step up their skincare routine!
This oil moisturizes and combats signs of aging, and can even skin tone. Rosehip Oil contains high Vitamin C levels and can help heal skin along with brightening and tightening; helping you look younger and more refreshed.
It also contains vitamins A and E and essential fatty acids. Rosehip seed oil is considered a dry oil since it absorbs so quickly.
Additional Rosehip oil skin benefits include, helping soothe inflamed skin, reduce the appearance of scars and wrinkles, and skin discoloration.
Rosehip seed oil has a comedogenic rating of 1 and a very fast absorption rate.
11. Safflower Oil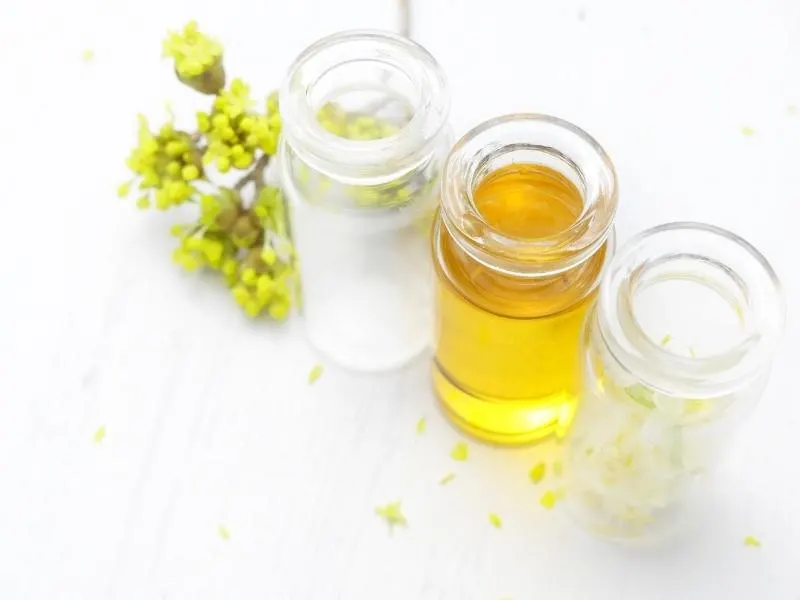 Safflower Oil is a light and non-greasy moisturizer that can be used on any skin type. It's said to contain antioxidants, which help prevent wrinkles as well as promote elasticity in your skin!
Safflower oil has been known for its ability to soothe irritation from acne or dryness while hydrating it at the same time.
Safflower seed oil has a comedogenic rating of 0 and a fast absorption rate.
12. Strawberry Seed Oil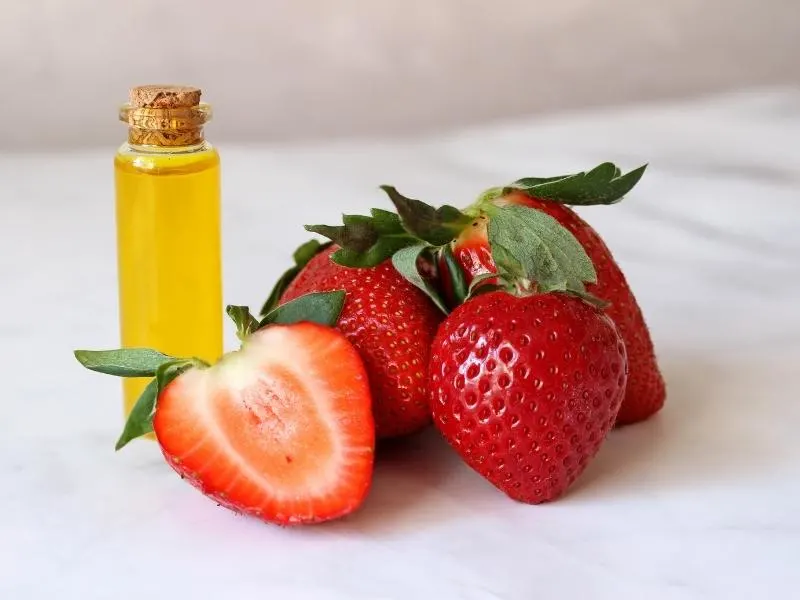 Strawberry Seed Oil is a gentle oil that can be used on the face and body. It's well suited for sensitive skin because it doesn't generally cause breakouts or rashes like some other oils.
The high level of fatty acids present within this versatile oil will moisturize without feeling greasy while stimulating new collagen production.
Strawberry Seed Oil also prevents chapping and is a great choice for aging skin.
Strawberry seed oil has a comedogenic rating of 1 and a fast absorption rate.
13. Watermelon Seed Oil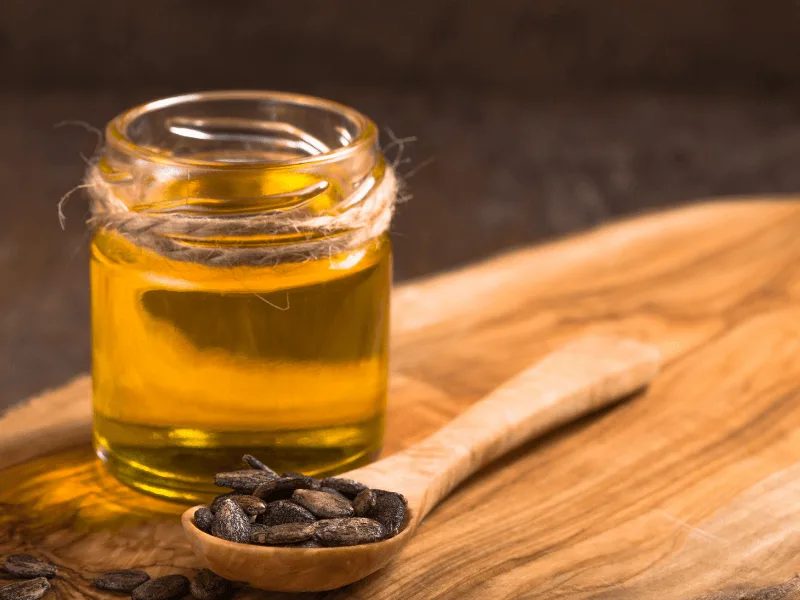 Watermelon Seed Oil can help make your skin appear younger by protecting it from environmental damage. This oil can also keep your skin deeply hydrated while leaving your skin feeling dry and fresh!
Watermelon Seed Oil helps even your skin tone and balance your complexion.
One of the most popular uses for Watermelon Seed Oil is as a moisturizer to keep skin hydrated and happy.
Another skin benefit of watermelon seed oil is, it is also used to help reduce the appearance of fine lines and wrinkles, while protecting skin from aging.
This oil can be used in toners to help balance skin and even complexion.
Watermelon seed oils has quickly become one of my new favorites!
Watermelon seed oil has a comedogenic rating of 0-1 and a fast absorption rate.
Wrapping things up
So, if you are looking for an oil that will easily absorb and won't clog pores, one (or more) of these carrier oils may be perfect for you!
All of the oils on this list have a comedogenic rating of 1 or less, and a fast absorption rate. Whether you are looking for an oil to use on your skin or hair, one of these oils is sure to fit the bill!
If you've enjoyed learning about fast-absorbing oils for your skincare recipes, please pin this post and share!