If your baby or toddler has experienced a severe diaper rash, you know how distressing it can be. Last summer, my daughter had a terrible diaper rash that seemed to last forever. 🙁
We spent a week on vacation at the beach trying desperately to keep the poor baby comfortable. This is a tall order when you are dealing with the water and the sand…
I am actually convinced that it is impossible to get rid of a diaper rash while on vacation at the beach.
When we returned from vacation I was determined to find a natural remedy for baby girl's diaper rash.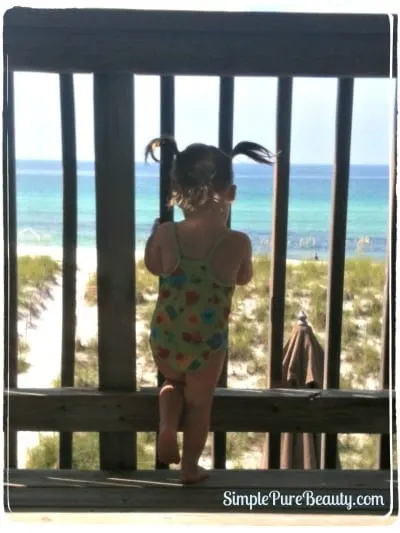 While browsing the web for diaper rash home remedies I discovered a simple, 3 ingredient recipe posted by The Passionate Homemaker. Amazingly, I had all 3 ingredients in my cupboard.
I was cautiously optimistic as I followed the recipe, which I will share below. At this point, Lexie, had been suffering from this terrible rash for over a month and a half.
So I whipped up a batch of the diaper rash cream and started applying it at diaper changes. It may be a little uncomfortable at first for your little one, but this usually passes after a minute or two.
I was amazed at how quickly the diaper cream worked…
Within 24 hours her rash was completely gone!
So here you go, my favorite and in my opinion…
The Best Diaper Rash Cream Recipe:
Ingredients:
1/8 cup coconut oil (You can use refined or unrefined. I just used what I had at the time.)
1/4 cup raw shea butter
3-4 Tablespoons arrowroot powder to thicken
Combine the coconut oil and shea butter using a hand mixer or a stand mixer. You may need to soften the shea butter a bit.
Add the arrowroot powder one tablespoon at a time until you are happy with the thickness.
Transfer to a small covered container. I like to use the small Ball Jelly Canning Jars for my lotions and creams. They are very handy and you can buy a box of lids for a few dollars.
This is a very simple recipe. I love keeping things simple. It just makes my life easier.
But if you would like to add a little variation to this recipe, Wellness Mama has a very similar recipe with the addition of calendula and chamomile flowers. Check that out here.
I hope sharing this recipe brings relief to a lot of little baby bums and their parents.
P.S. Do you have any diaper rash home remedies that have worked for you? Please leave us a comment and share it with our readers.