This DIY exfoliating soap recipe is a great all-natural way to pamper yourself, as well as make affordable gifts. Choose your favorite essential oils to create your own personalized soap!
The number of huge, unreadable ingredients found in store-bought cleaners and personal care products seems to be growing with every new bottle I pick up!
For this reason, I have been making an effort to swap out these store bought products with easy homemade recipes whenever possible!
As a self-proclaimed essential oil enthusiast, of course I include essential oils in all of the DIY cleaning and beauty recipes that I make!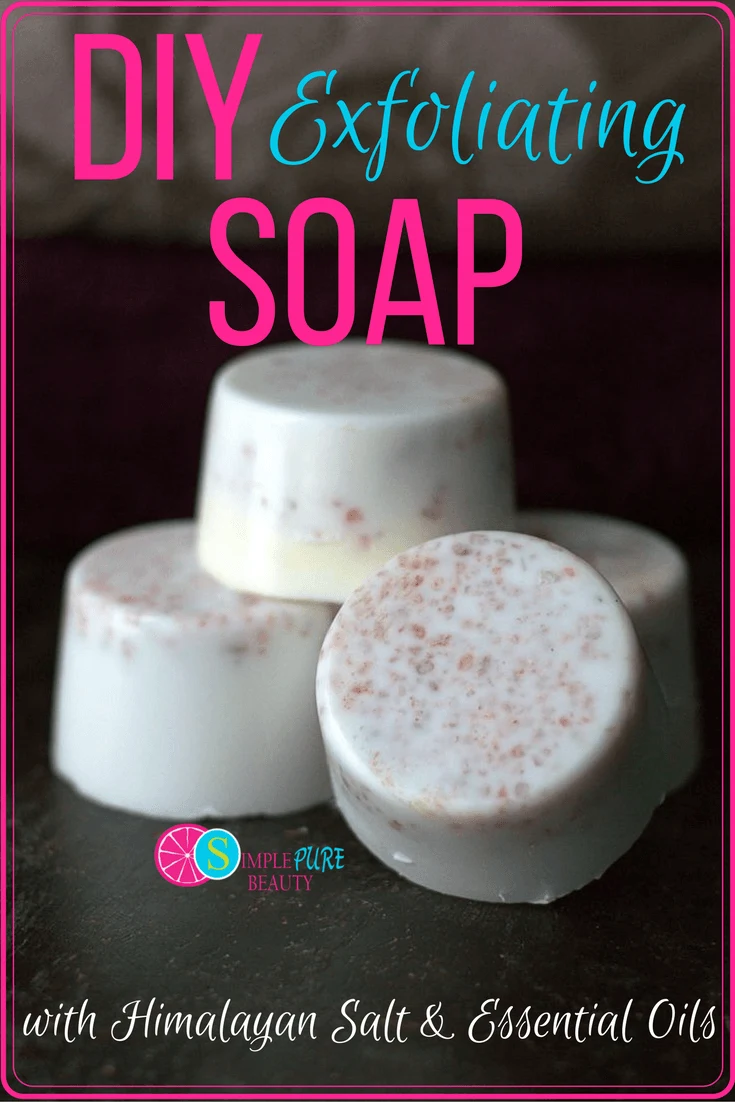 Some of my most successful recipes have been homemade relaxing essential oil soap, moisturizing essential oil body butter & foaming hand soap!
While I think DIY recipes are great, I do not have a lot of patience to make them. So that means if you are getting a recipe from me you can be assured that it will be quick and easy to make!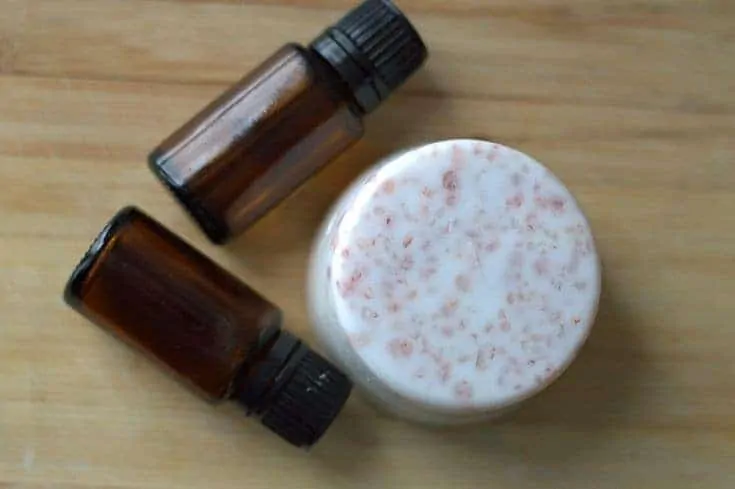 Today I wanted to share my recipe for DIY exfoliating soap with the exfoliating ingredient being Himalayan salt. This is a great all-natural way to wash & exfoliate your skin and leave it feeling soft and nourished.
This is a great soap to add to your bathing routine every other day. Using this soap daily could result in skin irritations as the Himalayan salt is quite coarse.
Without further ado, let's get to the recipe!
DIY Exfoliating Soap with Himalayan Salt & Essential Oils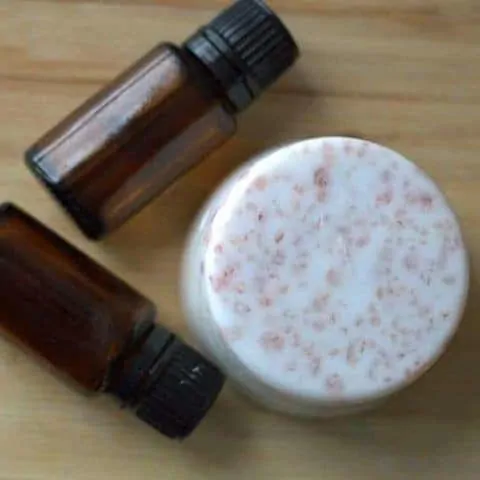 DIY Himalayan Salt Exfoliating Soap
Materials
Essential Oils of your choice (I like to use Peppermint), 5-10 Drops per bar
Instructions
Cut soap base into 16 squares and place in a 2-cup glass measuring cup.
Microwave for one minute; take out and stir (be careful, it's hot!).
Microwave in 30 second intervals, stirring in between, until soap base base has completely melted.
Pour approximately 1/2 cup of melted soap base into a deep silicone muffin mold (this one holds 1/2 cup in each cavity). You should get four bars; don't fill right to the top of the mold.
Add 5-10 drops of Essential Oil into EACH bar and stir, making sure the oil is well integrated.
Add 2 Tablespoons of Himalayan Salt to EACH bar; stir, and let settle.
Let stand until the soap has cooled and is firm. You can leave it on the counter overnight or you can place it in the fridge for approximately 30 minutes.
Recommended Products
As an Amazon Associate and member of other affiliate programs, I earn from qualifying purchases.
How to Use Your Soap
The Himalayan Salt will have settled at the bottom of your soap, allowing you to use one side for exfoliating and the other side for a nice lather without the exfoliation.
As I mentioned before, be sure to only use this bar every other day to ensure that your skin does not become irritated from the coarse Himalayan salt!
You can also switch up the essential oils you use in each batch! In my relaxing essential oil soap I use cedarwood and lavender as they are both calming oils and are perfect to use before bed.
If you plan to use these bars in the morning, consider using invigorating essential oils such as peppermint or citrus. You can also just choose the scent you like best!
That being said, I would avoid using warm/hot oils as using them on sensitive areas will not be a pleasant event (trust me I speak from experience)!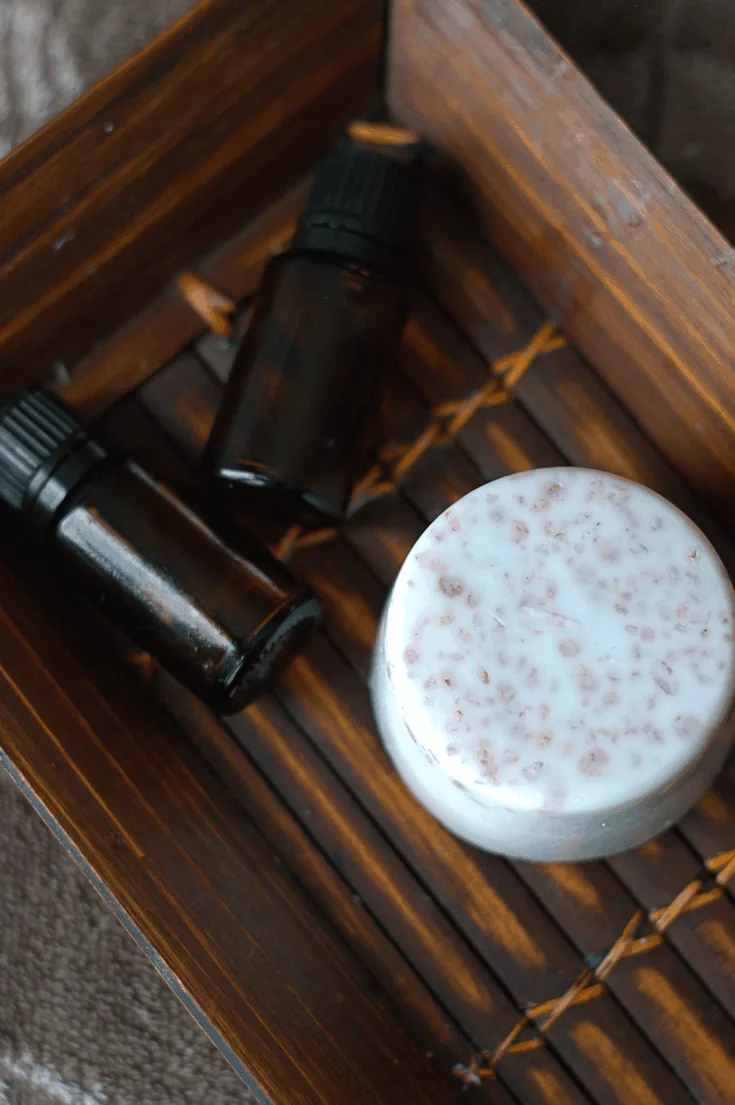 You are all set to make your own DIY Exfoliating Soap with Himalayan Salt & Essential Oils! These bars are perfect as an inexpensive gift and for pampering yourself, of course! If you need some more soap insipration, then you can also try out these tumeric soap recipes!
If you love this recipe, and you want another exfoliating recipe to try, then check out this emulsified sugar scrub or this green apple gel scrub, they provide gentle exfoliation and deep hydration!
What essential oils will you use in your DIY exfoliating soap?