This green apple gel scrub is an excellent way to exfoliate your skin without stripping or drying it out! If you're looking for a scrub that is gentle on skin and won't throw off your skin's pH balance, then give this recipe a try!
This crisp apple scrub smells nice and works wonders on your skin!
Let's check it out!
What is a gel scrub?
A gel scrub is an exfoliating facial scrub that not only cleanses your skin, it balances your skin's pH without stripping your skin.
So what does that mean?
A gel scrub will exfoliate your skin without leaving your skin feeling rough, dry, and tight.
It leaves your skin feeling soft, smooth, and moisturized.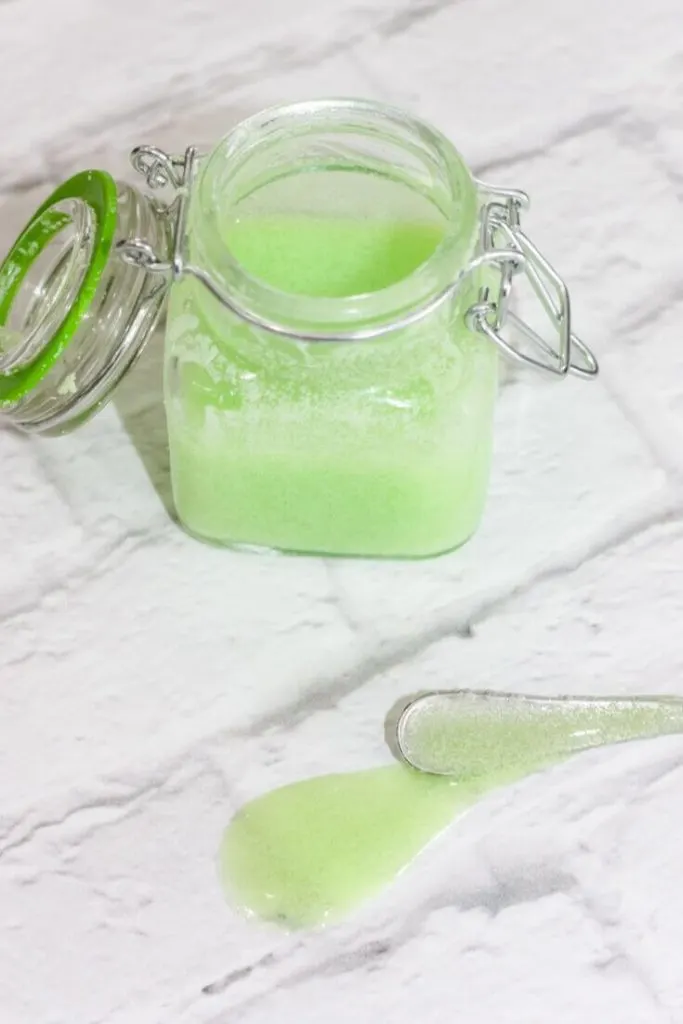 What is the best scrub for your face?
We love scrubs, but when picking out a store-bought scrub or making your own, it can be easy to take your scrub too far.
What I mean by that is some scrubs are way too rough for the skin on your face. These scrubs can do a lot more harm than good, no matter how clean your face feels afterward.
When trying to pick the best scrub for your skin, it is important to decide based on your skin's needs and skin type.
If you have dry, sensitive, or damaged skin, you do not want a scrub that is too harsh or abrasive, and it should help moisturize skin.
If you suffer from oily or unbalanced skin, you want a scrub that helps balance your skin and control oil production.
The good news, this gel face scrub checks all the boxes! It glides across skin, helping to gently exfoliate to wash away dirt, debris, and dead skin cells.
It leaves your skin feeling soft and smooth with no dryness or irritation! It is a gentle scrub that is generally good to use on all skin types.
What could make this scrub better!? It leaves your skin with a healthy glow!
Should I use a facial scrub?
Face scrubs are a great addition to most people's skincare routines. I create all of my recipes with sensitive skin in mind, so even if your skin is easily irritated, you should be able to use this scrub!
It is important to note that facial scrubs are not meant to be a part of your daily skincare routine, and care should be taken not to overuse scrubs, as overuse could irritate your skin.
What's the difference between face wash and face scrub?
A face wash, sometimes called a facial cleanser, is a product used regularly to cleanse skin. These cleansers are meant to be used as a part of your daily beauty routine and are not harsh on skin.
They promote a healthy complexion by removing excess dirt and oil. They can exfoliate very lightly but typically do not contain harsh abrasives.
Facial scrubs are meant to be a deeper clean than a general cleanser. They contain gentle scrubbing granules that are intended to help lift dead skin cells, dirt, debris, and oil from skin.
Scrubs tend to be a little more abrasive and are made to help remove stuck-on debris. Scrubs should be used less frequently than facial cleansers.
How to make a green apple gel scrub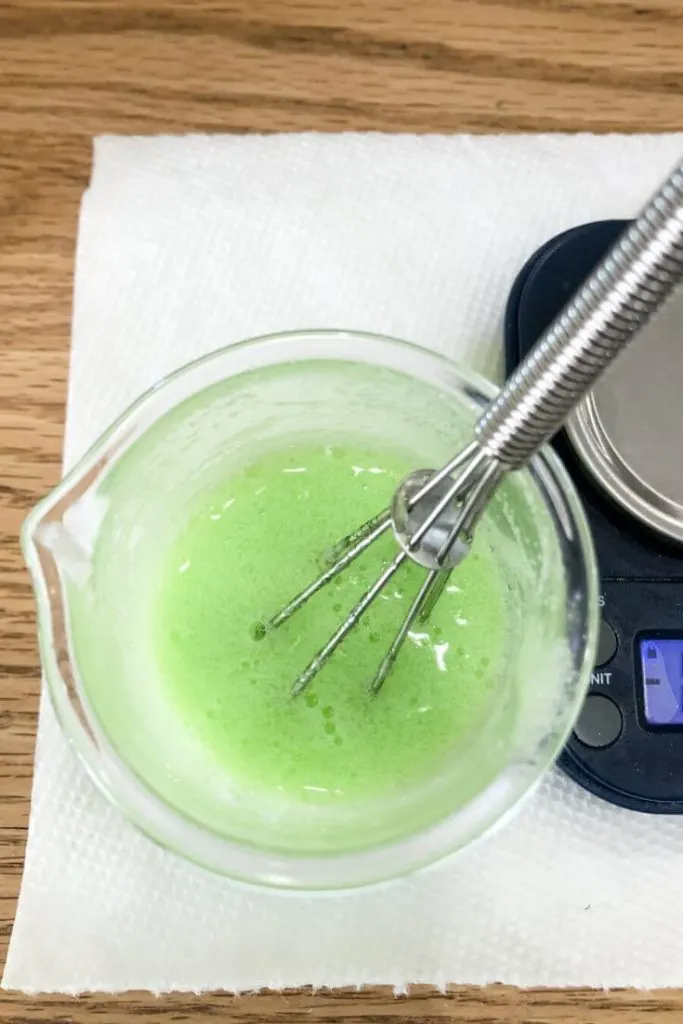 You know me, I hate complicated recipes! Making this green apple gel scrub isn't super hard, so let's go over the basics!
You'll start with your vegetable glycerin and gelling agent; then, you'll blend in your apple essence, aloe vera gel and emollient.
Now here is the important par, you'll add your preservative and check the pH! It is important that your pH is correct so that the preservative can do it's job.
Once your preservative is added the proper pH is met then you'' start adding in your gum slowly. After all of the gum is added you will add the rest of your ingredients and pour into your containers.
You will have to let your gel scrub sit for 24 hours to reach the final consistency. Do not forget to let your scrub set!
Green Apple Gel Scrub Ingredients
Of course this recipe is packed to the brim with skin-loving, natural ingredients. Let's see what makes this gel scrub a diy skincare product worth making!
Fruit essences are a great way to nourish your skin! Apple fruit essence is packed full of antioxidants. It is anti-aging and helps smooth skin. This makes your scrub nourishing and anti-aging!
We all know that aloe vera is a wonderful moisturizer but did you know that it is also full of vitamin C? It helps protect your skin from free radical damage, and its high vitamin C content helps your skin naturally regenerate, contributing to this scrub's anti-aging properties.
Jojoba beads are the real star of this non-abrasive formula! They are gentle exfoliators making them the ideal granules for all skin types.
They have natural emollient properties to help moisturize skin as you exfoliate. They also help balance your skin's natural pH so that your skin can stay balanced and healthy!
Because they are so gentle, these beads will help give your skin a deep clean without stripping it of its natural oils, meaning they can even be used on dry skin!
This is an emollient ingredient that can be used on sensitive skin. It is not irritating to skin and helps lock in moisture so your skin can say soft and hydrated.
Siligel is an eco-friendly gelling agent that will help create the gel scrub texture. It also helps reduce water loss through the skin layer, helping keep your skin moisturized.
This probiotic-based preservative is one of my favorites! It helps increase the shelf-life of your products and is a natural alternative to traditional preservatives.
And my ultra-sensitive skin can handle this preservative, so that's a win win!
This simple ingredient will help draw moisture from the environment and lock it into your skin contributing to your skin's hydration and that highly sought-after glow!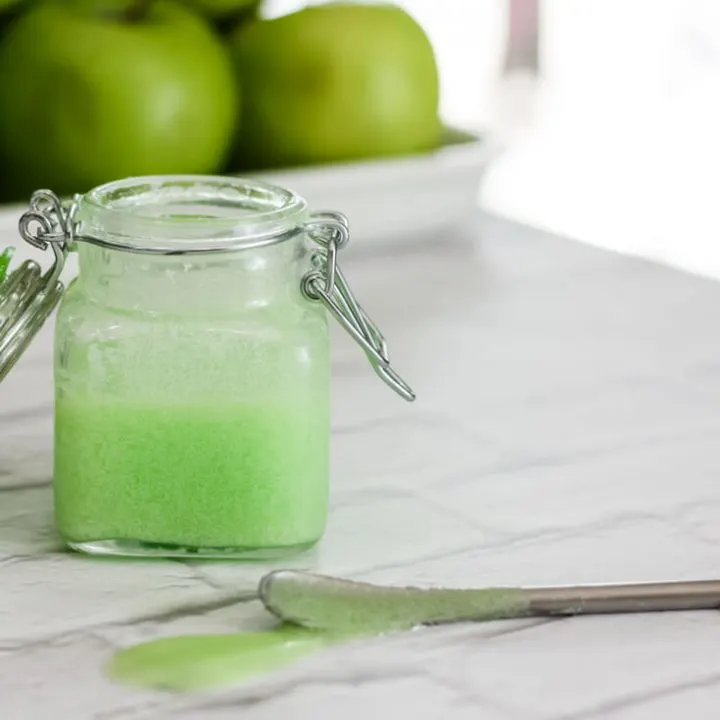 Green Apple Gel Scrub Recipe
Gentle exfoliating gel scrub to help clean and cleanse skin.
Instructions
Add vegetable glycerine and siligel to a small beaker and stir well
Blend together apple fruit essence, aloe vera and Cromollient SCE
Add preservative and check pH
Adjust pH if needed to around 5.5
Add a small amount of your blend to gum mixture and stir
Next, add the rest of the gum mixture to main beaker and stir well (you can use a stirring tool to help speed up the thickening process)
Lastly, add in jojoba beads and natural color (if using) & mix well, then transfer to your container
Final consistency will be reached in 24 hours
Recommended Products
As an Amazon Associate and member of other affiliate programs, I earn from qualifying purchases.
Green Apple Gel Scrub FAQs
Have some questions before you dive into this recipe? Let's see if we can answer some of them!
How to use a green apple gel scrub?
Using a gel scrub is super easy! For best results cleanse your skin normally then wet your face using warm water.
Apply a small amount of gel scrub to your hands and rub them together
Apply the scrub to your face using small circular motions
Exfoliate for 60 seconds then rinse the gel scrub off
Pat your skin dry and apply your favorite moisturizer
Be sure that you always apply your gel scrub to wet skin
How often can I use a gel scrub?
As with any scrub, it is not a good idea to use this scrub daily. We recommend using this gel scrub 2-3 times a week to maintain smooth skin.
Should I wash my face after a gel scrub?
When you use a scrub you should cleanse your face first then use your scrub. You want to remove surface impurities first to allow your scrub to work the best that it can. After you've used your scrub be sure to rinse your skin thoroughly.
What is the best scrub for oily skin?
Oily skin can benefit from a good scrub; when you're selecting a scrub for your oily skin, be sure that it helps moisturize and balance your skin.
You do not want a scrub that is too drying or abrasive. This gel scrub helps moisturize your skin while removing excess dirt and oil and never strips skin.
If you're ready to take your at-home self-care experience to the next level, then you need to try out this gel scrub for yourself.
You'll get soft, smooth skin that is moisturized and dewy. It'll leave you glowing and is so gentle it can be used on all skin types!
This versatile gel scrub is perfect to use a few times a week, give this wonderful recipe a try today!
Pin this post for later!