If you are craving soft, supple skin then do we have the recipe for you! This emulsified body sugar scrub is not only gorgeous, but it will gently exfoliate your skin, leaving it feeling clean and moisturized.
I get it, you're hesitant to try another scrub that is too rough on your skin, but I promise, this scrub is gentle enough to be used on even sensitive skin!
What is a sugar scrub?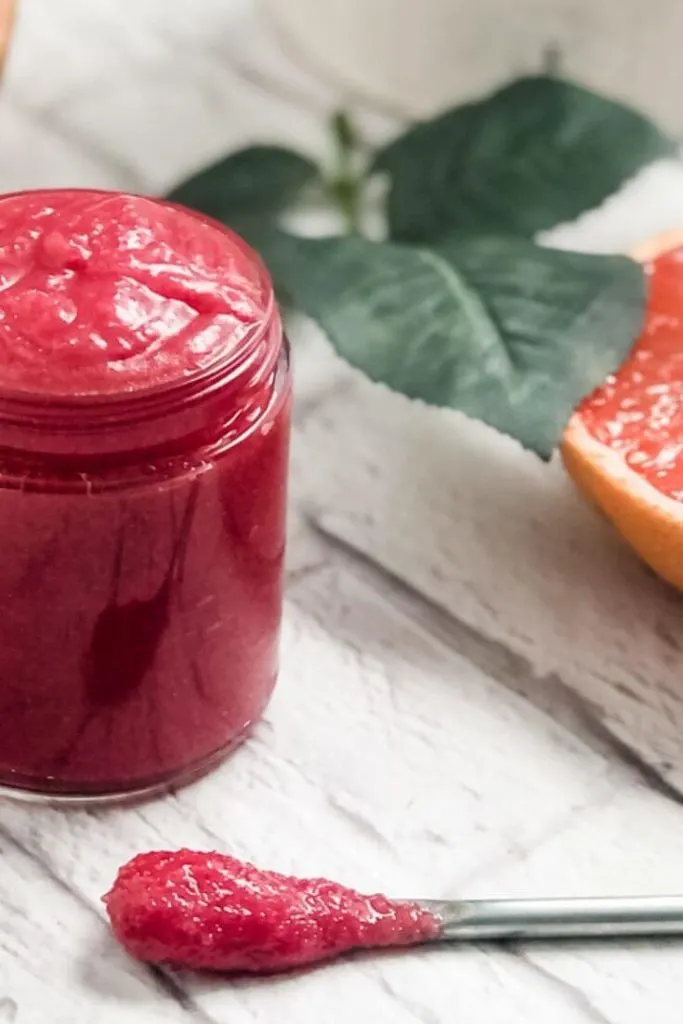 A sugar scrub combines different oils, butters, and sugar to create a product that has a gritty texture to help exfoliate your skin.
Most sugar scrubs help moisturize skin and help remove dead skin cells, debris and buildup.
Why make an emulsified sugar scrub?
An emulsified sugar scrub is a little different than a typical sugar scrub.
One of the biggest frustrations with sugar scrubs can be separation of the oils and sugar. Adding in an emulsifier is going to help eliminate this issue leaving you with a beautiful consistency for your scrub.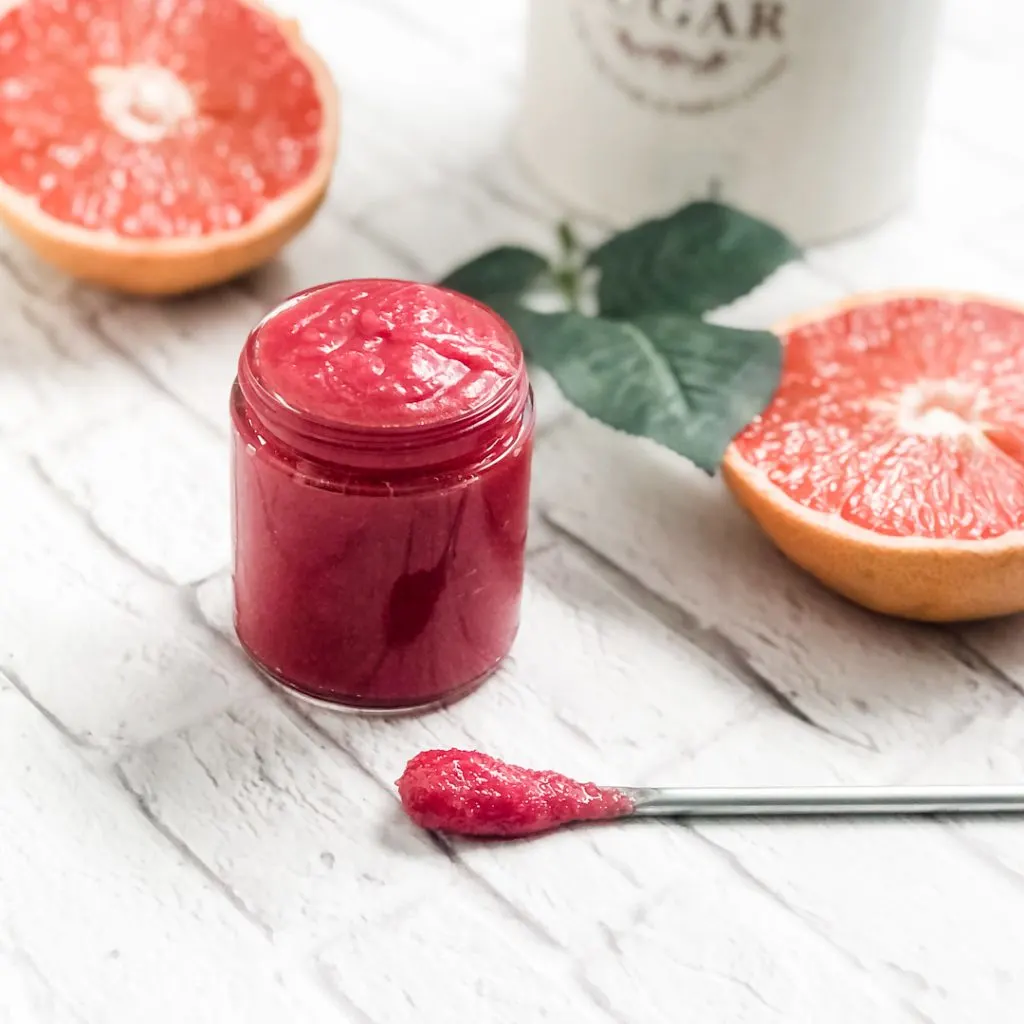 When you emulsify your scrub, it turns into a creamier textured scrub that is more lotion-like. This makes it easier to spread onto your skin, it is gentler and provides skin with more moisture.
An emulsified scrub will leave your skin feeling fresher and more renewed. Unlike standard scrubs, emulsified scrubs tend to be more gentle and cause less irritation.
A homemade sugar scrub can be used regularly to help maintain smooth skin or as a spot treatment to help remove rough patches and soothe dry, irritated skin!
Emulsified Sugar Scrub Ingredients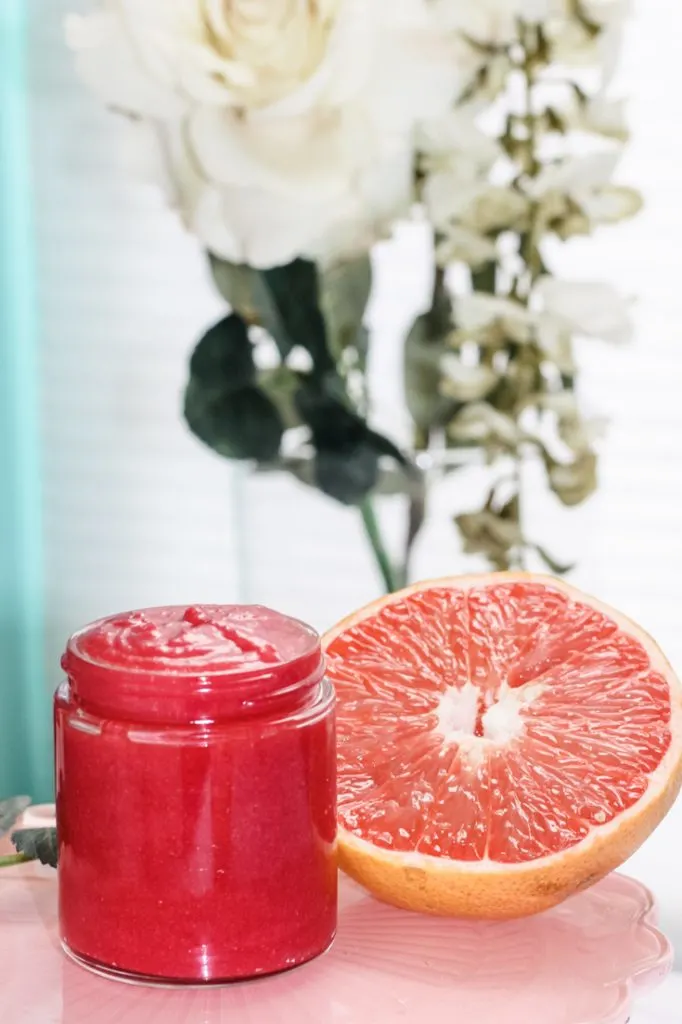 This emulsified sugar scrub recipe uses natural ingredients to help you cleanse and moisturize your skin. These ingredients are gentle on skin and create the perfect blend of hydration and exfoliation!
Using mango in your recipe will provide your scrub with a nice, light base that hydrates skin. Mango butter is rich and nourishing and can help people with a variety of skin types.
It has anti-inflammatory properties that makes it great for people who are suffering from irritated or acne-prone skin.
If you don't have mango butter, feel free to swap it our for shea butter.
Both butters are moisturizing and great for skin, mango butter is a lighter alternative and is perfect for anyone who needs to avoid nut products!
Cupuacu butter benefits for your skin are numerous. It helps lock in moisture and repair skin's natural barrier. It's is also know to restore elasticity that has been lost.
If you don't have cupuacu butter on hand, this can be swapped out with cocoa butter.
Cupuacu butter has a lighter scent than cocoa butter, so if you prefer a milder, less chocolatey scent, you can stick with cupuacu butter.
This oil is extremely nutrient-rich and helps repair your skin's moisture barrier. It helps lock moisture in and reduces signs of aging! It helps protect skin from UV damage and even helps boost collagen production!
This oil is a little-known ingredient that is an absolute powerhouse! It is an emollient that helps seal in moisture to keep skin soft and supple. It balances skin which keeps it from being too dry or too oily.
This ingredient is an emulsifying wax that helps blend all of the ingredients together, providing your scrub with the perfect texture!
BTMS-50 is considered a mild emulsifier and when washed off, leaves the skin feeling soft and powdery.
Cetyl alcohol is a fatty alcohol that helps stabilize emulsions while improving their texture. Lotion Crafter's cetyl alcohol is derived from certified sustainable palm oil.
This pigment will add a rich red color to your sugar scrub. It is a natural alternative to artificial dyes and pigments that are found in many products.
Grapefruit Essential Oil
Not only does this essential oil smell nice, it also works wonders for your skin! This essential oil is great for people who have acne-prone skin or other skin conditions. It helps smooth and soothe skin with antibacterial and antioxidant properties.
Sugar is a skincare favorite for a reason. It helps prevent damage to skin and has natural anti-aging effects. In this recipe, white sugar is acting as an exfoliant to help remove dead skin cells and debris.
This natural, broad spectrum preservative is what is going to keep your sugar scrub fresh and ready to use! This preservative protects your DIY products from bacteria and fungi.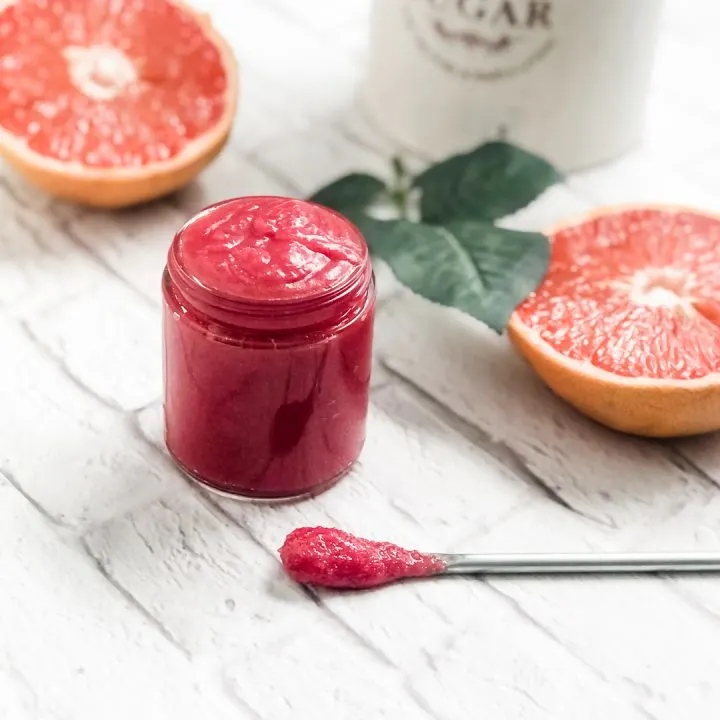 Grapefruit Emulsified Body Sugar Scrub Recipe
Make your own DIY Grapefruit Emulsified Body Scrub to help smooth and moisturize skin.
Instructions
Mix together all butters, oils, BTMS-50 and Cetyl Alcohol
Place in a water bath (double boiler) and gently heat until melted then stir until completely combined
Let mixture cool, stirring occasionally until reaches trace
Add in the beetroot extract, grapefruit oil, Geogard ECT and mix well
Add in sugar and mix well
Pour into container
Notes
If you prefer a thick scrub, feel free to add in more sugar.
You can also add more or less beetroot pigment to get the exact color you prefer!
Recommended Products
As an Amazon Associate and member of other affiliate programs, I earn from qualifying purchases.
Emulsified Sugar Scrub FAQs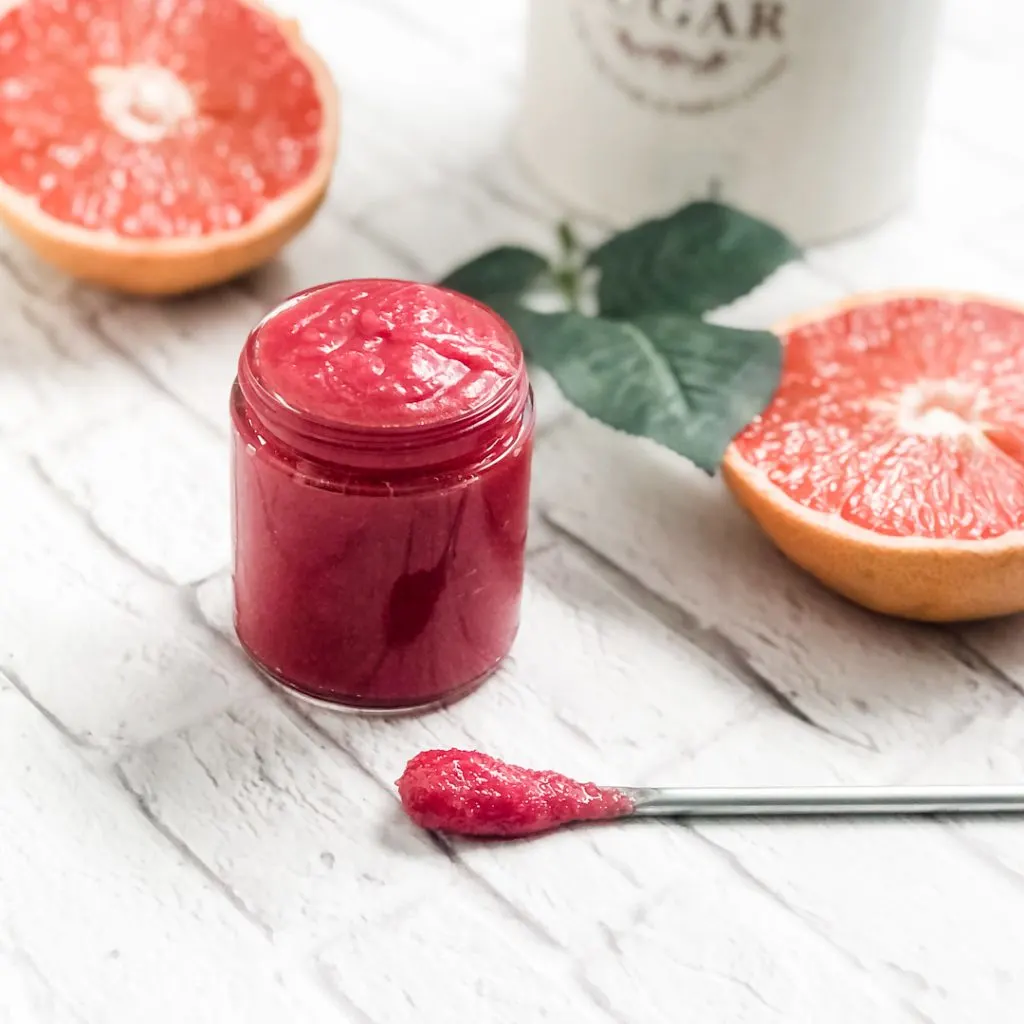 How do you use an emulsified sugar scrub?
Emulsified sugar scrubs are easy to use! All you need to do is get a small amount of scrub and place it in the palm of your hand; add some warm water, gently rub the scrub in a circular motion to the areas of your body that need a little extra love!
You will get the most benefit from applying your scrub to wet skin.
This scrub will help remove dry and rough patches. You can use this scrub for regular exfoliating or for the occasional spot treatment; it is a great DIY winter skincare recipe to help treat rough winter skin.
What is the difference between sugar scrub and emulsified sugar scrub?
An emulsified sugar scrub turns into an exfoliating, creamy lotion to provide gentle exfoliation to your skin. They are easier to spread across skin evenly and provide deep hydration. An emulsified scrub is gentler on skin and is great for sensitive skin.
How long do homemade sugar scrubs last?
Homemade sugar scrubs can last up to 6 months when stored in a cool, dry place. Using a natural preservative will ensure that the shelf-life of your sugar scrub is as long as it can be.
Are DIY sugar scrubs safe?
DIY sugar scrubs are safe, if you are concerned about how your skin will react to a DIY scrub, then we recommend performing a patch test on a small area of skin that is not sensitive.
It is always a good idea to stay away from products and ingredients that you know irritate your skin.
How do you preserve sugar scrubs?
When it comes to preserving your DIY products, we recommend using a natural preservative. There are a variety of natural preservatives out there and in this particular recipe, we use Geogard ECT.
If you prefer not to use a preservative in your emulsified scrub, I recommend making in small batches and avoid using in a wet environment.
Is vitamin E oil a preservative?
Contrary to popular belief, vitamin E oil is not a preservative. It is an antioxidant that helps prevent the oxidization of other oils and products.
You can add vitamin E oil to a variety of DIY recipes, but you should not rely on it to preserve your products by itself.
Wrapping things up
If you are looking for a way to gently exfoliate your skin without causing irritation then this homemade sugar scrub recipe is perfect for you.
Use this recipe to get a thicker scrub that helps gently remove debris and dead skin cells from skin; this recipe is great for anyone who suffers from dry, flaky, or irritated skin.
Try this emulsified sugar scrub recipe today!
Pin this Recipe for Later!
Don't let this lovely emulsified scrub recipe get lost in cyperspace.