If you've been wondering which anti-aging skin oils are right for you, look no further. I'm going to show you the best carrier oils for your face, how much they cost and all of the benefits! It's going to be awesome!
There are plenty of anti-aging creams, lotions and potions out on the market. Natural, homemade skincare is not only cheaper though, but it's way better for you. You can keep it simple and clean with these must have natural skincare ingredients for aging skin.
The dangers lurking in your cold cream
Before we delve into the best anti-aging carrier oils, let's look at why conventional anti-aging skincare products aren't such a great option.
They all contain harmful ingredients, like cancer causing parabens and nasty preservatives. Some even rely on Teflon, the same chemical that gives your pots and pans a smooth surface to smooth out your face (source).
Not only are they toxic, but many just plain don't work. Products that are loaded with cheap fillers and water actually dry the skin out, causing even more wrinkles. While collagen creams won't do you any good, since they have particles that are too large to actually absorb into the skin.
Botox is another big no-no. These injections come from the same botulism toxin that can sicken or even kill those who accidentally consume it. It works by weakening and paralyzing the muscles and nerves in your face. Yikes!
Give your skin some love
So now that we've covered why conventional anti-aging skincare isn't the best option, let's look at what your skin does need.
While natural skincare is great, you don't want to just use anything off of the health store shelf. Mature skin has certain needs, and to look and feel your best, you should choose products specifically for aging skin.
Products that contain water can actually dry the skin out, so opt for rich, nourishing oils instead. Some oils are "heavier" than others, so you'll want ones that are higher in oleic acid, which is best for aging, or drier skin types (source).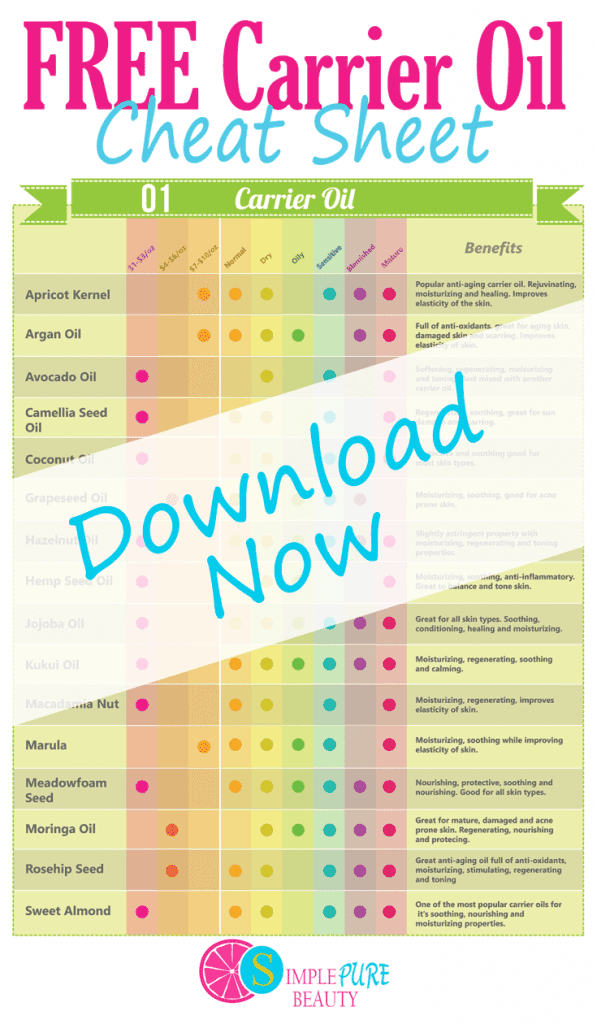 Where to Purchase Carrier Oils
You can find carrier oils all over the place. I have created a list of my favorite carrier oils on Amazon. You can check that out here.
Anti-aging Carrier Oils
These oils will provide aging skin with the nourishment it needs to stay soft and supple longer. They're great for drier, more mature or damaged skin (source).
Argan oil – Rich in antioxidants, fatty acids, vitamin E, polyphenols, sterols and squalene to nourish mature skin.
Marula oil – Improves skin elasticity, and soothes irritated, dry or cracked skin while absorbing quickly.
Passion Fruit Oil – Helpful for mature, dry, irritated skin. A fruity smelling oil that absorbs quickly and is high in essential fatty acids and Omega-3's.
Jojoba Oil – Jojoba is actually a wax and closely mimics our skins sebum. It's especially useful for the hair and face and helps balance the skin's natural oil production.
Rosehip Seed Oil – Contains vitamins A and E and essential fatty acids. It's considered a dry oil since it absorbs so quickly. It helps soothe inflamed skin, reduce the appearance of scars and wrinkles, and skin discoloration.
Coconut Oil – This is a heavier oil, so it should be used sparingly. It's high in lauric acid and helps form a protective barrier on the skin.
Avocado Oil – This dark green oil is high in vitamins A and E, anti-oxidants and fatty acids. It's very emollient, making it perfect for very dry, damaged and mature skin. It's also good for soothing irritated skin.
Evening Primrose Oil – This oil acts as an emollient to help maintain skin's hydration. It moisturizes, hydrates, and nourishes skin. It also helps prevent pre-mature aging!
Pomegranate Seed Oil – This oil has a couple of related ingredients that are also made from pomegranates. Each of these ingredients are potent anti-aging ingredients that help firm, tighten, and brighten your skin.
These are just a few of the carrier oils that are great for your skin.
But what if you really want to be sure you're choosing the right carrier oil for your skin?
I have put together a comprehensive carrier oil cheat sheet. It is included in my Ultimate DIY Face Serum Blueprint, which you can download for free here: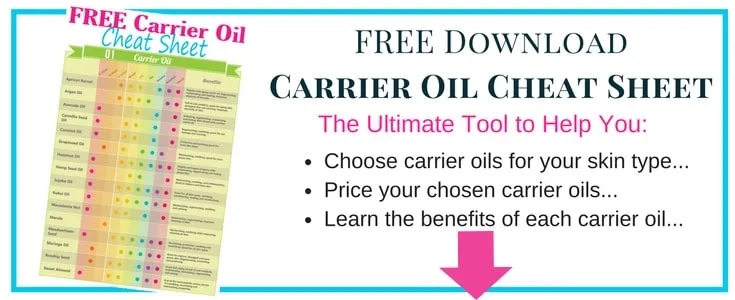 This Cheat Sheet includes:
16 carrier oil options
Average Cost of each carrier oil
The benefits of each carrier oil
The recommended carrier oil for each skin type
Making your own beauty products is fun, but it can actually end up costing you more without the right information. I can't tell you how many times I've made something and it just didn't work for my skin, or it broke me out.
That's why I put together this cheat sheet which is included in my Face Serum Blueprint!
Make Sure You Pin this Post for Later: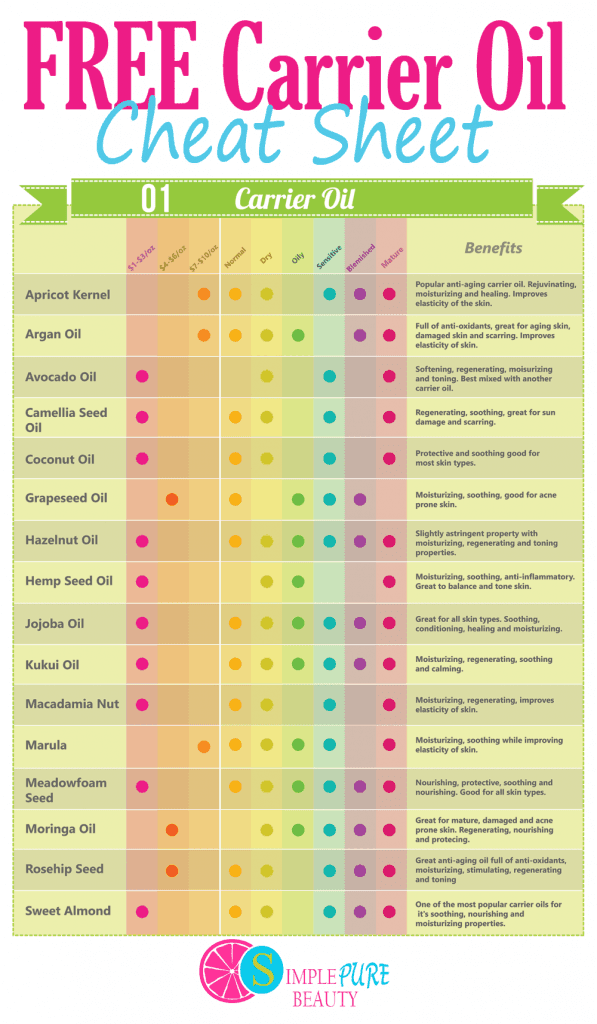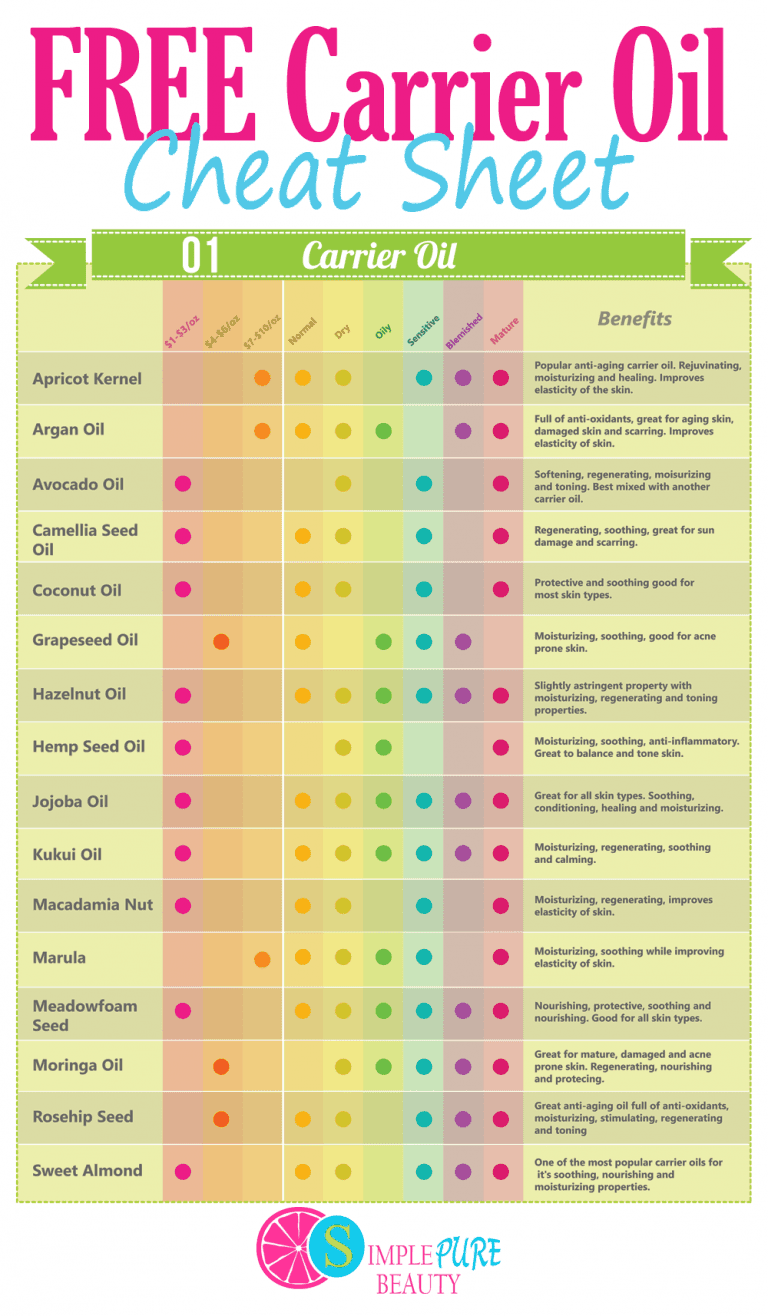 What is YOUR FAVORITE Carrier Oil for your Face?