Soaking in a bath is a luxury we all need to take. This DIY bath soak recipe will have you relaxed in no time.
As I'm sitting here typing up this recipe, I am dying to go take a bath and toss in this amazingly relaxing bath soak.
People these days are super busy, stressed out and anxious.
As moms especially we get busy taking care of everyone else, we rarely stop to take care of ourselves.
Can you relate?
That's why I love sharing simple DIY recipes with you to help you stop and pamper yourself a little bit.
You deserve it!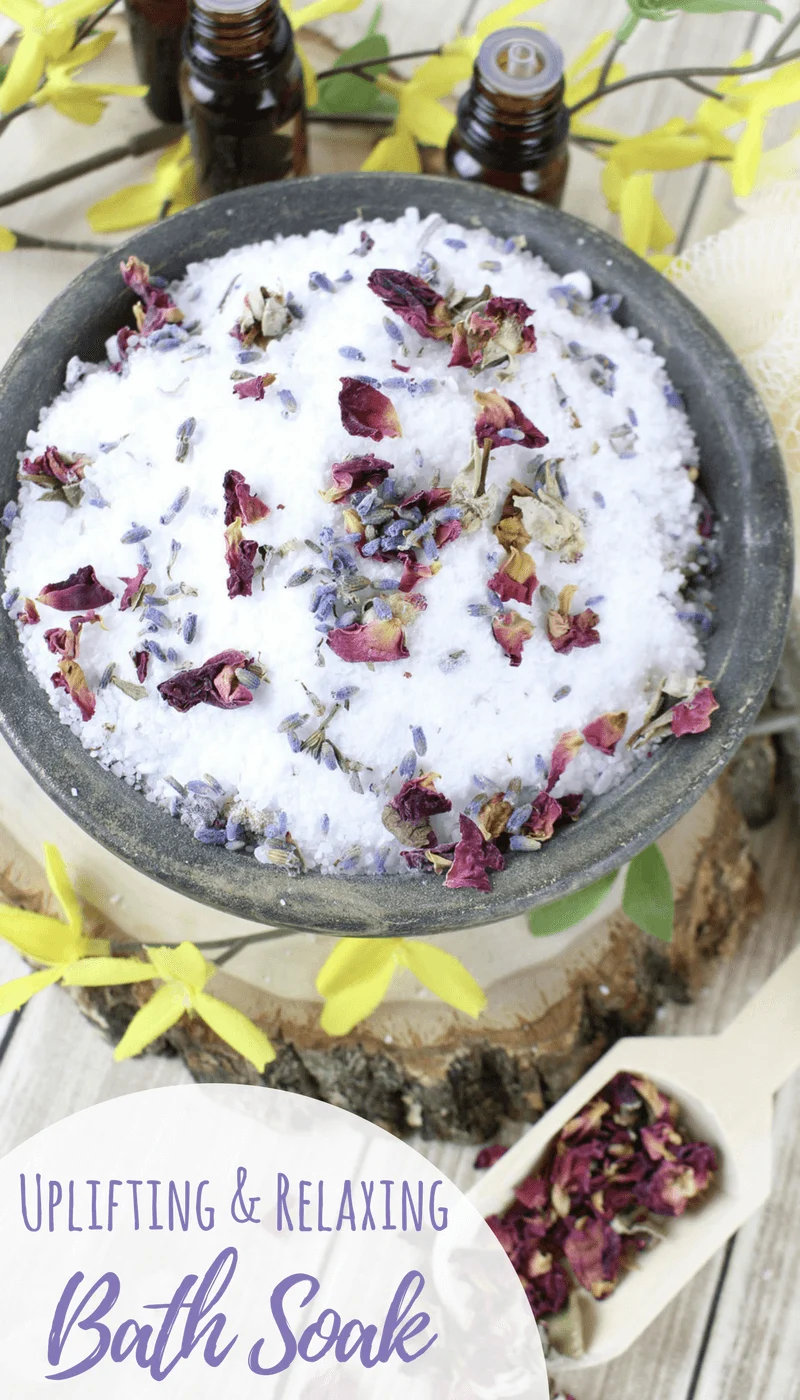 So what is so special about DIY bath soak recipes?
Adding some Epsom salts to your bath is a great way to detox the body, but adding a few more simple ingredients can really just take it to the next level.
Essential oils can create amazing results simply through their scent or aroma. Inhaling the essential oils can offer a range of health benefits. For example, it can clear the sinuses and relieve respiratory congestion.
If you've ever used Vick's Vaporub you will know about the powers of menthol and other oils to help you breathe easily again. (But considering one ingredient in Vick's Vaporub is Turpentine, you definitely DO NOT want to be rubbing this on your skin!)
Our sense of smell is more powerful than we know; it registers all sorts of scents throughout the day. If you've ever noticed how your mood changes when you smell coffee brewing or a cake baking, you will understand that aromatherapy can also enhance mood.
Essential Oils Basics
Essential oils are used individually for many purposes. However, the real power will often come when they are blended to create certain mood enhancing, relaxing and healing effects. You can use some oils like eucalyptus on their own to help a person unclog their sinuses, for instance. Lavender and Lemon soothe and relax.
There are also energizing oils, ones that can improve sleep, and even ones that help with weight loss. Citrus oils are usually the most invigorating, especially lemon, orange, and grapefruit.
Uplifting and Relaxing Bath Soak Ingredients
There are several essential oils in this recipe blended together to really uplift your spirits while creating a relaxing environment. The salt will really help detoxify the body as the baking soda neutralizes chlorine in the water creating the perfect atmosphere for true relaxation.
If you do not have the dried flowers, it is ok to leave them out.
If you are worried about making a mess in the bathtub, simply add the bath soak to a muslin bag like this one.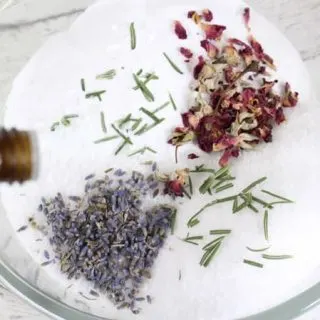 Uplifting & Relaxing Bath Soak
Instructions
Add the Epsom salt, coarse salt and baking soda to a medium mixing bowl. Whisk to combine.
Add all of the essential oils and whisk again to distribute the oils.
Add the rose and lavender buds and stir well.
Transfer to an airtight container and store up to six months.
Recommended Products
As an Amazon Associate and member of other affiliate programs, I earn from qualifying purchases.
HOW TO USE
1. Add 1/4 cup of bath salts to your warm/hot bath water.
2. Use your hand to circulate the salts and allow the essential oils to activate with the steam.
3. Sit back and enjoy the uplifting spring aromas of rosemary, lemongrass, rose-geranium and lavender!
Have you tried a bath soak before? What essential oils are your favorite to add?
Need a quick and easy way to relax at the end of a long day? Don't wait on the tub to fill to relax, try out this relaxing foot soak for a quick and easy way to wind shown!