Being on your feet for long periods of time can leave them crying for some pampering. For me, long days at amusement parks or even just standing for long periods of time leaves my feet aching.
Aside from having to rub or massage your feet, how do you get rid of that dull ache you're feeling?
Let me introduce you to my favorite way to end a hard day; a relaxing foot bath that will wash all your aches and pains away!
With soothing essential oils and Epsom salt, you can whip up this foot bath quickly and easily, making it the perfect end to a long day!
My daughter is a huge fan as well after softball games!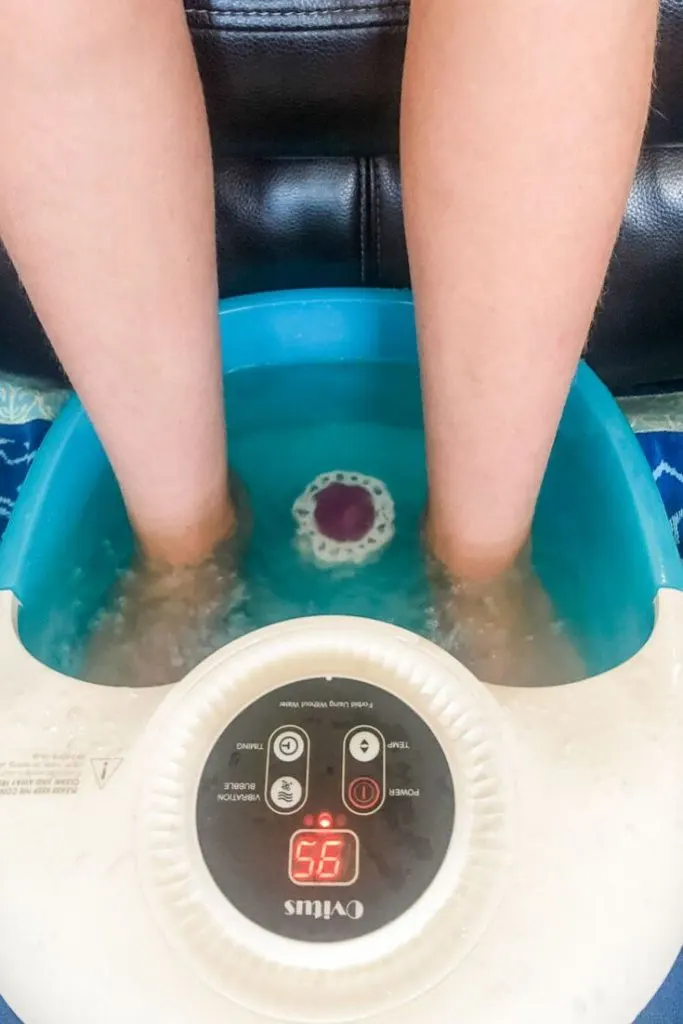 What are the benefits of soaking in Epsom salt?
Epsom salt has been used for many years for its health benefits and works to aid in soothing sore muscles and body aches.
It also has a rough texture and can provide gentle exfoliation. So what does this mean for your feet?
Soaking your feet in a warm Epsom salt bath can help soothe foot pain and relax tense, overworked muscles. This will help reduce inflammation and swelling in your feet while removing dead skin cells and smoothing rough feet.
By regularly soaking your feet in Epsom salt, you can also help improve circulation and increase your overall foot health.
Bacteria and fungi have a hard time thriving in a salty environment, which can help keep your feet cleaner and healthier!
Not only can you soak your feet in Epsom salt, but you can also use it to soak your whole body.
Check out these lovely bath soak recipes:
With its many benefits, Epsom soaks are an excellent and natural way to relax and pamper yourself!
What does Epsom salt do for swollen feet?
Epsom salt baths help improve circulation, which can help draw swelling away from the feet and ankles. It can also reduce inflammation by soothing the sore muscles in your tired feet. It can help reduce not only the stress in your feet but your overall stress, which helps reduce body-wide inflammation and swelling.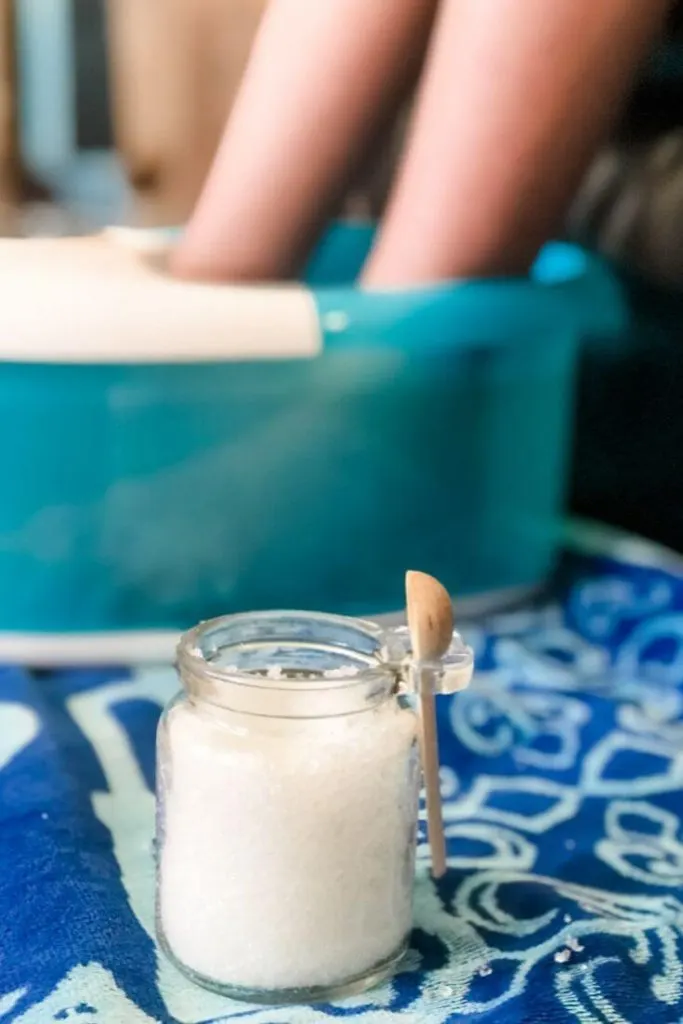 Does Epsom salt draw out toxins?
Soaking your feet in Epsom salt can help you draw out toxins, bacteria, and fungi. Bacteria and fungi cannot thrive in a salty environment, so regular soaks in Epsom salt may help keep bacterial and fungal infections from worsening.
Salt detoxes such as Epsom salt soaks can help draw toxins out of the body, further reducing inflammation and irritation. It can also help remove dead skin cells and gently exfoliate dirt and debris. This helps smooth and soothe your feet, keeping them happier and healthier!
How to use an Epsom salt foot bath
Using an Epsom salt foot bath is so easy you'll want to do it every day! Using a few simple ingredients combined with hot water, you can make a foot soak that is perfect for that end-of-day stress!
If you want to take it to the next level, you can purchase a foot bath with heat vibration and bubbles like this one I purchased on Amazon.
Simply add in 1-2 Tablespoons of your epsom salt mixture and soak your feet for 20-30 minutes. Afterward, rinse your feet and apply your favorite moisturizer.
Epsom salt foot bath ingredients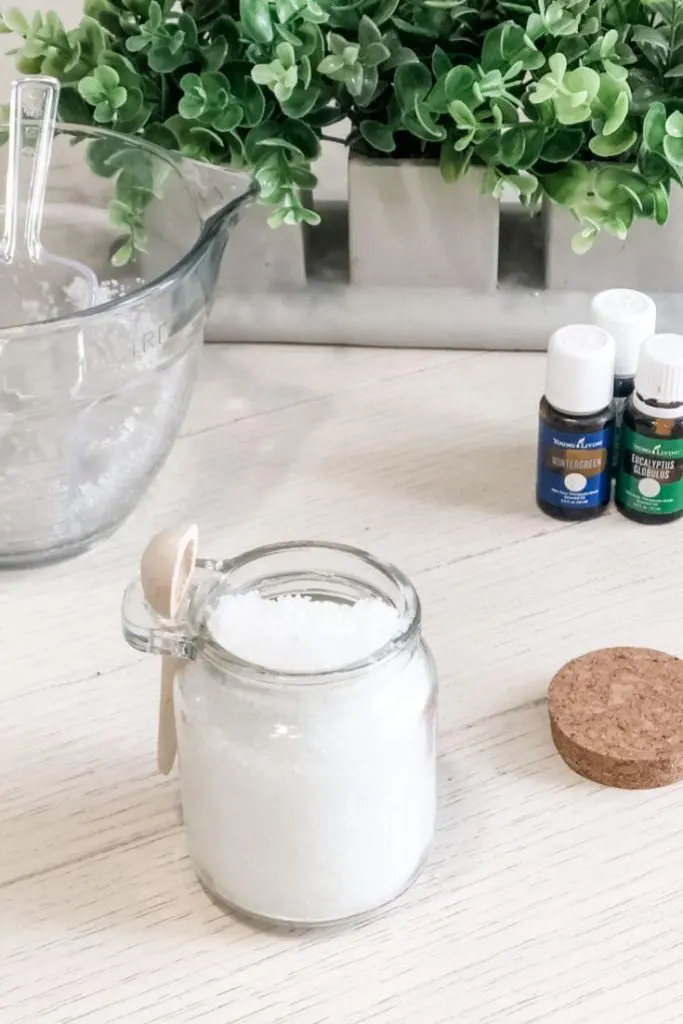 This Epsom salt foot bath only calls for a few natural ingredients you might already have around the house!
You can quickly make this foot bath after a long day to help you relax!
No complicated foot soak recipes or hard-to-find ingredients here; check out what we're using to soak away foot pain!
First up in this homemade foot soak is Epsom salt. This ingredient has been used for centuries to help alleviate pain and swelling associated with sore, tired, overworked muscles.
Using a carrier oil to help disperse your essential oils is an important step in this recipe. I chose jojoba oil because it helps moisturize rough, dry feet. Using a moisturizing oil is an easy way to help smooth the rough skin on your achy feet!
Essential Oils
This essential oil blend is one of my favorites! Not only does it have a minty fresh scent, but it also helps refresh your muscles by helping them relax and reducing inflammation.
All of these oils have anti-inflammatory properties that will help refresh your sore feet.
And, just by using a few drops of essential oils, you'll be able to enjoy some aromatherapy benefits while you soak your feet!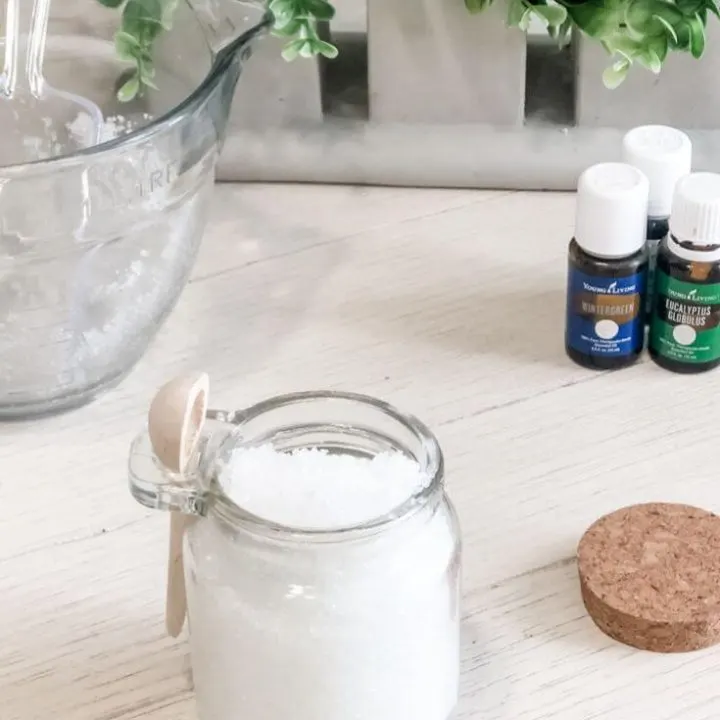 Epsom Salt Foot Bath Recipe
Relaxing Epsom salt foot bath!
Instructions
Mix carrier oil and essential oils in separate glass beaker
Add carrier oil blend to Epsom salt and combine well
Add 1-2 Tbsp mixture to foot bath and enjoy!
Recommended Products
As an Amazon Associate and member of other affiliate programs, I earn from qualifying purchases.
Epsom Salt Foot Bath FAQs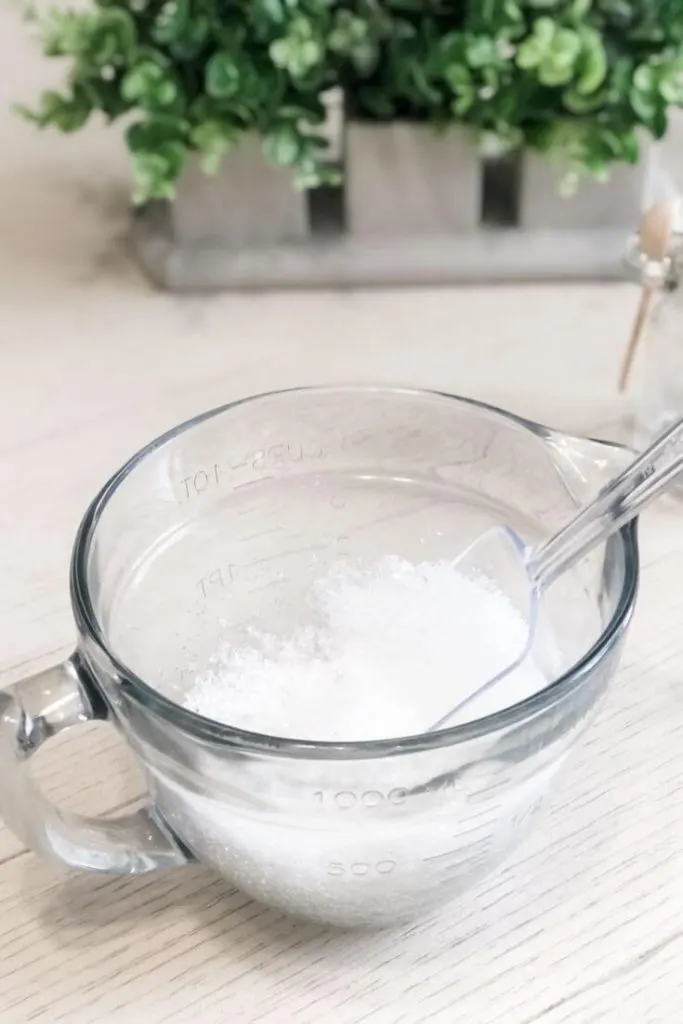 Have some questions about this soothing foot soak? Let's get down to business!
How long should you soak your feet in Epsom salt?
Once you have your foot bath prepared, you can soak your feet for 20-30 minutes. It is not recommended to soak them for longer because soaking too long can cause dry skin.
Is it OK to soak your feet in Epsom salt every day?
Since Epsom salt can dry skin if overused, it is not recommended to use a foot bath every night. You can use a foot bath 2-3 times per week and always follow your foot bath up with a moisturizer like this lovely foot cream recipe.
Should I rinse off after Epsom salt bath?
Once you are done soaking your feet, you should rinse off any excess salt. Not rinsing your feet can cause excess dryness, rough patches, and cracking of the skin.
What happens if you put too much Epsom salt in a bath?
Using more Epsom salt in your bath will not reap additional benefits; instead, it could be harmful. You can cause additional dryness or irritation to your skin. And while the risk is low, Epsom salt contains magnesium sulfate, a mineral we all need, but you can absorb too much of it; this overdose can cause some ill effects!
When using an Epsom salt recipe, be sure never to use more than the recommended amount of salt, and keep your soak times to the times recommended by the recipe or the salt manufacturer.
Does soaking feet in Epsom salt help circulation?
The combination of warm water and the minerals in the Epsom salt can create a de-stressing environment for your tired muscles! By soaking your feet in Epsom salt, your blood circulation can improve, thereby reducing stress and tension in your feet.
Does Epsom salt speed up healing?
While Epsom salt does not replace using medicine to help heal aches and pains or minor skin abrasions, it certainly can help speed up the healing process! Epsom salt acts as a natural detoxifier and helps draw infections, dirt, and debris out of your skin, helping you keep your skin cleaner to help clear up minor wounds.
Is table salt the same as Epsom?
Although they are both considered salts, Epsom salt is not a true salt. Table salt is something that is a staple in pretty much every home and is used for eating. Epsom salt is not used for regular consumption but for medicinal purposes.
Soaking in common table salt can cause skin irritations and dryness; it is also not likely to help with any of your aches or pains! When using an Epsom salt recipe, be sure to buy the correct salt!
Epsom salt has also been known to help decrease symptoms and aid in speeding up the recovery for certain fungal infections such as athlete's foot.
It also aids in circulation and relieves inflammation to help alleviate the symptoms of strains, sprains, and other minor injuries!
When should you not soak your feet in Epsom salt?
While the risks of soaking your feet in Epsom salt are minimal, there are times that it may not be appropriate! Soaking your feet in Epsom salt is not ideal if you suffer from certain health conditions such as diabetes. It can cause excessive dryness, leading to skin cracking and infection.
You should also not soak your feet if you have open wounds or sores. If you are unsure if an Epsom salt soak is suitable for you, speak with your doctor about your concerns!
Wrapping Up
An Epsom salt foot soak is an excellent way to improve the health of your feet and get rid of those aches and pains; it has also become one of my favorite ways to feel like I'm at a spa, right at home!
Not only can a salt bath help you unwind, but it also can help reduce foot odor, cleanse feet, and help you maintain more naturally soft and smooth feet!
We all love to relax after a long day, so take care of those achy feet and relax your stress away with your own foot soak!