When you learn to make your own homemade lip balm something wonderful happens! You can stop reading labels and know you're using a truly natural and safe product on your lips.
A product you feel safe using on the lips of anyone in your family. Even your little ones.
Plus, you can customize your lip balm with nourishing oils. And add any scent you desire! The possibilities are endless.
If you prefer a lip gloss, you can learn how to make lip gloss here! Our recipe and tutorial is completely customizable. We've included a lip gloss base that you can customize with any colors and tints you choose!
Since we apply lip balm directly to our lips, some inevitably gets consumed. We eat, drink, and talk with it on.
That makes using an all-natural lip balm even more important.
But not all lip balm is created equally. And reading labels can be so confusing!!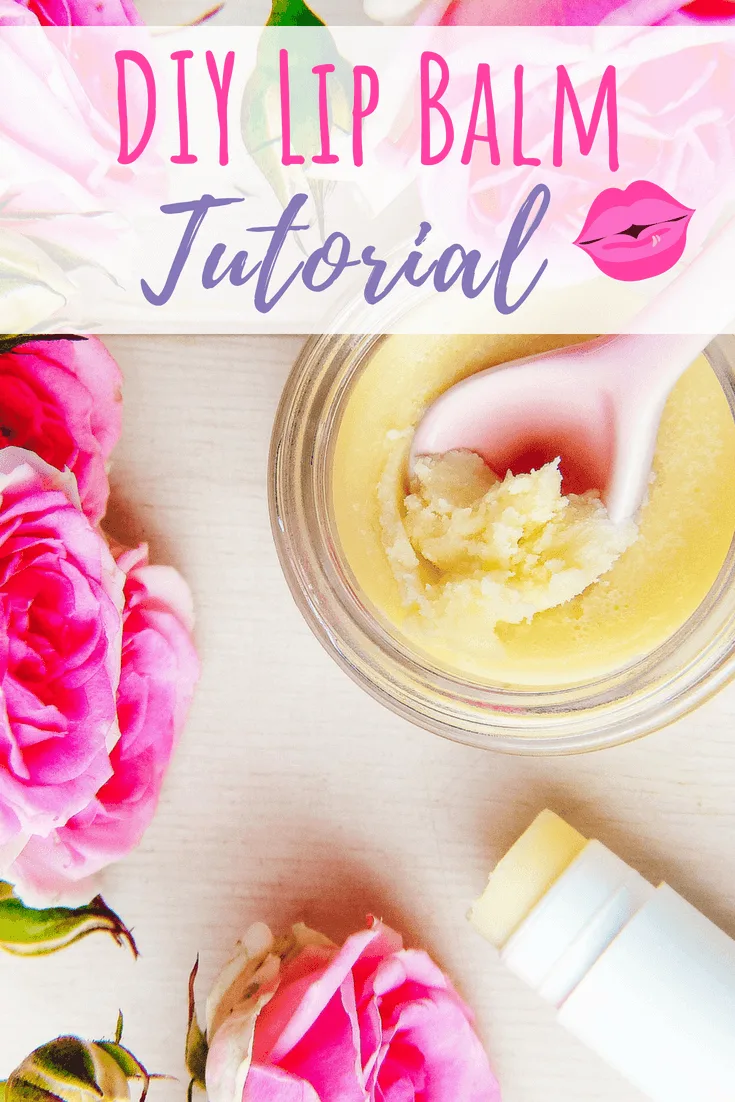 Lip Balm Addiction?
Did you know lip balm addiction is a real thing?
I am a recovering lip balm addict.
Lip balm addiction? Yup! I needed lip balm. I needed it all the time.
Lip balm was stashed everywhere. I got anxious if I was without it. Like a junkie.
I had a lip balm in my purse, car, desk, gym bag, nightstand, kitchen, and of course my pants pocket. Anywhere I might need one, I had a tube of lip balm stashed.
My lips got crazy dry without it. I couldn't stop using it.
Not like that weird part in Happy Gilmore when Adam Sandler's Kindergarten teacher smears lipstick all over her face. Just the normal lip balm application. 😊
I asked my doctor if I could be addicted at a checkup. And he confirmed my suspicions.
My body was hooked on lip balm. A constant covering of lip balm had cued my body to stop moisturizing my lips.
My doctor told me to kick the habit I had to go cold turkey.
For real?!?
While it took a few weeks, I finally mustered up the courage and went cold turkey. It was a hellish 2 days.
But it worked! My lips adjusted and started to moisturize themselves again. Glorious!!!
Now I use lip balm in moderation.
Honestly, I'm a little hesitant to apply it sometimes out of fear of regression back into the addiction.
I never want to go through that again.
If you're addicted too, consider going cold turkey. You'll relieve yourself of some unnecessary stress and anxiety.
BUT if you're just a casual lip balm user looking for an awesome all natural, homemade lip balm recipe… then you're in the right place!!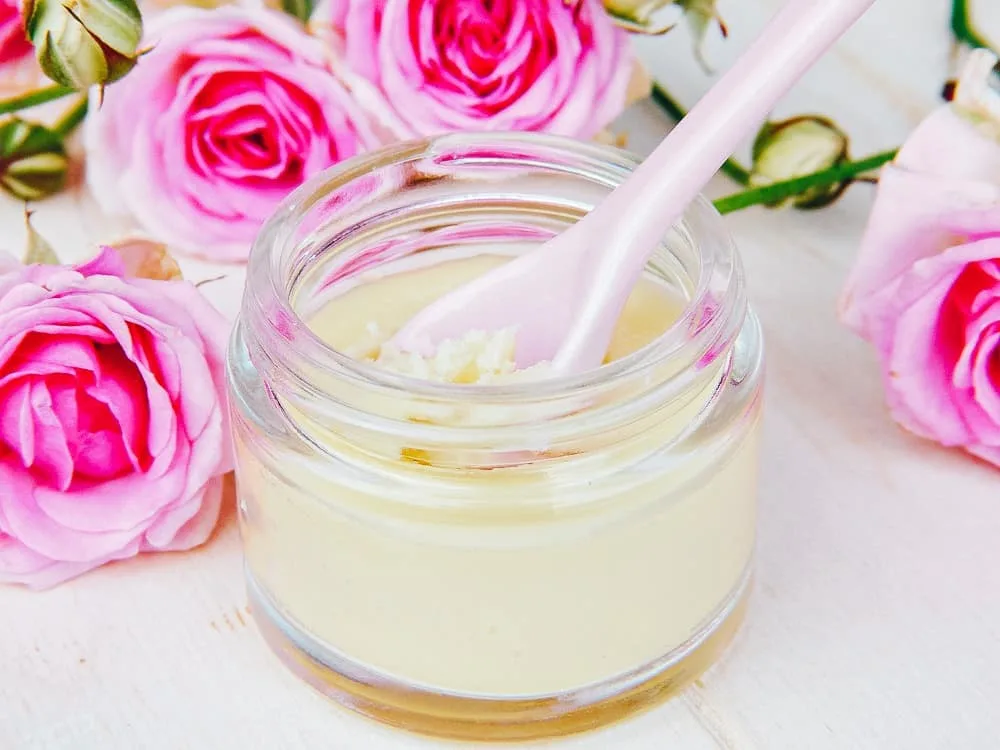 What You'll Need to Make Homemade Lip Balm
Homemade lip balm is super easy!!! It's a great first DIY beauty product to make. Get your feet wet.
All you need are just 3 ingredients, nothing complicated.
Simple, effective, luscious.
Use an equal ratio of:
Shea Butter or Mango Seed Butter (you can also use cocoa butter). Whatever oil you use needs to be solid at room temperature.
Coconut oil or a liquid oil (like almond oil or grapeseed oil)
Equal ratio means 2 TBSP Shea butter, 2 TBSP coconut oil, 2 TBSP beeswax. Adjust depending on how much lip balm you want to make.
You'll also need:
Spatula just for lotion and lip balm making
Glass bowl or measuring cups
Lip Balm Containers
Essential Oils (Optional)
Natural colorant (Optional)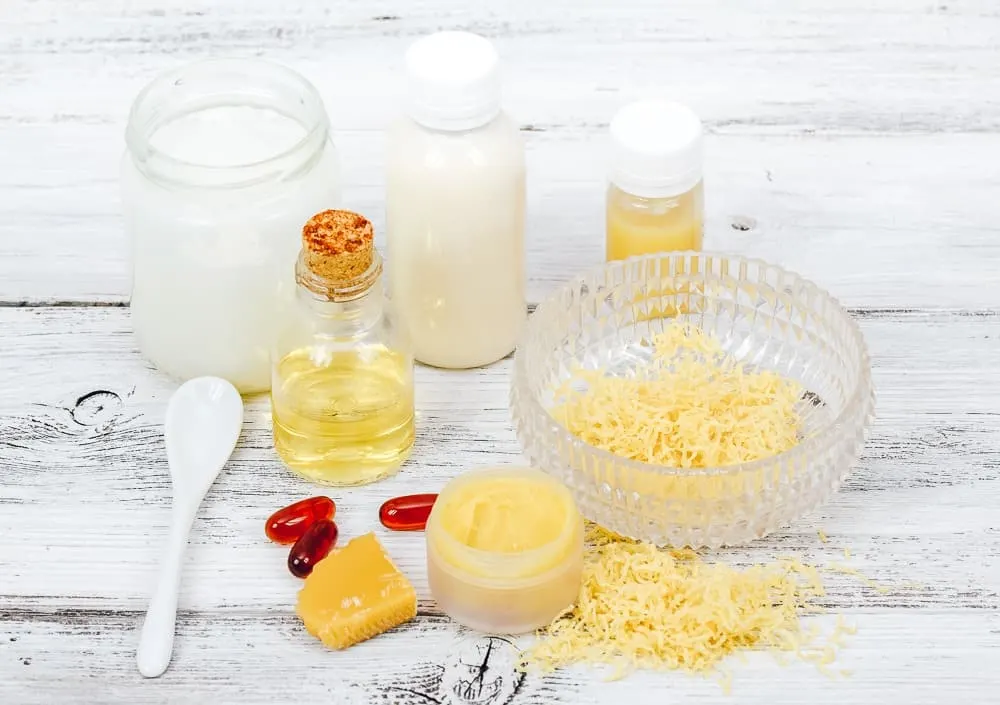 How to Make Homemade Lip Balm
First, combine all my oils and beeswax into a glass measuring cup.
Then melt the oils and beeswax. The beeswax will be the last thing to melt. Just be patient and give it a quick stir.
Sometimes I melt the oils in a glass measuring cup in the microwave. Other times I use a makeshift double boiler with the glass measuring cup.
I have a lot of experience melting oils – a staple step in soap making. I used to exclusively melt the oils in a double boiler on my stovetop.
Then I heard about an oil fire in fellow soap maker's kitchen. Be careful if you use the stovetop to melt your oils. Oils can catch on fire if you're not careful.
Always melt in a double boiler under constant supervision.
When things are busy, I push the easy button with the microwave. I know there are loads of arguments back and forth about the safety of microwaves. Do what is best for your family.
After your oils have melted, wait for them to cool down. Then add your natural colorant and essential oils. Mix thoroughly.
Finally, you're ready to pour into the lip balm tubs.
Tips to Make Pouring Easy
The biggest challenge in making lip balm is pouring it into those little tubes. It can be a huge mess if not done properly. But we've got a trick for that to keep things simple.
Here are some of the easiest ways I've found to keep it simple and mess-free.
These little disposable eye droppers make pouring much easier. No mess to clean up.
Snag a tiny funnel and use that. Just make sure you're pouring slowly. Those babies fill up fast!
Use a kit like this one. All you do is pour and scrape into the containers. Easy peasy! The only downside is it makes a lot of lip balm. So make sure to share with friends and family!
When pouring the lip balm, work quickly. It can harden in a short period of time. My preferred method is to use the funnel.
If the mixture starts to harden, pop it in the microwave for a few seconds to melt it again.
Carefully put the caps on the lip balm and wait for it to cool completely before using. You can put it in the fridge to harden more quickly.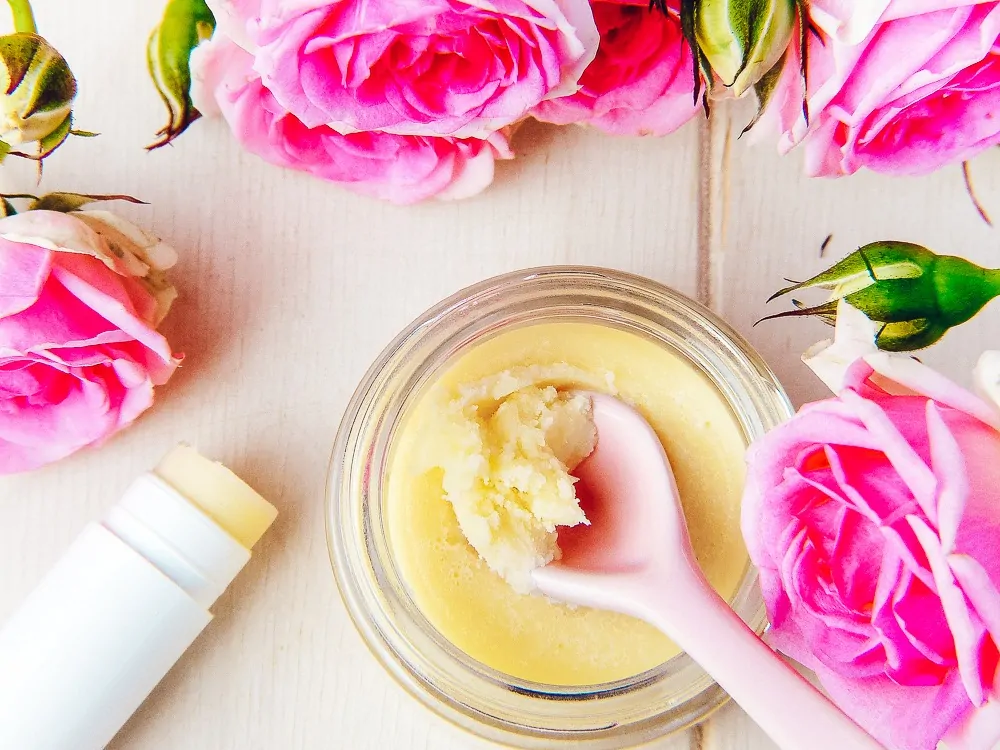 Customize Your Homemade Lip Balm
One of my favorite things about making my own lip balm, is I get to design it just how I like it.
If you prefer a softer lip balm, adjust your ratios. Less beeswax and more oils makes a softer lip balm.
Or you can tint your lip balm with herbs and spices. Beetroot powder is one of my favorites!
Or add a scent to your lip balm with essential oils. I prefer to skip the fragrance oil.
What Lip Balm Will You Design?
I'd love to hear what designs you come up with for your lip balm!
Lip balm makes a great gift idea for family and friends. Everyone will appreciate your creative work!